It's never too early to start planning coastal Santa Barbara weekend getaways. If you're looking for the best vacation spots in 2021, few places offer as much as Santa Barbara. After arriving at your luxury accommodation by the beach, all of your worries and woes will be washed away faster than you can say "Surf's up!" Grab your sunblock, a plush beach towel, and throw in an assortment of cheese, crackers, and mixed drinks, and you've got yourself the perfect glamping beach day in one of the best places to visit in California. After a trip to Santa Barbara, weekend getaways won't feel long enough, so keep reading and discover some amazing things to do in Santa Barbara this weekend! Start planning the best romantic getaways in Santa Barbara today. 
Keep reading to find the best vacations Santa Barbara has to offer: the
best weekend trips from L.A.
When it comes to the best travel, places, and best weekend trips from Los Angeles, Santa Barbara has so many one-of-a-kind options to choose from, so there's no need to search for the "best weekend getaways near me". Glampers will want to plan their CA getaways for longer than just one weekend in Santa. Browsing through these glamping treasures, one could only imagine that booking luxury accommodation will lead to an even more luxurious experience. Check out some of the best retreats near Santa Barbara here and the best places to visit here! So start planning your vacations; Santa Barbara and the best weekend trips from L.A. awaits! After a trip to Santa Barbara, romantic getaway ideas will have to be pretty special, and you'll undoubtedly class this as one of your favorite vacation destinations.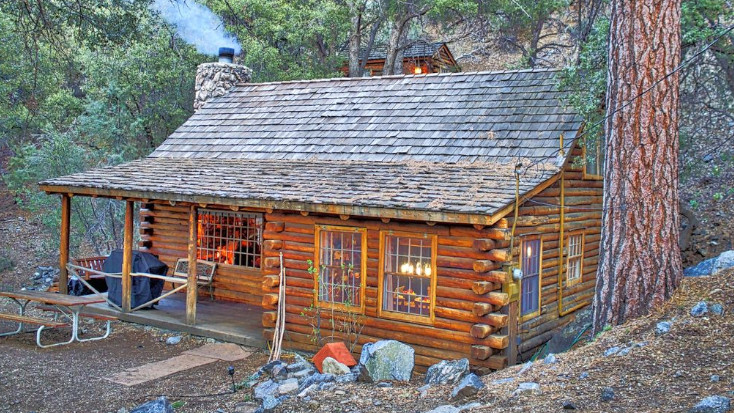 Discover the best beaches in Santa Barbara: weekend getaways in your own luxury CA cabin rentals
Santa Barbara is a hot spot for beach camping and many of the best beaches in Santa Barba can be easily accessed from our charming yurt rentals in California as well as a cozy beach cabin, or even some amazing log cabin rentals near Los Angeles! Get out into the great outdoors in some of the best destinations in California when you visit Santa Barbara beaches this year. Visit top locations in California for beach days such as Arroyo Burro Beach, also known as Hendry's Beach, and enjoy camping in California nearby. This is also one of the best pet-friendly beaches in Santa Barba and an opportunity for you to take your loyal friends along for the ride.
Looking at the "best weekend getaway near me" and for more things to do on the beach in Santa Barbara such as volleyball games and beach soccer? Head to East Beach for more of the best California beaches and enjoy sunny days with your friends playing sports before settling down with that cool ocean breeze on your face. Enjoying Santa Barbara getaway options can give you lots of options.
More honorable mentions have to go to Goleta Beach Park, Leadbetter Beach, and Summerland Beach as some additional excellent beaches in Santa Barbara. From your luxury CA rentals, head across to Summerland Beach for easy-going beach days in California! It's also good to remember that this CA beach is both dog-friendly and horse-friendly so why not consider booking your horseback riding tours upon arrival at your own California beach house.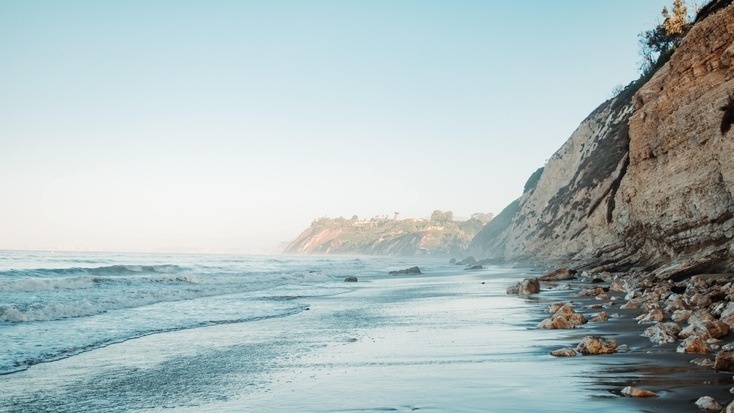 Santa Barba yurts: try out unique camping in California this year with views of the coast
Now only true glampers would not pass up the opportunity to stay in one of the most luxurious beach yurts in California—especially with this amazing view of the coast! Incredibly spacious, and a great spot for families, this yurt defines home-away-from-home with its modern design and features.
Thinking of going glamping in Santa Barbara? Top attractions like these should be on your CA itinerary in 2021
When you visit Santa Barbara, it's not just the beaches that will catch your eye. From these charming beach rentals and secluded cabins in California, guests can get a proper taste of Santa Barbara. Top attractions in the area include the stunning Stearns Wharf, for example, where you can wander around this historic pier and discover some excellent places to go shopping in California as well as top quality CA restaurants.
When you're not enjoying California glamping in your own private paradise for rent near Santa Barbara, why not head to Santa Barbara Zoo for family-friendly things to do in California in 2021? This is one of the smaller zoos in California but still ranks highly in the state as one of the best zoos in California. Santa Barbara Zoo will keep the kids (and adults) in awe as they discover some of the most exotic animals in the world! The exhibits are home to more than 500 different animals including California condors.
For more top Santa Barbara attractions, be sure not to miss out on some spectacular California architecture in the area when you go for luxury camping in Santa Barbara. Getaways here should include trips to impressive historic sites such as the Superior Court of California County of Santa Barbara and Santa Barbara Mission, a Spanish mission originally founded in 1786. The Santa Barbara Museum of Art is another must-visit destination in California and older groups and couples, in particular, will enjoy browsing a variety of collections such as Asian, American, and European pieces.
More top things to see in Santa Barbara in 2021? Visit Knapp's Castle from authentic CA airstreams
Knapp's Castle, Santa Barbara Museum of Natural History, and more top things to see in Santa Barba are easily accessible from many of these CA getaways including luxury California airstreams in the downtown area.
Grab your beach cruiser and head on over to these luxury CA airstreams. With five accommodations on-site, glampers and all their pals can plan a best buds vacay just a short bike away from Santa Barbara center, and even better, the best beaches near Santa Barbara.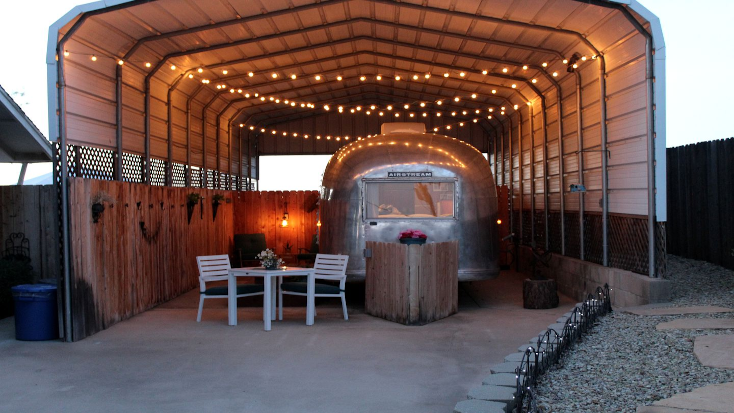 Explore more of the top things to do in Santa Barbara as well as top California hiking trails
For more active pursuits during your California vacations here, check out more of the top things to do in Santa Barbara in 2021! Your Santa Barbara weekend trip should be as fulfilling as possible and that means more hiking, beach games, and long bike tours around this beautiful area in California. Hiking here can take place in Seven Falls, which is the perfect destination for any summer hiking in California as it includes small pools where glampers can take a dip and cool down before returning home to their own Santa Barbara hot tub rentals in California.
For unbelievable views from the California mountains and more, check out La Cumbre Peak, Inspiration Point, and the Channel Islands National Park which sits off the coast of Santa Barbara. If you prefer to see the area by wheel instead, the best biking trails in California won't be far or difficult to find. Our favorites include Cabrillo Bike Path to Butterfly Beach and Mesa to Hendry's Beach.
Any surfers in town? If it's your first time in Santa Barbara, prepare to be astonished as surfing continues to be the go-to sport and activity here in California and Satna Barbara in particular. The best surfing spots in Santa Barbara for beginners can generally be found at Leadbetter Beach, Campus Point, and Hammonds Point.
At this stunning log cabin, glampers can even bring their pets! Cozy and intimate, with enough space for four guests, this cabin tucked in the mountains above Santa Barbara is a top-notch rental for glampers looking to experience both mountains and sea.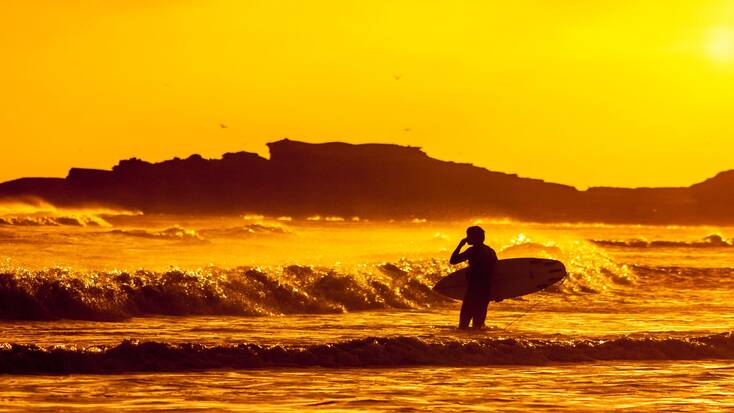 More notable romantic getaways in California and CA yurts for your next Santa Barbara vacation in 2021
If you're searching for romantic weekend getaways near me, this romantic cottage in California is one of Santa Barbara's finest treasures. Just minutes away from some incredible wine-tasting locations, as well as the city of Santa Barbara, this is an ideal site to make where you stay, and why you stay.
Now only true glampers would refuse to pass up the opportunity to stay in one of California's most luxurious yurts—especially with this amazing view of the coast! Incredibly spacious, and a great spot for families, this yurt defines home-away-from-home with its modern design and features.
This California camping cabin retreat is just one of many cabins on this beautiful California campground, begging to host one giant reunion of friends and family. An exquisite choice for a beach-side vacation, these cabins boast camping meets glamping with their luxury amenities, high-end features, and stunning views.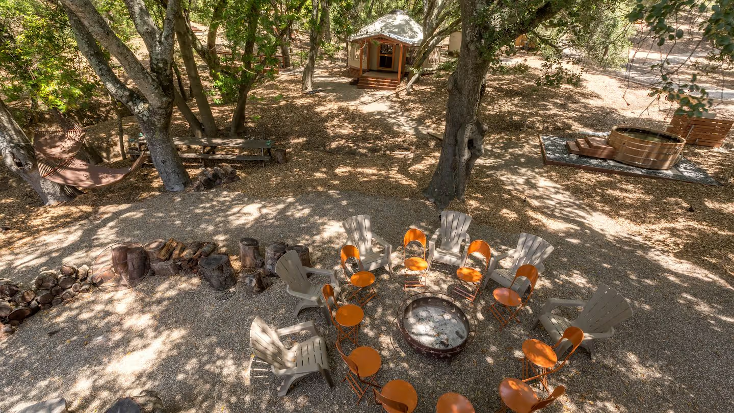 ---
To see more of the Golden State's undeniable weekend getaways, head to our Discover California page here!