A-frame cabins are the biggest trend in summer glamping. After reading through our list of 25 must-book choices, we'll have you packing your bags in no time.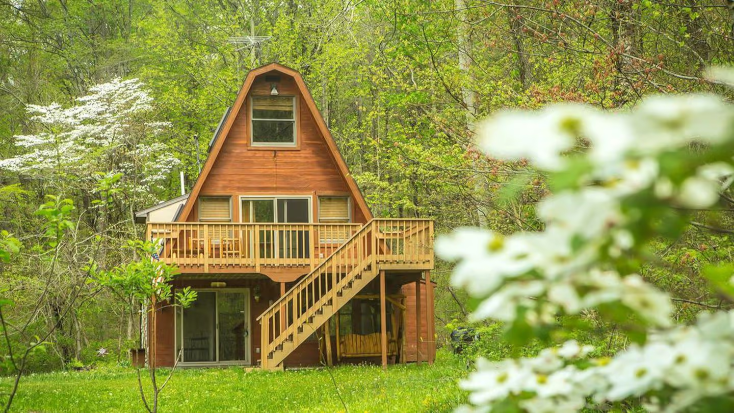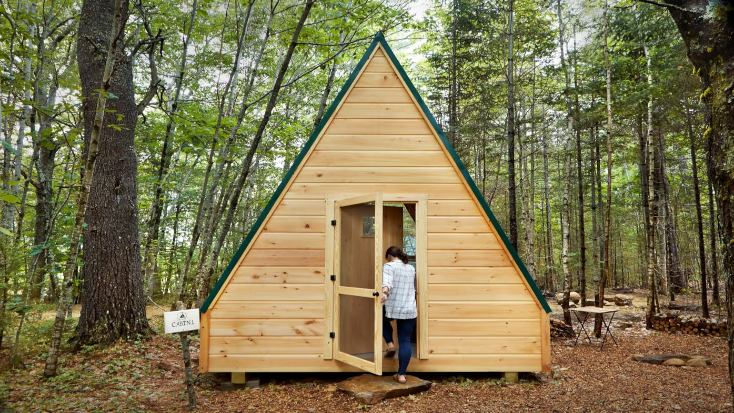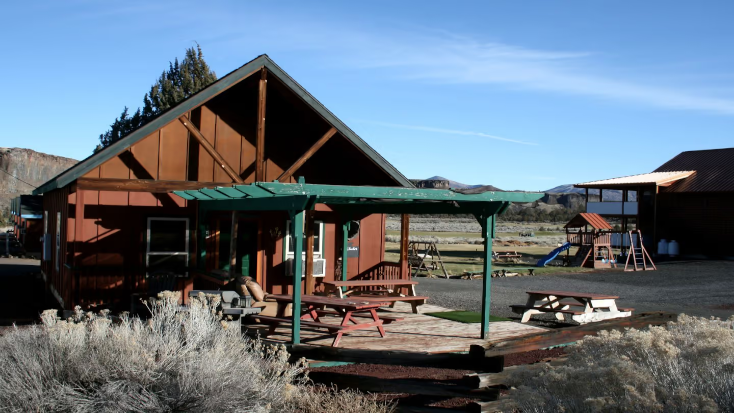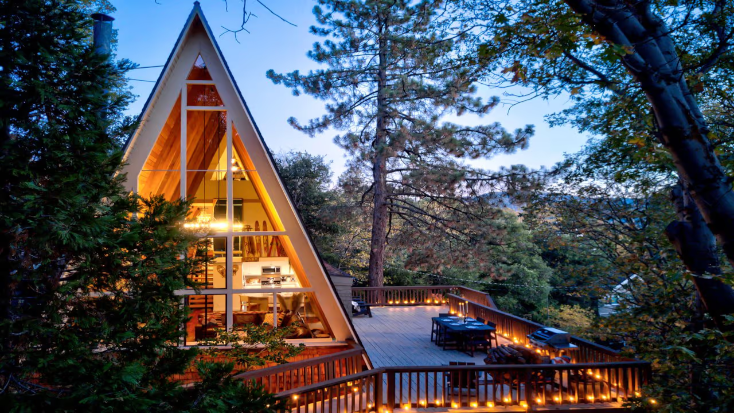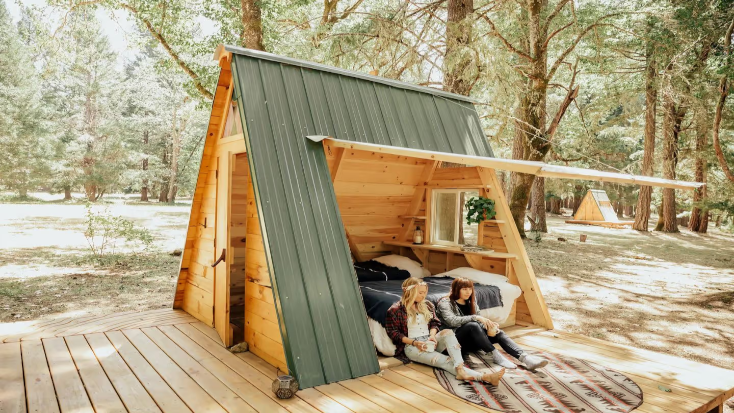 7. Peaceful A-Frame Cabin Rental in Tahoe City, California
Stay in this luxurious cabin and discover all that Tahoe City has to offer.
8. Luxury A-Frame Cabin in Carnelian Bay, California
Explore California's nature by staying in this A-frame cabin with the most beautiful all-glass window wall.
9. Picturesque A-Frame Cabin in the Catskills, New York
Nestled in the Catskills, this cabin in New York is your ideal peaceful retreat on the East Coast. This accommodation even has it's own yoga room, providing the ideal space to practice your form.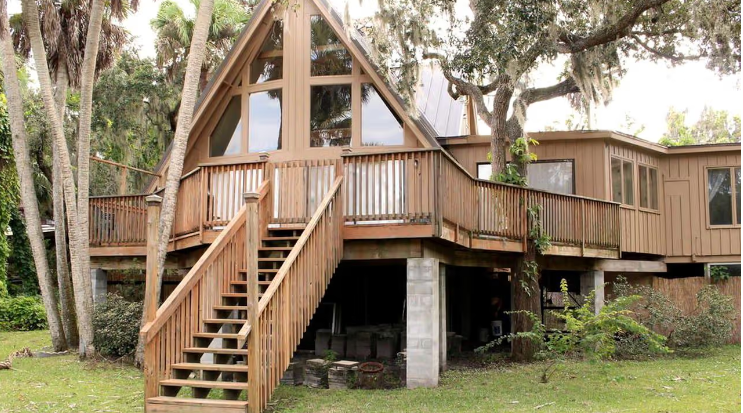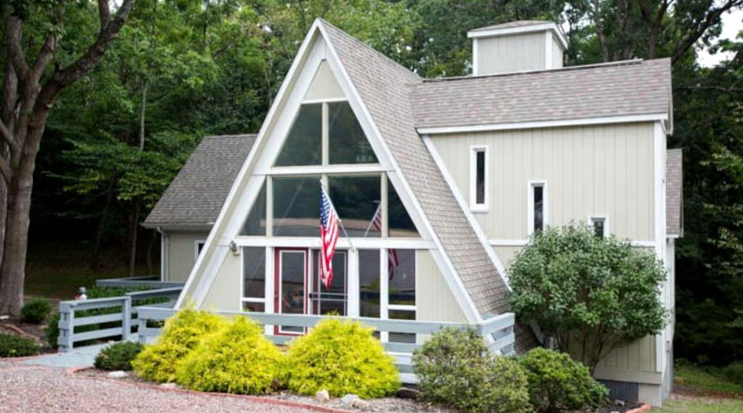 12. Beachfront A-Frame Cabin Rental in Florence, Oregon
Plan your stay at this beautiful beachfront cabin! Whether you choose to spend all day in the sand or explore all of the natural recreation areas nearby, the location will certainly not disappoint.
13. Beachside A-Frame Cabin near Cascade Head on Oregon Coast
Book your next adventure at this A-frame cabin near Cascade Head. With less than a minute's walk to the beach, this truly is the ultimate beach getaway.
14. A-Frame Cabin Nestled in the Woods near Tahoe City, California
Check out this spacious cabin rental on the shores of Lake Tahoe!
15. Beautiful A-Frame Cabin near Lake Donner and Lake Tahoe, California
Plan your trip to this Lake Tahoe cabin and discover the endless outdoor activities in the area. Whether you want to hike the mountains or swim in Lake Tahoe, this trip will appeal to everyone.
16. Unique Woodland A-Frame Cabin in Lake Tahoe, California
Book your stay at this cabin in Lake Tahoe with beautiful lake views and beach access.
17. Riverside A-Frame Cabin on Umpqua River in Reedsport, Oregon
Check out this incredible riverside cabin on the Umpqua River. Known for its incredible fishing, this location allows you to fish on one of 17 nearby freshwater lakes.
18. Off-the-Grid A-Frame Cabin near Flagstaff, New Mexico
Stay in this secluded cabin for an adventure you will not forget! Situated on 100 acres of private solar-powered property, you will truly experience an escape from the modern world.
19. Rustic Forest Cabin near Sierra at Tahoe, California
Looking for something unique? Check out this forest cabin and get lost in the gorgeous Sierra Nevada Mountains.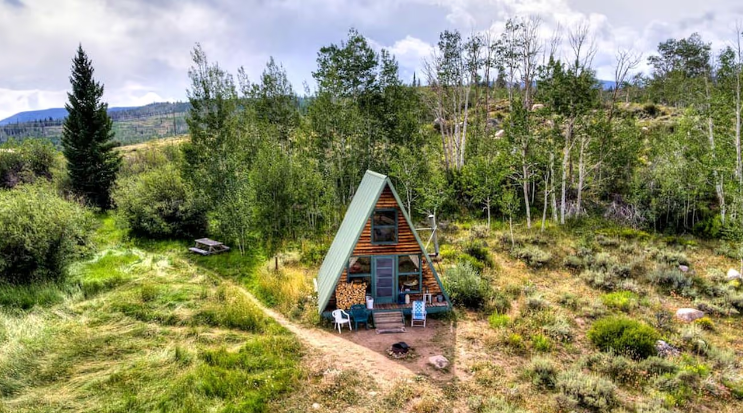 21. A-Frame Cabin near Big Bear Mountain Ski Resort, California
Book your stay at this rustic retreat and explore all of the outdoor adventure located just minutes away.
22. Charming A-Frame Cabin near Smoky Mountains in Townsend, Tennessee
Stay at this charming a-frame situated in the middle of a forest and explore the Smoky Mountains for your next adventure.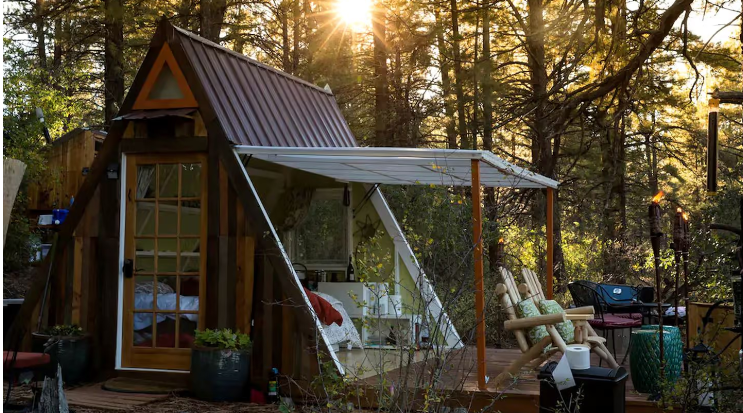 24. Luxury A-Frame Cabin in Zephyr Cove, Nevada
Ready to discover Nevada? Book this luxury cabin for panoramic lake views that will leave you speechless.
25. Deluxe A-Frame Rental in Glacier, Washington
Plan your stay at this stunning cabin and get ready to explore the beauty of Washington. Looking for even more of an adventure? Taking a day trip into Canada couldn't be easier from the location of this property!
Which A-frame is calling your name?
---
Looking for more inspiration to book your next escape? Check out our collections on unique A-frame cabins on the West Coast, in New York, and near Placer County!