We are seeing a significant fusion of various sectors of the travel industry, and as the largest and fastest growing sectors, hotels and short-term rentals are at the forefront. According to Skift, the convergence is most prominent on booking platforms, where hotels and rentals are now offered side-by-side, blurring the lines between different accommodation types in consumers' minds. Operators, such as hotel chains and rental businesses, are expanding into each other's markets.
The glamping industry, like any other, can be divided into different sectors. However, some changes have occurred in the glamping business model in recent years, and some new business models have emerged. This article looks at the glamping business model and its different facets adopted for the ever-growing glamping market.
Glamping is growing
The future looks bright for the glamping industry, as tourists opting to stay closer to home rather than book a foreign vacation have boosted luxury camping providers, who are reaping the benefits of a successful summer. However, scratch the surface of the statistics a little deeper, and facts about this burgeoning industry and the glamping business model become quite fascinating. The growing popularity of wellness tourism, the desire to reconnect with nature and de-stress, as well as an increase in eco-tourism, and consumer motivation toward outdoor adventure, are all key factors driving the growth of the glamping market and making it a popular staycation option. Find out more about the growing glamping trend here.
International luxury hotel brands are entering the glamping market
Post-pandemic, hotels are increasingly adding luxury tents to the accommodations they offer. Guests can experience a night in a luxury glamping tent with a private en-suite bathroom, while enjoying all the hotel facilities, including restaurants and spas. Hotels with glamping accommodations are a popular option for weddings, where guests can choose a standard hotel room or a night under the stars — which is great for catering to larger groups and providing guests with more accommodation options.
Marriott has recently entered the glamping market. Marriott provided luxury yurts at the 2017 Coachella music festival for guests who desired amenities such as air conditioning and real beds. The tents were so popular that they returned the following year, and the company recently opened an Indonesian glamping resort. Natra Bintan, A Tribute Portfolio Resort, is an idyllic glamping retreat located along the breathtaking Crystal Lagoon. This Bintan Island resort is perfect for large groups, families, and corporate events. Indoor and outdoor venues are available, and each space is complemented by delectable catering.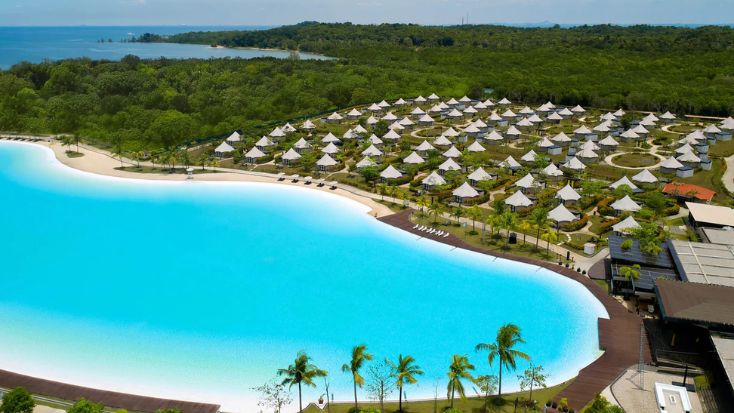 Supplementary accommodations
A hospitality business may choose to add a glamping element to an established hotel or resort to broaden the range of accommodation experiences available to their guests. They can accommodate more guests for events and weddings, as well as attract guests who would not have stayed otherwise.
Hoxton Hotels is a prime example of this type of glamping business model, with 12 luxe tents on the lush grounds of an imposing country house. In 2020, they debuted their Camp Hox concept as a "Pop-Up" with twelve lotus tents on the grounds of Eynsham Hall, an 18th-century estate in Oxfordshire. Each tent had a real bed with a duvet and pillows, electricity, a cozy armchair, and coffee and tea-making facilities. They were furnished with the same linens as the Hoxton hotels, as well as a private bathroom and shower, and a hot breakfast delivered every morning.
Activity-based glamping business model
Glamping involves giving your guests a unique experience in addition to luxurious camping. They might be able to get married at your hotel now, but imagine how special it would be if the wedding party could spend the night in opulent glamping tents. Hotel brands could also attract a larger spectrum of potential guests for family or group getaways — those who are sometimes willing to pay more money than they would for a hotel room in order to enjoy an unusual experience in nature.
Atlantis Paradise Island is an example of a hotel brand that provides activity-based glamping. With its new dusk-to-dawn Marine Life Camping Adventure, which includes an overnight stay under the Bahamian stars, this hotel has raised the bar on overnight stays. Rather than staying in a suite, guests can stay in climate-controlled luxury canvas tents on the beach near the property's Dolphin Cay habitat. This glamping experience can only be reserved for one night, by guests staying at the hotel, offering a mini getaway while on vacation.
The new luxury glamping package includes a variety of family-friendly activities like dolphin kayaking and exploring the underwater habitats in the nearby Ruins Lagoon. Guests will also be able to take behind-the-scenes tours of the property's other facilities, such as the Royal Towers Fish Hospital, Rehab Center, and Fish Kitchen. In addition to a unique family photo as a keepsake, the VIP experience includes a special after-dark glow-stick performance at Dolphin Cay.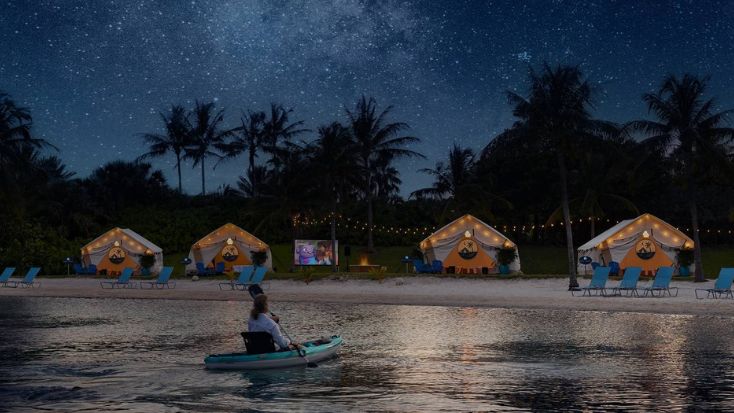 The rise of digital nomads and long-term rentals as a glamping business model
The most significant advantage for remote workers is the ability to travel wherever they want, from bustling cities to the peaceful countryside. Companies such as Airbnb, which changed its business model in April to focus on long-term stays, say they are still seeing an increase in both digital nomads booking long-term stays and hosts offering those category types.
Nomade Tulum is a rustic-chic enclave on a white-sand beach that bills itself as a temporary habitat for nomads. And what true nomad wouldn't feel right at home in a deluxe tent, especially one designed with natural elements from the surrounding jungle and pitched just steps away from the Caribbean?
Glamping events and wedding companies
These are companies that focus on large-scale events like Oktoberfest and Glastonbury music festival, where they provide complete accommodation packages based on high-quality tented accommodations. They often fall under the pop-up site category, but possess the potential to be a glamping business model of its own.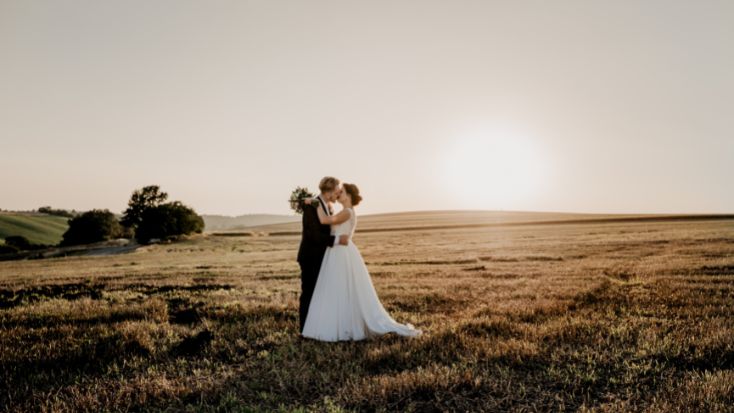 Pop-up glamping sites
This is also a well-known model that can be found all over the world right now. Pop-up or mobile glamping is usually glamping accommodation erected at regular campsites by a third-party operator for guests, taken down at the end of their stay, and sometimes re-erected at another site for them. Event glamping, in which a glamping village is erected for hire at events such as festivals and sporting events like the 'Pop Up Hotel' at Coachella, could also fall under this glamping business model.
Find out more about what pop-up glamping is here.
Ideas for getting into glamping
If you want to take advantage of the growing glamping trend, the first step is to choose your glamping business model. Some hoteliers extend their existing properties, while others establish entirely new resorts. If you have limited space for growth, it is better to add to an existing property or go the pop-up glamping route. If you've already purchased a suitable property but have yet to break ground, consult with your architects to see how you can design the buildings to take advantage of this trend. When it comes to creating the ultimate glamping experience, the grounds are important. One of the best parts of glamping, for example, is providing the opportunity for glamping to reconnect with and explore the great outdoors.
Develop with Glamping Hub
At the end of the day, the most important thing to remember is to choose a glamping business model that makes your business truly unique. Remember that glampers want a more immersive experience, one that allows them to connect with nature and disconnect from daily stresses, so your glamping business should provide just that. With our Develop with Glamping Hub program, we will help you choose structures that are in line with your vision and offer the highest ROI. We use our expertise to give you up-to-date, relevant, and industry-specific insights to guide your expansion plans. Get in touch with our experts today.