There are so many phrases to describe the wealth of options we have to escape the hustle and bustle of every day, if only temporarily—say a weekend getaway in glamping domes. An idyllic or luxury home-away-from-home for a couple of days might be the difference between slowly going insane or finally completing that novel—whether your sense of adventure is pulling you to a secluded mountain valley or your mind is pleading for a private spot to read or get back in touch with nature.

Buying a glamping accommodation can be an incredible investment for you and your family, or a smart business choice. However, settling on the details can be tricky. Glamping accommodations, such as glamping domes, take advantage of the surrounding natural elements, creating the best space for eco-friendly travel and sustainable tourism. To help you understand all of the possibilities available, we've got everything you need to know before buying geodesic dome tents.
What are glamping domes?
Richard Buckminster Fuller, an American engineer and architect, invented the geodesic dome in the late 1940s. They are sphere-like structures made up of a network of triangles that provide a self-balancing structural framework with few materials. Glamping domes are versatile structures that can be used as eco-living pods, a greenhouse, yoga studios, pop-up street cafes, and glamping accommodations. Not only are they captivating to look at and make for excellent social media shots, but they are elegant, durable, and generally easy to assemble.
The domes come in a variety of sizes and include features such as panoramic bay windows, skylights, and multiple entrances, and are fully customizable to meet your specific needs. The most popular choice for the glamping industry is 6m glamping domes. According to Guinness World Records, the Jeddah Super Dome in Saudi Arabia is currently the largest dome in the world, sitting at 690ft.
Who are glamping domes for?
Everyone who enjoys the outdoors. Glamping domes are also excellent for those who require living, storage, or growing space. Domes can also be used as living areas, eco-accommodations, fishing huts, base camps, or disaster relief shelters. Furthermore, domes are ideal for glamping and are used by owners of hotels, camping grounds, beach resorts, vineyards, bed and breakfasts, ski resorts, and golf resorts.
Whether you are looking for ways to make a living by starting up a glamping business, an additional income source or to add extra value to your business, the glamping domes are a perfect choice.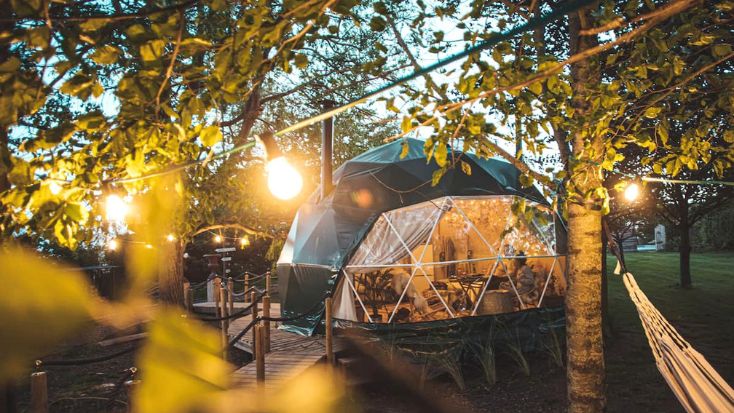 What are glamping domes made of?
The materials used to construct glamping domes vary greatly. Timber, PVC, or galvanized steel frames covered with a thin architectural membrane (such as PVC polyester or ETFE foil) can be used for simple, movable structures. Larger, more permanent structures, such as sports stadiums, have been built with aluminum and steel frames and panels made of copper, aluminum, acrylic, and Plexiglas.
Why are they so popular?
The dome has a long history in architecture and has been a design feature of many different types of structures all over the world. Domes are prominent features of Persian, Roman, Byzantine, Islamic, and Italian Renaissance architecture, among others. They have several characteristics that have made them popular over the years, aside from their monumental and impressive aesthetics.
Domes can be very efficient and cost-effective structures because they require significantly less material to build and are often lighter in weight than other types of glamping or vacation rental structures such as Tree houses or Tiny Homes. A dome typically has less surface area and their reduced surface area can improve energy efficiency because they need less energy for heating and cooling. They are also self-supporting, with gravity acting on their weight to keep them in compression.
Check out this Luxurious Dome Rental for Glamping in Mexico
How portable is a dome home?
The dome's portability is its most appealing feature for glamping businesses. They can be transported and erected almost anywhere because they pack down so small. The dome's natural ability to expand to enormous proportions is another attractive feature. However, this can depend on the amenities you may choose to include in your glamping domes. Some glamping manufacturers offer kitchen and bathroom suites within the structure, so once installed they are a little more difficult to transport.
How do glamping domes behave in extreme weather conditions?
In any weather condition, glamping domes provide a safe and weatherproof shelter. Because of their high-quality design and construction, these clever shapes can be used all year in any environment. They are made of high-quality materials that can withstand high winds, heavy snow, and even earthquakes. Lots of glamping dome manufacturers offer additional heating and cooling, including fireplaces and air-con systems to help keep guests happy during their stay.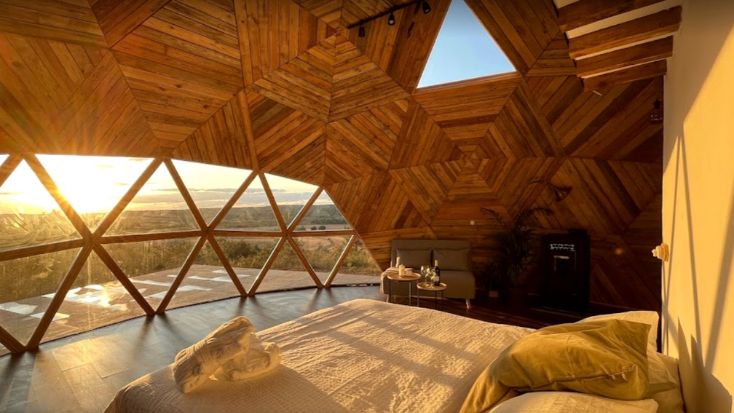 Domes for your glamping business
Glamping is a new and popular style of tourism that is gaining popularity across the world. It is defined as a high-end camping experience that combines the natural beauty of outdoor camping with more luxurious comforts. More and more landowners and hotel investors are welcoming this sort of tourism and offering their services in an environmentally responsible manner.
Geodomes for glamping experiences are the perfect option if you're looking for year-round accommodation units with spectacular views or alternative constructions for your eco-hotel. Glamping Hub is actively exploring and developing successful solutions for new glamping projects, and we're utilizing our experience to provide you with up-to-date, relevant, and industry-specific information to help you with your expansion goals.
Start a glamping business and grow with confidence today.