A lavish camping idea developed decades ago for affluent safaris in Africa is now growing in North America, largely supported by small startups struggling to meet the demand for luxury glamping rentals in the great outdoors.
Travelers' interest in glamping has increased dramatically over the past few years, with many glamping businesses across the globe making record-breaking profits just last year. The potential for hosting visitors in cabins, pods, and tree houses has never been greater.
One of the main factors propelling the glamping market at the moment is the rise in government-backed investments in the tourism industry. There are now fantastic ways to draw more visitors to outdoor locations, and consumers are more inclined to opt for unique glamping rentals in nature, thanks to the adoption and integration of technologies, which is boosting market expansion.

So, why is glamping so popular?
The desire of tourists to enjoy the great outdoors and spend time in nature is without a doubt the most significant cause behind the growth of glamping. Before the pandemic, travelers were already trying to get away from the chaotic city life, and the virus's lengthy lockdowns just made this desire stronger.
In fact, 58 percent of visitors say they are eager to explore the outdoors (with solitary mountain and rural escapes taking the lead), while only 15 percent indicate that their top travel priorities are urban experiences, according to Evolve's 2022 Travel Trends Forecast.
There are plenty of factors that drive the growing glamping industry, but the most significant one is the desire to get back in touch with nature and spend time outdoors. Before the pandemic, travelers were already trying to get away from the hustle and bustle of everyday life, and the lengthy lockdowns have just made this desire stronger. In fact, 58% of visitors say they are eager to explore the outdoors and discover secluded mountain settings, while only 15% indicate that their top travel priorities are urban experiences—this is according to Evolve's 2022 Travel Trends Forecast.
The glamping market was valued at a whopping USD 2.35 billion in 2021 and is expected to expand at a compound annual growth rate of 10.9% from 2022 to 2030, according to a recent market analysis report by Grand View Research.
More and more companies worldwide are investing in glamping sites to meet the rising demand. At the same time, online booking platforms for unique glamping rentals are emerging, catching the interest of investors. Interestingly enough, the popularity of social media among consumers and the novelty of a glamping rental raise awareness of glamping and its advantages. The market analysis report also notes that availability of time, consumer willingness to pay for luxury travel, and preferences for experiences over traditional pampering are some of the elements that will spur the industry's growth.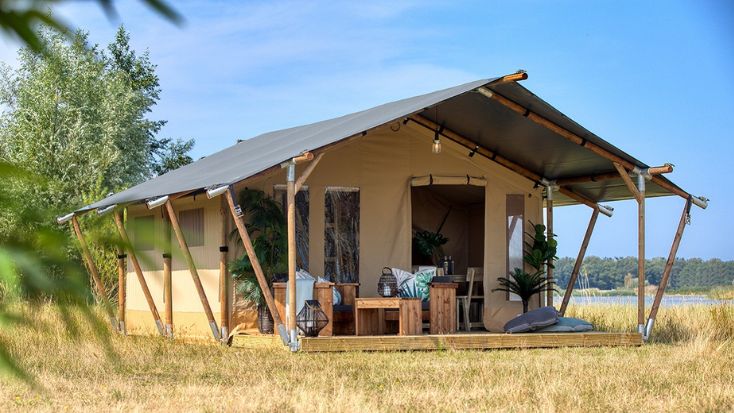 Unique Glamping Rentals
The travel, outdoor recreation, and hospitality sectors are all experiencing a glamping boom. Even if you haven't kept up with "glamping" trends, it's likely that you're at least familiar with the industry. Since the phrase gained traction in the UK and Europe in 2007, the popularity of glamping as a global trend has increased tremendously. After being officially added to the Oxford English Dictionary in 2016, the term "glamping" has now become a well-established industry in the US, the UK, and Europe. And as we've already mentioned, there are zero signs of it slowing down.
The accommodation options that make up a glamping experience range as wildly as the locations themselves, from cabins and safari tents to yurts, domes, tipis, and Airstreams. But how do they affect the success of your glamping business? Here are three glamping rental options that are affordable, easy to set up or break down, portable, and durable—making them perfect for getting started in the glamping business.
The Safari Tent
As a glamping business owner, you've obviously realized the shift in travel trends and how popular glamping rentals are. People opting to escape the hustle and bustle for a weekend are now looking for seclusion, nature, and luxury. Carrying a roll of toilet paper under the arm has transformed into a unique glamping rental in the heart of the great outdoors that comes with all the amenities of home, including a private bathroom. Today's traveler places a high priority on having an unforgettable experience. With a safari tent glamping rental option, you will be able to provide your visitors with the luxury of a fully furnished vacation home in nature. Wouldn't you call that ideal?
Safari Tent Quality
Glamping business owners already have a lot on their minds when just starting out. Using the best materials for safari tents means not having to worry about them. Because the tents can be left outside all year, they don't need to be taken down during the low season. Safari tents are typically made from a variety of materials, including wood, steel, and canvas. Check the quality of these materials before making a purchase. You'll want your safari tent to be durable and resistant to the elements. Furthermore, the best glamping safari tents are made of weather-resistant materials. The canvas fabric must be both durable and flexible.
Safari Tent Lifespan
Safari tents have an expected lifespan of eight to 10 years. Choosing the right materials leads to high durability, so you will not have to worry about weather conditions because safari tents are built with ironclad wooden frames. The safari tents are winter-proof, wind-resistant, and even come with snow frames.
The Safari Tent's Return on Investment
Safari tents are a low-cost investment with an easy and quick installation that will result in a higher income return. And, because glamping getaways are in high demand, you will quickly see a return on your investment. Guests are also willing to pay more for luxury camping than they are for a basic camping pitch. You can charge even more if you add some luxurious amenities or facilities to make the experience truly unique, such as a fire pit, a hot tub, or bicycles for guests to use during their stay.
Find out everything you need to know before buying a safari tent.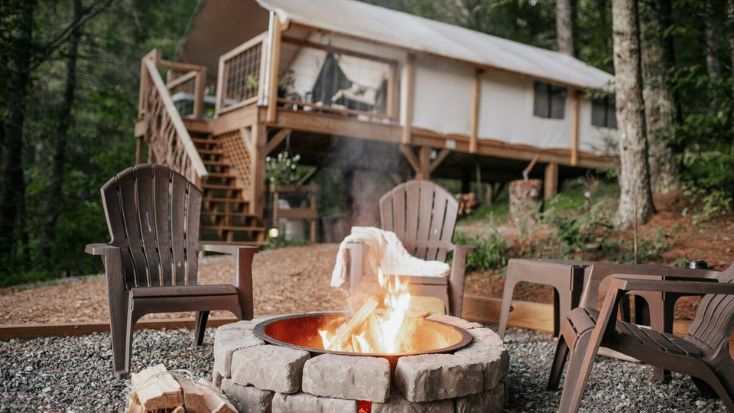 The Glamping Dome
Glamping domes have recently become extremely popular among outdoor enthusiasts. They offer an excellent alternative experience for an unforgettable getaway in nature. Buying glamping accommodation can be a fantastic investment. However, deciding on the specifics can be difficult. Glamping accommodations, such as geodesic domes, take advantage of the natural elements around them, creating the ideal environment for eco-friendly travel and sustainable tourism. So, how do they affect your success?
Dome Quality
Domes can be very efficient and cost-effective structures because they require significantly less material to build and are often lighter in weight than other roof types. A dome typically has less surface area than other comparable structures and their reduced surface area can improve energy efficiency because they need less energy for heating and cooling. They are also self-supporting, with gravity acting on their weight to keep them in compression.
Dome Lifespan
Glamping domes are made of flexible and durable solid, high-strength steel pipes, some materials used to construct domes are low-maintenance and energy-efficient. Domes are generally built to a high standard and have a life expectancy of up to 20 years. They can withstand strong winds and extreme temperatures, which makes them a great choice for your glamping business.
The Dome's Return on Investment
Domes are the perfect option if you're looking for a year-round glamping business. It is possible to achieve a 100 percent ROI from your first season of operation and, if you can recoup your total investment within your first season, you'll be looking at significant profits in the future. Furthermore, because domes require little maintenance, they make excellent investments—they are a low-cost, high-income solution.
Find out more about the dome and what you should consider before buying one for your glamping business.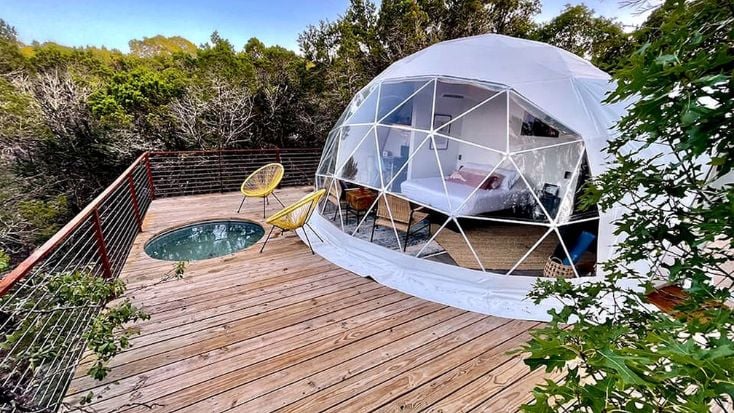 The Bell Tent
Bell tents are popular because of their space and longevity. Their flexibility and ease of setup make them a popular type of canvas tent for glamping business owners. The average bell tent takes about 20 minutes to set up and is supported by a large pole in the center. The humidity control, waterproof features, and mesh properties mean a bell tent can be used in any climate. What they lack in portability due to their weight, they make up for with an unforgettable camping experience.
Bell Tent Quality
Bell tents are constructed of heavy-duty tent canvas. A traditional bell tent will be made of heavy-duty cotton tent fabric. Although lighter-weight fabrics are available, high-quality, unbleached cotton canvas is regarded as the best option.
Bell Tent Lifespan
Because of their durability, bell tents have been used for centuries. They are tightly woven and built with quality materials to last. However, how your tent is used, how long it is pitched for, the environment, weather, and sun exposure all have an impact on its lifespan. Having said that, with proper care and storage, you can expect your bell tent to last a decade or more, so it is a good option for your glamping business.
The Bell Tent's Return on Investment
The bell tent can incur the same nightly rental fee as a yurt, tipi, or tiny home, but it costs a fraction of the price to buy. Because they are so simple to pitch and store, you can always keep extra on hand to meet demand during the summer vacation. The bell tent epitomizes what true luxury camping should be like. They are extremely functional, completely unique, and have a consistent 'wow' factor. Investing in a bell tent should be a no-brainer for any glamping business owner serious about making a profit because they can outperform everything else in terms of return on investment.
Here's everything you need to know before buying a bell tent.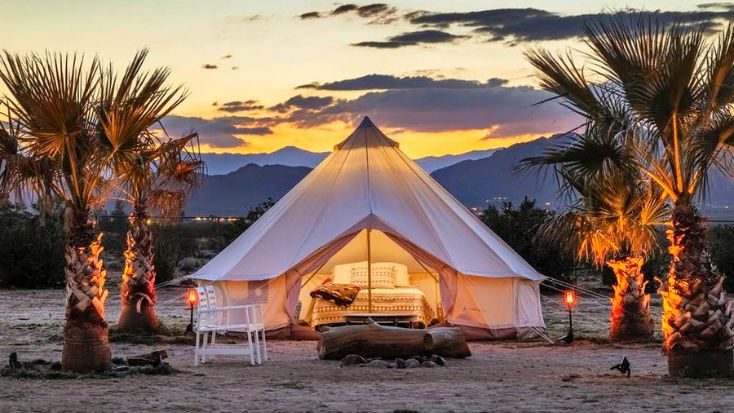 Your Glamping Rentals Business Success
People are always looking for opportunities to get back in touch with nature, especially these days. The rise in stress and pollution, as well as mental and physical health, means there are more people chasing the glamping rentals dream because they don't have to sacrifice their comforts for a weekend in nature. So, your glamping business will likely attract new-age travelers who won't mind spending a little money on unique experiences.
A successful glamping rentals business might break even very quickly and begin making money by the second year of operation. Your business will be profitable as long as you have a good location, a unique glamping structure, and luxurious amenities.
Glamping is here to stay. Travelers continue to prioritize luxury, wellness, and adventure while also becoming more environmentally aware and placing a high value on sustainability. Glamping seamlessly combines these passions and principles, providing vacation rental owners with a unique chance to be a part of this expanding market.
Don't forget that Glamping Hub is helping people who are interested in starting or scaling their glamping businesses with a complete package of funding and ongoing growth services. Start a glamping business and grow with confidence today.