Editor's note: Each month, we like to introduce one of our wonderful Glamping Hub hosts and ask what inspired them to create a glamping site. This month, we're showcasing Glamping Hub's Host of the Month for November 2022, Rusty and Cecelia in Oakhurst California. This hosting couple began their glamping site by converting an old caboose into a guest space and has since added an adventurous treehouse and mountain suite. This warm and welcoming duo is currently constructing three more domes in Baja Califonia, New Mexico, to add to their fun glamping sites.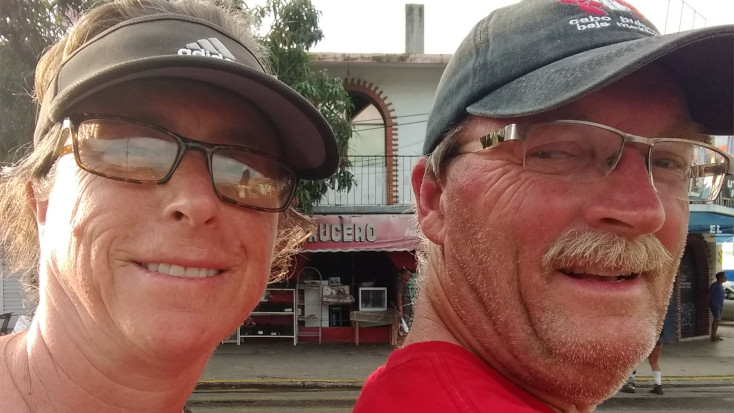 Tell us a bit about yourself
My wife, Cecelia, and I have been doing vacation rentals since 2011, starting with the caboose near Yosemite. After 30 years of teaching, coaching golf, and being an athletic director, I hung up education for construction. During the COVID pandemic, I got my contractor's license and started my own business focusing on helping others start their own vacation rentals. We are both educators, well one of us is still an educator. Once Cecelia retires we plan to expand our vacation rental in La Ribera, Baja California, by adding three domes we are currently constructing to the property. Life has been one adventure after another, but we love them all.
What attracted you to owning a glamping property?
Actually, a friend of ours had a double-wide mobile home as a vacation rental and convinced us to jump into the vacation rental business. Sharing our unique and peaceful places as well as meeting new people is a great experience. Being able to share stories over a glass of wine with guests means we learn many fascinating things about people from places around the USA and the world.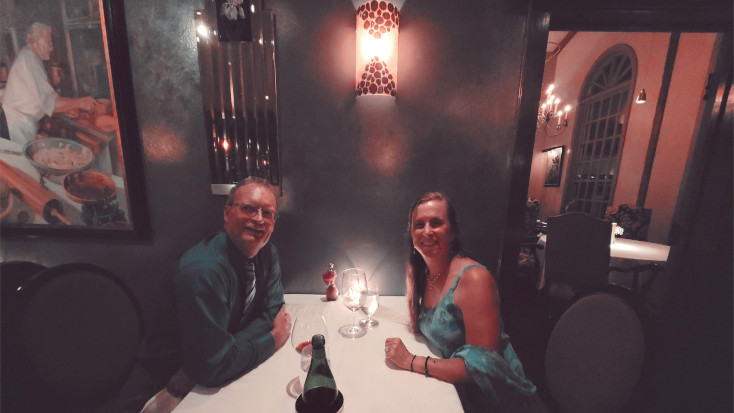 Every glamping site has a special story, could you tell us about yours?
Our story begins with us purchasing a five-acre property that had an amazing forest of pines and oak trees with a rather unremarkable house on it. Over the years we have lived by the John Muir mantra: "Wherever you go, leave the place better than when you came." So, with that in mind, we have cleared brush and cleaned up our five acres to create a peaceful sanctuary where people can get away to rest and relax. Along with tending the land, we remodeled the house into our own Oetinger design. All of the construction and design work was done by my wife and me. The only thing we subbed out was the drywall, we hate doing drywall.
When you live near Yosemite, friends, and family tend to migrate toward your home, so we started having a lot of visitors. Despite expanding the house, we just didn't have enough room, and I got the crazy idea to purchase the abandoned Santa Fe Caboose in town. Before retiring as a vacation rental, the caboose was an abandoned Mexican restaurant. I thought I was lowballing the owner when I offered him $2000 for the caboose. To my surprise, he didn't even haggle. I understood why later when I had to hire a giant crane, and two semi-trucks to move the thing to my property. $7000 later, I still figured I got a bargain. I spent the next year and a half, cleaning it out and refurbishing it. In the spring of 2011, we opened the caboose as a vacation rental and have never looked back. Since then, we added a 300 sq. ft. treehouse. Initially, it was for my kids but they prefer their old rooms and so the treehouse has joined our rentals. It has been a real adventure ever since.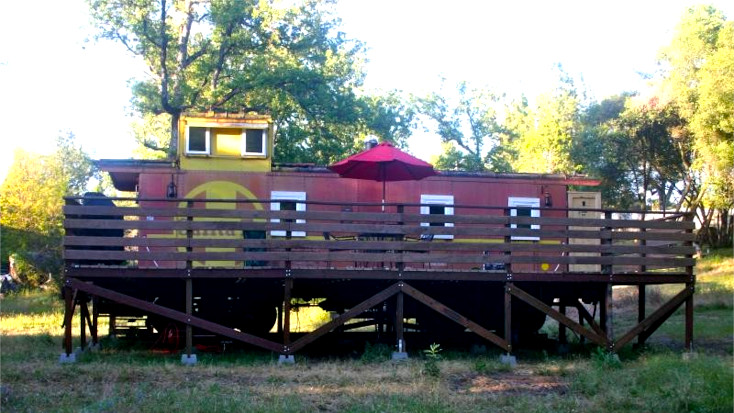 What are some of the challenges you face and what have you learned since opening?
The challenges that we face are about how to maintain great service while we are traveling. We have learned that it is extremely important to hire great people to work with. The greatest challenge is trying to be too perfect. What I mean by that is; it is important to realize that things don't always run smoothly or perfectly and that is the nature of the business. Most guests accept our special place for what it is and love it as much as we do.
How was your first time hosting?
Our first-time hosting was outstanding! We hosted a couple from Washington DC. We gave them all the information about the place and the local knowledge regarding Yosemite and the surrounding area. The funny thing was, that they came back from their trip to Yosemite and just hung out with us, while we worked on our garden planting tomatoes. We ended up getting invited to visit them in DC.
Can you tell us about your most memorable guest experience to date?
Our most memorable guest experience was with two couples from LA. The family came to stay with us to celebrate their birthdays. They were an Armenian family and right away, I knew we were going to be good friends. As soon as I checked them in, they had me stay and tell me all about the caboose and its story. They surprised my family by cooking us a traditional Armenian dinner the next evening. They were treating us as if we were guests. At dinner, I learned things about the Armenian genocide that I had never heard of and had some of the most amazing food I have ever tasted. How the women cooked a seven-course meal with a toaster oven, microwave, and a hot plate, is beyond me. Amazing! They left and made us promise to visit them in LA. Two months later we were eating more Armenian food in their house. We are great friends to this day.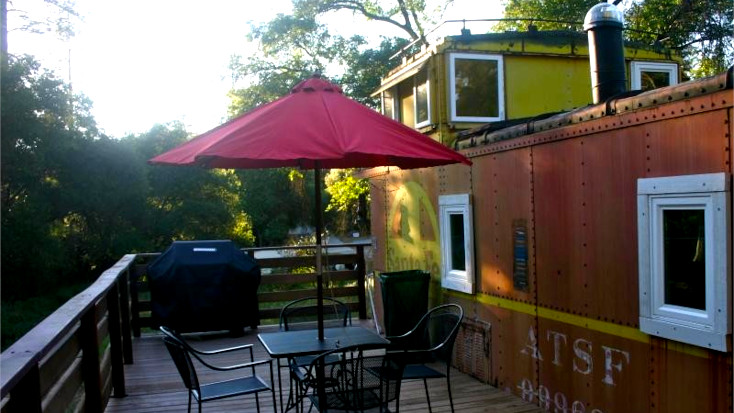 If you could have anybody stay at your accommodation, who would it be and why?
I would love to have Denzel Washington stay. It would be great to get to know him as a person rather than a celebrity. We could hang out around the fire pit and share stories over good food and good whiskey. He comes across as a person who embraces life and lives it to the fullest. I think he would love it here.
Where is your ideal holiday destination? Other than your glamping property of course!
Our favorites are Roatán in Honduras or anywhere in Thailand. Thailand might be our favorite. We love everything about Thailand, the food, the people, the surf, scuba diving, the warm water, and the relaxing vibe that just seems to permeate everything.
What do you love the most about running a glamping site?
We love the people. Definitely meeting new people! We love sitting and sharing stories and hearing about all the things going on in different parts of the country and the world. Having the opportunity to hang out with guests is really awesome.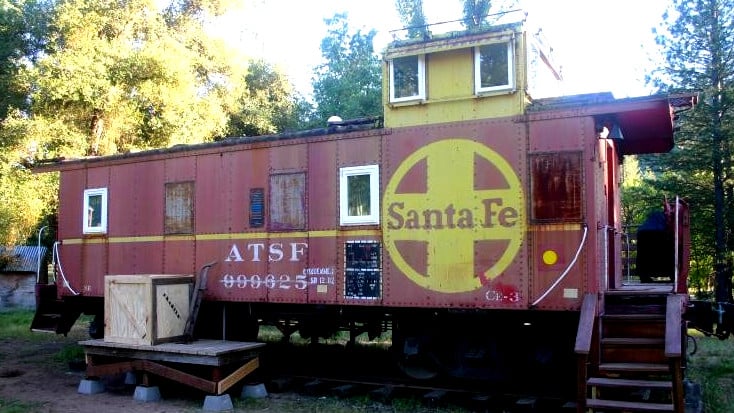 What advice would you give to anyone looking to start or improve their own glamping business?
The best advice we could give is to make your place unique and to treat every guest as if they are family. Welcome them and make them feel warm and comfortable. Give as much local knowledge as possible and help them to have the most enjoyable experience they can. I can't tell you how many times we have had dinner with guests in our home because I happened to be cooking something on the BBQ. So many of our guests have written in our guest book about hanging out with us, rather than writing about the amazing Yosemite Valley. It makes us proud to know that we made them feel like locals for a short time.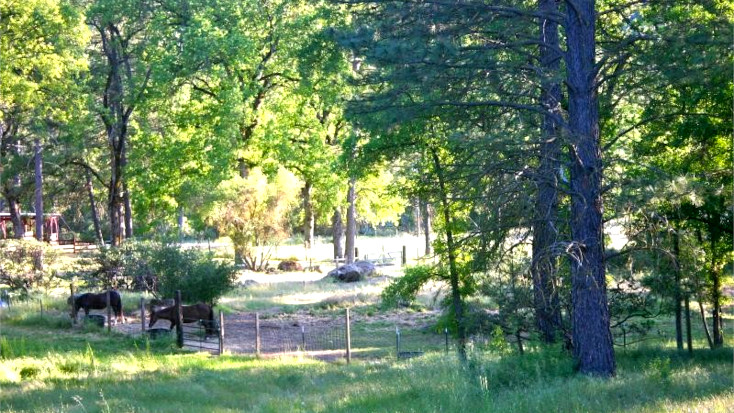 Our community of hosts means everything to us here at Glamping Hub, which is why we love to share their stories in our Host of the Month feature. If you want to be welcomed like an old friend and enjoy a truly local getaway, book this treehouse near Yosemite, California. Rusty and Cecelia are sure to make you feel at home when you rent this cozy caboose in Oakhurst. You'll feel just like family when you stay in this cozy mountain suite near Yosemite National Park. In Mexico? Enjoy the couple's warm hospitality in La Ribera, Baja California.
Have you stayed with one of our incredible hosts recently and would like to nominate them for Glamping Hub's Host of the Month? Send us a message via Facebook or Instagram explaining who you've chosen and why!