Editor's note: Each month, we'd like to introduce you to one of our wonderful Glamping Hub hosts and what inspired them to create a glamping site. This month, we have Julia, who manages this vintage travel trailer near Los Angeles, California.
1. What is the story behind you starting your glamping site?
When my husband, Michael, and I bought our property in 2011, I realized the potential to develop a "trailer zone" near the rather forlorn and abandoned wood interior office trailer from 1963 that was near the shipping container. Both were left on the northern half of our acre by the former owner. We had to do a lot of cleaning and junk removal, but it became a nice alternative bedroom and art supplies storage unit.
The open land and framework nearby inspired me to build out and get another trailer for a nice guest area. In 2016, I found one for sale in New Orleans, so we went out there and bought her. Michael and the seller brought her back and up the hill, where she now permanently resides.
2. What did you do before becoming a glamping host? What drew you to glamping?
I grew up camping quite a bit with my family across the U.S., always car camping to visit relatives between California and Maine. I also have extensive backpacking experience in the Sierra Nevada and Vancouver Island. As adults, we have both traveled widely internationally and love the excitement of wild places. We both enjoy adventuring, hiking and freelance employment—me in the fashion industry and Michael as owner of Seaman Battens.
The popularity of restoration and ownership vintage trailers, as well as glamping in them, is widespread. We want to offer a similar experience in a highly collectible trailer for future guests who are still dreaming about, or working on their trailers, as well as those who are searching for a totally unforgettable stay.
3. In your opinion, how does your accommodation fit the definition of glamping?
In every way! Our 1954 Spartan Manor trailer and 1963 vintage office trailer are extremely collectible and both quite rare. The site itself is spectacular, and somehow the short steep road is just right to get a feeling of remoteness and distance from everyday life.
The trailer zone is fully outfitted for luxurious relaxation, with numerous lounging options and trails nearby for exploring. It offers guests privacy, open air, nature at the doorstep, and civilized amenities, such as shade, comfortable furniture, a well-equipped kitchen, and a bathroom with hot shower.
4. What is the most special thing about your property?
It has to be the view. Or Bella, our beautiful dog. The first we have gotten used to, the latter we adore, and our guests love her, too. Hiking with Bella off-leash is a great experience; just watching her leap like a gazelle and enjoy life reminds us to try that, too.
The trailer zone is special because it is self-contained and grants a feeling of serenity and privacy. Inside our house, we also get that.
In the springtime, the green, grassy hillsides and valley below are so stunning. 900 feet below us, at the valley level, we even have a water view! The ecology pond inside the nature preserve is designed to hold enough water through the dry season for the wild animals.
5. What do you love the most about running a glamping site? What are some of the challenges you face?
I really enjoyed building it and choosing all the materials—designing with recycled, repurposed, and reclaimed items found or sourced online. I learned that if you look long enough, you do find the great stuff!
We love to share our home and the trailer zone with friends, family, and guests. On a first visit, it is always really gratifying to see people's reactions to what we have achieved through the development of our property.
We are expecting to have some upkeep; because of the age of the trailer, some furnishings and materials might need to be repaired or replaced. We will continue to restore the trailer and protect her from getting damaged. Encouraging guests to be easy on the old girl is important.
6. Tell us about your most memorable guest experience to date.
We had a couple here during the painted ladies butterfly migration. I think they planned to leave for the day, but they ended up lounging, relaxing and watching thousands of butterflies drift by on their journey to Oregon. It really was an amazing sight to see them floating by, five feet above the ground and in a straight line over obstacles. The guests even mentioned it in their review!
7. Which three words are most commonly used in guest feedback about your accommodation?
Unique, hiking, and view.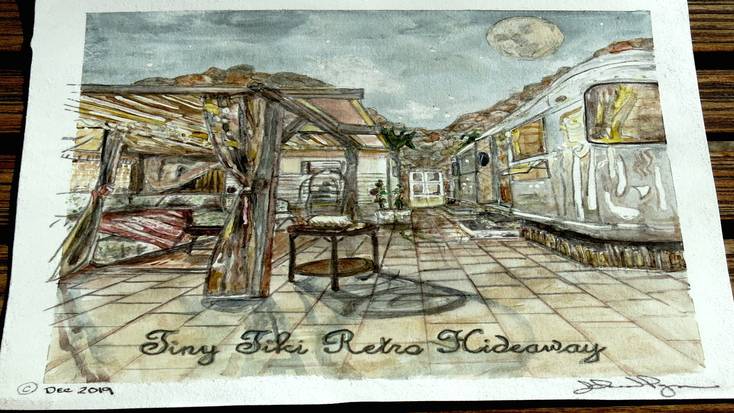 8. Tell us about the experience you provide for guests visiting your glamping site.
The trailer is completely furnished with custom-made and designer-sourced, one-of-a-kind items—right down to the plates and silverware. We stock fresh English muffins, eggs, and butter; and snacks, breakfast drinks, and condiments are supplied. Guests sleep in an extremely comfortable bed, dressed with high-end, super soft, 100% cotton linens.
We offer all guests a guided hiking experience nearby on the private trails, and we take Bella, too. The guests just love watching her antics! We also offer them to come visit our house, which is just 50 yards away; we want to make sure they know that we are there in case of any problems or questions.
9. If you could have anybody stay at your accommodation, who would it be and why?
We would love to meet Yvon Chouinard. He is strong, admirable, and smart—a true leader and lover of nature and of life.
"He is widely recognized for his unique corporate style and philosophy, and his visionary environmental leadership." – Doug Bruns
"Yvon Chouinard has come to embody something near-mythic: a life lived hard-on-the-edge, perfectly and gracefully." – Doug Stanton
10. Are there any upcoming additions/changes to your glamping site you would like to share with us?
The building phase did finally end after more than two years since bringing the Spartan Manor to Chatsworth. We always set up the outdoor bed, outdoor umbrellas, and all the extra outdoor furnishings on May 1. We would like to focus on providing positive, unique guest experiences and to meet fun and respectful guests who think it our property is as special as we do.
---
To book an unforgettable stay with your special someone at Julia's vintage travel trailer in California, click here!
Photo credit goes to both Sibylle Allgaier and Ethan Abitz. Video credit goes to Ethan Abitz.