The travel and hospitality industry has undergone significant changes and hardships this year and our hosts have had to adapt very quickly to ensure that they can continue to accept bookings and make sure that their guests remain safe and have a unique experience in nature.
A recent Instagram hashtag, #HowToHost, has become a special corner on Instagram for hosts who are looking for advice and ideas for how to keep up with the changes in hosting during these unprecedented times. Because we're committed to helping our hosts thrive during the pandemic, we've put together a list of some of the best suggestions for hosting during COVID-19.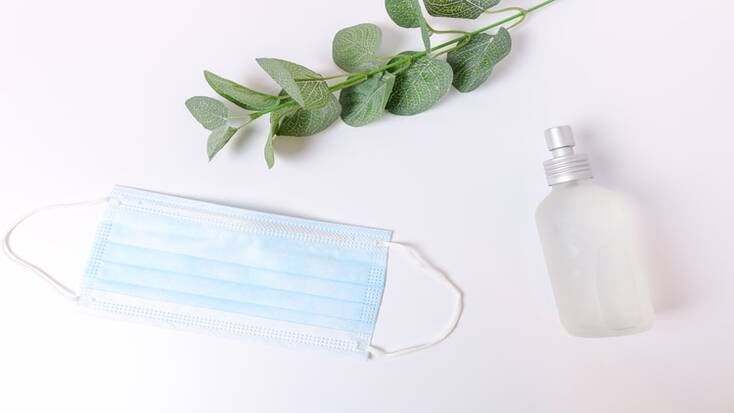 1. Update your COVID-19 policies
Update your COVID-19 policies in the COVID Actions section on the homepage of the dashboard. If there are changes in the amenities offered or if guests will not have access to any facilities or amenities due to COVID-19, you can input that information in your listing. You can also explain what hygienic measures you are taking to prevent the transmission of the virus and properly disinfect between bookings.
2. Use best cleaning/sanitation practices
Wear a mask during all guest and host interactions
Social distance (6 feet/2 meters) in between people
Wash your hands regularly with soap and water for at least 20 seconds
Limit or restrict shared spaces
Adjust your cleaning routine:

Ensure that all linens including duvets, extra blankets, and decorative pillows are cleaned between stays
Leave cleaning supplies (soap, sanitizer, surface wipes, etc.) for guests to use throughout their stay
Sanitize all surfaces (especially frequently touched surfaces like doorknobs) and provide good ventilation in the accommodation while cleaning
Sanitize shared and common spaces (bathrooms, kitchens, etc.) as much as possible
Consider self-check-in options when possible
3. Use the Advanced Notice Selector feature
Use the Advanced Notice Selector feature to allow yourself enough time to disinfect and clean between bookings. Because of COVID-19, we find that many guests are booking closer to the check-in date. To avoid last-minute booking requests that you can't accommodate, we recommend using the advanced notice selector to prevent guests from booking within a period of time you choose. This allows hosts to properly clean and prepare accommodations without damaging their Confirmation Ratio.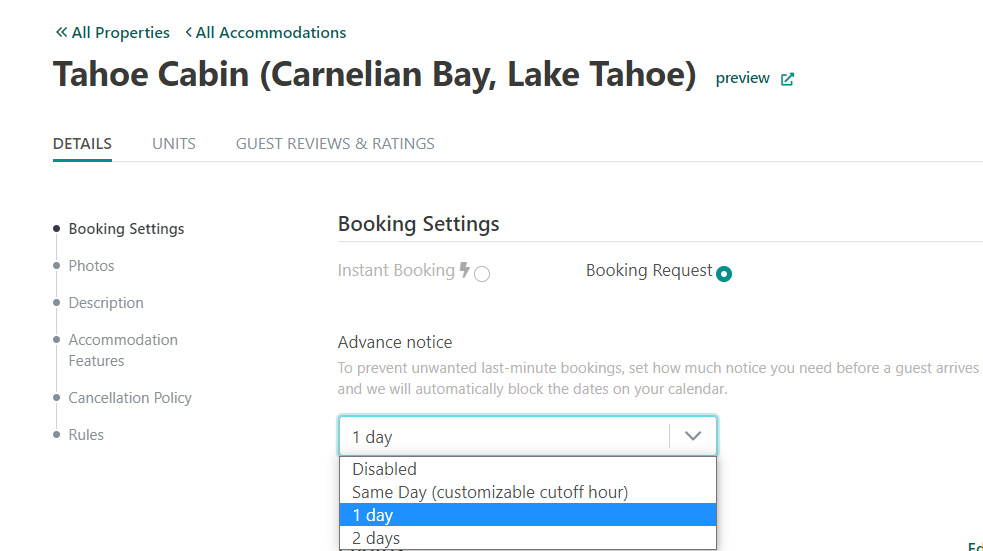 4. Pay special attention to shared spaces
Many of our hosts have Shared Facilities, we have found that guest's biggest concerns are often these communal areas. Take extra steps to ensure that guests are comfortable with using the facilities in these communal areas and that you're taking the necessary precautions to maintain social distancing and cleanliness if these areas remain open. These areas typically include communal bathrooms, kitchens, showers, firepits, etc.
5. Check local rules and regulations
Be sure to update guests on Local Rules & Regulations as not all guests are traveling locally. Because local rules and regulations tend to differ from area to area, make sure that guests are aware of anything that may affect their stay.
6. Include guest supplies
Guests may forget or may not bring extra items such as hand sanitizer, masks, or other supplies. Include a few Guest Supplies in the accommodation in case of an emergency or to help the guest feel a bit more comfortable during their stay.
7. Accommodate remote workers
Many guests traveling right now are Remote Workers. We recommend that hosts expand their amenities that allow guests to work remotely – for instance, high-speed Wi-Fi, a comfortable place to work, electricity, etc., to ensure that guests can work uninterrupted.
Here at Glamping Hub, we're dedicated to our thoughtful community of hosts, and by following these simple recommendations, you can continue hosting during COVID-19 safely, ensuring that once-in-a-lifetime glamping getaway for all your lucky guests. To update your listing or for any queries, feel free to email [email protected] or create an appointment here.