Spring Break is just around the corner and it's time to start planning your next getaway filled with sun, sand, and smiles. To help you out, we've gathered a list of the best Spring Break 2018 ideas that will guarantee a trip you won't forget.
Slather on some sunscreen, and grab your sunglasses before heading to these destinations that will blow you away with their relaxed, warm, and dazzling surroundings. Whether you're escaping the daily grind with a crew of your closest pals or looking for some quality time with your family, these glamping sites will give you a Spring Break that will be the envy of all your friends!
Private Tram up to Deluxe, Pet-Friendly Villa with Lake Views in Austin, Texas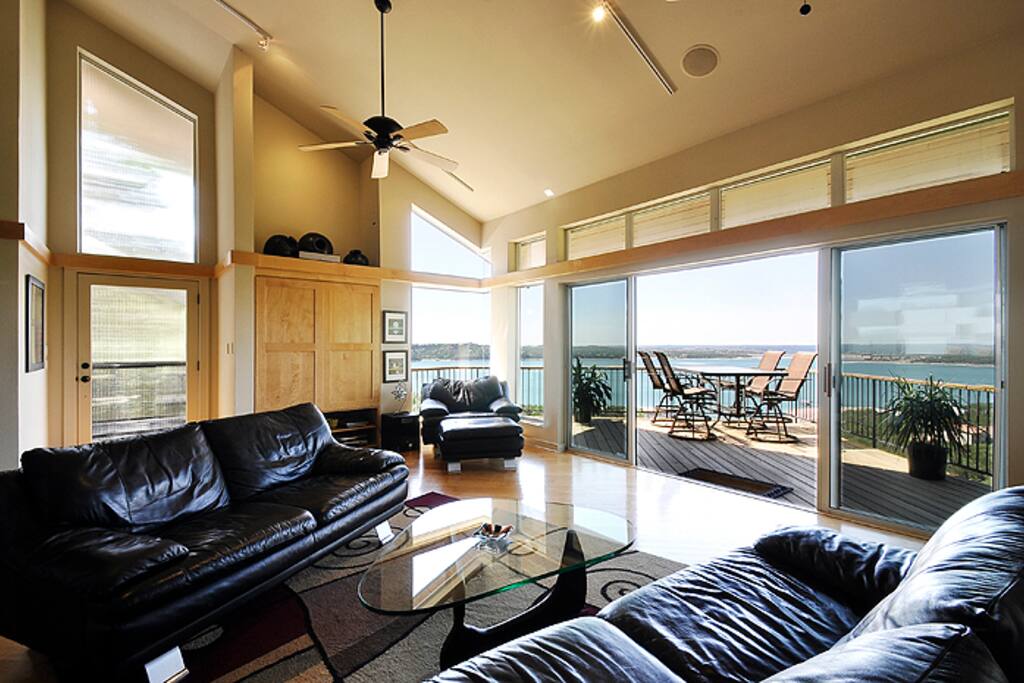 This stunning villa in Austin, Texas is perfect for the ultimate Spring Break filled with amazing views, fun activities, and quality time with your friends or family. Kick back and relax on one of the three balconies for views of Lake Travis that can't be beat.
For something a little more thrilling, venture down in your private tram, and hop on a zipline tour over the lake's pristine blue waters. Since this luxurious villa is conveniently located right near the South by Southwest (SwSX) festival that occurs in March, you'll have the opportunity to be inspired by a wealth of music, film, and interactive exhibits when you spend your Spring Break here.
Ocean View Huts Just Outside Puerto Vallarta, Mexico
What says Spring Break more loud and clear than a trip to tropical and colorful Mexico? These huts with a pristine ocean view will allow you to spend your vacation in the perfect laid-back and serene atmosphere. Take a trek over to the nearby town of Yelapa for some unforgettable waterfall views, a thrilling trip paragliding over the coast, or a relaxing day at the spa. You're sure to come home with both a glowing tan and a beaming smile when you stay in one of these unique and secluded ocean huts.
Luxury Charter Yacht Rentals in San Diego with Bed and Breakfast Option

Enjoy everything San Diego has to offer in supreme style and freedom with this luxury charter yacht rental. Live a luxurious lifestyle with this yacht's well-decorated staterooms, fully equipped galley area, entertainment systems, and catering service.
With a wealth of interesting places to visit, including the USS Midway Museum, San Diego Zoo, and Balboa Park, it'll be impossible for you to get bored on your most exciting Spring Break trip yet.
Spacious and Elegant Cabins in a Tropical Rainforest in the Caribbean, Costa Rica

For a refreshing and rejuvenating Spring Break that will relieve all your stress and recharge your batteries, take a look at these cabins in the rainforest of Costa Rica. For some ultimate relaxation, take advantage of the available hot tub, massages, and nearby yoga retreats that will make you forget all your troubles.
It'll be hard to believe your eyes when you see the nearby beaches, some of which are ranked among the best in the world. You'll understand why once you step onto the famously pristine and white Costa Rican sand and look out over the stunning turquoise water!
Eco-Bungalows in Caribbean Country Lodge, St. Croix, Virgin Islands

Round up your buddies, and head to these eco-bungalows in Saint Croix in the Virgin Islands for a Spring Break that will give you a whole new perspective on life. Whether it be snorkeling, hiking, or feeding the local turtles, you will have abundant opportunities to explore Saint Croix's breathtaking wilderness.
The vibrant local jazz and reggae groups always put on a great show at the local beach bars, allowing for countless hours of fun and dancing or simply kicking back and sipping on a fruity drink. There's truly no place like the Caribbean, and it's impossible to describe the relaxed and mellow vibe that will encompass every minute you spend on your Spring Break here at these eco-bungalows.
Need some more Spring Break ideas this year? We've got you covered on our Spring Break 2018 Getaway Ideas page.