The modern wedding industry is a marvelous melting pot. Have you considered that your wedding venue might be ideal for a glamping business model?
If you have the perfect location for an outdoor event or wedding but do not provide accommodation, it may be time to look into glamping. Consider glamping weddings and events — the ability to provide accommodation options that combine comfort and style to allow guests to sleep in luxury. The concept of offering luxurious glamping tents, whether on a private farm or at a selected venue, is to provide your guests with a fully furnished accommodation option that offers the comfort and convenience of sleeping in a bed under the stars when the day is done.
Dazzling locations for glamping weddings
First and foremost, there is no "one size fits all" solution in the glamping weddings and events market. The industry is incredibly diverse, vibrant, and trend-driven, and it is also an industry with high emotional stakes. So adding glamping to your wedding or events venue has a good chance of succeeding, especially when you have something unique to offer. As a wedding or events venue, you already have the hallmarks of a dazzling location. From the beautiful views and landscapes to an appealing intimate setting. When looking for a location for a special occasion, people generally seek out Instagram-worthy venues — ones that are aesthetically pleasing, but also private and exclusive.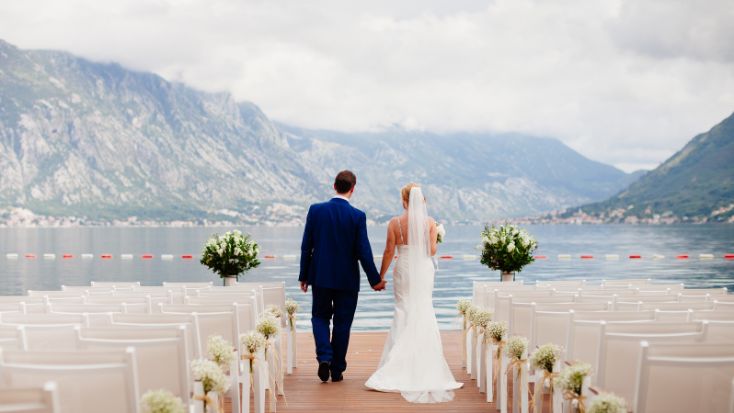 Making a weekend of it
Instead of cramming their wedding into a few hours on one day, more and more couples are opting for a longer celebration with their wedding guests, choosing rustic locations where they can unwind and spend good quality time with their loved ones. An established wedding venue complements the glamping business model, allowing couples to do just that and have one big party for several days in their own style and in the outdoors.
To meet this demand, more venues are shifting toward this model of offering weekend or week-long stays. It works especially well if you have enough room to add accommodation to help with the logistics of hosting multiple guests. However, temporary structures like bell tents, safari tents, and yurt accommodations can do the job.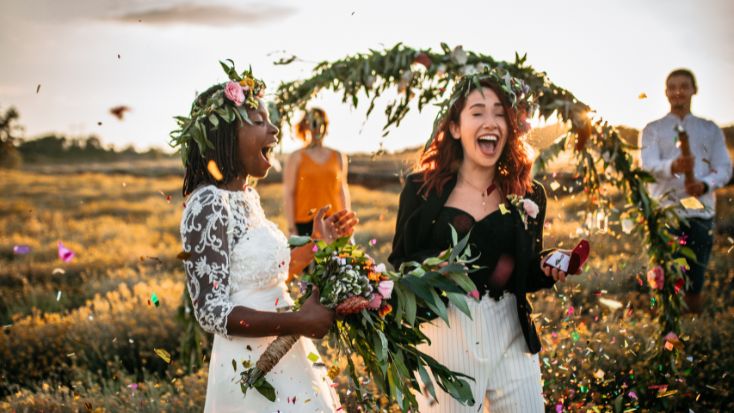 The value of glamping weddings
People value and spend on an All-in-One location. Places where they can host their event, have their drinks, eat their food, enjoy a party, and often offer accommodation to their guests. Privacy and exclusivity of the venue are pre-requisite rather than a luxury these days. For glamping weddings, the day usually runs a good few hours so having alternative spaces for different parts of a day is a key consideration. Aside from the event itself, you need to think about a certain number of people standing up to have drinks, as well as a space to sit and eat.
A survey found that when it comes to wedding inspiration, couples prefer rustic wedding themes and barn venues, indicating that today's couples prefer a less formal, relaxed, and casual wedding vibe and location. Additionally, one-quarter of weddings last more than a day, and trends such as glamping, using authentic and local produce, midnight snacks, mobile vans, and candy tables are gaining traction in weddings. Yet more reasons why a glamping business model is perfect for glamping weddings and events spaces.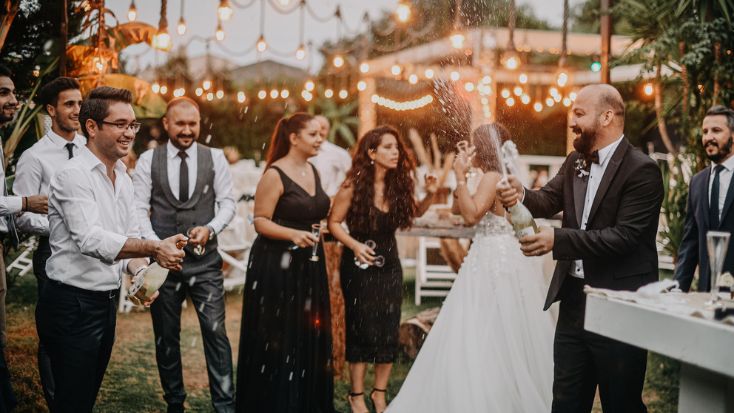 Types of glamping accommodation you could offer at your wedding venue
The weekend wedding or mid-week break wedding has been and continues to grow in popularity. Offering accommodation for a portion of the wedding party is a huge plus that increases your overall value. Farm and barn wedding and event venues are among the most popular, accounting for 18% of all receptions and events. Many people prefer farm, barn, or ranch venues for outdoor events and photo backdrops because they have a rustic feel and beautiful scenery.
Because these venues are commonly located in more rural areas, finding nearby hotels for out-of-town guests can be difficult, so your glamping wedding venue is likely to be a top choice for most. Here are some glamping accommodation options that are easy to set up if your wedding venue has the space.
Bell tents
Bell tents are a bohemian wedding dream come true. They are extremely spacious inside, with only a single support pole in the center. They also come in various sizes, so they can be used as part of the wedding ceremony or reception, as well as smaller ones for accommodation. Tension cables wrapped around the outside of the tent keep it open. Bell tents are made of thick canvas to keep people inside safe from the elements.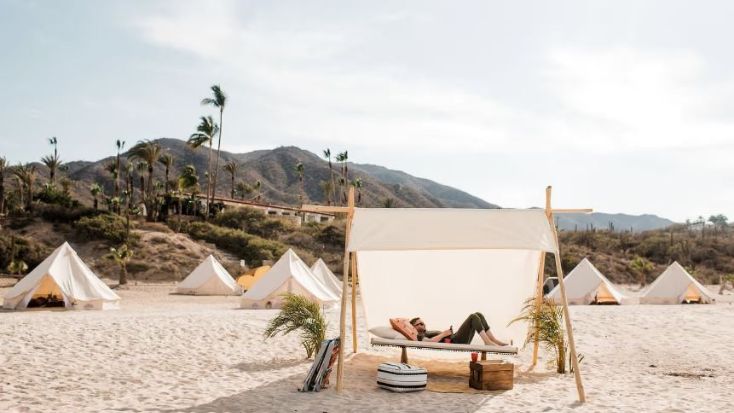 Safari tents
Safari tents are extremely lush. These cabin-shaped tents are held up by a slew of support poles, giving them impressive stability. They can be divided into different rooms and usually have windows that can be opened. Safari tents are a great option for families.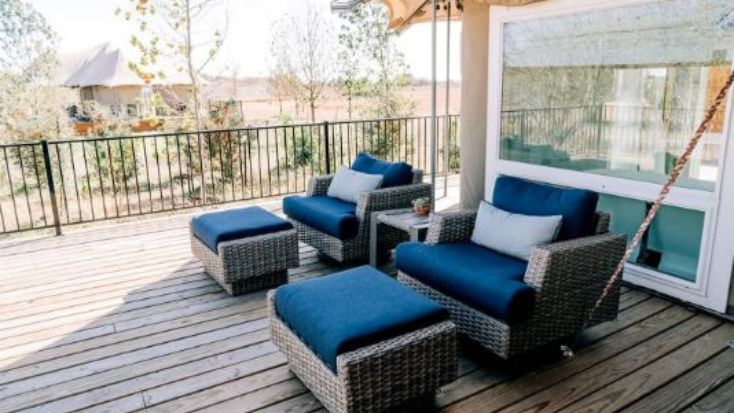 Yurts
Yurts have been used for generations and have proven to be extremely dependable. They are circular with domed roofs and generally simple to assemble and break down. Yurts are made of heavy wooden pieces, so they're not very portable. However, the effort is worthwhile because yurts make an excellent addition to wedding venues.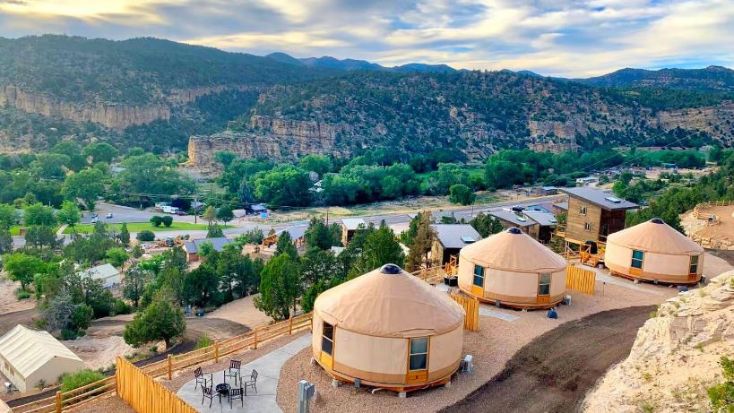 Develop with Glamping Hub
There is a lot of thorough research and planning to do in order to determine whether offering the glamping business model will suit your land, your wedding business, and your personal objectives. However, the market for glamping weddings and events is undoubtedly on the rise.  If you are interested in adding glamping accommodation or want to improve your existing business model, Glamping Hub has the tools and resources to assist you. Scale your business and profit from your land using innovative and data-driven solutions to attract a variety of audiences from multiple markets. Develop with Glamping Hub today.