As some of you may know, since the beginning of the COVID pandemic, like many other businesses, Glamping Hub has been working remotely to make sure we stay healthy and safe throughout the pandemic. We are a team of over 50, with over 14 different nationalities, and split between our HR offices in Seville, Spain, and Denver, Colorado. We have had to adapt and embrace the remote working lifestyle, like many other businesses, but throughout we were able to keep our strong sense of togetherness through virtual meetings, remote team building activities, and continuous communication.
Although, we did miss seeing each other around the office, having a quick chat next to the water cooler, having a cerveza (beer in Spanish) after work to talk about our next glamping adventures, or discovering the latest cultural difference we noticed since living abroad. And of course, our quarterly team-building activities.
Our first team day out and reunion in over a year!
We have been waiting for the government guidelines and restrictions in Spain to ease before we were able to plan a day out in Seville to see our colleagues again. For some of the team, it has been over a year since they saw each other in person, and some new team members still hadn't met anyone face-to-face. So finally, last week our time came where we could enjoy a fun team-building activity, and an outdoor adventure in Seville, together.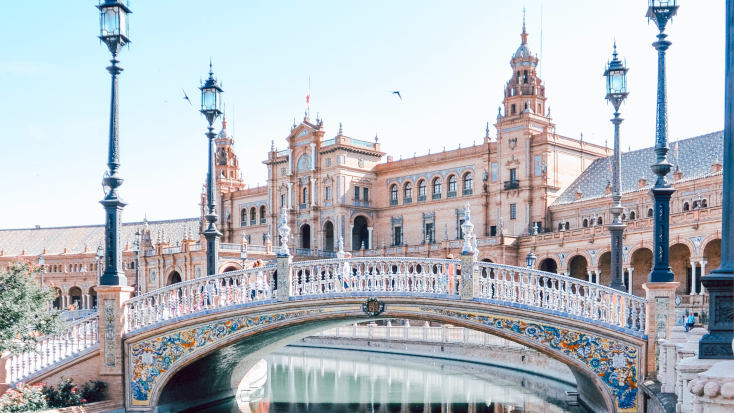 Where? The best park in Seville, María Luisa Park
Typically at Glamping Hub, we hold 4 fun group activity events throughout the year. As Seville gets very warm in summer, we use spring as a chance to enjoy outdoor activities and team-building games. This year, we took part in a Sports Day event in one of the must-see places to visit in Seville. The María Luisa Park in the center of the city, next to the Plaza España. It is a palace garden that was donated to the city of Seville in 1893, is roughly 100 acres and full of international and interesting statues, fauna, fountains, playgrounds, and wildlife. It was the perfect place for a local and covid friendly activity for the team.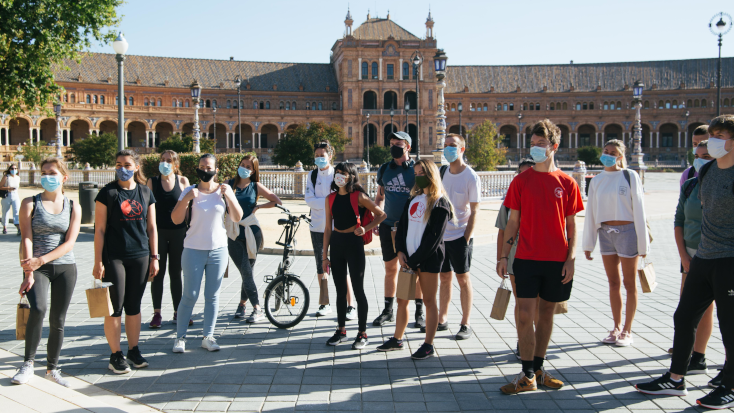 The first team challenge: find your group
We met at Plaza España in the morning with instructions to wear sports clothing, bring a bottle of water, wear sunscreen, and of course a mask. Our people's team had arranged with Andaya Senderismo, a local outdoor adventure activity organizer to do a scavenger hunt across the park! Our first mission: find our team on a hidden team sheet within Plaza España.
After a few minutes of working together, we eventually found our teams and were ready to start our day of outdoor team building activities.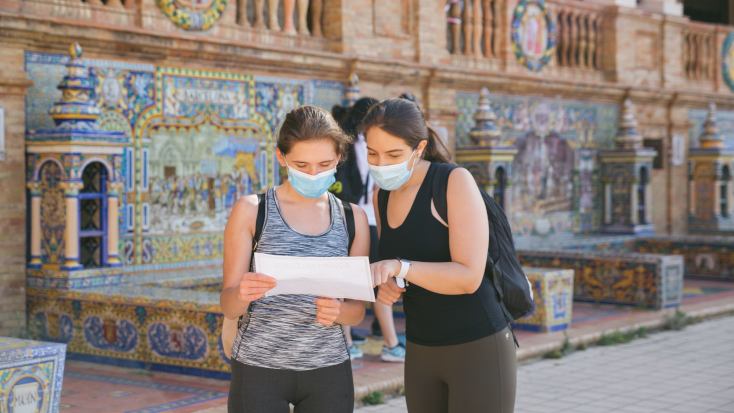 Within our teams we had to search the park and work together to find clues given by our host Anda Ya.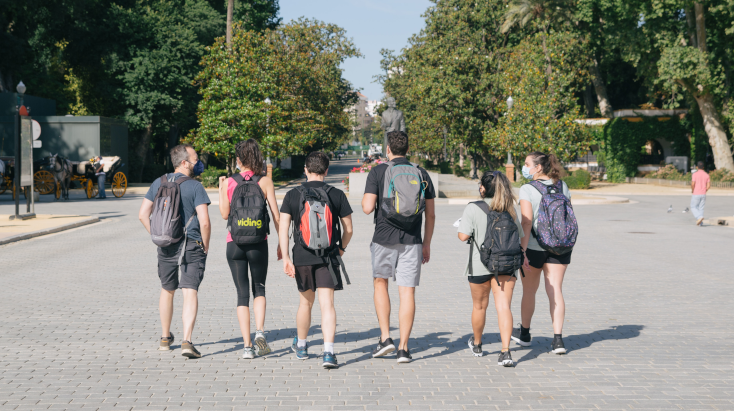 What outdoor activities were included in our team building day?
Each task was designed to challenge soft skills, orientation skills, general knowledge, and of course teamwork. Anda Ya encouraged us to think creatively, explore wildly and embrace all the challenges ahead of us.
This was a highlight for some of the teams and was also one of the biggest challenges. – Take a photo with a pigeon in your palm. We know this sounds a little strange, but it's a very popular thing to do in the María Luisa Park in Seville, and we had hand sanitizer at the ready.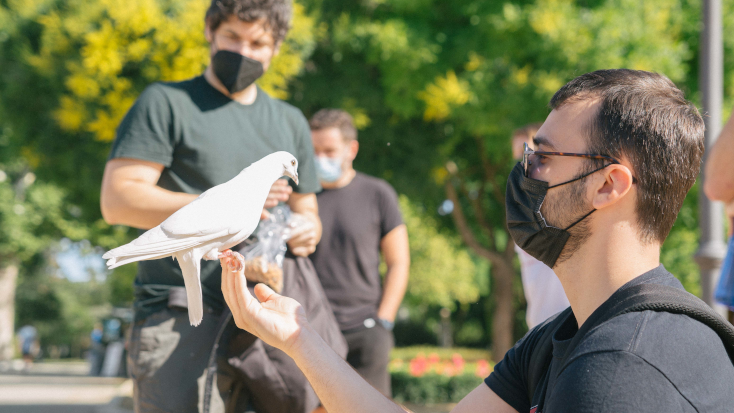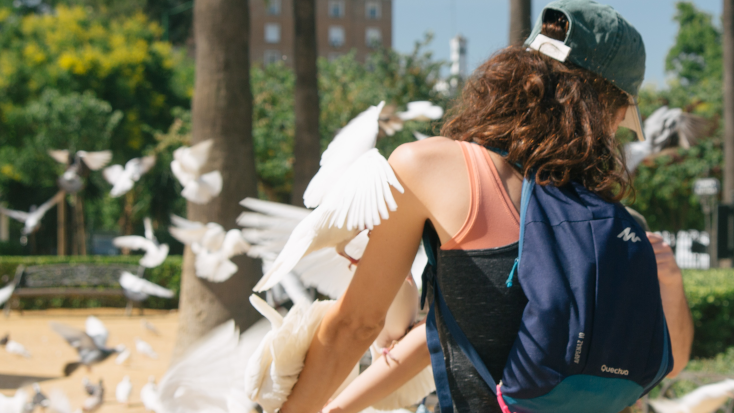 Typical Sports day activities included passing the ball to each other in a circle without touching it with your hands, and a race with a ball between your legs.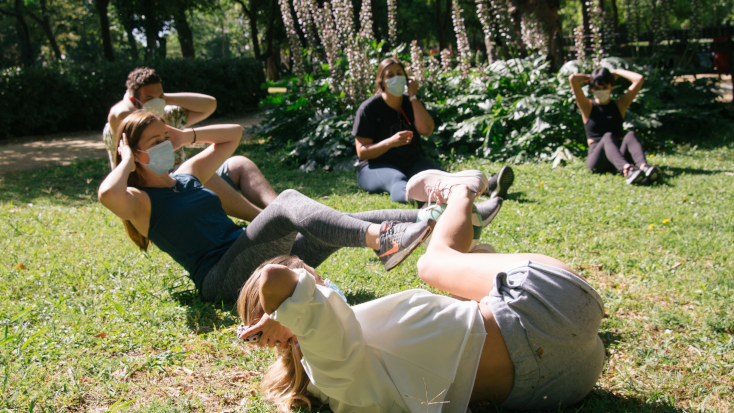 We also recited poems, wrote little wishes next to a famous statue, and searched for hidden clues to answer general knowledge questions.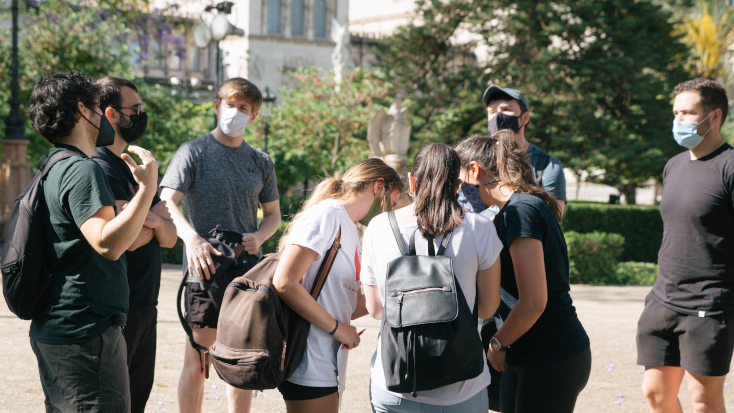 Why is it important to get outdoors for team building?
Glamping Hub had a fantastic team-building day outdoors. The open air, sunny skies, and spirit of competition was a great way to disconnect from our day-to-day roles. It brought us closer together as a company, reunited us with activities that encouraged collaboration, and has given us the confidence to work with new people in departments we may not usually. We highly recommend getting outdoors as a great team-building idea when it is safe and possible to do so. It is a fun opportunity to get creative, re-energize your teams, and stay covid friendly.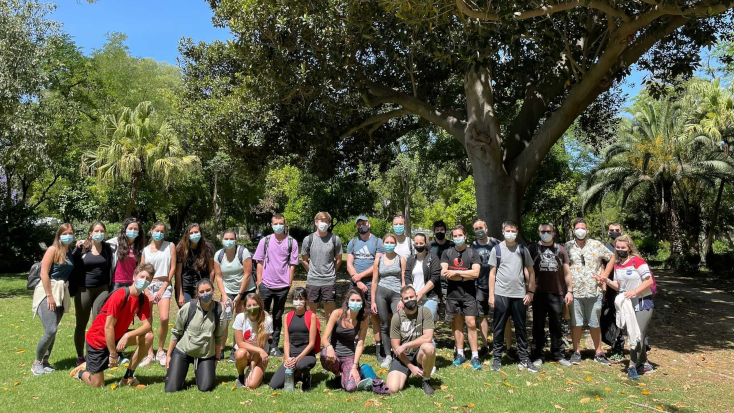 What's next?
We are continuing to work remotely for now, and are looking forward to our next reunion. We will stay alert for the latest advice and regulations provided by the government, WHO, and local authorities For more images, videos, and information about our behind-the-scenes activities follow us on Facebook, Twitter, and Instagram. We'll be sharing some more great clips soon!
Be sure to read out Virtual Team Building Activities and Company Retreat Ideas if you're looking for inspiration for your company. Additionally, check out our Tips and Advice for Safe Travel in Summer before organizing your next corporate getaway.
Note: Images taken by @xiosercis