When it comes to romantic, Oregon may not be the first place you think of. However, if you're looking for a couples retreat, Oregon could be perfect for a romantic getaway. Oregon, with dreamy Highway 101 running along its coast, magical redwood trees, countless mountainous backdrops, lakes, hiking trails, and undiscovered corners, is the go-to destination for a romantic getaway. Nothing sparks emotion quite like travel and new experiences, and with that in mind, we'd love to show you our top romantic getaways in Oregon, so keep reading and find the best romantic vacations, 2022. From romantic cabins in Oregon to tipi rentals, romantic vacations in Oregon don't come much better than these amazing romantic Oregon getaways. So instead of staying in romantic hotels in Oregon; keep reading for the best romantic vacations, 2022.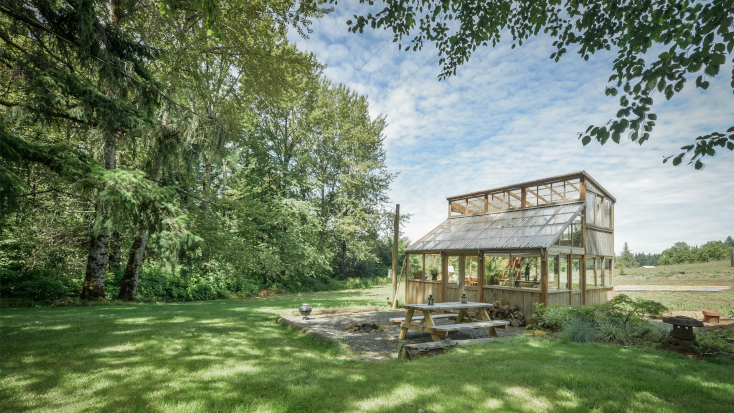 Don't stay in romantic resorts in Oregon; pick a secluded rental for the best romantic vacations, 2022!
We're kicking off our list of top romantic getaways in Oregon with this show-stopper. One of the most romantic places in Oregon, and with more character than standard romantic resorts in Oregon, this converted greenhouse is tucked away on a farm, and it might just be the ultimate couple's retreat. Complete with stretching glass windows, a cedar hot tub, and a romantic loft with a cozy bed for two, this is the perfect choice for a couple looking to take a break from the rest of the world. Located at the foothills of Willamette Valley and close to Silver Falls State Park, this is one of the best places to vacation in Oregon. The only big decision couples will need to make is whether they get out and explore, or stay on the property to soak up the idyllic setting, ideal for the best romantic vacations 2022 can boast.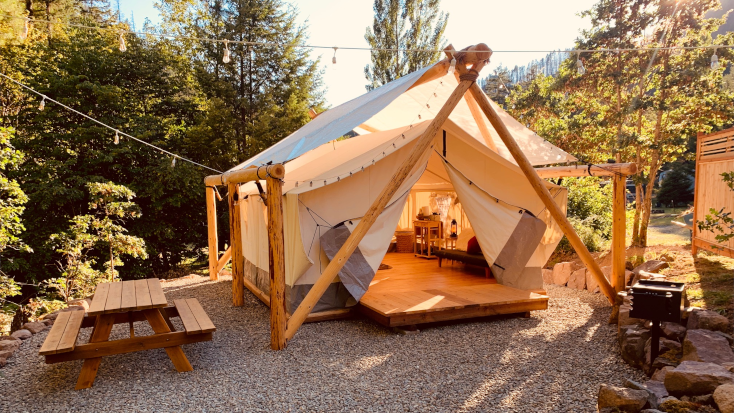 Stay somewhere unique for your couple's getaway. Oregon campgrounds and tent rentals
This stunning tent is located in the Umpqua National Forest in Oregon and mixes things up just enough to create a wonderful setting for a romantic getaway, which is exactly why it's earned a spot in our hearts and on our list of top couples getaway Oregon has to offer. Adventurous couples won't be deterred by the idea of sleeping in a tent, and even less so in this luxury tent, which includes hardwood floors, rugs, period-piece furniture, LED lighting, and cozy decorative touches inside. There is also a coffee maker and water dispenser included.  After spending the day enjoying the Umpqua National Forest and nearby hiking trails, nothing will seem quite as right as retreating to this beautiful tent and opening a bottle of wine. The private fire pit is ideal for a romantic meal, and a night of roasting marshmallows under a starry night sky. It's no wonder this is one of our favorite Oregon getaways for couples. Don't skimp this year with cheap romantic getaways in Oregon; treat that special someone to a truly unique getaway that'll surpass even the most romantic hotels Oregon can offer.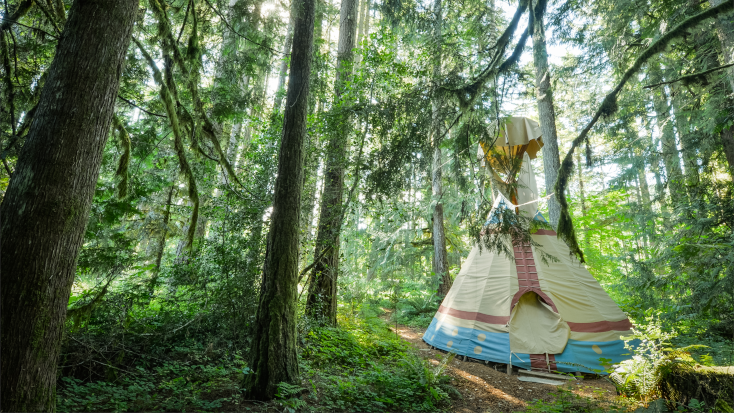 Rentals for the best honeymoon ideas Oregon has
When it comes to Oregon, romantic getaways don't come much better than this. Sticking with our theme of adventurous couples, and in one of our favorite honeymoon destinations in Oregon, these quirky tipis near Eugene, Oregon, are another wonderful choice for couples looking for an action-packed romantic getaway, and they could even be great honeymoon ideas. Oregon is famed for its stunning nature, so indulge yourself with a stay in a tipi. There are seven tipis to choose from, each of them distanced away from the others and unique in its own way. Secluded, romantic, and cozy, they are clearly one of the best romantic getaways in Oregon, and one of the best honeymoon places in Oregon.
Enjoy the best romantic getaways Oregon has
Couples can enjoy the luscious property, where they'll have access to forest hammocks, a creek, and a swimming hole, or plan a nearby adventure as there are plenty of day trip destinations in all directions, making this one of the best honeymoon spots in Oregon. Did we mention breakfast, which is included in the price, is served daily by the creek, or on the site's patio? With free-range eggs, smoked salmon, granola, fresh fruit, and more, it's a wonderful way to start each morning on your romantic getaways. Oregon awaits.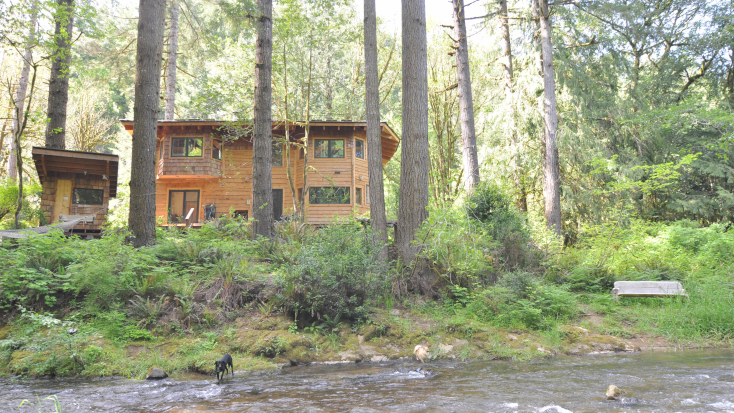 Stay in a cozy cabin for a romantic getaway in Oregon
This couple's getaway is perfect for the couple hoping to simply disconnect from the outside world and reconnect with each other, and that's exactly why we've added it to this list of top romantic getaways in Oregon. Located in Coos Bay, this cabin getaway is close to the Pacific Ocean, Golden and Silver Falls State Natural Area, as well as many other bodies of water, ideal for a romantic getaway in Oregon. In short, couples will have plenty to discover by day, and the perfect place to retreat to at night. The cabin itself sits on 150 feet of creek frontage, and couples will have an amazing view of Glenn Creek, cliffs in the distance, and surrounding woodlands. With your partner in hand and the surroundings at your fingertips, you'll have everything you need for the weekend away. This cabin's notable features include luxurious beds suspended from the ceiling beams, a fire pit for late-night conversations, a private swimming hole, a wet or dry electric sauna, and a picnic table perfect for dining al-fresco.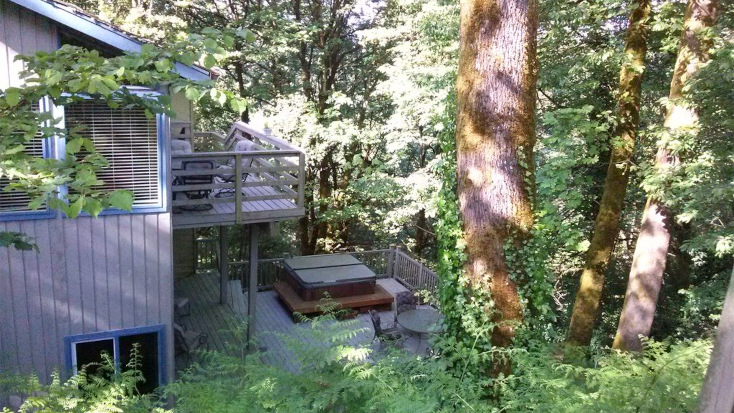 Stay in a tree house for your romantic getaways in Oregon
A romantic tree house getaway might be the most whimsical on our list, and rightfully so. It's definitely more memorable than a resort or even your favorite romantic hotel. Oregon is a state that should be experienced in the great outdoors. This beautiful tree house, nestled among the tree tops ensures total privacy, perfect for romantic getaways in Oregon. Once inside, get ready for large windows offering forest views, a beautiful outdoor deck and private hot tub, and the giddy feeling that's only associated with sleeping up in the trees. Because this tree house is tucked within the area's national forests, couples can simply recharge their batteries while enjoying the surroundings, go whitewater rafting, discover nearby picnic spots and ponds, visit the nearby Oregon coastline, or even book a wine tasting and tour nearby. With no lack of options, this tree house makes for an excellent choice when planning your next romantic getaway.
If you're looking for more ideas for more romantic places in Oregon, don't miss these Oregon Road Trip Ideas and Wine Country Getaways in Oregon.