Self-isolation, quarantine, lockdown: these three terms are something we are now all too familiar with. Throughout the globe, we've all had to shoulder a certain level of social responsibility, and for many of us, that has meant living in lockdown for differing periods of time. There's no denying that an extended period of being locked down at home is trying, and we've had to find things to do in quarantine to keep ourselves busy at home, including using apps or inventive types of quarantine workouts to keep fit. But what about those of us who found ourselves abroad at the start of lockdown, especially for anyone who was thousands of miles away from home in another continent? That is exactly what happened to Travis Burke, a freelance photographer and a contributor to Glamping Hub.
Travis Burke's photography encompasses his main passion in life: exploring the great outdoors through as many means as possible. Growing up as an avid skateboarder and surfer he has enjoyed an active, outdoors lifestyle from a young age, and this translates into the photography that has taken him to some of the world's most incredible areas of natural beauty. With a resumé that includes work for National Geographic and the World Wildlife Fund among other well-known names, Travis has a wide-ranging portfolio.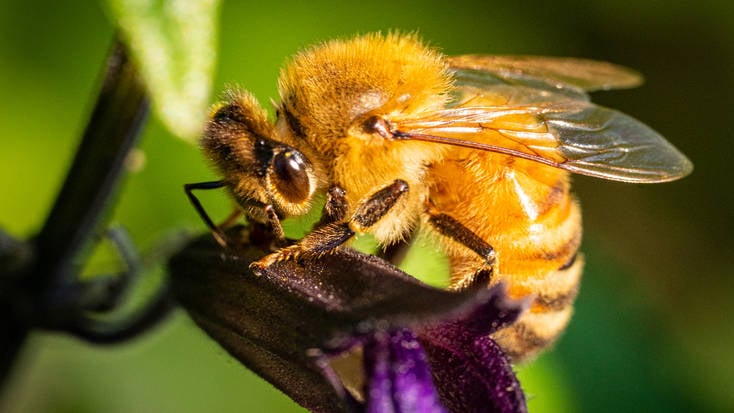 Keep reading to find out about Travis' experience of lockdown abroad
When quarantine and lockdown measures were being implemented around the world, Travis and his girlfriend, Laysea, found themselves in New Zealand, unable to get a flight home, and seemingly without a place to self-isolate. For two intrepid travelers who love the great outdoors, searching for "glamping near me" was an obvious choice, and with the help of our team, we were able to link them with Glamping Hub hosts Linda and AJ near New Plymouth, North Island, for a short stay in a moment of crisis in their beautifully appointed safari tent rental.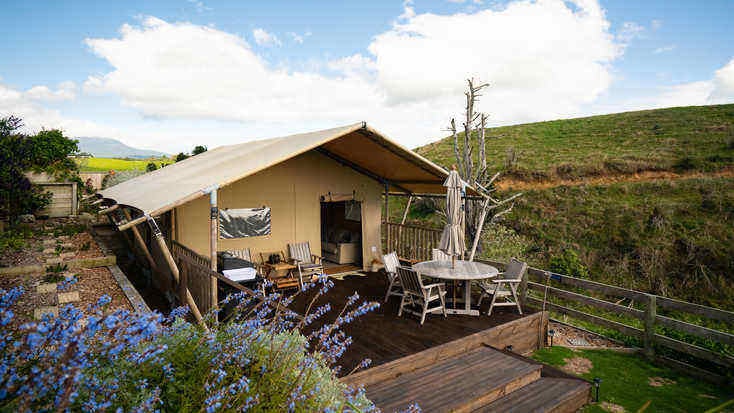 A safari tent in North Island: the perfect lockdown escape
Nestled in the stunning countryside near New Plymouth, North Island, Linda and AJ were the perfect hosts for Travis and Laysea, who said they hope to return at some point to explore the hiking trails that surround this stunning rental. The safari tent is set on a farm, so as well as being surrounded by some incredible views of the New Zealand countryside, there were plenty of animals keeping Travis and Laysea company during their stay.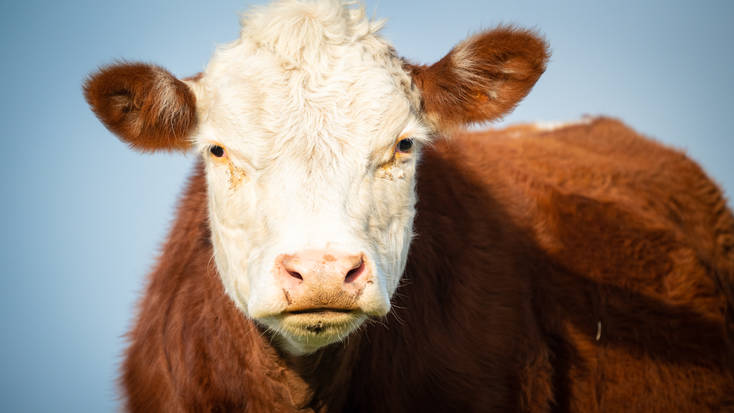 Enjoying the great outdoors in self-isolation
An additional perk of staying at this charming safari tent is the private garden for guests to enjoy. When lockdown rules are in effect, any outdoor space is a massive bonus for us all, and the safari tent where Travis and Laysea were in self-isolation and spent the early days of lockdown boasts a decent amount of outdoor space, as well as a furnished deck. From the garden, guests have uninterrupted views of the incredible surrounding countryside, and with mountains and hills in sight, Travis and Laysea were able to stay connected to the great outdoors during their time in quarantine here.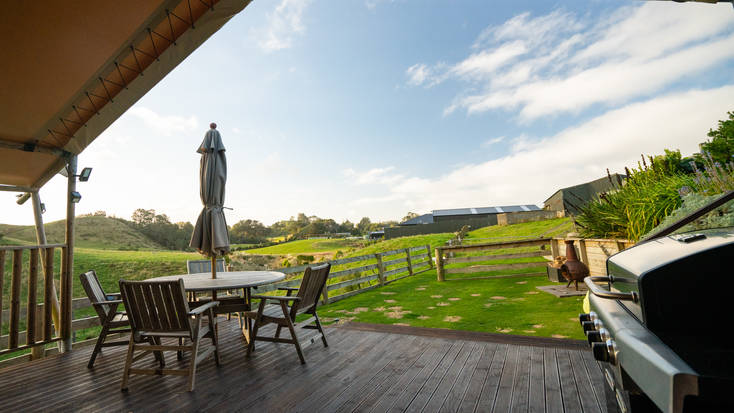 Stargazing in the heart of the countryside during lockdown
With nothing around for miles aside from the animals that call the farm home, the night skies here are perfect for stargazing. With incredible cloudless nights, Travis and Laysea were able to make the most of this secluded vacation rental, perfect for turning the lockdown into a truly memorable experience for all the right reasons.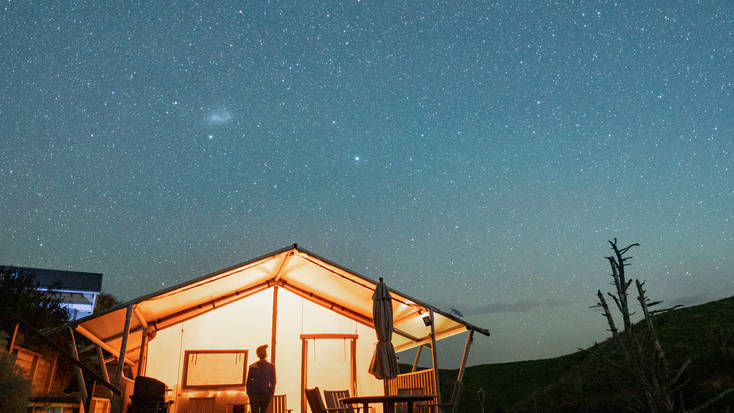 The safari tent that puts the glam in glamping
The safari tent can sleep up to four guests, but with its king-size bed, it's pretty perfect for a couple to escape to, lockdown or not. With well thought out and perfectly appointed furniture, the safari tent really puts the glam in glamping. This cozy spot is perfect for relaxing in the evening with a glass of wine and a good book, and since lockdown rules were in effect, Travis and Laysea were able to spend a few days making the most of this as a place to unwind.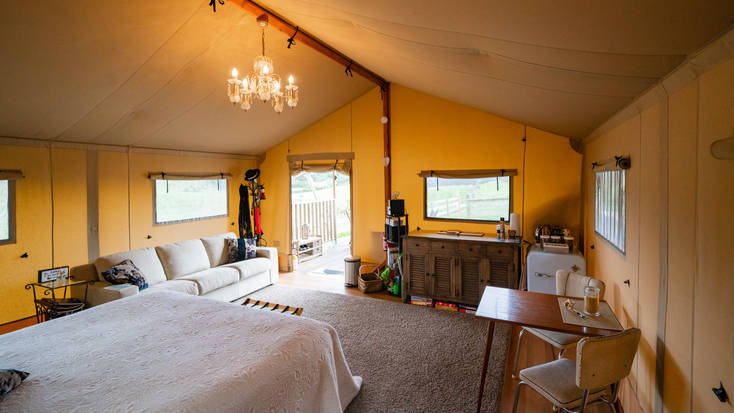 Post-lockdown plans
When you see views like this, it's hardly surprising that Travis and Laysea hope to be able to return to explore the countryside surrounding the safari tent. New Zealand, along with a number of other nations still have strict travel restrictions, but there are parts of the world where travel bans are beginning to be eased, so hopefully, it won't be too long until we can all get back to traveling to our dream destinations. In the meantime, we'd like to extend a huge thank you to Linda and AJ on behalf of the Glamping Hub family for the tremendous effort they made in helping Travis and Laysea in their time of need.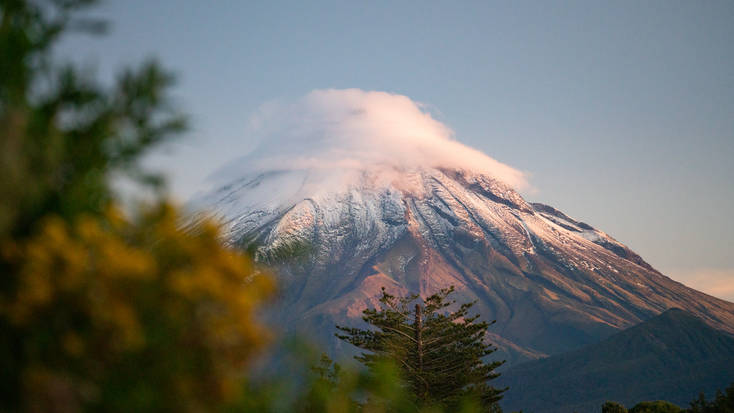 ---
Find out more about Travis Burke Photography here, and book a stay at Linda and AJ's incredible safari tent rental here!