With upwards of 36,000 kilometers of coastline, there are few places better to enjoy whale watching. Australia is a paradise for anyone who enjoys surfing, sailing, and sunbathing. However, it is also the perfect place to experience the wildlife of these blue waters, and to experience whale watching at its finest. With numerous different species of whale adding Australia to their itinerary for their annual travels, there are numerous spots around the country to get out on a boat and to see these magnificent creatures in all their glory.
Whale Season: Keep reading to discover the best spots to go whale watching in Australia, 2021
When it comes to whale watching, Australia is, without doubt, one of the best locations to be guaranteed front row seats and unique views of numerous types of whales. We've put together a list of nine of our favorite spots to enjoy whale watching, so buckle up and start planning your Australian coastal road trip to explore the incredible coastline and to experience the giant residents of the ocean in 2021!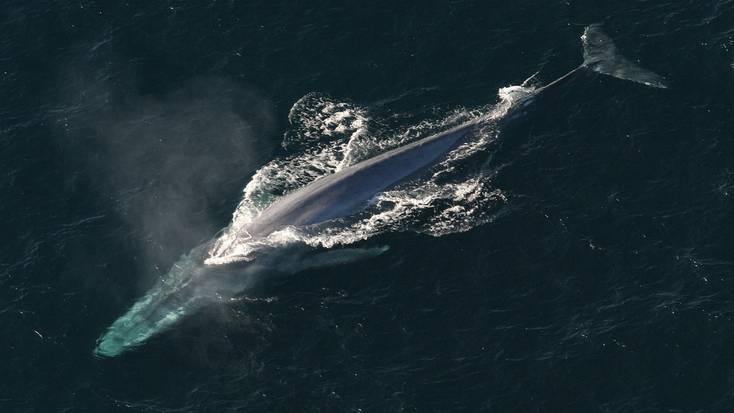 Discover the humpback whales of New South Wales
Sydney
When we talk about whale watching, NSW is a great launching off point, and why not start in the vibrant city of Sydney? It won't take a lot to persuade the family or your friends to visit the city as it is, but with whale-watching cruises setting off from the Circular Quay almost daily from May until the end of November, you can all get excited to see humpback whales practicing their acrobatics with the incredible backdrop of Sydney from the ocean.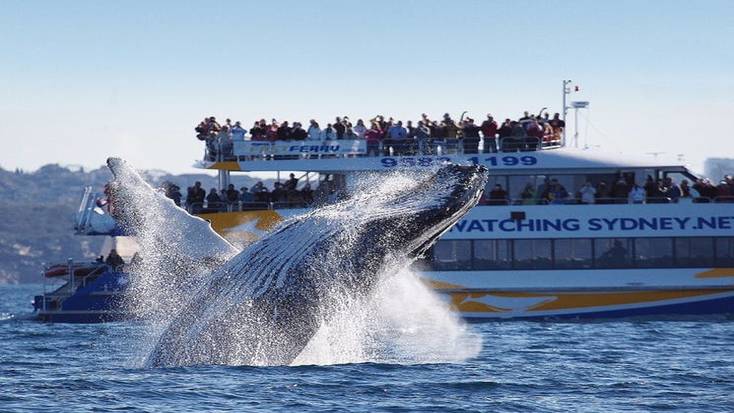 Bottlenose dolphins and whales: Port Stephens
Boasting 26 stunning beaches, including the largest continuous sand mass in the southern hemisphere at Stockton Beach, this area is perfect to spot all kinds of nautical wildlife. With a whale watching trip on this incredible stretch of coastline, you'll have the chance to see up to 165 bottlenose dolphins that call the area home, as well as humpback whales on their annual migrations.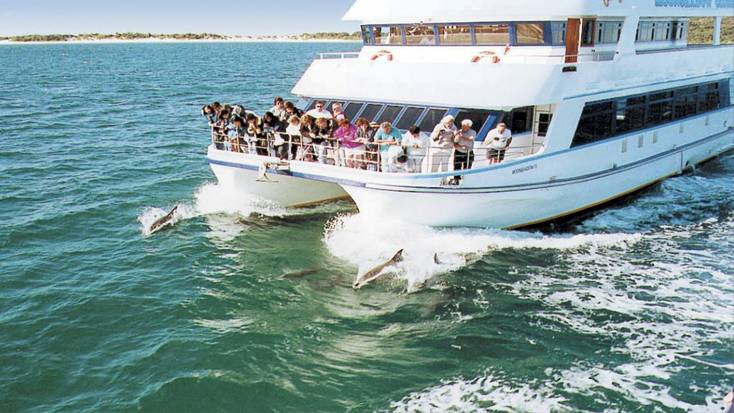 Killer Whales of Eden
Rounding off our whale watching tour of New South Wales, Eden gives you the opportunity to see the first humpback whales making their way on their annual migration to the warmer climes of Queensland between June and August. For a truly amazing sight, you can wait until September until November when you'll be able to see mothers and their calves making the return journey to Antarctica. While enjoying a stay in Eden, you can also head out on more extensive whale watching excursions, and possibly catch a glimpse of both sperm whales and even orcas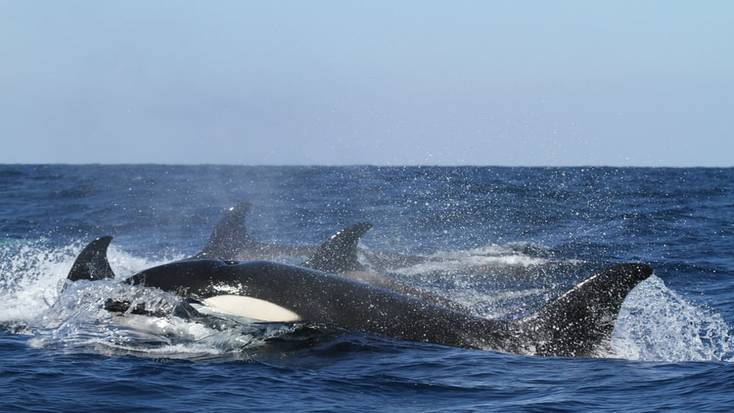 Continue your adventure of whale watching! Victoria awaits!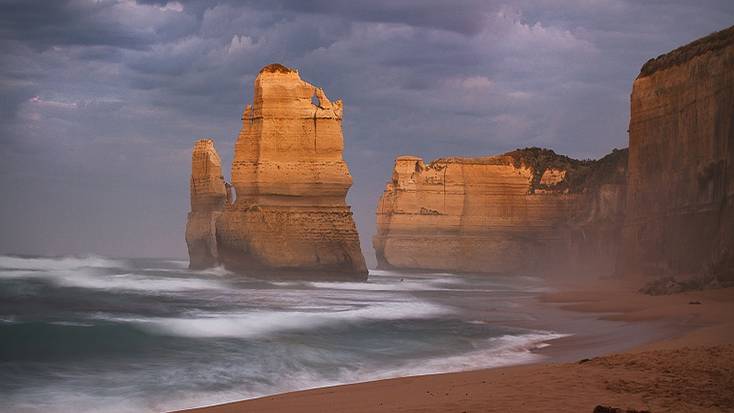 Great Ocean Road: whales, beaches, and road trips
When it comes to whale watching, Victoria has some amazing spots. When cruising along the Great Ocean Road that stretches along the Victoria coast, west of Melbourne, taking in Warrnambool and Portland, Vic, as well as a number of other stunning stretches of coastline, you'd be forgiven for not wanting to take your gaze away from the stunning beauty constantly surrounding you. However, turn your eyes from the beach out to the crystal blue seas, and at Logan's Beach in Warrnambool, you'll see pods of southern right whales from June to October, and closer to Portland, from November to May, you can see blue whale pods who visit the region to top on their krill intake!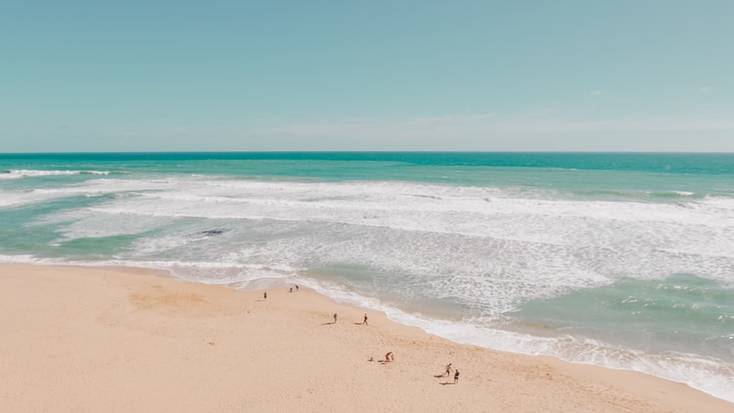 Queensland holidays
Hervey Bay whale watching season
A vacation in Queensland has a lot to offer, and Hervey Bay is pretty much the perfect place to enjoy some serious whale watching. Humpback whales have made it something of an annual tradition to stop off here on their migration tours. typically arriving in mid-July, the humpbacks tend to stick around until November, when they start heading south again. Fraser Island offers shelter for the waters here, so when you head out to see the pods, you're likely to see whales resting and playing with their calves towards the end of their sojourn here.
Whitsundays holidays: explore the Great Barrier Reef
Another spot popular with the humpback whale is the Whitsundays, a great place for mammals both seabound and land-based to enjoy. From May to September, humpbacks make the most of these sheltered, shallow, warm waters during calving season and a boat trip around the islands will reward you great views of the pods of whales basking along the Queensland coastline. At this time of year, the whales will also sometimes make their way to the Great Barrier Reef. What better way to see this incredible natural habitat than with the whales getting involved as well?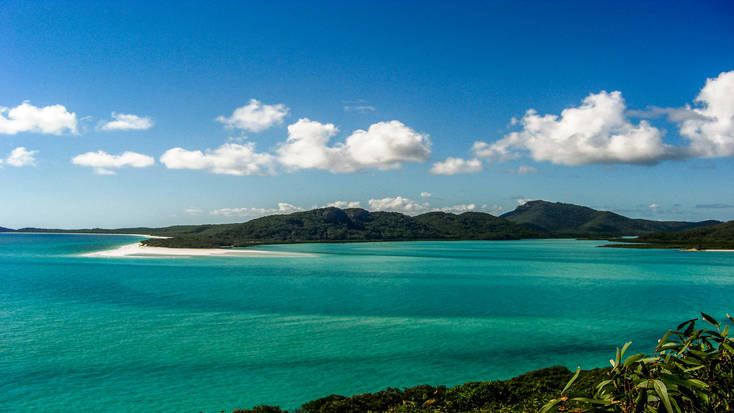 Western Australia
Whale Sharks: Exmouth in April
While the humpback whales are traveling along the east coast of Australia, on the west coast, between April and July sees the arrival of whale sharks. While technically a whale shark is actually a fish, they're up to 18-meter forms are an impressive sight. Scouring the oceans for concentrations of food, a favorite hunting ground for the whale shark is Ningaloo Reef is one of the few places a large number will regularly return to. So if you're thinking of booking a vacation rental in Exmouth, WA, you should definitely plan on an excursion out to the reef to see these incredible creatures.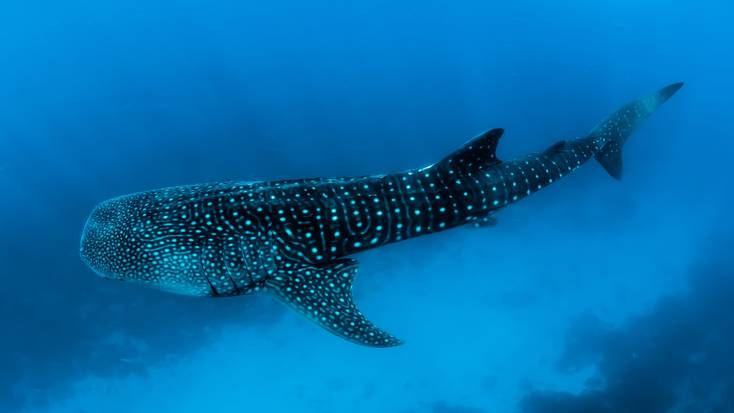 Whale season in Albany
Albany, WA, is a former whaling station, however, it is now home to the Whale World museum. 400 km east of Perth, this charming seaside town is on Western Australia's south coast, and it has one of the longest whale-watching seasons in the whole of Australia. A whale-watching trip here will give the opportunity to see humpback whales, southern right whales, and even blue whales, all of whom spend months in the waters around Albany in the second half of the year. If you head to Bremner Bay during your stay in the Albany area, you can expect to see upwards of 100 orcas between February and April.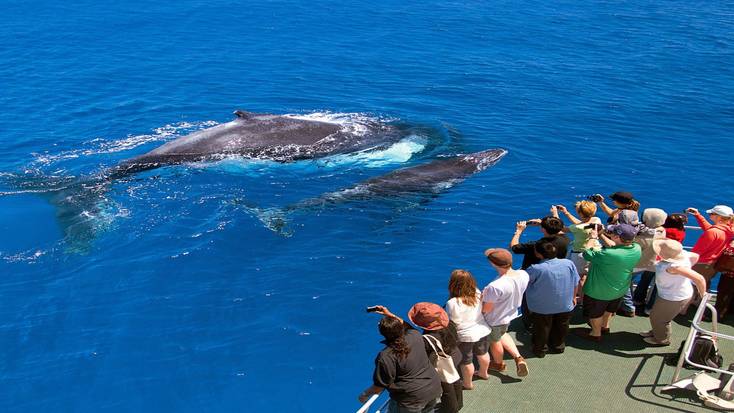 Whale watching: Tasmania holidays
Freycinet
A trip to the Freycinet Peninsula in Tasmania has a lot to offer. The Freycinet National Park is a stunning mix of wildlife and nature, all with the added bonus of miles of idyllic coastline, and the postcard-worthy Wineglass Bay is a sight not to be missed, with a number of incredible glamping accommodations perfect for family holidays. This beautiful part of the world is one of the first ports of call for whales as they make their way north from Antarctica for the winter. Between May and July, you'll catch humpback whales making their way to Queensland, and then from September to November, you can see them heading back. While the humpback whales are heading north, the southern right whales will be heading south from the mainland from June to August, and head north again from September to November.