Money may not grow on trees, but it is where you can find the perfect vacation rental this year. These tree house retreats in the Pacific Northwest allow you to revert back to your childhood and savor the memories of living high amidst the towering treetops without a care in the world.
The Pacific Northwest is saturated with breathtaking sights and exciting activities, and with Northern California, Washington, Oregon, and Montana all to choose from, you're guaranteed the vacation break of a lifetime. Glamping in these elevated palaces enables you to experience luxurious lodgings like never before. Whether you and your sweetheart fancy a treetop tryst or you're after a family adventure in the forest, this collection has just what you've been looking for!
Comfortable Tree House Nestled Inside Yosemite National Park, California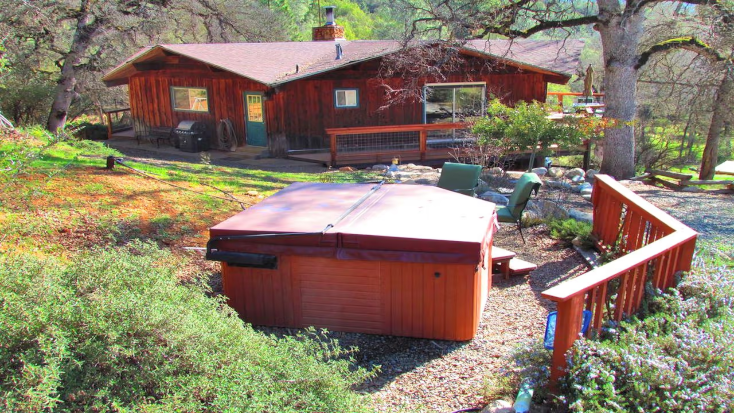 Tucked away deep in the heart of the impressive Yosemite National Park, this tree house palace can sleep up to eight people, making it ideal for families or groups looking to re-establish their long lost connection with the natural world.
With over 700,000 acres of flawless forestland and a panoply of flora, fauna, and waterfalls, there is so much to see and explore inside this Californian natural nirvana. This compact and cozy tree house comes complete with a BBQ, a hot tub, and a pool table for guests to enjoy at their leisure—think roughing it, without any of the rough bits.
Forest Tree House in Washington Nestled Away Near Pacific Ocean
Located on Washington's scenic Whidby Island, this enchanting tree house escape is perfect for a glamping trio who wish to get back to nature's roots and witness first-hand the intoxicating beauty that Washington State has to offer. With an impressive cedar tree at the eye of this property, nature works her magic both inside and out, meaning you can have front row seats to the wilderness cloaking this treetop tower.
Equipped with running water, heating, and Wi-Fi, this fusion of nature and modern day lodgings is something you have to see to believe. You really can live and dine like royalty when glamping here, as not only are you occupying nature's throne, but a continental breakfast is also included in the price.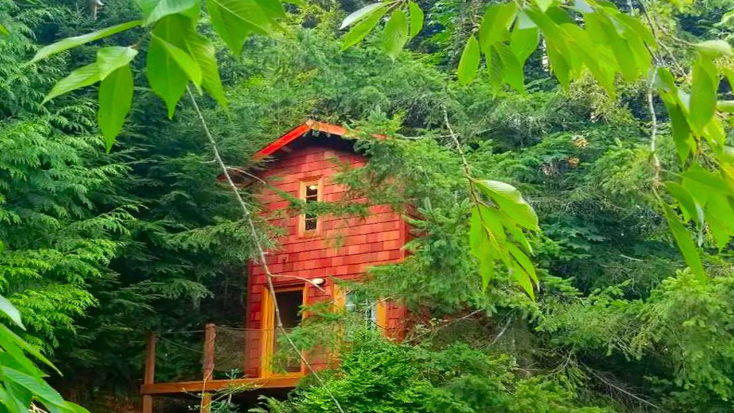 Original Canvas Treehouse Just Miles From Glacier National Park, Montana
Forget run of the mill hotel stays this year, and choose a vacation rental burrowed in the Montana wilderness. This captivating tree house is located just seven miles from the natural haven of Glacier National Park, and it is here where you can have all the magic of the natural world without one single compromise on luxury.
With a comfortable king-size bed and ensuite bathroom, it's the perfect place for lovers to spend some much needed quality time together away from the stresses of the city. Conversely, an additional camp cot and bedding can be provided for two more people if you want to bring the whole family to nature's kingdom. For no vacation regrets, relax, recline, and recharge in the comfort of a cozy tree canopy this year.
Beautiful Tree House in Sonoma Wine Country, California
Satisfy those vacation needs with a stay in this hypnotic tree house snuggled in the Sonoma Wine Country. This property is surrounded by a halo of majestic Redwoods and neighbors the Russian River, making it the ideal spot for swimming, kayaking, and canoeing.
The main tree house sleeps up to four guests, but there is also a cottage available to rent, which is situated at the back of the house, sleeping a further two glampers. With a fully equipped kitchen, dining area, and secluded outdoor hot tub, this tree house is the true embodiment of a glamorous camping escape.
Cozy Couples Tree House in Pacific Northwest, Oregon
Whoever said romance was dead? This dreamy couples tree house in southern Oregon is a place where love and nature conquers all. Nestled in a labyrinth of towering Redwoods and replete with wild birds, fragrant flora, and snaking hiking trails, this Pacific Northwest tree house is the perfect place to lose yourselves all the while discovering one another this year.
This tranquil tree house comes complete with linens, a coffee maker, and running water, and is only a stone's throw away from the Oregon coast. A rustic rendezvous high atop the trees is the stuff happily ever afters are made of, so let nature embrace you while you embrace one another under the star-embellished night sky.
Turn over a new leaf with your vacation habits by ditching the hotel and indulging in one of these amazing al-fresco escapes in the Pacific Northwest for a vacation nobody will be forgetting in a hurry.
For more treetop inspiration for your next vacation, check out our Tree House Getaways page!