Browse the best California campgrounds nearby: camping near Henry W. Coe State Park, CA
Most popular Secluded Camping near Henry W. Coe State Park, California
Tiny Houses
Atascadero, California (United States of America)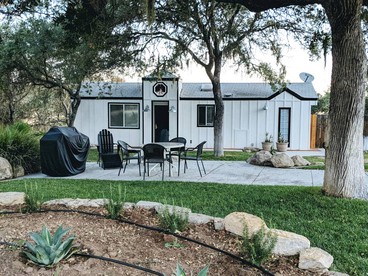 Cottages
Paso Robles, California (United States of America)
2+ Accommodations ready to book
Enjoy luxury camping near Henry W. Coe State Park when you book your own secluded cabins in California! Secluded camping near Henry W. Coe State Park awaits
Discover secluded camping near Henry Coe State Park this year and take full advantage of your next California vacations. Before requesting time off work and planning for unforgettable getaways, it's important to make sure our destinations are the best possible places we can go camping. Take a look at this collection of remote camping retreats near Henry W. Coe State Park and book your own luxury getaways with Glamping Hub. State park camping in California is a unique way to see the beautiful flora and fauna in this popular state and the opportunity to enjoy some downtime away from the big CA tourist attractions. Don't go for overpriced, busy CA hotels when you can enjoy your own quiet camping spots in California, fitted with the most luxurious amenities around! Visit Henry W. Coe State Park, California for your next camping trip.
Based in California and looking for 'secluded places to go camping near me?' Book your own remote retreats near Henry Coe State Park
Where to stay in California

Wondering where to stay in California? Secluded camping near Henry W. Coe State Park, California could be just the thing for you. The perfect Henry Coe ranch campground can be found right here and is certain to delight. During the days you can go Henry Coe State Park backpacking in California and take in the wonderful sights that are on offer. Why would you go anywhere else? Scroll through the accommodations today and start planning your trip to Henry W Coe SP! California campgrounds await for unforgettable camping vacations. Go glamping: California awaits.