Join the fast-growing sector in the travel industry
Scale your business and profit from your land
Use the additional land on your property to increase your hosting capacity and start earning additional revenue.
Innovative and data-driven solutions
We use our expertise to give you up-to-date, relevant, and industry-specific insights to guide your expansion plans.
Attract a variety of audiences from multiple markets
You will capture travelers from camping, eco-friendly, and luxury travel markets who have a higher disposable income, and are looking to experience more than the average hotel stay.
Start a glamping business and grow with confidence
A comprehensive service with human experience in mind
Financing and structure insurance

Structure, platform, furnishings, transportation, and installation

Reservation management via third-party integrations

Listing creation and optimization on Glamping Hub & other booking platforms

Booking reports with trend data and analysis

Revenue forecasting and recommendations for optimal ROI

Marketing and PR support
Get your new glamping resort set up within three months
Apply today
Complete our inquiry form and a member of our team will reach out to you to go through the next steps.
Financing & Deployment
Pick glamping units that are best for your business and we will organize financing and quick deployment.
Bookings & Revenue
We build listings on the Glamping Hub website and other platforms to generate bookings and send you your monthly revenue share.
Get started today
Complete this short form and we will reach out to move forward and answer any questions you have.
Get Started
We are a partner and a champion for your business
No upfront costs and your own branding.
We take a collaborative approach to financing. We secure the funding and carry the risk so you don't have to.
Our financing revenue share model means your capital is freed up to make infrastructure improvements, and you can continue to manage your business effectively, under your own brand, and without risk.
A revenue share finance option
We share the revenue generated from the glamping units funded through Glamping Hub for a set number of years. The percentage and length of the contract are calculated based on the glamping units you choose and your expansion goals.
Learn more
We will help you choose structures that are in line with your vision and offer the highest ROI
Bell Tents
Fast to deploy, simple to assemble, easy to store in the off-season.
Safari Tents
Great for giving a unique experience, and having more amenities.
Glamping Domes
Perfect to extend your peak season, and get creative with a larger interior.
Ready to move forward?
Complete this short form and we will reach out to move forward and answer any questions you have.
Get Started
Success Stories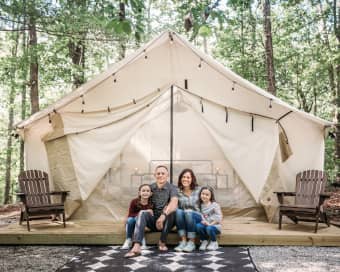 Beautiful Glamping Tent at Farm Stay Near Dallas, for Getaways in Texas
Their Challenge
Glamping Hub Host's Sherry and Houston were looking for a way to expand their existing glamping business but struggled with sourcing quality glamping manufacturers, and having the funds to buy the units they wanted.
Our Solution
Two quality glamping tents were purchased and delivered to the property, listings created on various platforms, and marketing efforts.
Results
Over 120 nights booked
$16,000+ total revenue generated in 7 months
5* Average review score
View Accommodation
Cozy Glamping Tents near Lake George perfect for Romantic Getaways in Upstate New York
Their Challenge
A mid-size resort with 200 acres of forested land looked to expand its business with alternative revenue flows but struggled with financing, sourcing materials, and resources.
Our Solution
10 Safari Tents purchased, furnished, deployed, with a complete booking management system - everything until the guests arrive for their stay.
Results
Over 45 nights booked
$15,000+ total revenue generated in 3 months
4.8* Average review score
View Accommodation
Is glamping a good match for your business?
Finding the perfect solution for your hospitality business challenges can be difficult - but we're here to help. If you match the criteria below we think you're the perfect fit to build your own glamping resort.
You have hospitality experience.
You embrace eco-friendly practices.
You are able to provide basic services.
Need more information?
Complete this short form and we will reach out to move forward and answer any questions you have.
Get Started
Frequently asked questions
Glamping is an experience surrounded by nature, it's waking up next to a mountain in a luxury bell tent, cozy in a warm queen-size bed, with a hot cup of coffee. It's spending the day exploring a national park and coming back to a beautiful glamping dome with a hot tub to relax and watch the sunset.
Glamping is a nature-based travel experience that combines hotel quality comfort, unique vacation rentals, and outdoor adventure activities.
Find out more about glamping here.
We're excited to be working with landowners and leasers at every stage of their process. From current glamping-site owners to hoteliers who are looking to open their doors to new development opportunities, we're here to help guide you. To be considered for the program, applicants must have proper permitting and bathroom facilities for their land.
Glamping Hub will double-check this with the applicant before moving forward with the program. If you do not have proper permitting and bathroom facilities, you are more than welcome to reach out and we can guide you in the right direction.
There are no upfront costs to be part of the program. Glamping Hub finances the units in exchange for a revenue share agreement that is determined by the type of units you choose and your expansion goals. For example, if you decide on a higher-priced unit, your agreement will either be longer or the revenue share percentage will be higher for Glamping Hub.
You will also need to factor in additional costs to get set up before you apply, such as permitting, plumbing, electrical, insurance, as well as other costs of running a hospitality business.
During our initial discovery call, we will help you define your vision, understand your position in the market, and identify any gaps we see to make recommendations for which structures will suit your needs for the best return on investment.
Our structures are categorized into three types, Bell Tents, Safari Tents, and Glamping Domes. Each type of glamping accommodation has a variety of sizes and styles. You have the choice of which style you would like to move forward with.
Permitting and zoning requirements vary greatly from one local jurisdiction to the next. You will need to check with your local permitting and zoning department and comply with their requirements.
Yes, all our structures come with the option to include decking and core furniture with the glamping units. You have the freedom to decorate your glamping resort as you wish. We will share our best practices with you for guidance.
Our property management team will create your listings across several booking sites with best practices in mind that we have learned from our experience in the glamping travel industry. They will handle all guest communications, organize all reconciliation and allocation of revenue, and provide monthly booking reports.
We will collect your check-in instructions and align with you on how and what you communicate with guests so that they are able still to receive the unique experience you have to offer. All confirmed reservations and upcoming check-ins will be shared with you via email.