Honeymoons, move over—there's a new celebration trend popping up all over the nation, and it's called the babymoon.
If you're as confused as we were when we first heard this, let us break it down for you. A babymoon is similar in essence to a honeymoon, but it's really a couple's last hoorah (at least for a while, anyway) before their new baby comes – a little getaway to celebrate life as two before life becomes a family of three.
Why take a babymoon vacation?
Really, the concept of a babymoon vacation makes total sense. It's the perfect moment to let yourself disconnect, relax and soak up some stunning surroundings. Your babymoon should be romantic, relaxing and comfortable. Your babymoon should be luxurious. Your babymoon should be intimate, quiet and bring you and your partner a little piece of Zen. And that's why you should spoil yourself silly – relax in a hammock overlooking the lush rainforest, hide away within the hills of Chile or fall asleep under the stars in a beachside cabin. This is your time to slow it down and savor the steps you've taken so far.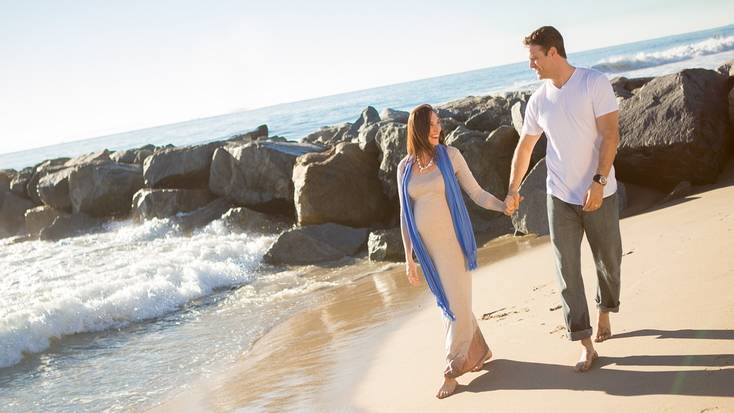 Top destinations for a babymoon trip
And that's precisely why we've come up with this list of the best babymoon trip destinations. From the sandy coastline of Mexico to the exotic jungle of Costa Rica, this list will carry you to the babymoon destination of your dreams. Luxury, serenity, stunning views and relaxation–these babymoon destinations have it all.
Enjoy a relaxing babymoon in a charming beach hut on Isla Holbox, Mexico
Is there anything more luxurious than stepping out of bed and directly digging your toes into the sand? We think not. This sand-floored beach hut on Isla Holbox in Mexico take 'prime location' to the next level. You'll basically be sleeping right on the beach while being romantically tucked away in your very own high-end hut, the perfect way to spend your babymoon vacation.
Spend an eco-friendly babymoon vacation on the coast of Bahia, Brazil
There are few things more exciting than escaping to the Brazilian rainforest with its lush plant life and splendid surroundings. With this charming, eco-friendly suite in Bahia, Brazil, you'll be intertwined right into local Brazilian life. So take in the Brazilian countryside, walk to the nearby beach, lounge around in the garden of hibiscus and alpine flowers or soak up some sun by the pool. Everything about this babymoon destination says comfort, luxury and complete relaxation.
Head to Santa Teresa Beach, Costa Rica, and stay in a beach bungalow
This property is a secluded gem on the southern tip of the Nicoya Peninsula, on Santa Teresa Beach, Costa Rica. Because it's off the beaten track, expect a beautifully tropically preserved paradise and one of Costa Rica's most stunning beaches, the perfect spot to get cozy with your loved one. The incredibly comfortable beach bungalow is made from almond wood and decorated with local art. It's wide-open to nature with open-air rooms and overflowing gardens. Stay here and expect a view of the ocean from your bungalow and the kind of luxury service you'd find in a five-star hotel for the perfect Costa Rica babymoon.
Stay in a luxury beach bungalow on the Osa Peninsula on the edge of the Corcovado National Park
For a touch of luxury on your babymoon, stay in this luxury beach bungalows in Costa RSanta Cruz Islandica. Set onthe Osa Peninsula, the rental is nestled on the edge of the Corcovado National Park where the pacific ocean kisses the rainforest. With stunning views over the ocean, this is an idyllic piece of paradise to relax with that special someone before your little buddle of joy arrives!

Stay in a safari tent on Santa Cruz Island in the Galapagos, Ecuador
These luxury safari tents are in a wonderfully scenic area of the Galapagos Islands of Ecuador, on the northern tip of Santa Cruz Island. You'll wake up to incredible views of the Pacific Ocean spotted with other islands, and because the camp itself is situated on the edge of a national park, you'll be surrounded by an amazing plethora of bird and tree species. All in all, these luxury tents combine comfort, style and nature, making for the perfect babymoon destination. You can lounge on your large balcony on your very own hammock while taking in the views, spend the night by the outdoor fireplace while you watch the stars or even try a (virgin!) mojito made from mint picked right onsite. Of course no babymoon getaway would be complete without a swimming pool, and the on-site infinity pool tucked amidst a forest of native trees is the perfect place for an afternoon (or two!) of completely uninterrupted relaxation.

Stay in a unique floating cabin in Puerto Vallarta, Mexico
These elegantly designed cabins in Puerto Vallarta, Mexico, have everything babymooners are looking for – comfort, style and luxury all wrapped into one. These spacious cabins are right on the beach, and you'll have incredible views of the Pacific Ocean right from your very own terrace. You can spend your babymoon in Puerto Vallarta walking up and down the beautiful beach, relaxing in your very own hammock or simply soaking up your surroundings. All you need to do is sit back, relax and enjoy your babymoon the way its meant to be—in style and comfortably cozied up next to your loved one.