There are some great places to spend St Patrick's Day. Traditions pop up all over the world, bars and pubs host a wide variety of events, people tuck into Irish food, and Guinness flows like water. With so many places to go for this annual holiday, we've picked our top seven places to spend St. Patrick's Day, so get your green suit ready, practice making a shamrock in your Guinness, and start planning a getaway for Ireland's national day!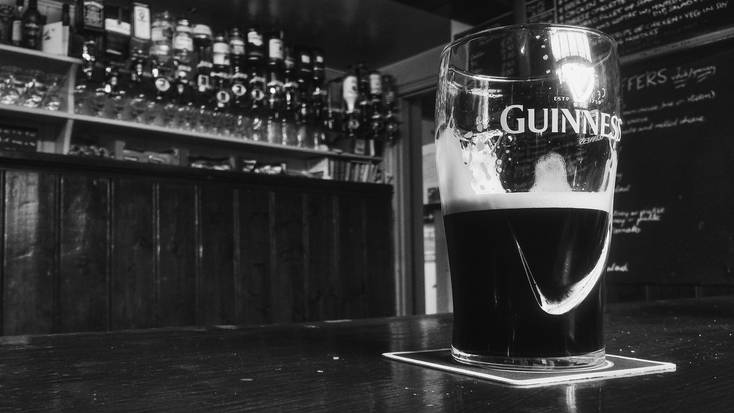 Best places to go for St. Patrick's Day in Ireland, the home of Guinness!
St. Patrick's Day or not, Ireland is a wonderful place to spend a vacation. The Irish countryside and coast will give a unique taste of the great outdoors, and the cities are filled with culture, fabulous pubs, and plenty of entertainment. Undoubtedly one of the best places to go for St. Patrick's Day, in Dublin you'll get a real flavor of the traditions behind the holiday, and you can actually find out what Irish people really eat on St. Paddy's Day! From March 13th until March 17th, 2021, there are parades, singing, dancing, and live music performed by bands from all over the world. Let's face it, where better to enjoy a pint of the black stuff than in the home of Guinness? Head down to Temple Bar, and join the crowds celebrating the day! St. Patrick's Day in Ireland is sure to rival even Oktoberfest!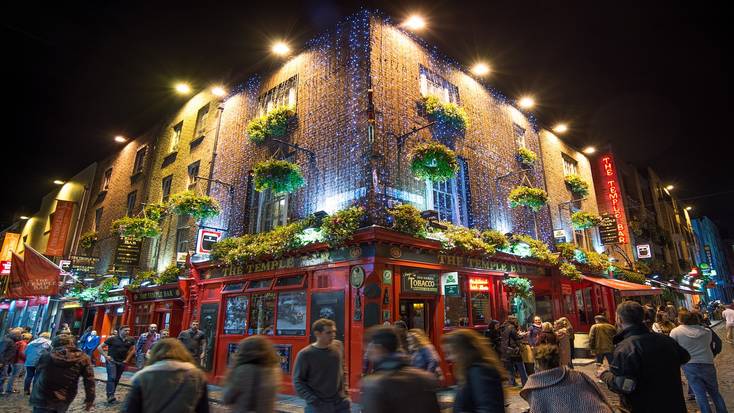 Watch the parade at Trafalgar Square for St. Patrick's Day: London goes shamrock green!
Over the last few years, London has increasingly become one of the best places to spend St. Patrick's Day. London famously hosts a number of cultural events to celebrate its diversity, and the traditions and cultures of all its residents, such as the Notting Hill Carnival. 2021 marks the 19th year of the Mayor of London's St. Patrick's Festival, the largest celebration of the Irish community in London, and it's celebrated with a parade and performances by bands and comedians in Trafalgar Square. If you're staying in a vacation rental outside of London, Trafalgar Square is well connected to Waterloo Station, and Charing Cross is just a short walk away, so it's easy to pop up to London for the day to enjoy the festivities!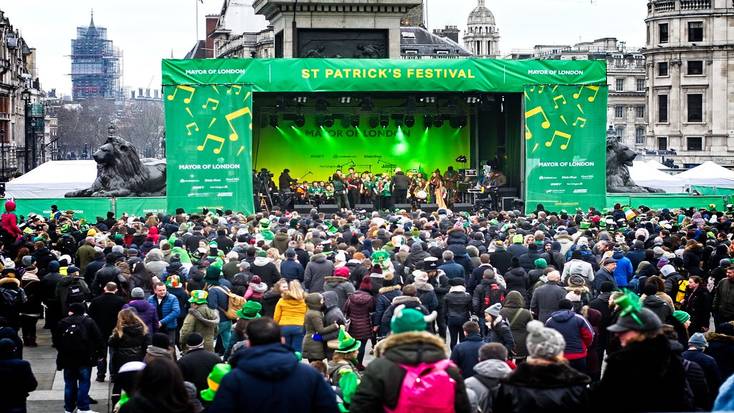 Irlanda in Festa in Florence: unique places to spend St. Patrick's Day, 2021
Of all the places to spend St. Patrick's Day, I think it's safe to bet that unless you're already in the know, Florence, Italy, was not on your list of where to celebrate. St. Patrick's Day in Florence is actually quite a big thing and under the guise of 'Irlanda in Festa', this is a three-day event celebrating all things Irish! If you find yourself enjoying a vacation in Tuscany during St. Patrick's Day and you want to celebrate the occasion, there are loads of things to do in Florence. You'll enjoy Celtic music, Irish food, and Irish drinks, and if you head down to Finnegan's Irish Pub, you'll feel as though you've ended up in Galway for the evening!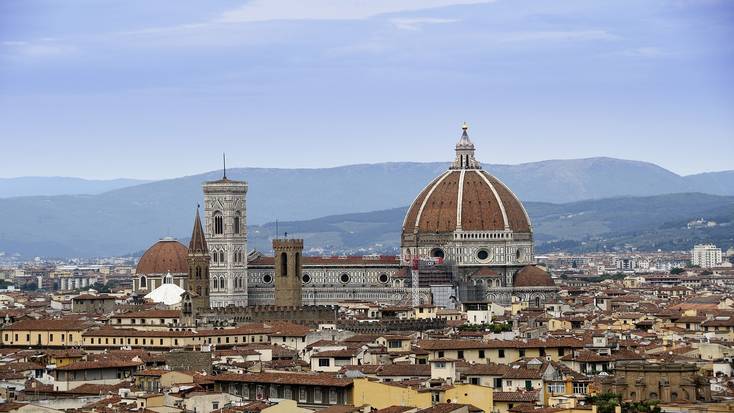 Shipping up to Boston! St. Patrick's Day in its American home
If you find yourself stateside for St. Patrick's Day, Boston, Massachusetts, is a must. The city has a strong Irish tradition with many of its residents being descended from the Irish. The first St. Patrick's Day parade in America took place in Boston in 1737, and the party here is only getting stronger! This year the parade takes place on Sunday, March 15th, and in previous years up to 850,000 people have hit the streets to take part in this historic tradition. There will also be live music, including from Boston's own Dropkick Murphys, who will be playing at the House of Blues and at Encore Boston. After an eventful Boston St. Patrick's Day, why not rejuvenate and recover with a getaway outside of the city in one of these cabin rentals? Massachusetts is just waiting to be discovered!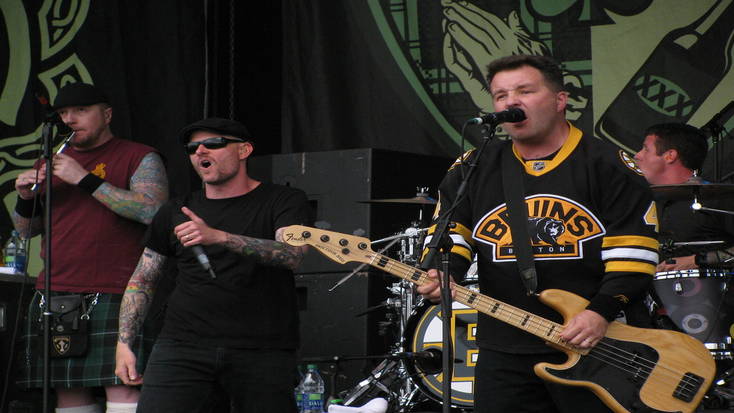 Kayak down the Green River: the Windy City becomes the Emerald City!
If you venture to Chicago for St. Patrick's Day this year, you'd be forgiven for thinking you'd walked into the Wizard of Oz or a Creedence Clearwater Revival song. Of all the places to spend St. Patrick's Day, Chicago undoubtedly goes to town! Each year, the Chicago River gets dyed with eco-friendly vegetable dye, and iconic buildings get lit up with green lights. Throughout the week of St. Patrick's Day, there are numerous things to do in Chicago, including the annual parade, the chance to enjoy traditional music, and with various local bands set to bring their brand of Celtic punk to the holiday, you can immerse yourself in all things Irish for the holiday! Once you've finished enjoying everything Chicago has to offer, plan a vacation exploring some most scenic places in Illinois and the midwest, a great way to enjoy something wholesome after a wild weekend!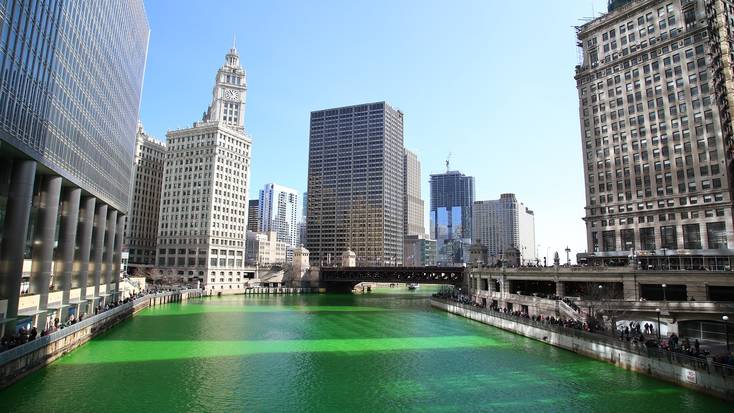 San Francisco: one of the best places to spend St. Patrick's Day in California!
Another fairly surprising entry on our list of the best places to spend St. Patrick's Day, San Francisco, California, has a large parade at the Civic Center Plaza each year. Filled with fun things to do on St. Patrick's day, San Francisco also has a variety of pub crawls, and since there's more than a dozen Irish pubs, bars, and restaurants, you're sure to get a pint of Guinness along the way. The annual parade will take place on Saturday, March 14th this year, starting at 11.30 am at 2nd and Market streets, heading down Market Street before hitting the Civic Center Plaza near City Hall.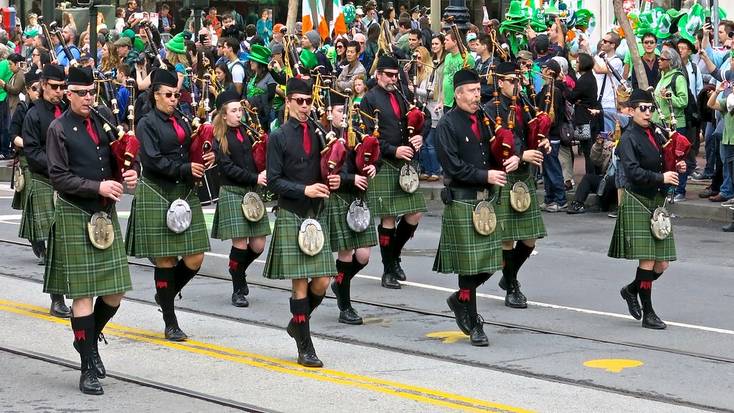 Irish traditions in Buenos Aires
Buenos Aires, Argentina, is South America's offering of places to spend St. Patrick's Day, 2021. Claim the fifth-highest Irish ex-pat community in the world, St. Patrick's Day has become increasingly popular over the years, and it only looks to become more so. All festivities are arranged by the Argentina-Ireland Association along with the Irish Embassy, and there are street parties, Irish pubs throwing events, and of course the obligatory parade. With some great vacation rentals near Buenos Aires, you can continue your travels in this stunning country after enjoying a Latin flavored St. Paddy's Day!