There's something to be said for vacations where you head to one place, and one place only, where you can really get to know the area well and truly let yourself relax. Sometimes, however, you're up for an adventure, and what better way to explore the great West Coast state of Washington than by road trip? Our top three Washington road trip ideas will give you a handful of options to choose from—or combine!—in order to craft the perfect glamping vacation in the Pacific Northwest. So rent a cabin, yurt, stay in log cabins, or even tipi along the way, and enjoy the best Washington road trip.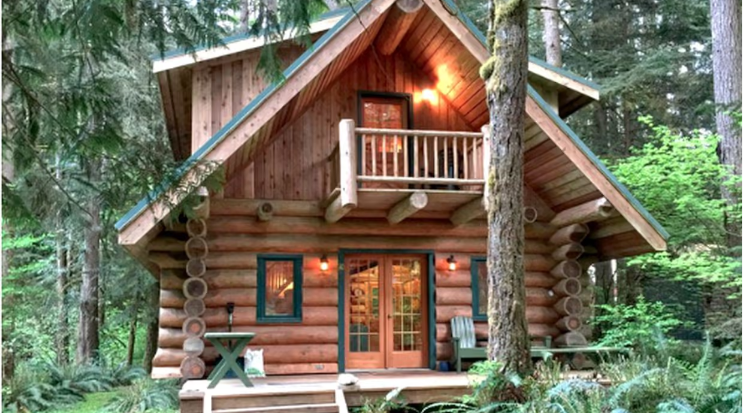 Head to the Olympic Peninsula & the Puget Sound Region, one of our favorite

Washington state road trip ideas
For one of our top Washington state road trip ideas, follow the infamous Highway 101, you'll get to discover the Olympic Mountains, including the well-known Mount Olympus, and Olympic National Park and Forest, which will also open your eyes to lush, temperate rain woodlands, stunning lakes, and rivers filled with salmon. Split your time between glamping accommodations, such as this exclusive luxury canvas tented cabin in Olympia and a waterfront roundhouse cottage in Hoodsport.
Other Olympic Peninsula and Puget Sound road trip accommodations include:
a plush, refurbished railroad car in Sequim with a feather bed, a gas fireplace, and a two-person whirpool bathtub; and
a Mongolian-style luxury yurt, perfect for practicing yoga or meditation in or soaking in the nearby sauna.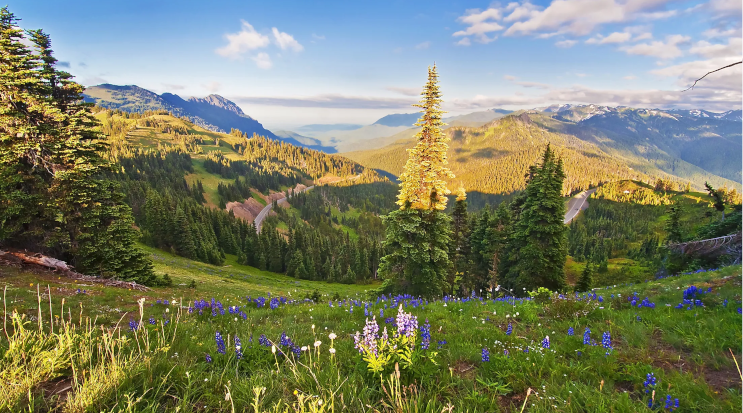 Scenic Byways Across the State
With so many scenic byways to choose from, it's tough to decide which ones make the cut for your Washington road trip. Our favorites include the Cascade Loop Scenic Byway, the San Juan Islands Scenic Byway, and the Columbia River Gorge Scenic Byway.
Along the Cascade Loop, stay at this luxury ski lodge rental in the Northern Cascades near the Canadian border, where you'll enjoy top-notch hiking and skiing, as well as fishing in the Nooksack River, if you take a break from the byway for a bit.
While following the San Juan Islands Scenic Byway, call this unique island cabin rental, which has fantastic views from its private deck of Vancouver Island, your home base as you discover what Washingtonian island life is all about.
Heading down the Columbia River Gorge Scenic Byway, this luxury tipi overlooking the gorge is the must-stay accommodation. It's located on over three acres of private land for glampers to explore, as well as comes with a fire pit right in front of the accommodation where you can recount the day's adventures over a gooey s'more each and every night.
Washington Wine Country
The trick to a Washington Wine Country road trip is settling on a designated driver each day over breakfast to ensure a safe and problem-free exploration of the area's over 800 wineries. Choose between driving around one or—all three—of the areas that make up Washington's Wine Country: Yakima Valley, the Tri-Cities Region, and Walla Walla Valley.
Our favorite Wine Country rental near both Yakima Valley and the Tri-Cities Region is undoubtedly this dream-come-true tree house cabin that sits at the base of Mount Adams in White Salmon. It'll be hard to pull yourself away from the private hot tub on the secluded deck to head out on tour and tasting after tour and tasting!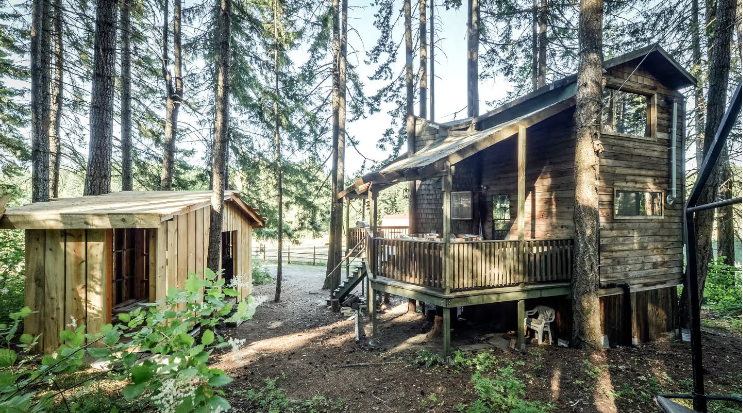 Though located in Oregon, these incredible luxury tents near Wallowa Lake in northeastern Oregon are situated quite close to the Walla Walla Valley and offer guests proximity to wineries, as well as water sports, hiking, and sightseeing.
For more ideas on how to spend a weekend—or more!—in Washington state, check out our go-to page for all things Washington here!