Have you heard about this year's hit flick coming to theaters near you this November? "Amanda and Jack Go Glamping"—a comedy about a married couple who are looking to put the spark back into their relationship by going on a romantic glamping getaway—will show you that even with some bumps along the road, there is nothing better than experiencing the great outdoors with the one you love.
Premiering at Austin Film Festival, just in time to inspire some end of fall getaways, Amanda & Jack Go Glampingwill have you leaving the theater and heading straight to packing your bag for your very own romantic Texas getaway, and living your own glamping movie.
Looking for some hints on where to visit near the set? Here are five unbeatable sites near Austin, Texas, you will not want to miss out on.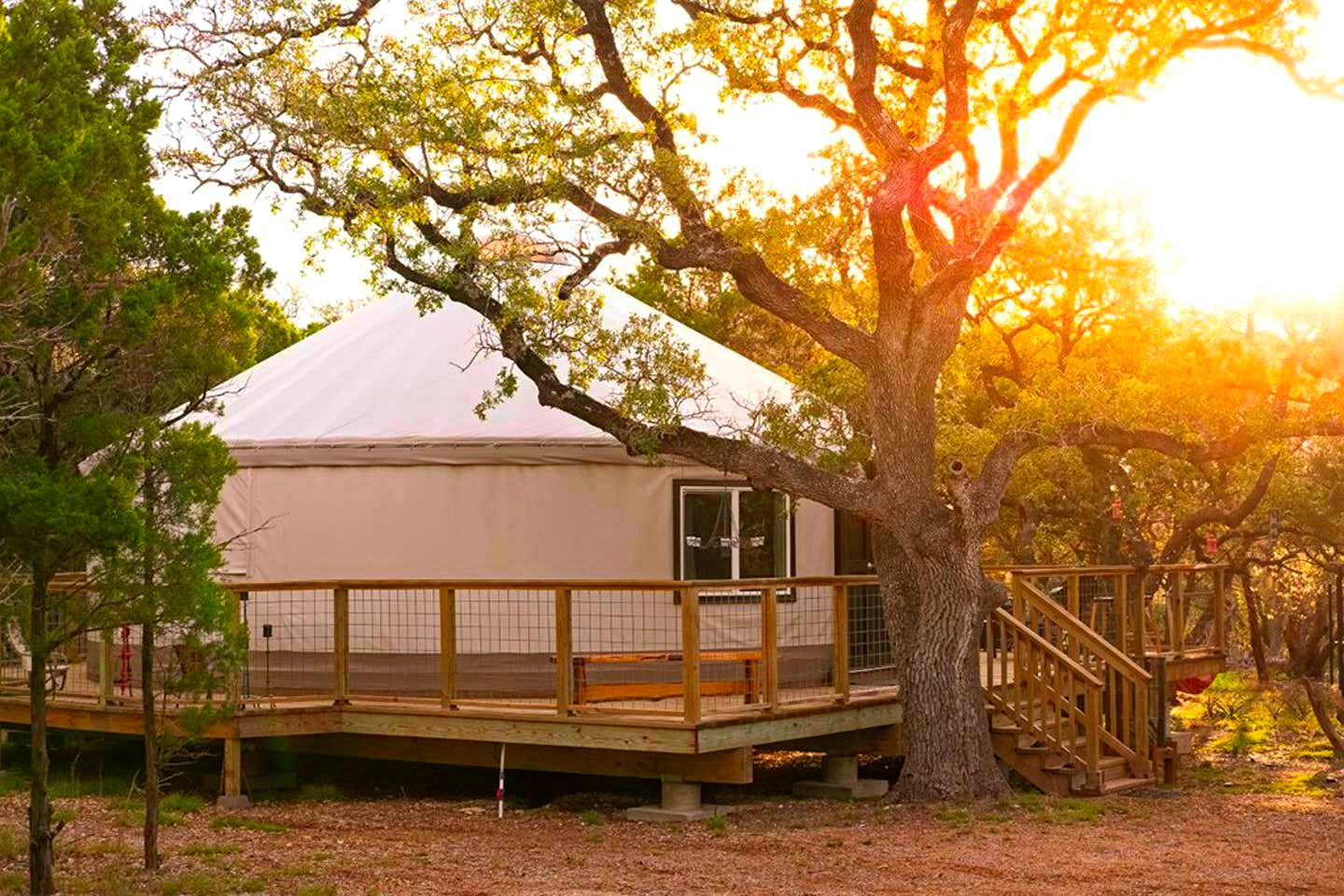 Country Glamping Yurts Outside of Austin
Take a drive outside Austin to find these charming glamping yurts, ready and waiting for couples of all ages to enjoy them. With king-size beds, electricity, and comfortable furnishings inside and outside of the yurt, glamping duos will feel at home and relaxed in no time. This accommodation is sure to put the spark into your getaway.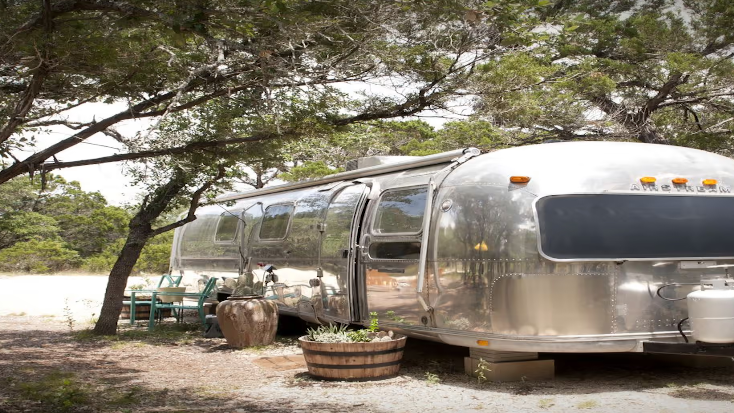 Thinking about some Jacobs Well camping? Texas also boasts some great alternatives that still let you enjoy the great outdoors here. Cozy up in a deluxe Airstream with modern features and epic views of the surrounding woods. Glampers looking for a secluded getaway, look no further because this Airstream rental is tucked into the stunning Jacobs Well, Texas. Camping doesn't get better than this. Close to nature areas in Texas Hill Country, and still just a short drive from numerous restaurants and authentic Texan nightlife, couples can get a feel for it all at this accommodation.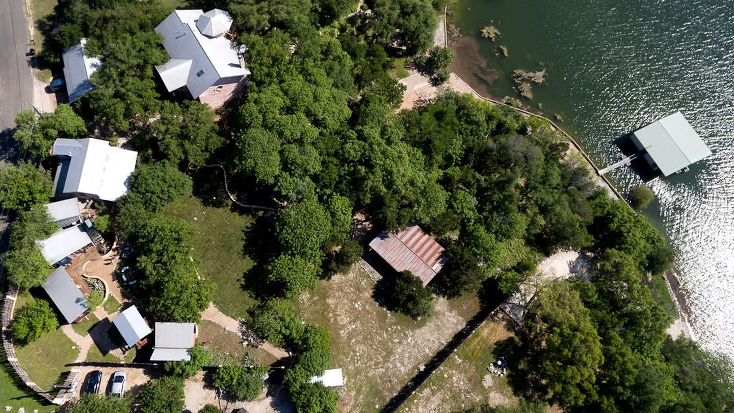 Spacious Villa with Views of Lake Travis in Austin, Texas
If Jack and Amanda go glamping with their friends, then heading to this gorgeous villa would make their tirp unforgettable. Perfect for six guests to relax and enjoy comfortably, this villa boasts upscale glamping. The views of Lake Travis from the rental's spacious deck will take glampers' breath away.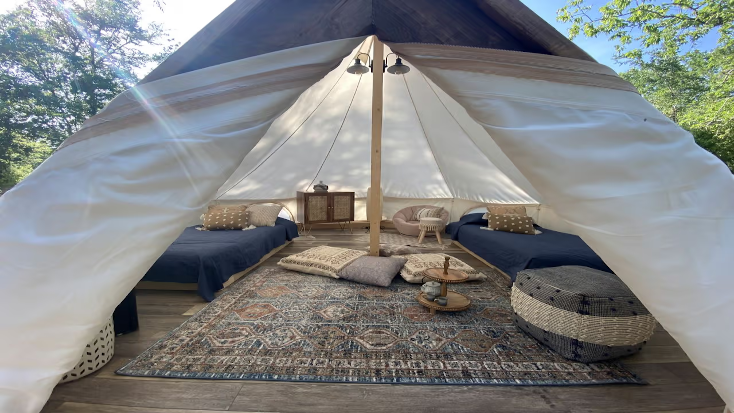 Unique Bell Tent Camping near San Antonio, Texas
Wake up in the morning to the smells of fresh coffee, sweet teas, and the soothing scents of nature when visiting these romantic bell tents. Camping just got even more luxurious, and for couples looking to get away from it all, this sure is the place to escape to. With high-end features guests would find in a five-star hotel, endless views of Texas Hill Country, and nothing but a blanketed sky of stars to admire above, guests will instantly fall in love with these sites.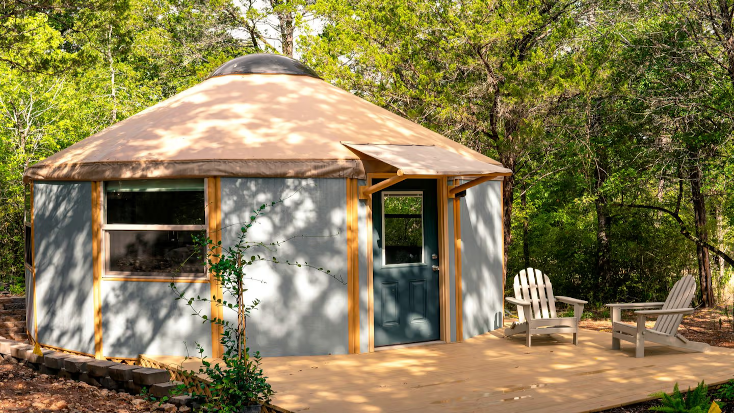 Beautifully Furnished Yurt Rental in Elgin, Texas
In the heart of the forest, glampers will fall head over heels at this beautifully furnished yurt rental. Decked out and completely secluded, this is where glamping couples come to reconnect with nature—and one other. Offering high-end amenities, unbeatable scenic views, and more for glampers to discover onsite, no duo will want to miss out on a visit to this retreat.
---
To find your very own romantic Texas getaway, check our our portal—and don't forget to see "Amanda and Jack Go Glamping" this November!