Editor's note: Each month, we like to introduce one of our wonderful Glamping Hub hosts and ask what inspired them to create a glamping site. This month, we're showcasing Glamping Hub's Host of the Month for February 2022: Baya, and Paul. This hosting couple aims to combine the traditional Native American world with our modern world into their glamping site to give their guests a unique and special experience in nature.
Tell us a bit about yourself…
I'm a Diné (Navajo) woman, mother, wife, and Entrepreneur who runs our eco-friendly glamping resort with my husband Paul. We have two children and live on our Navajo Churro Sheep Ranch in Northern Arizona on my ancestral homelands. We decided to start a family and life here – one foot set in the traditional world and one foot in the modern, a modern Dine. We're both world travelers who like to host others who are looking for adventure at our ranch and off-grid glamping hotel.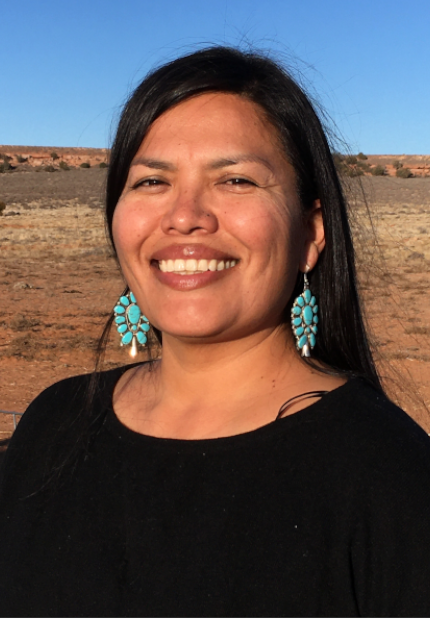 What attracted you to owning a glamping property?
We saw the opportunity to offer travelers and visitors to the Grand Canyon/Lake Powell-Glen Canyon Recreational Area, an unquiet experience outside the four walls of a traditional hotel.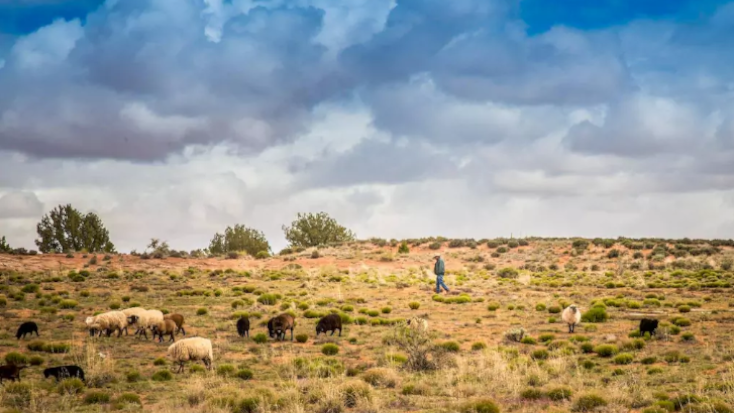 Every glamping site has a special story, could you tell us about yours?
Paul and I each had this idea to host people on a unique piece of land before we met each other. When we got together, we started to look for unique plots of land in Southern Arizona, where we were living. We made a trip together to my homelands in Northern Arizona and Paul asked, "Why are we not starting our Glamping site here?" I don't see my home like others do, not that I don't think it's beautiful, I was born and raised there so seeing through Paul's eyes made me realize I came from somewhere special. When we made the decision to do the Glamping site on Navajo Land it was like all the pieces locked into place and made it possible to realize and continue our dreams.
As a Dine female from a matriarchal society – the Navajo – I am simply an extension of my ancestors for whom the land sustained from time immemorial. Mine is a story of empowerment. We have created a wondrous experience set in nature – off-grid, low footprint, sustainable, and respectful.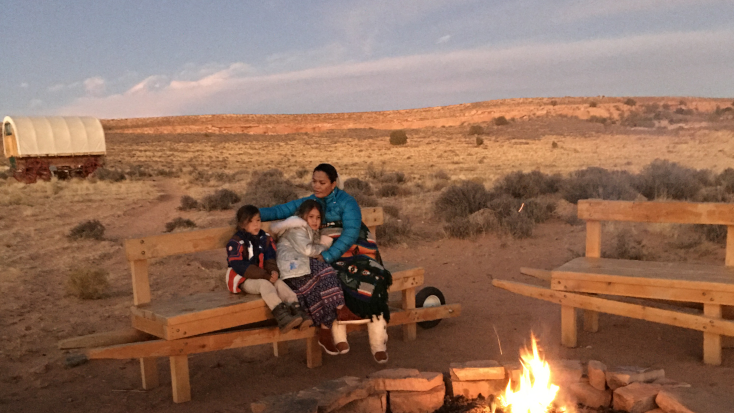 Can you tell us about your most memorable guest experience to date?
A guest once burst into tears upon seeing the night sky in all its glory. We are located in an area with near-zero light pollution and the starfield is glorious.
We also hosted a Chinese Gentleman who was famous in China as a health and wellness influencer. We spoke with him and he was gracious and kind. He even did an early morning Tai Chi session with me and it was amazing.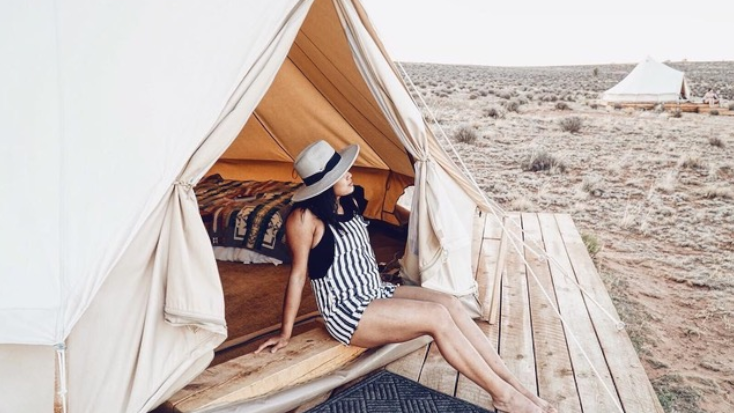 If you could have anybody stay at your accommodation, who would it be and why?
There are so many people who have stayed with us and are just everyday people looking to connect or experience something beautiful, unique, and genuine. The guest I would like to host would be all of those that have truly felt this and who see how special the land is.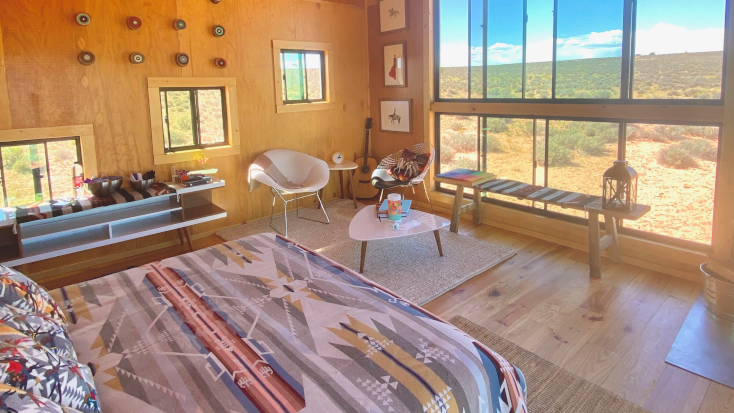 What are some of the challenges you face and what have you learned since opening?
A challenge was living in a place that has limited infrastructure, such as electricity and running water. Working around that has been challenging, but from that, we have learned that persistence and compromise are key. We quickly advanced this to the plus side, as this is how many Navajo live and we want our guests to come and experience this way of life.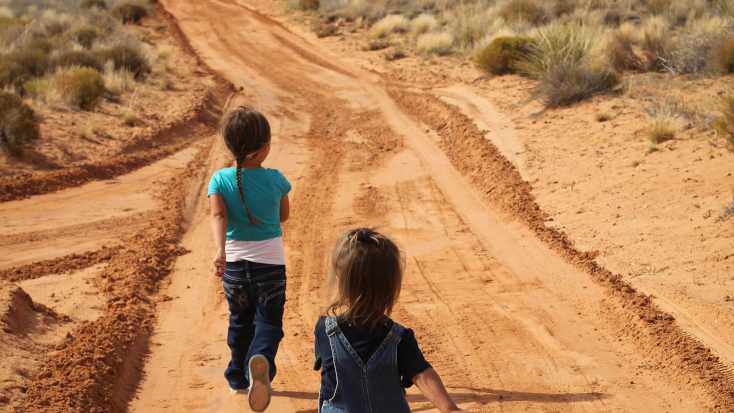 How was your first time hosting?
At first, I was so nervous and just hoped people would like it. But since then, it has been a joy and we feel very blessed.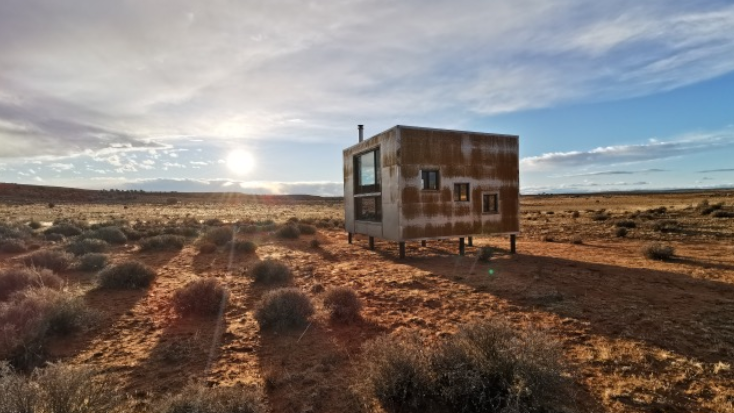 What do you love the most about running a glamping site?
We love working outdoors, meeting interesting people from all over our planet, and hearing about how they fall in love with my homeland. We also love fulfilling our goals and seeing our vision come to fruition.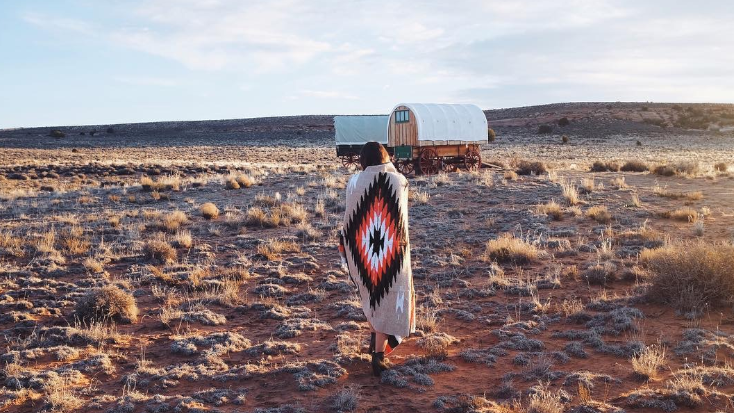 Where is your ideal holiday destination? Other than your glamping property of course!
I like to be near the ocean. I've never been to the Mediterranean and I'd love to go someday.
What advice would you give to anyone looking to start or improve their own glamping business?
No matter what stands in your way, look for a way around it and keep your energy positive.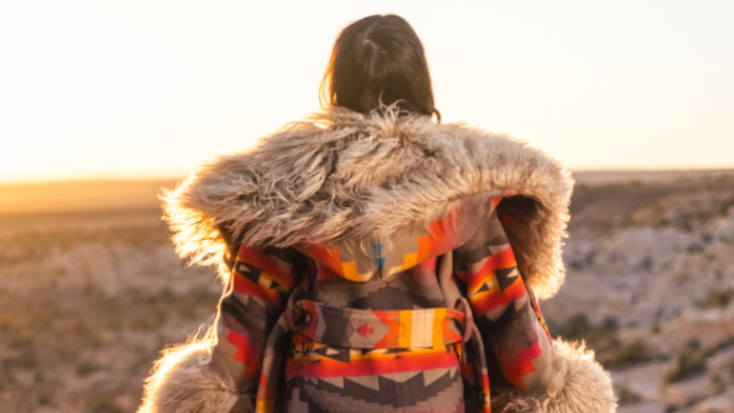 Our community of hosts means everything to us here at Glamping Hub, which is why we love to share their stories in our Host of the Month feature. If you're looking for a fantastic cubed cabin, classic bell tents, or a unique wagon rental for an exciting weekend getaway near the Grand Canyon. Book one of Baya and Paul's great accommodations, and enjoy one of the best places to visit in Arizona.
Have you stayed with one of our incredible hosts recently and would like to nominate them for Glamping Hub's Host of the Month? Send us a message via Facebook or Instagram explaining who you've chosen and why!