Editor's note: Each month, we like to introduce one of our wonderful Glamping Hub hosts and ask what inspired them to create a glamping site. This month, we're showcasing Glamping Hub's Host of the Month for August 2022, John and Fin Kernohan. This hosting couple, who are the Founders of the United Tiny House Association (UTHA), one of the largest tiny-lifestyle support organizations in the World, began their "tiny house love affair" to share their love of minimalist life, nature, and connecting with like-minded people. They recently added two new beautiful geodesic domes and two spacious bell tents are coming soon to their glamping resort near Lake Oconee, perfect for your next glamping adventure in Georgia.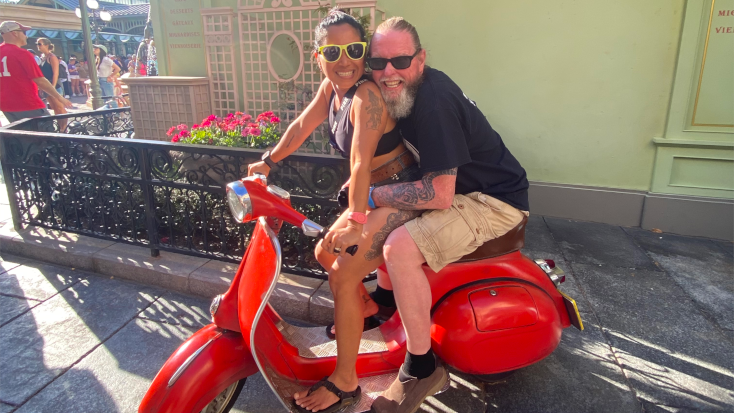 Tell us a bit about yourself…
Fin was raised in Thailand as a Buddhist, and is a yoga instructor, a massage therapist, a fitness expert, and an acclaimed interior designer. John is a retired immunologist, the handyman of our property, a craftsman (his family is Amish), a DIY fanatic, and an avid outdoorsman. We believe it is our diversity as well as having so much common ground, which has created and solidified our "tiny house love affair".
We promote the tiny lifestyle by striving to be true examples of living tiny in our DIY, off-grid 304sqft tiny home, known as Beloved Cabin, which we have lived in full-time for the past 10.5+ years. In early 2017, we completed our 148sqft tiny house on wheels, known as the Tiny Firehouse – Station No. 9, which is our traveling home and is our tribute tiny house honoring firefighters and promoting fire prevention awareness.
In addition to living in our DIY-built, off-grid 304sqft 'Beloved Cabin', we are also short-term rental hosts and creators of unique getaways. Here on our 16-acre Beloved Cabin Tiny House Homestead & Stay we have two 20′ geodesic domes, two 20′ bell tents arriving soon, three tiny houses on wheels, a skoolie (bus conversion), and two yurts as part of our vacation retreats.
Our journeys and adventures living in the big cities of Bangkok & London (Fin), and Miami & Kaohsiung (John), along with our travels together around the globe, to our tiny off-grid minimalist lifestyle in the Georgia woods with our 26 free-roaming rescued cats, 3 dogs, many goats, and pet chicken, have gifted us with an abundance of joy and love for each other and for the World around us.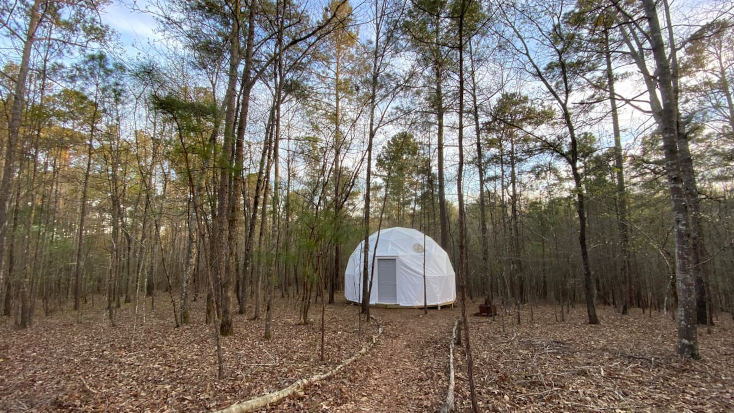 What attracted you to the idea of owning a glamping property?
Actually, this has been a dream and goal of Fin's since she was a young girl. Long before she graduated college or was even in high school, Fin had a dream of having a retreat on a beach or island in Thailand where friends, family, and strangers could come to relax, get away, share meals, and commune together for holiday getaways.
We have a tiny home located in northeast Thailand near Laos, which we were visiting in late 2019 and through early 2020. After we left our place in Thailand, we visited Turkey and were in Istanbul when COVID started coming up through Iran. With this news, we decided to cut our trip short and returned to the US just a few days before the airport in Atlanta was shut down. As we sat and talked about what we planned to do with the remainder of 2020, Fin stated she wanted to fulfill her childhood dream.
With this said, we started in March 2020 creating an area of our 16-acre homestead for what is now our collection of short-term getaways. In August 2020 we began accepting our first guests and since then we have added, expanded, and enhanced the area of our property for guests, which we affectionately call "The Secret Garden".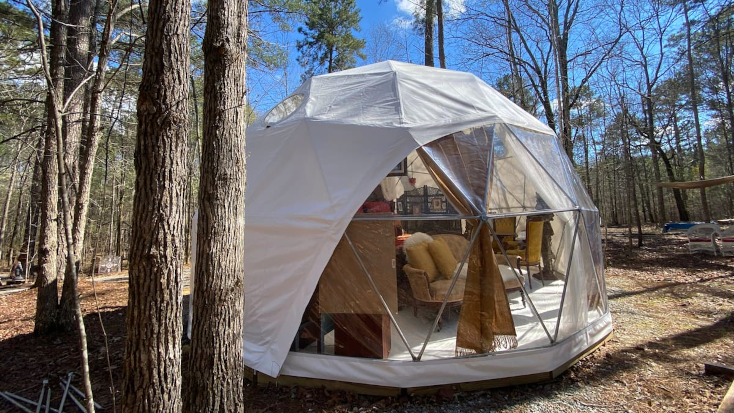 Every glamping site has a special story, could you tell us about yours?
Our special story is our love for each other and our love of small spaces and tiny homes and our wanting to share this love with others.
Fin will sit for a day or two inside each of our units when they are empty and will do what she calls "visualize." She has this amazingly unique, creative ability to see a design creation that inspires guests to leave the world behind them as they enter and close the door. She takes painstaking efforts to design environments that are unique and beautiful.
John loves the hospitality aspects of hosting. He always wants to be the one to check in guests, carries their luggage to their getaway, give a tour of our property, answer their questions and give a history of our area. He makes fires for everyone at night in their personal outdoor entertainment areas and takes kayaks and canoes to the lake for guests to use. Bakes cookies or makes pancakes in the morning for guests in our 2000 sqft community house, and even plays "sommelier" with the array of wines on offer from a local winery.
Additionally, our 16-acre homestead property located at Lake Oconee has 2 creeks, a natural spring, deer, and a lot of wildlife. We have hiking and biking trails. As well as excellent boating, kayaking, and fishing. We have goats our guests can pet and feed, and over 2 dozen free-roaming rescued cats. Lights up in the trees, gently cast firefly-like lighting at night, for guests to enjoy outdoor areas at night. Nearby are two 12,000-year-old Native American Effigies to marvel at, too.
Our Beloved Cabin Tiny House Homestead and Stay is a hidden oasis in the Georgia woods no one would guess is here unless they actually visit our property.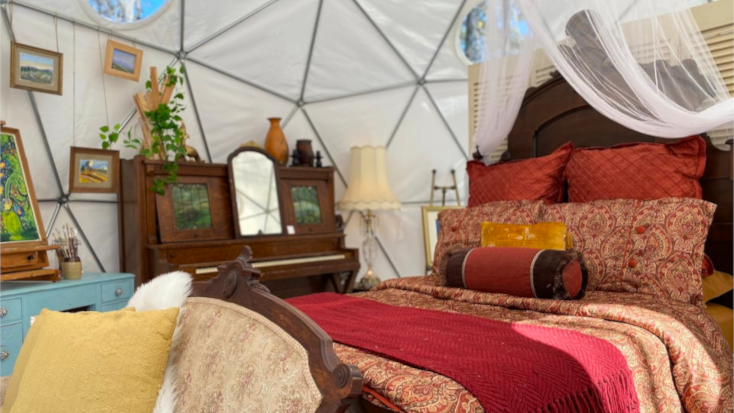 What do you love the most about running a glamping site?
What we love most about running our glamping site are our guests. The experience of interacting with our guests and providing them with a wonderful and unique experience. The joy they have and the memories they create when glamping at one of our getaways is what hosting is all about.
How was your first time hosting?
It was AWESOME! We were both excited and nervous at the same time! We felt confident our business would be a success and our first-time hosting experience solidified what we assumed. That our guests would have a unique and nowhere else to be found experience.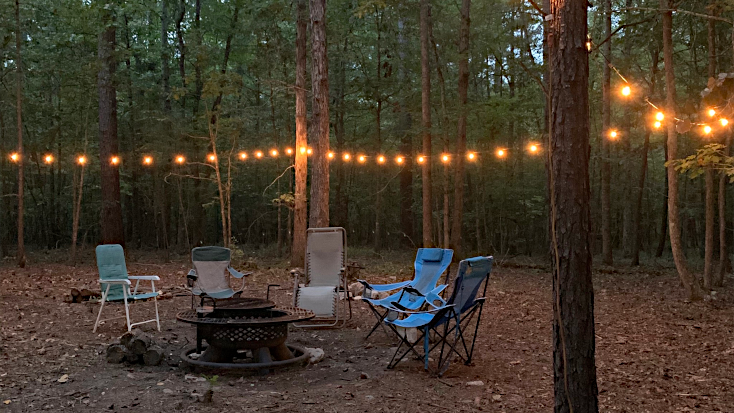 Can you tell us about your most memorable guest experience to date?
We have had so many memorable guest experiences. First dates, wedding night getaways, family gatherings where multiple units were reserved by multiple family members, but the best ones that come to mind are…
One time a young couple stayed in our Tiny Firehouse, and the young lady called us asking for a late check-out, so her boyfriend could finish his painting. He proposed to her, by handing her the painting he had been working on that he wouldn't let her see until he had finished it. The painting depicted him proposing to her in front of Tiny Firehouse. An hour later, she sent us a picture with a single caption saying, "I said yes!"
The vast majority of our guests come from within the LGBTVQ, POC, and Asian/Asian Pacific/Southeast Asian communities. This wasn't an intended strategy or part of our marketing game plan but instead has been an unexpected and organic blessing. As a mixed-race couple, we've had our own experiences with racism and confrontations from those who don't have good hearts. It was only natural for us to create a healthy, loving, all-inclusive environment for everyone to enjoy and feel safe. We are constantly (and we really mean constantly) making sure everyone who comes here has fun and feels they can always be themselves. So many guests have shared with us how they feel safe here, don't feel judged, feel that we are open-minded, feel respected by us, and feel loved by us.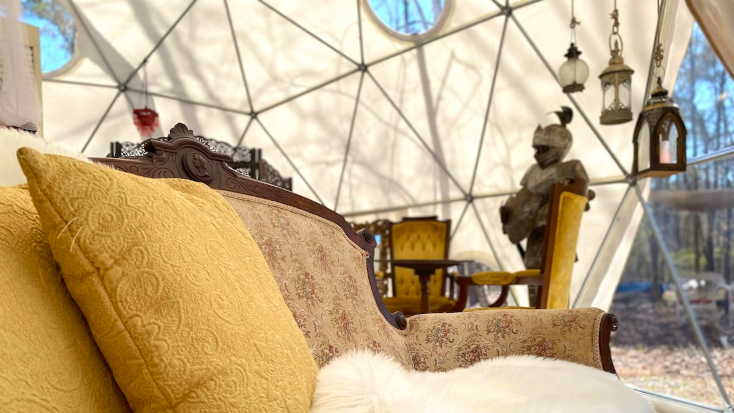 How have you grown your business from the initial concept into a successful glamping business?
We started with a single unit – our Tiny Firehouse and now we have 9 units. We have zero debt, all our land is paid for, we enjoy meeting and greeting our guests, the financial benefits are wonderfully satisfying. We get to create new and exciting areas on our land both for ourselves and our guests, and our glamping business is one of the reasons we get so much attention from the press, television stations, and production companies. So, "YES – our glamping effort has grown into a very successful business."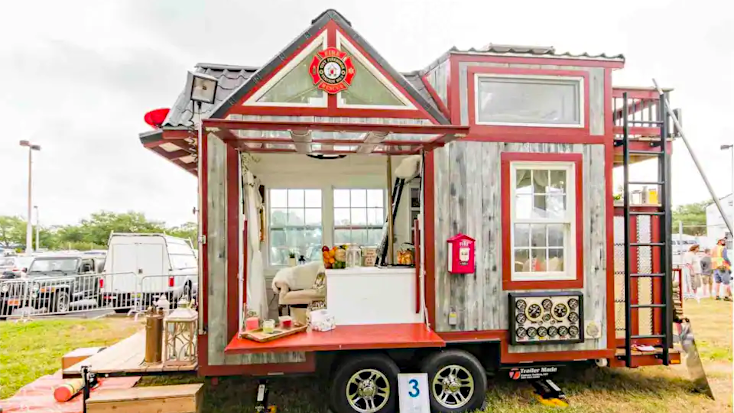 What are some of the challenges you face and what have you learned since opening?
The biggest challenge/lesson we have faced/learned is that we can never be prepared enough. There is always something that can come up we didn't think of or plan for. For example, a propane regulator going out, a guest wanting a deck of cards in the middle of the night, not realizing a bottle opener went missing with a previous guest, and a current guest not having one. These might sound trivial, but they are an inconvenience to a guest. One way we have learned to address these issues is to stay in our units ourselves for a night or two and see what we would like if we were guests.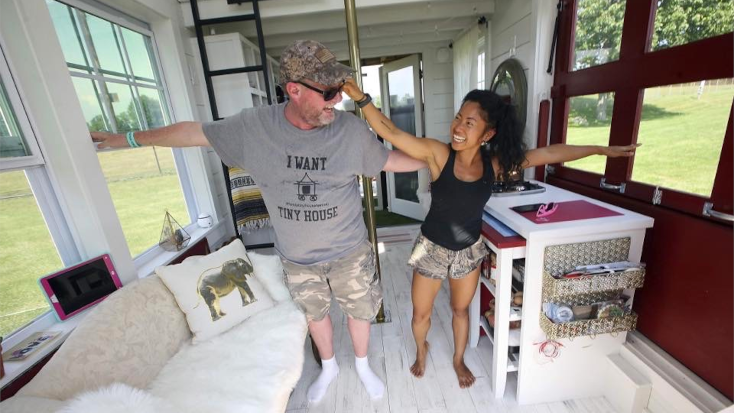 What is the most exciting part of growing your glamping business?
The MAGIC! The magic we create for our guests… The moment they see and experience this magic! Their wide eyes, open mouths, and exclamations are the reason we are doing this!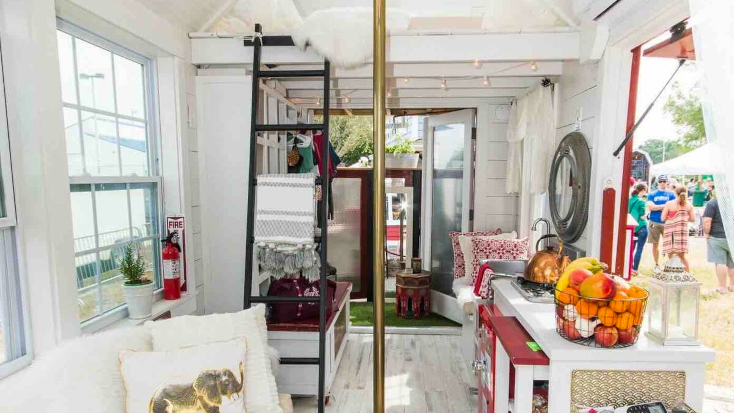 What does your dream glamping site look like? This could be in terms of types of accommodations, experiences, activities, or amenities.
Definitely somewhere on the water, whether on a river, lake, or ocean. A structure with LOTS of windows that open or LOTS of windowless openings. A location that is secluded or semi-secluded and that is not within a big city. A place that is unique (not an apartment, hotel, or conventional home) with a surrounding area that is peaceful, serene, and full of trees and nature.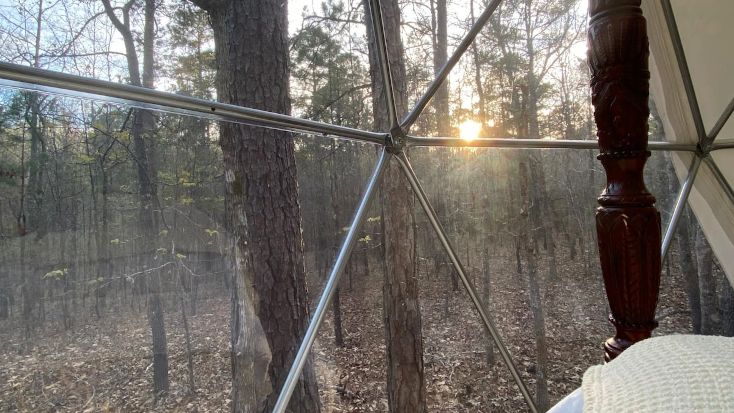 What has the Glamping Hub helped you achieve?
We now have two 20' geodesic domes that were not on our immediate plans for our glamping business. Here they are generating revenue, great revues, and even greater experiences for our guests. Plus, we have two 20′ bell tents coming in from Glamping Hub too.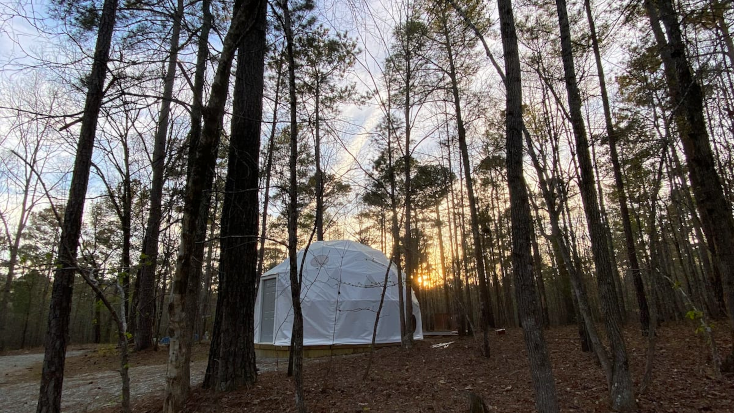 What advice would you give to anyone looking to start or improve their own glamping business?
Just do it! Don't procrastinate or delay with excuses about money or time. The only way to get started is to start. You can always adjust, improvise, change, and improve as you go along.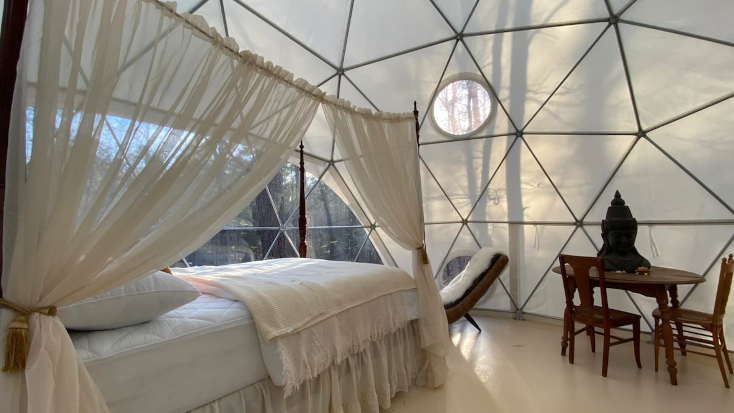 Fin and John have not let the grass grow under their feet with their truly exceptional glamping and tiny home retreat. They have featured on many TV shows, series, and documentaries and continue to share their experience in their new book. Don't miss out on their warmth and hospitality. Enjoy a glamping experience like no other in the heart of the Georgia woods. Book now and share in their "tiny home love affair."
Our community of hosts means everything to us here at Glamping Hub, which is why we love to share their stories in our Host of the Month feature. If you're looking for a unique weekend away, a chance to get off-grid near Lake Oconee check out Fin and John's glamping retreat in Georgia.
Have you stayed with one of our incredible hosts recently and would like to nominate them for Glamping Hub's Host of the Month? Send us a message via Facebook or Instagram explaining who you've chosen and why!