With summer just around the corner, now is as good a time as any to start planning your trip on the open road. Right from the city center of beautiful Chicago, Illinois, these glamping gems are just a road trip away. From safari tents to luxurious cabins and treehouse camping, it's impossible to pass up getting together with your friends or family to embark on the adventure of a lifetime.
Whether it is a day trip, weekend getaway, or for a long summer vacation, nothing is more worthwhile than getting out of town to do a little exploring, and with some great short trips from Chicago, a vacation in the great outdoors is so accessible. Now nature, a luxury experience, and the best glamping road trips from Chicago all can be yours at the click of a button.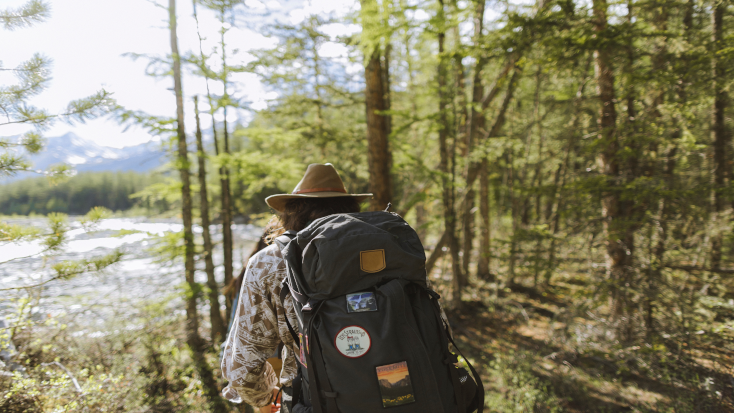 Keep reading for our picks of the best road trips from Chicago!
Cozy Cabin Rental Situated in South Utica, Illinois
Distance from Chicago: 99 miles, or 1 hour & 34 minutes
First on our list of best road trips from Chicago, head on over to North Utica, just a short drive away from the Windy City, to visit this rustic luxury rental. While spending a weekend authentically glamping, you'll love resting in this cozy cabin and taking advantage of the exciting hiking trails nearby. Perfect for a family visit or a getaway for a group of friends, this cabin sleeps a comfortable four. Get excited for the fun experiences ahead when you plan your road trip to this luxury cabin.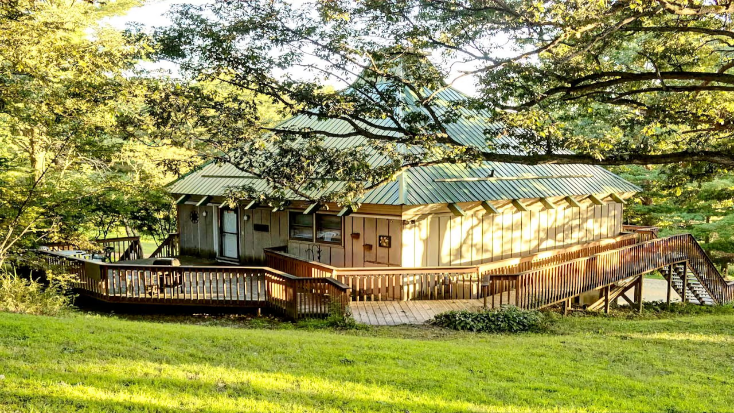 Luxury Glamping Tent Rentals at Summer Camp Music Festival, Illinois
Distance from Chicago: 147 miles, or 2 hours & 20 minutes
Spend this summer jammin' out to your favorite tunes from the comfort of these luxury safari and bell tents. Arriving at your glamping destination to an already set-up accommodation allows you to start enjoying their worry-free stay from the second you leave your front door. While taking breaks between watching your favorite bands in action, these luxury tent units will have you refreshed, rested, and restored in no time. They are definitely high up on our list of top trips from Chicago.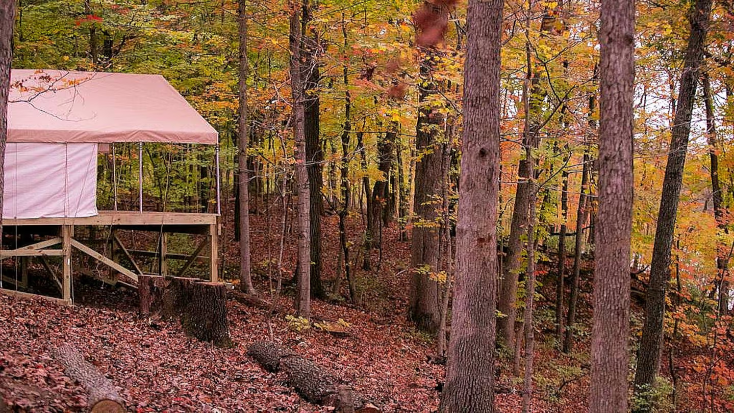 Rustic and Simplistic Cabin Rental Located near Lake Michigan
Distance from Chicago: 68 miles, 1 hour & 10 minutes
If you're looking for short road trips from Chicago that'll get you back into nature, this rustic cabin defines the perfect glamping experience. With luxury amenities, space for the whole crew, and a unique location, you'll be packing your car up and hitting the highway as fast as you can. After a day of canoeing, hiking, and fishing, glampers will love snuggling up in this comfortable cabin. Don't miss out on all the fun to be had just a stone's throw away from Chicago.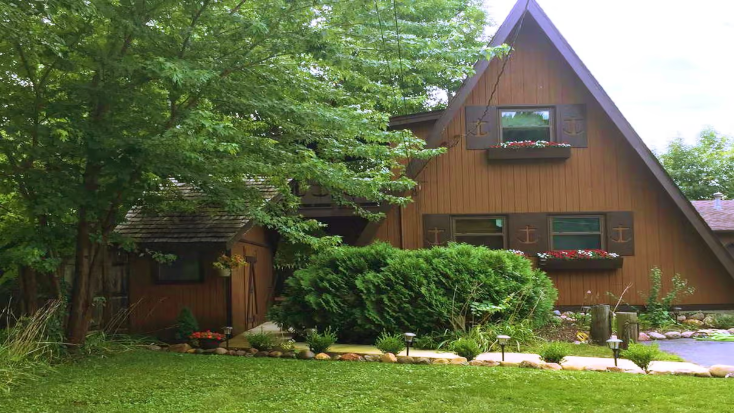 Beautiful Modern Castle Rental with Private Lake near Springfield, Illinois
Distance: 240 miles, 3 hours & 45 minutes
Ladies and gentlemen, come feel enchanted as royalty from the comfort of this exquisite modern castle rental. Private and secluded, glampers will experience tranquility and serenity at an all time high, perfectly fit for a king and queen. From the undeniable amenities to the ambiance of an antique time, do not miss the opportunity to visit this glamping site. 240 miles is nothing when you make this castle your road trip destination.
Stay in a Tented Cabin, Illinois
Take your glamping experience up above and beyond in the elevated cabin. You'll quickly realize that this one-of-a-kind accommodation is very much worth it. After waking up and having a steamy cup of coffee out on the deck, you'll be more than ready to take up fishing, kayaking, or biking. Everyone needs a break from the hustle and bustle of daily life, and this pet-friendly tented cabin is calling your name to begin an unforgettable adventure.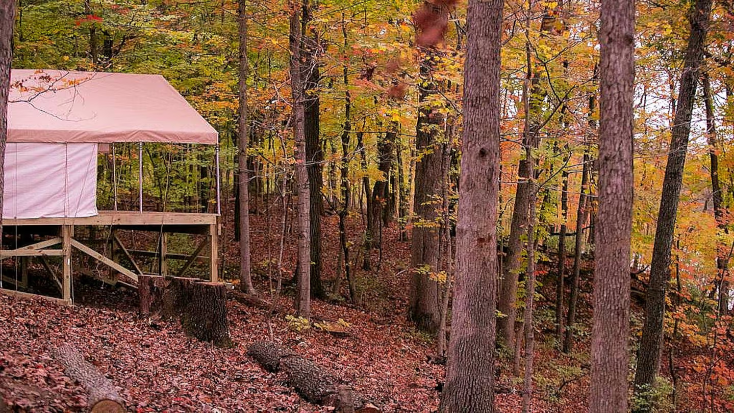 Can't get enough of "The Prairie State?" Check out more sites to visit in Illinois here.