Check out the best food for camping this Fall and the snacks you can't afford to leave at home! Some of our favorite, quintessential fall things include pumpkin carving, apple picking, leaf raking, and trick-or-treating. Fall (in most parts of the Northern Hemisphere), however, can also mean the final days of the year when spending an evening outdoors can be enjoyed without shivering!
Taking in the fragrant autumn air under a starry sky is a beloved pastime, which can be made cozier with the presence of a crackling campfire. As Halloween approaches, both young and old can enjoy traditional ghost stories and seasonal snacks, so let us share with you our favorite fall campfire snacks that deviate from the ordinary.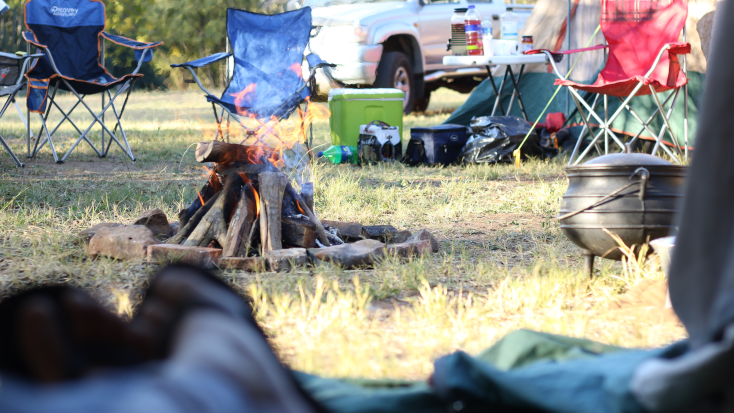 Our first pick for the best food for camping in 2022: spiked apple cider around a fall campfire! Checklist required!
'Is the season where apples are falling abundant in orchards, making way for a bounty of apple-inspired dishes. From homemade apple sauce to sugary apple crisp, the possibilities are endless. When socializing around a fall campfire, however, what could be better than a fall-inspired cocktail, ideal for washing down those campfire snacks – the road trip essentials you can't forget? 
Whether you want to brew your own cider or buy the store-bought version, adding a little whiskey or other hard alcohol to your steaming beverage while enjoying a romantic fireside evening is perfect for making memories during your luxury camping getaways this year! 
For the best food for camping in Fall, don't go without some delicious apple cider to keep you perky during those chilly autumn nights in the wilderness!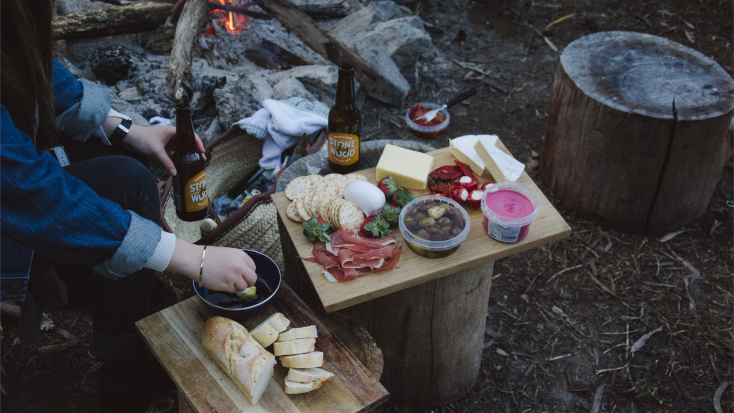 More camping food ideas for 2022 vacations: pigs in blankets, one of our favorite
camping snacks
Pigs in a blanket can be considered an All-American hors d'oeuvre and are perfect for camping snacks while telling spooky stories. If you were in need of more camping food ideas, this delicious snack won't disappoint when you're feeling peckish outside.
Tasty both warm and at room temperature, these snacks can be made the traditional way or with a gourmet twist, for those with a more refined palette. Prepared with hot dogs or sausages wrapped in crescent rolls and then baked, you can feel free to experiment by adding fancy ingredients, such as tiny gherkins, blue cheese, or whole-seed Dijon mustard, depending on the mood you want to set around the fire during your next adventures national park camping in Utah.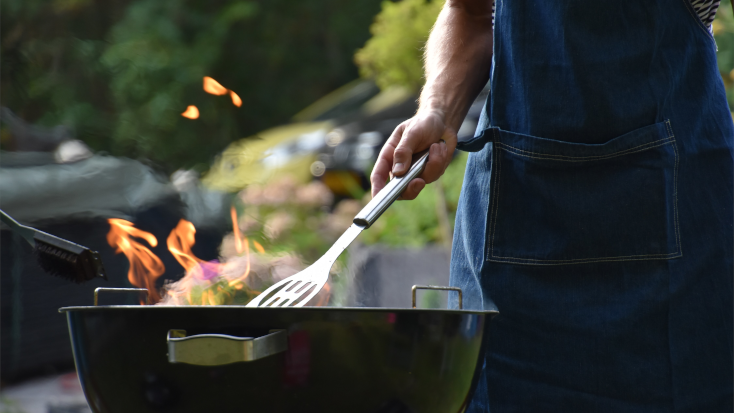 Easy camping treats for family getaways: toast some s'mores over your fall campfire in 2022 
S'mores are to fall campfires as cookies are to milk, so this seasonal snack will never disappoint when the opportunity arises and for easy camping treats for family getaways, you can't go wrong! 
The traditional, rustic method never fails and is made even better when using fallen twigs from nearby trees. Add sweet chocolate and graham crackers, and the storytelling will have to be postponed until everyone is finished savoring their sweet—and potentially messy— campfire snack, perfect for an autumn campfire and fall getaways!
So, with those upcoming family vacations in the U.S. in mind, don't forget to bring everything you need to get these easy campfire treats cooked and ready to eat.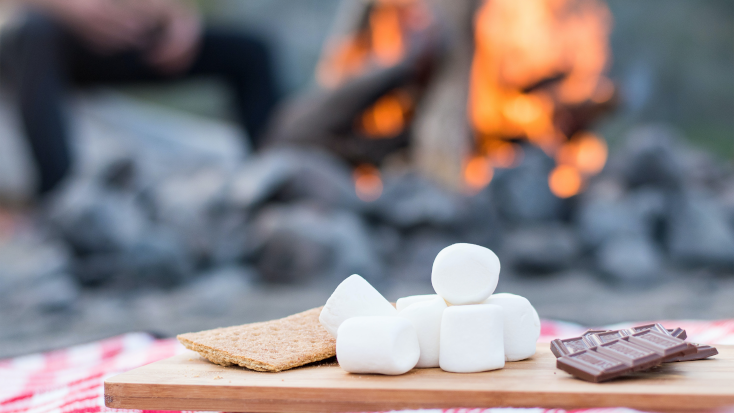 Spicy nut mix is a great addition for camping lunch ideas this year 
After carving pumpkins, do you ever wonder what to do with that abundance of leftover seeds?
Fortunately, we have a delicious solution and more to add to your camping lunch ideas in 2022! Lightly roasting the seeds in the oven will dehydrate them and make them beautifully crunchy. With the addition of spices (sweet or spicy) and other ingredients, there is a combination for every type of snacker.
Our favorite is a spicy, salty combination of pumpkin seeds, cashew nuts, pretzels, and popcorn, mixed with a little bit of cayenne pepper, Old Bay seasoning, and, of course, sea salt. If you need help on how to start a bonfire or fire where you can enjoy these easy camp food ideas, you can check that out too if you follow the link!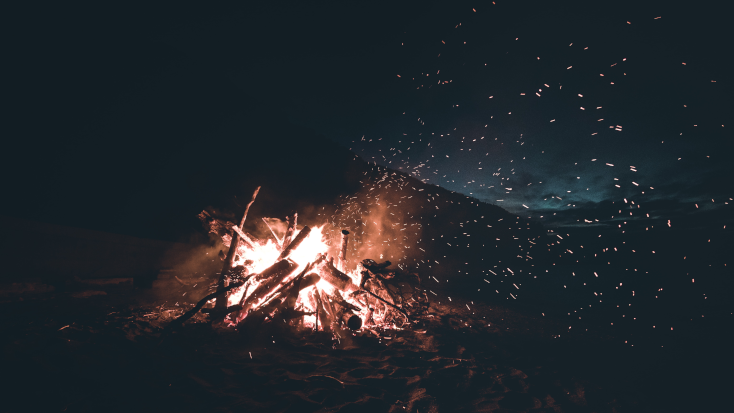 Camping food ideas: no cooking necessary with these gourmet candy apples
When throwing a party, the main concern is usually if the guests will be impressed and happy.
Mixing rustic with gourmet, these candy and caramel apples will surely make a campfire get-together truly unforgettable, especially for those of us with a sweet tooth! 
Host and guests alike can participate in choosing their flavor and then decorating them with an interesting topping, all to be enjoyed while sitting fireside during those secluded camping trips away with friends and family in 2022.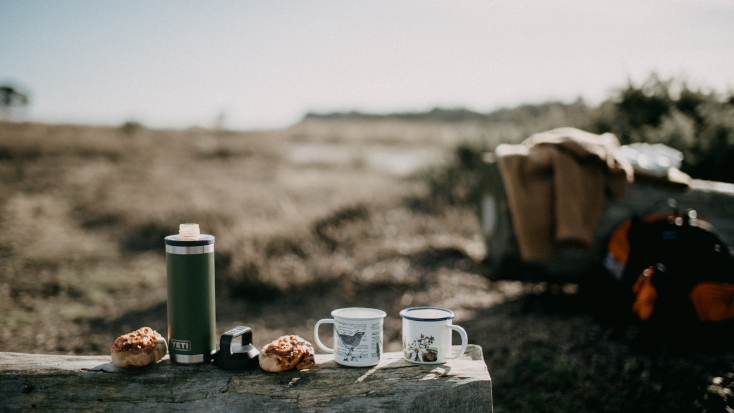 Looking for easy camping recipes? check out Pumpkin spice Rice Krispies treats
The classic Rice Krispies treats recipe is one of the easy camping recipes we all enjoy and love getting a new fall twist.
They are the perfect fall dessert to complete the night as the fire dies down. The steps are simple—melting butter and marshmallows in a saucepan over high heat and then adding pumpkin puree, cinnamon, powdered ginger, grated nutmeg, and crispy rice cereal—these treats can be made ahead of time and easily transported to any fireside fiesta.
You can even use fall-inspired cookie cutters and colorful sprinkles to make them extra festive if you're thinking about those camping essentials in 2022.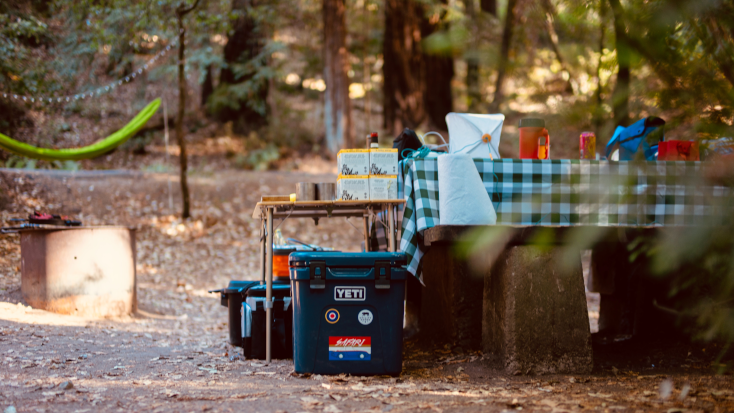 Warm up beside the campfire with some mulled wine – essential food to bring camping in 2022 
Chilly weather calls for warming beverages, especially when huddled around a campfire on a cold autumn night, make sure it's on your camping checklist for sure!
Mulled wine might remind you of medieval times but it is a truly delicious treat to make when the temperature drops during those fall getaways in 2022.
What makes mulled wine extra special is that it can either be made on the stove or, more spontaneously, outside over a crackling fire. All you need is a few bottles of red wine, spices (such as cinnamon and cloves), oranges, and a bit of sugar. Simmering is key so that the flavors can blend, and, after about half an hour, this lovely, hot beverage can be enjoyed.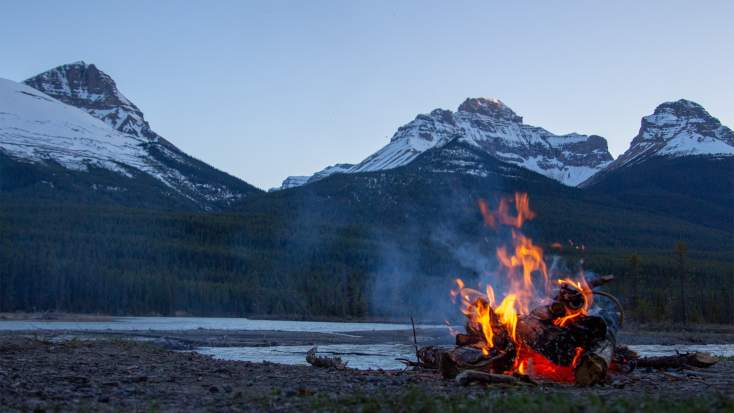 Don't go without this essential food to bring camping in 2022. 
---
Love fall and Halloween? You can't miss our glamping take on spooky stories!