Winter is one of those seasons that people either adore or loathe. When autumn comes to a close, you can hear as many whines of despair as shouts of excitement as people unpack their parkas and warm themselves from head to toe. It's normal that we all have temperature preferences, where some prefer cooler conditions over a hot climate, but even those who are partial to the cold can admit that roughing it in December and January can be, well….a bit rough. There are a few things, though, that can make any December, January, February vacation feel like a true winter getaway. So check out our hotel-like amenities that you need for your winter camping trip, get the winter packing essentials, and head out for your next winter vacation!
In search of winter sun, some of us may head to tropical climates during our winter getaways, but many of us will stay put and take advantage of the veritable winter wonderlands around us—discovering how the cold, the snow, and the long nights can be as magical as summer days. There are only a few things that could make the winter season better, and if we're going on a winter vacation, it's these same few things we don't want to go without. Check out our top 7 "hotel amenities" that are our winter camping 2022 essentials for this season. Easy to find in many of our winter vacation rentals, you'll wonder how you ever had a winter vacation without these perks.
Cabins with hot tubs: hot tub holidays you need
Our top hotel amenity that you want to have on your glamping property is a hot tub. What sounds better than a day spent skiing or snowboarding, finished by a relaxing soak in your own hot tub, surrounded by snow-covered trees? Snow might be falling outside, but a hot tub can cure even the coldest colds. Perfect for a romantic winter evening or a snowy afternoon spent relaxing and chatting, a hot tub is surely the highlight of any winter accommodation. Cabins with hot tubs, like this Big Sky cabin rental, make winter camping a treat.
Healing saunas: find your outdoor sauna, steam saunas, spas, and more in 2022
After a long day outdoor in the cold—either skiing, snowboarding, snowshoeing, ice fishing, or something else—a sauna is an amazing addition to a cozy glamping accommodation on a winter camping trip. Perfect for easing sore muscles and recovering from the cold, glampers can repair aches and pains that developed before the getaway, making a winter camping trip healing for both body and soul. Vacation rentals, like this Leavenworth cabin rental, that have private spas and saunas are truly special. These hotel amenities make any winter camping trip feel like a luxury, 5-star vacation.
Let a fireplace light the spark of your winter vacation, 2022
Cozy nights in are always made better with a good company, delicious snacks, and a crackling fireplace. Reminiscent of home, you'll be able to light a fire in the evening with your loved ones while on a winter vacation that allows you to discover the luxurious simplicity that glamping is famous for. The Pacific Northwest is perhaps one of our favorite winter destinations, which becomes a true winter wonderland once it dons its coat of snow. Is your interest peaked? Check out these Washington winter cabin rentals, all with fireplaces, for the best choice of winter camping rentals in the PNW!
Home theaters: 5-star resorts or your own winter camping rental?
Sometimes it's just too cold to go outside, even on a winter camping trip. Whether you're snowed in or hibernating out of choice, a home theater can fill any snow day with joy. When you rent a place with a home theater, like this Montana vacation rental, you'll be wondering if you're in a 5-star resort or really in a private winter glamping rental! snow days become synonymous with playing outdoors and then warming up while watching a movie. While glamping, a home theater can make snow day memories a sophisticated reality with a projection screen, a movie library, and comfortable lounge furniture.
The best ski vacations and winter camping: ski-in/ski-out access
While skiing and snowboarding can be considered the most popular winter activities, those of you who aren't looking forward to commuting back and forth to the mountain will appreciate the convenience of ski-in/ski-out access. Winter accommodations that are located on or near a ski slope allow you to fulfill your dreams of the perfect skiing getaway. Book an accommodation like this Keystone lodging option and get easy access to the ski resort of your choice!
Perfect your marshmallow smores: crackling fire pits
A winter's night spent outdoors can be exhilarating and refreshing, perfectly spent while stargazing and snuggling under a warm blanket. While body heat and outerwear will probably suffice, a fire pit will make the atmosphere unforgettably cozy. From the warm, amber light to the fragrant burning logs, our favorite and maybe most simple winter amenity might be the one that will make the biggest impression. Book this Upstate New York vacation rental, perfect for a group winter camping trip, and enjoy perks like the outdoor firepit.
I spy with my little eye: game rooms
Our winter camping accommodations can range from more basic lodging arrangements to having the most luxurious amenities one can think of. And while game rooms may sound hard to find, they are actually quite common. Game rooms make it easy for guests of all ages to enjoy their winter camping vacation. While adults relax in the hot tub, the kids can play! Vacation rentals like this Gatlinburg cabin rental, or this Broken Bow lodging rental, showcase different kinds of game rooms where family and friends of all ages can come together and enjoy activities away from cold.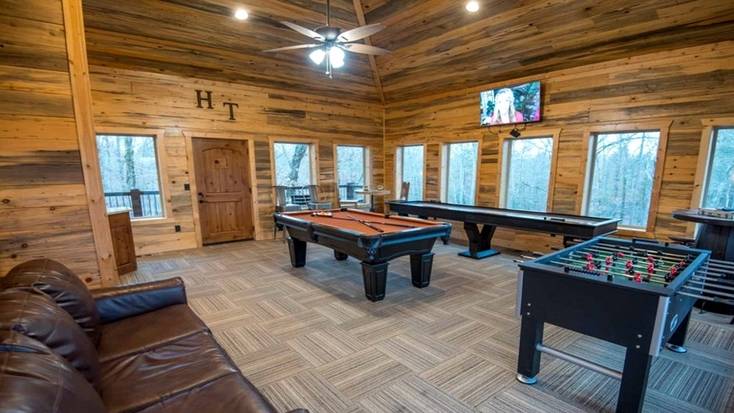 ---
Check out some of our favorite winter cabins in the Pacific Northwest and Upstate New York with these cozy amenities!