This year marked the 47th Annual Albuquerque International Balloon Fiesta, where nearly 900,000 spectators travel from all over the world to see the sky filled with hundreds of hot air balloons. This nine-day event is filled with several sessions, from early-morning mass ascensions to balloon flying competitions, laser light shows, balloon glows, and fireworks! It is known as the largest display of hot air balloons in the world, as well as globally being the most photographed event.
The
Albuquerque Balloon Fiesta

event

If you're interested in attending Albuquerque Balloon Fiesta, 2022, especially to see the magical morning ascension, you better set your alarm early! Attendees arrive to the grounds between 4 a.m. and 6 a.m. Have no fear, though; the fiesta has endless coffee vendors and breakfast burritos to keep you warm and motivated (and don't forget the green chili) and plenty of balloon fiesta merchandise.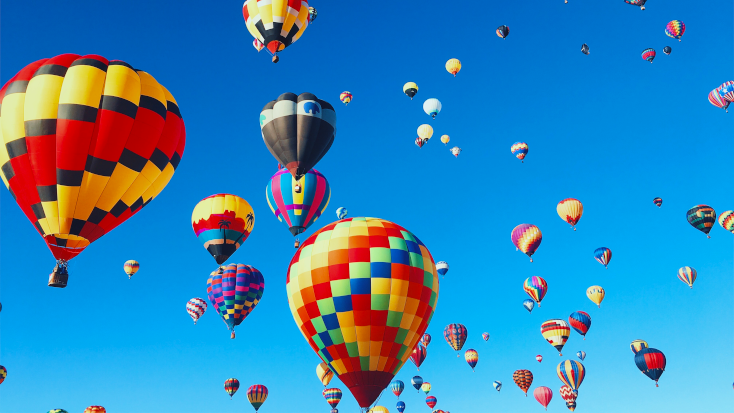 Things to do at the
Albuquerque Balloon Festival, 2022
Regardless of whether or not you're a morning person, there's definitely a session for you at the Albuquerque Balloon Festival. Albuquerque's annual fiesta has a lot of attractions. One great example of this is the Special Shape Rodeo, where new shapes come to life for the first time; it's one of the most popular events to witness. My favorite? A flying pig! Be sure not to miss that at the Albuquerque Balloon Festival, 2022!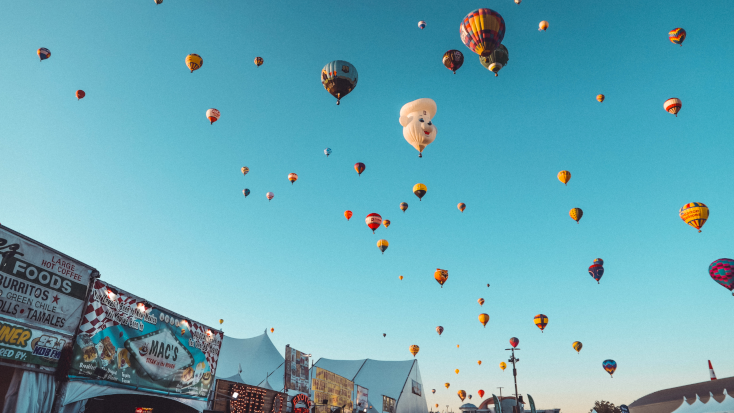 The glamping set-up
There were many firsts for me on this adventure—my first time visiting New Mexico, my first time attending the Balloon Fiesta, and my first time ever glamping! Not only was it my first, but it was the Fiesta's first year offering this type of accommodation, too. Sure, they have multiple RV parks and affiliated hotel partners to choose from, but glamping?! Just steps away from the event entrance, you can sleep on-site and skip the morning commute. Talk about convenience!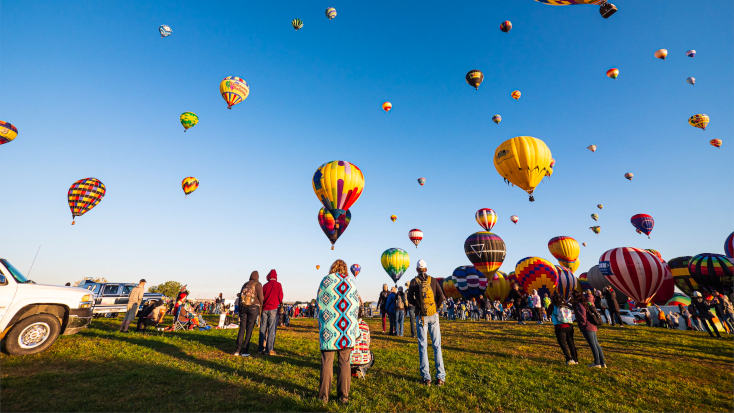 Upon arrival, the first thing I noticed was the position of each tent: a dozen white tents organized in the shape of U with each tent's opening facing the magnificent Rockies. Inside the U-shape formation was a very inviting communal area accompanied by a fire pit, lounge chairs, a game of corn hole, a few barbecues, and a trailer that offered complimentary coffee and Krispy Kreme donuts each morning. Located along the perimeter where the bathroom and shower trailers, which were sparkling clean and even played music 24 hours a day.
Inside the tents
As I entered the tent, I was greeted with a lovely welcome basket, filled with snacks, a few toiletries, and some branded, Albuquerque International Balloon Fiesta merchandise—what a treat! As far as amenities go, the tent was outfitted with a comfy queen-size bed, a decorative rug, two nightstands with lamps, a bench, a mini-fridge, coat hangers, and a space heater. Temperatures dropped as low as 40 degrees Fahrenheit at night, but that didn't phase me in my cozy tent.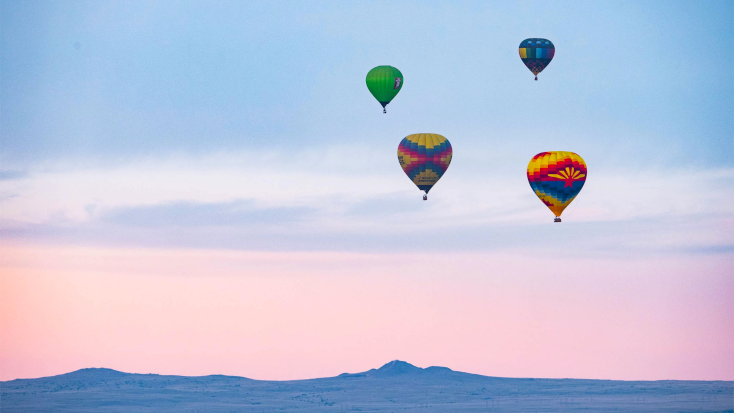 I bet you're wondering about security when your room has canvas walls and a zipper closure. Rest assured, the glamping site was well-staffed with 24-hour security, and each guest was provided with a custom padlock. Not once did I ever feel unsafe or fear that my personal items were at risk, which made my stay even more enjoyable.
I also bet you're wondering about any potential noise complaints. Given the close proximity of the tents, I was surprised that I rarely ever heard my neighbors, even with their tents just a few feet away. Moreover, due to the luxurious set-up that glamping offers, the generators not only provided power to each tent but also a gentle white noise that helped put me to sleep each night.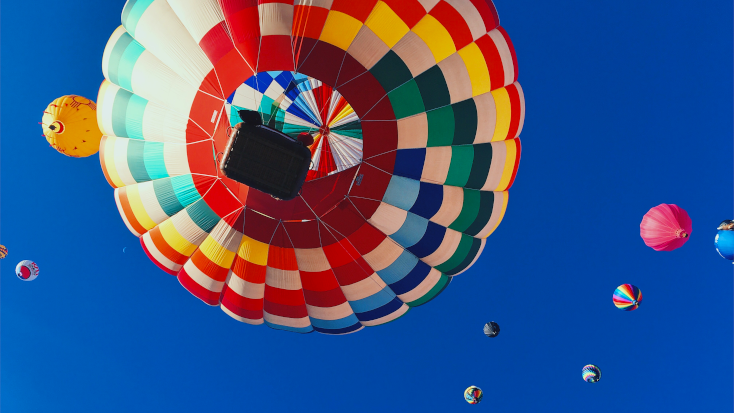 Glamping Hub at the Fiesta
Having a brand presence on the festival grounds was an incredible experience. As a partner, our goal was to help the Fiesta promote the new glamping accommodations that they're offering. With the success we had this year, we expect to see them increase their number of tent accommodations and enhance the overall glamping village experience for years to come.
Another goal of ours was to simply get our brand and name out there. There were many attendees that didn't know what "glamping" meant, making the education part of our time there very exciting. I feel there is always a strong connection when it comes to talking about the passion for travel, and the Fiesta was the perfect platform for these conversations.
(There were also quite a few guests who knew what glamping was—and even a handful that had been a guest via our platform before!)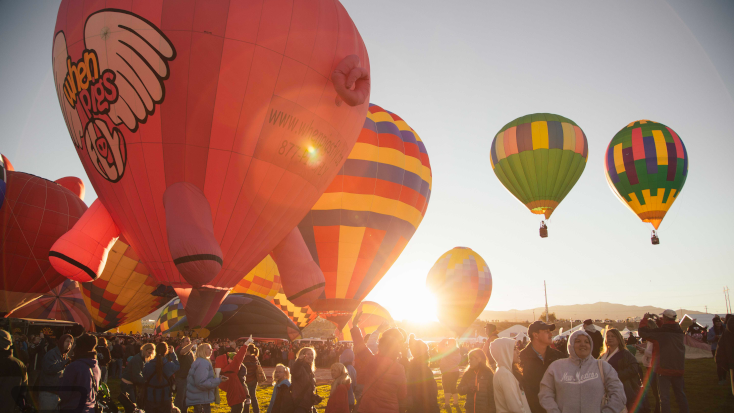 The Albuquerque International Balloon Fiesta was only the first of many partnerships Glamping Hub will be a part of, but it sure set the bar high. I would encourage everyone to attend this event. Whether you like to travel or you're a sucker for unique experiences, this is the event for you—it's definitely bucket list-worthy to enjoy this amazing New Mexico Balloon Festival! 2022 is the year to check it out!
It's time to consider glamping under a sky full of hot air! The Albuquerque Hot Air Balloon Festival 2022 is here for you.
---
Want to check out other glamping options in New Mexico? Click here to keep exploring on Glamping Hub!