Editor's note: Each month, we like to introduce one of our wonderful Glamping Hub hosts and ask what inspired them to create a glamping site. This month, we're showcasing Glamping Hub's Host of the Month for April 2022, David, and Mariette. This hosting couple, whose dream has always been to host guests started as a passion project after they retired. Now, they share with us, how they transformed their land into a relaxing retreat in Arkansas for guests to disconnect and spend time with loved ones.


Tell us a bit about yourself…
We both grew up in different parts of the US, David in Ohio and Mariette in Arkansas. David grew up on a working farm, and Mariette spent weekends and summers at her grandparent's farm in rural southern Arkansas. Prior to moving to Arkansas, we searched for lands in lots of locations and finally, Northwest Arkansas won our hearts. David, a retired Army Aviator, and Mariette a gypsy 70's child with a huge love of nature and conservation made the commitment to buy 10 acres and begin a hobby farm.
We keep busy with local community involvement, gardening, developing our property, and spoiling our two German Shepherd dogs and two rescue kitties, Rosie and Ruby Jean. Admittedly, we are both Boy and Girl Scouts with a commitment to conservation and preserving nature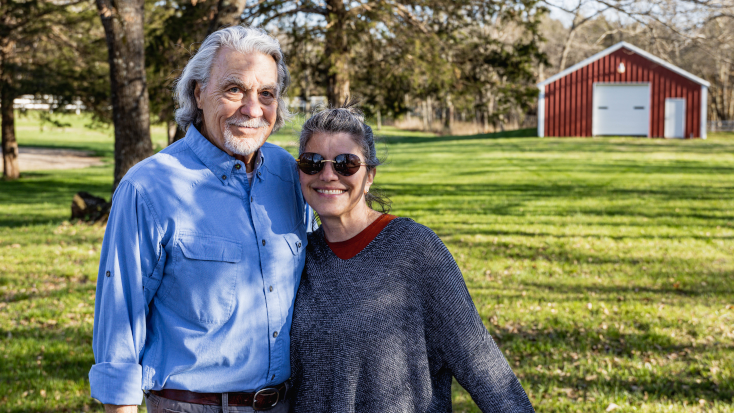 What attracted you to owning a glamping property?
For over twenty years, we have traveled across the US and abroad, staying exclusively in vacation rental homes. We appreciate each unique property and also meeting the hosts. After retirement, we could not resist creating our very own vacation home offering a unique experience to those who stay with us. We hope to build a small treehouse in the upper areas of our property that will offer a different feel than our current property.
Mariette has been tagged by her friends as "the hostess with the most." Each time a date is booked, she is thrilled to prepare fresh flowers, and fresh items from her garden and David bakes up his special banana bread. He times the estimated arrival of the guest to have the bread warm when they arrive.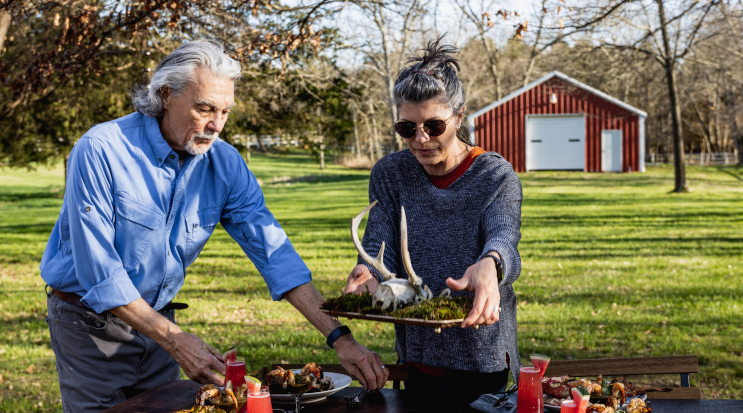 Every glamping site has a special story, could you tell us about yours?
Part of our property was four acres of horse pasture with a beautiful red barn. We would host annual parties in our pasture and invite our friends. The setting called for something other than sitting unused.
Prior to the home being built, we regularly planted native trees, shrubs, and pollinator plants. After admiring a local architect's passive solar home designs, we envisioned an eco-home that we could use for families who visit, and as a place to host. Mariette had connected with local artisans for art inside the home, pottery, and local foods to welcome guests. In addition, the guests have the opportunity to take in guided trout fishing, kayaking, and yoga instruction from vetted partners. Massage therapy and sound bath therapies are also available. All of these services are scheduled by Mariette for the guests. Just arrive and relax!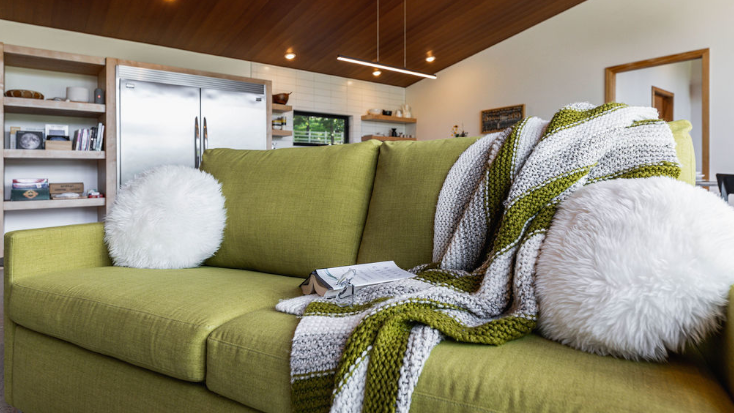 Can you tell us about your most memorable guest experience to date?
There have been two very different visitors that come to mind. But we have to choose our very first guest. She booked as a solo traveler, staying three days. As we communicated prior to her arrival, we could sense that she was coming to get away, having lived just 30 minutes away. During her stay, she revealed that she was staying with us to mark the first year of her husband's passing.
While she was at the property, she booked a stay for her daughter and son-in-law, to celebrate their anniversary. This guest has become a social media follower. I have had a conversation with her since she stayed to gain feedback on her experience. We have shared gifts and have a special connection. I named a shrub after her after she told me that she needed a little more privacy at the end of the patio. This is why we host.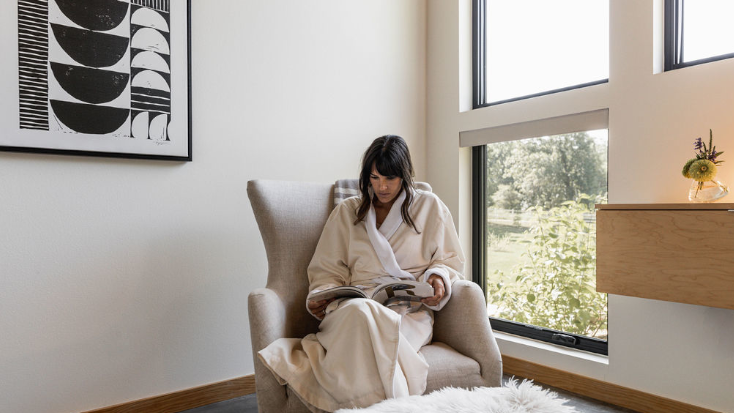 If you could have anybody stay at your accommodation, who would it be and why?
Johnny Cash would be our dream guest. He battled many demons and overcame them and found peace in his later years. We love his music; we admire the love and partnership he and June Carter had together. The perfect night would be having Johnny around the fire pit singing until the early morning hours.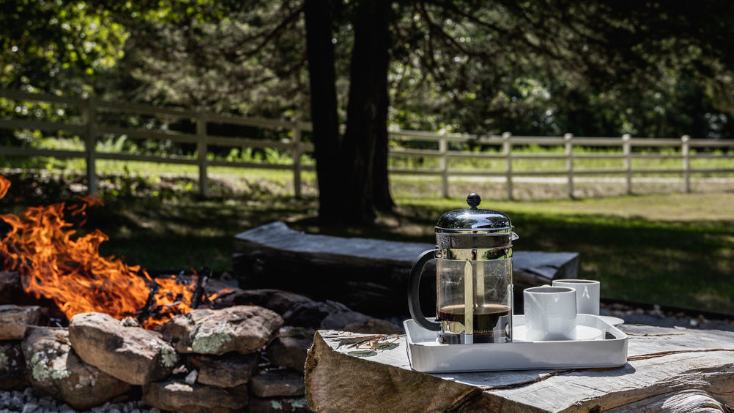 What are some of the challenges you face and what have you learned since opening?
Covid-19 began as we were building the property. We were challenged with locating materials that were scarce. After the build was completed, travel was at a halt. By placing our property online we began to host those who felt more comfortable staying in a private home, and not a hotel setting. To fund our dream of hosting guests, we used money from our retirement to begin as we gained popularity on social pages and networking with local businesses.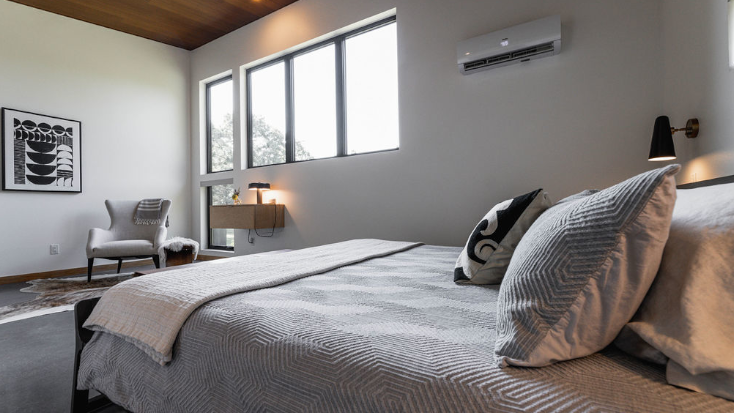 How was your first time hosting?
Nervous! Of course, hosting your first guest is like going on a first date. You want it to be perfect, memorable, make a good impression, have a second date, and be as flawless as possible.
Afterward, we ran to the guest book to open the pages and read what a guest had to say about their stay. For us, that is the icing on the cake.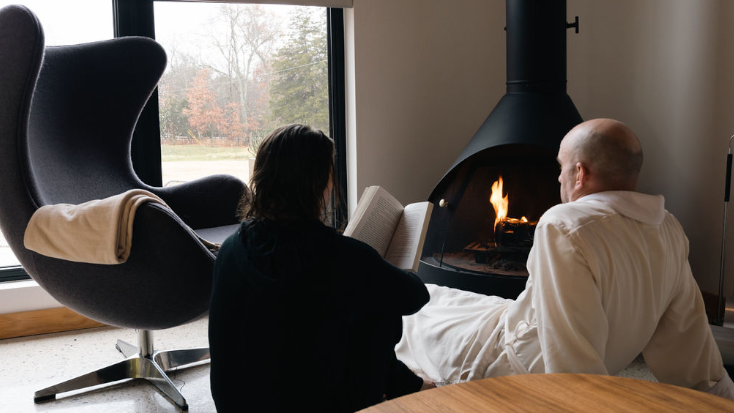 What do you love the most about running a glamping site?
Meeting the guests and giving them a short tour. Also, connecting ahead of time to ask if they have food allergies, prefer non-alcoholic arrival drinks, and make the stay as custom and comfortable as possible. At birthday celebrations or weddings, we leave a small cake, candles, and napkins. We place books and children's games for younger guests. We truly look forward to holiday guests and decorating for the season.
Most of all, feeling so thankful that we had a guest and we then we start again to create the perfect setting for the next arrival.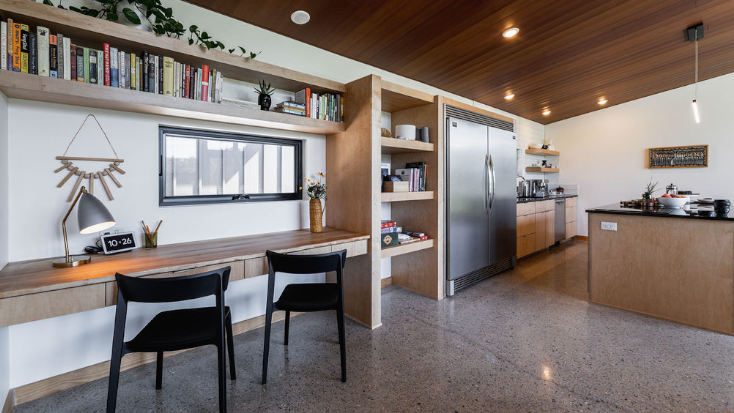 Where is your ideal holiday destination? Other than your glamping property of course!
We would favor any location with trees, mountains, a fireplace, and snow, if possible. The setting for a cozy and transcendent experience with hygge in the air.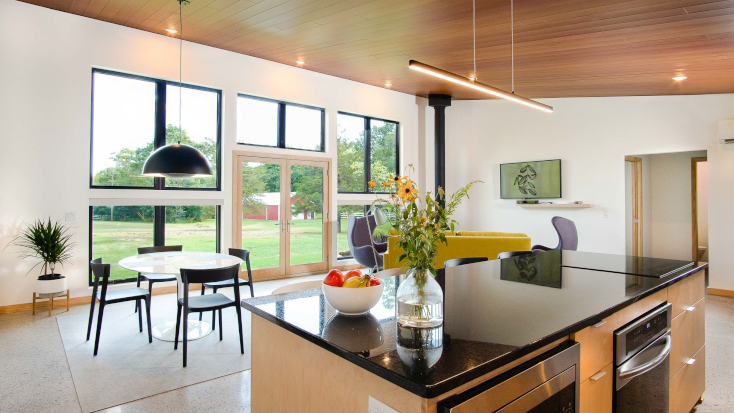 What advice would you give to anyone looking to start or improve their own glamping business?
Hosting is rewarding but it is hard work. The biggest payment is knowing that your property was part of a family making new memories, a husband and wife getting away from their home after chemotherapy, or a bride and groom spending their first night as man and wife.
Our approach to improvement in our property and offerings is to be involved in the work daily. Every aspect of improvement requires testing the waters and measuring success. You cannot build it and they will come; marketing and networking are key to staying on top of creating new experiences that wow feeling that will exceed the guests' expectations.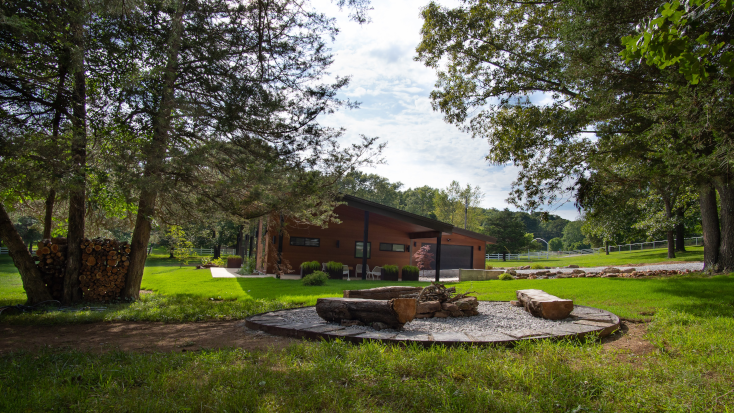 Our community of hosts means everything to us here at Glamping Hub, which is why we love to share their stories in our Host of the Month feature. If you're looking for a serene Ozark cabin rental in Huntsville for an exciting weekend getaway in Arkansas, book David and Mariette's luxury cabin in Arkansas.
Have you stayed with one of our incredible hosts recently and would like to nominate them for Glamping Hub's Host of the Month? Send us a message via Facebook or Instagram explaining who you've chosen and why!