Editor's note: Each month, we like to introduce one of our wonderful Glamping Hub hosts and ask what inspired them to create a glamping site. This month, we're showcasing Glamping Hub's Host of the Month for October 2022, Lisa from New Zealand. This host and her happy team have a passion to create great experiences for guests at Lisa's Waikanae North Island glamping retreat.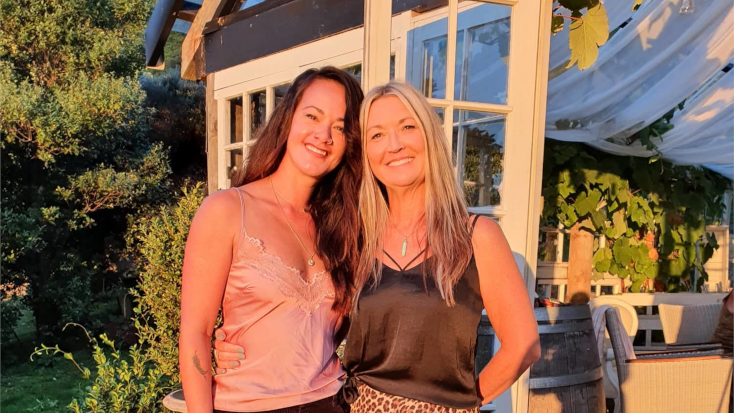 Tell us a bit about yourself…
I'm originally from the Kapiti Coast, New Zealand, I have lived in London, the Bahamas while working for Elle MacPherson for two years, and in Austin, Texas. Travel and event management are some of my passions. I also conduct formal ceremonies, such as weddings so I am a romantic at heart. I lost my husband tragically and I needed to re-create my life by re-inventing myself using what I had learned and becoming independent.
What attracted you to owning a glamping property?
My passion is creating great experiences for people. I wanted to create a little spot with a touch of the special places I have lived, visited, and that I hold close to my heart. It was important to share this experience with others. In India, I had a fantastic experience, when volunteering out in the desert and thought this would be cool to recreate back in New Zealand.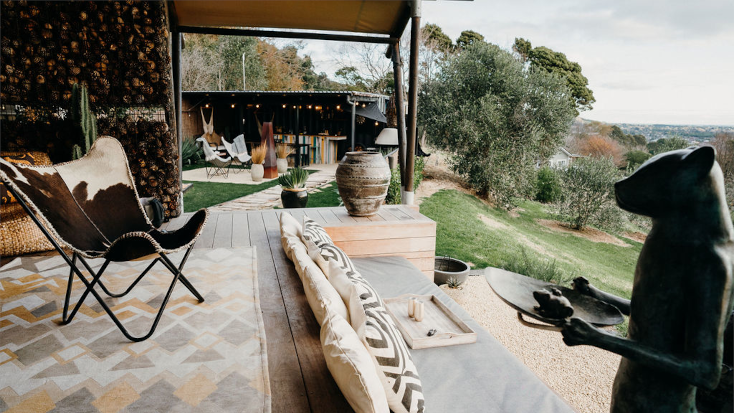 Every glamping site has a special story, could you tell us about yours?
My sister and I created my glamping site from an empty paddock. The land was gifted to me by my sister, who I live with on the property. We are pretty much an all-woman team of sisters, nieces, close girlfriends, and a few men who were dragged in for the build and landscaping. Just below the glamping site, we have a beautiful glass chapel built by my sister and her son. We are a one-stop shop for marriage and honeymoon vacations, making it an ideal romantic spot!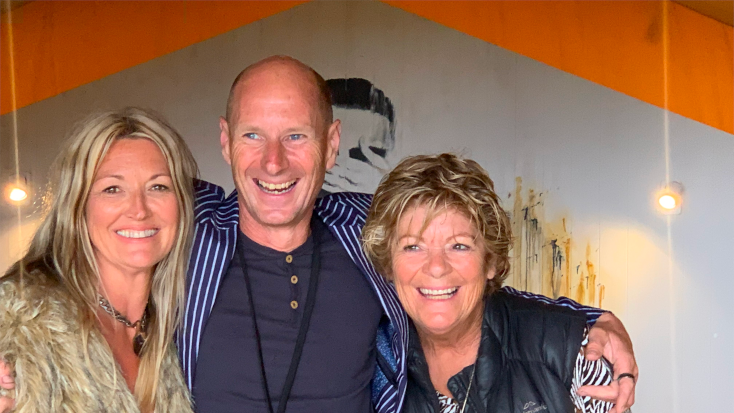 What are some of the challenges you face and what have you learned since opening?
I traded my high heels and work clothes from a job in the concrete jungle for gumboots, so this was a BIG learning curve for me. Learning about compost toilets, plumbing, water tanks, electricity, pest control, and the building was tough at times and expensive when mistakes were made. Trying to build something from a vision board; not a plan on paper was challenging or some would say crazy! There was a bit of eye-rolling from my contractors! My vision board was my plan but I have learned so much since then.
The challenge is wearing many hats – cleaner, marketer, gardener, creative director, booking agent, purchase officer, IT, accountant, and host. It's a juggle but absolutely worth it. Between my sister, my First Officer, and myself we can pretty much tackle most things when they arise – sisters doing it for ourselves.
I have learned to be more patient, physically stronger, and less panicked when there is an odd hiccup and also to take on feedback from people, and improve as we go along – you can't just assume, sit back and put your feet up. I'm constantly adding, tweaking, creating, and changing things around as I do have lots of repeat guests, which is great!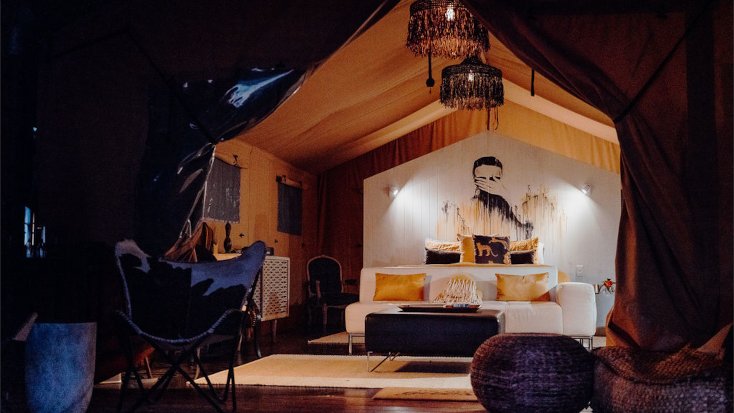 How was your first time hosting?
I was nervous. However, it was two gorgeous girls my sister married in her chapel and they were my first guests and newlyweds. We worked around the clock to finish the site on time for their wedding. They had the best night and everything went perfectly.
Can you tell us about your most memorable guest experience to date?
We have lots of memorable moments, but our favorite guest experiences are from proposals at our site, looking out over an amazing sunset and landscape. The best part to come from this is officiating the ceremony when the guests come back and get married in the chapel.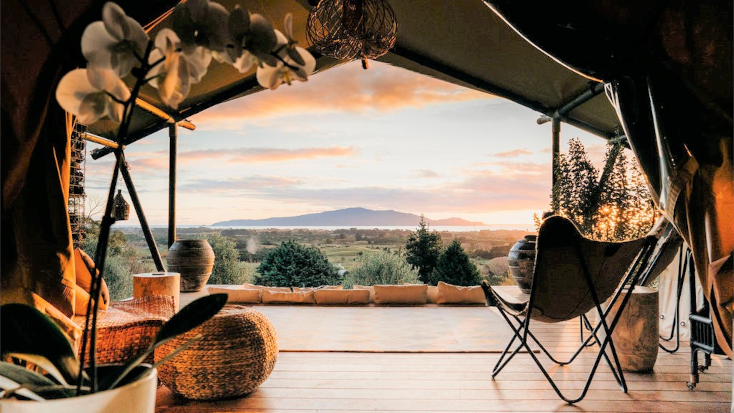 If you could have anybody stay at your accommodation, who would it be and why?
Elle Macpherson – I'd love to show her what I have done, how I was inspired by her beautiful house in the Bahamas, and the experience of what I learned working for her. I had the privilege of meeting and hosting some very famous people in Ibiza and the Bahamas. From those experiences, the main things I learned were the importance of the finer details, hosting at a high level, being open to feedback, and never giving up.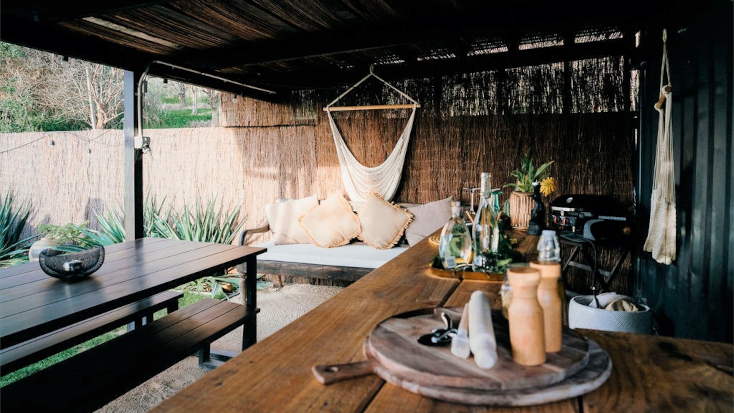 Where is your ideal holiday destination? Other than your glamping property of course!
Tulum, Mexico — it has such an amazing atmosphere! The people are SO creative. Every step you take in any of the restaurants, bars, spas, or clothing stores is like a photoshoot for an Elle Décor magazine. It's Boho which I love and find very inspiring. I miss it. I have recreated my outdoor bar area to resemble the bars in Tulum and other touches like my hammocks, pots, and ornaments. At least I can channel that until we can get back there soon.
What do you love the most about running a glamping site?
Working for myself with my First Officer, and close girlfriend, and having the flexibility to take time off when I need it. It's like creating a special event every day for people that have probably escaped from stress, kids, and work. We feel proud. It always looks amazing when we have finished setting everything up from the pizza oven, outdoor baths, outdoor fire pit, and of course the inside of the tent with flowers, welcome notes, and homemade pizza dough and sauce. I never get tired of it. It's like you put energy into everything you touch. It's a very grounding experience and wonderful for the soul!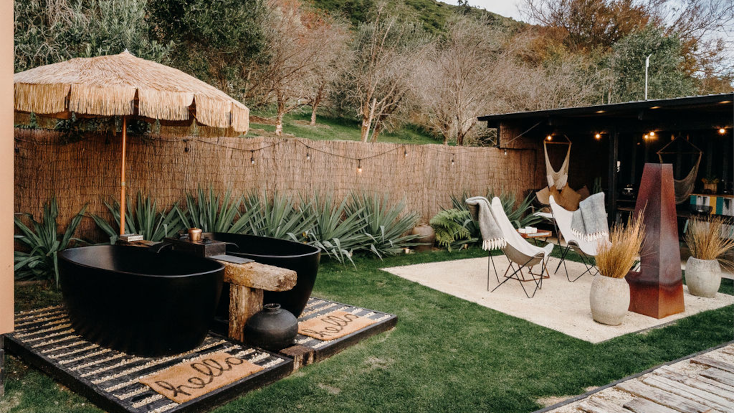 What advice would you give to anyone looking to start or improve their own glamping business?
Find something that is unique. There are many glamping sites around. Go the extra mile with the finer details and ensure you have great systems in place that make running your glamping site easier. Work smarter not harder. Don't be afraid to ask others that are experts in their field, you can't be expected to know everything.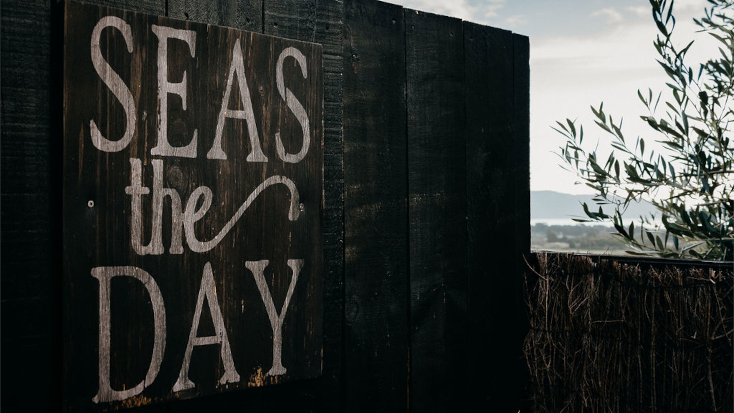 Our community of hosts means everything to us here at Glamping Hub, which is why we love to share their stories in our Host of the Month feature. If you're looking for a Dreamy Safari Tent Rental in Waikanae, for an exciting weekend getaway in North Island, New Zealand. Book Lisa's great accommodation.
Have you stayed with one of our incredible hosts recently and would like to nominate them for Glamping Hub's Host of the Month? Send us a message via Facebook or Instagram explaining who you've chosen and why!