Editor's note: Each month, we like to introduce one of our wonderful Glamping Hub hosts and ask what inspired them to create a glamping site. This month, we're showcasing Glamping Hub's Host of the Month for March 2022, Gaby in Costa Rica. Gaby has poured her heart and soul into her incredible glamping resort in Costa Rica and built a nature escape that encourages connection, healing, creativity, and keeps her guest's experience at the core of her business decisions.
Tell us a bit about yourself…
I spent most of my childhood vacations on my father's farm in Guanacaste and even though I lived most of my life in San José, my heart stayed in this amazing Guanacaste province. It's the most beautiful place to visit in Costa Rica.
I dreamed of moving here for years and spent a lot of time looking for the land that would steal my heart. Eventually, I found it in 2007. The first time we walked around it, we couldn't see if the ground was flat, had huge holes, or, was part of a mountain (the grass was so high!) I just had that feeling – something inside told me that I was home.
We cleared it, healed our trees, built fences, built the road, and brought in services like electricity and water. through a lot of hard work, we've made it into a special nature escape, near playa Tamarindo.
Now I am ready to return to the land I've always loved – and for me – the best way to honor this incredible land is to share it with people from across the world who appreciate the Guanacaste vibe.
My energy and life savings are here at this glamping site. My team and I have put a lot of love and hard work into building a place that gives our guests unforgettable experiences full of joy, laughter, peace, simplicity, and comfort. Our promise is to share with our guests, who we are and what we love, and hopefully help they will love and enjoy Guanacaste the way that we do!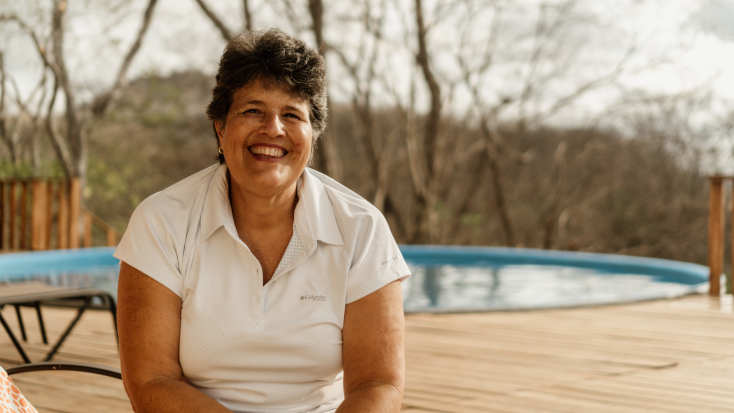 What attracted you to owning a glamping property?
I've always loved camping in the outdoors in Costa Rica. It's simply amazing, but to go camping takes a lot of effort to make sure you have everything you need! When I first heard about glamping it really resonated with me! All the good parts of camping in Costa Rica, without the complications! Just comfort and nature! What could be better?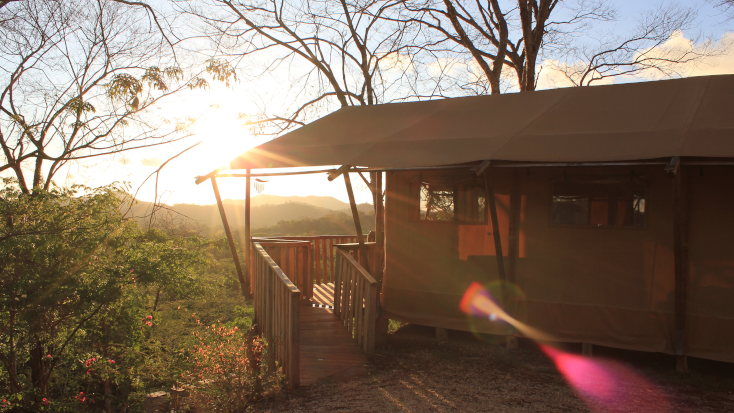 Every glamping site has a special story, could you tell us about yours?
Apart from coming back to the land that I've always loved, it was important for me to see if we could combine the care and respect for nature with building a happy and fulfilling working environment. We wanted to build a space that our guests would fall in love with, but also make sure our employees' lives and their families are more enriched because of their work with us.
Our manager Josue, is a single dad and lives in the property with his two kids. The kids have proposed some interesting business ideas! They like to take care of our chickens so that our guests can get their eggs in the mornings, and now they want to have a lemonade stand!
We had really bad timing for our opening actually. We were finally ready to open our farm just before Covid started, and the pandemic hit us hard. But we found ourselves with nothing but time on our hands, so we spent a lot of it together – building a place that makes me and my coworkers proud of what we have created. We've poured our heart and souls into building our glamping site, and we couldn't be happier with the reaction of our guests. We really have become a family, and we all love what we do here.
If you could have anybody stay at your accommodation, who would it be and why?
I would love to invite Andy Goldsworthy. He is a British sculptor and ecologist, and also the first person I ever heard about who does Land Art. He has inspired us so much! It would be an honor to host a Land Art workshop with him in our place. Without a doubt, he would be my favorite guest.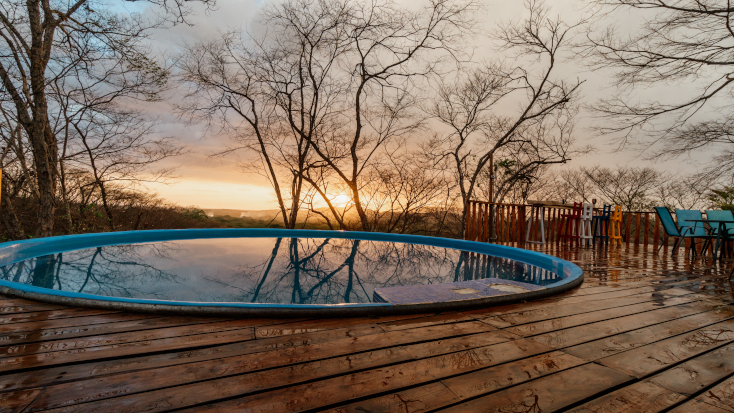 What are some of the challenges you face and what have you learned since opening?
Our biggest lesson has been understanding that nature is the boss. You have to respect the elements which can be challenging when starting a glamping site, but once you accept that the wind, rain, sun, and plants all have their own agenda that may not necessarily match with yours, it becomes easier. There has to be a little bit of compromise on your side otherwise it simply won't work.
We have learned to embrace the different seasons and moods of nature and have reached a place where we accept all of it with gratitude and respect. And the biggest piece of advice – just take the positive over the negative, get creative and have fun when something goes south.
The good always outweighs the bad. Being able to feel the love from the land makes it all worth it. We love it at the beginning of summer when all the trees start to flower and then watch the beautiful blossoms gracefully float to the ground, creating colorful carpets all around the farm.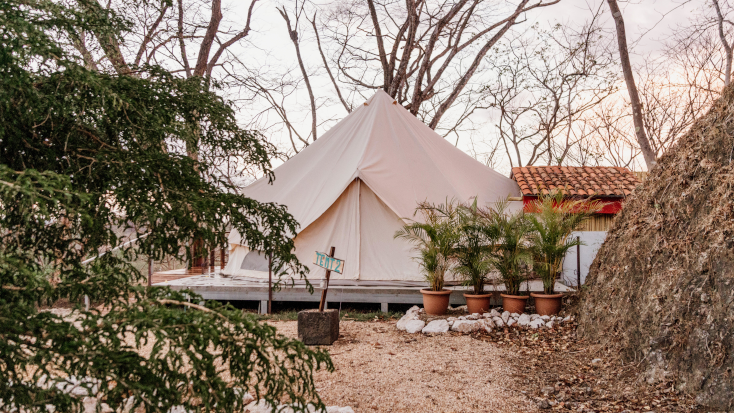 How was your first time hosting?
Exciting! Even though we were building a place that fulfilled our own souls, we didn't know how people would react. Our first guests were a family from Boston who had Costa Rican relatives. They originally came for 5 days and ended up staying for 9 because the children absolutely refused to go anywhere else! The grandparents and even a great-grandmother came to visit us, and they were so impressed. They couldn't believe how different and tranquil our glamping site is even though it is only half a mile from the main road. They said they hadn't ever experienced such a peaceful silence, and that they slept like babies.
To me, the most rewarding thing as a host was to see that they noticed every little detail we had prepared to make our Costa Rica glamping site extra special. It makes us feel like all our time and effort is totally worth it.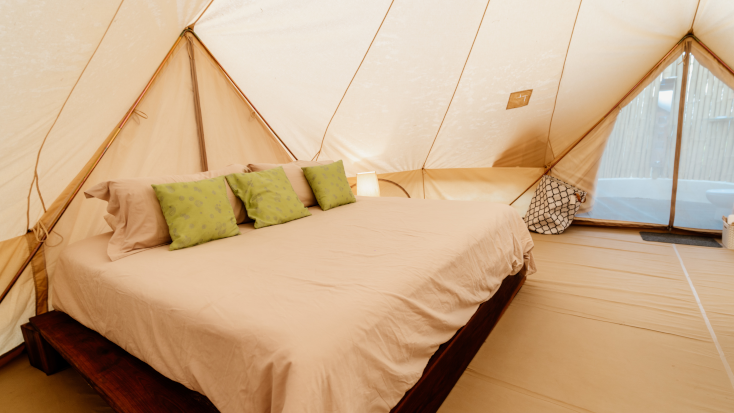 What do you love the most about running a glamping site?
People. It's all about the people and taking them to a place of deep connection with themselves, through nature. We have lots of activities for our guests to express themselves, we provide materials and tools so our guests can make signs and leave them behind with messages to other guests, or plant a tree on the farm that we will care for, or build a stone sculpture… And, oh! The children! We have a variety of games that open up a whole new discovery of nature, like birdwatching bingo, or a treasure hunt. Our guests never leave the same way they came, and the way they wave goodbye, with gratitude and a desire to return, fills our hearts.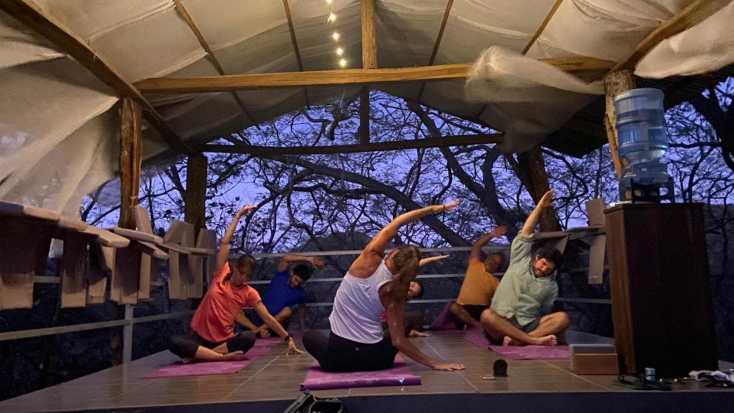 Where is your ideal holiday destination? Other than your glamping property of course!
Since I spend most of my time in Guanacaste's warm weather, I simply love going to the snow. The mountains of Colorado are my favorite spot for this, and I try to go every year. I am a really bad skier, but nobody has more fun than me when coming down the slopes!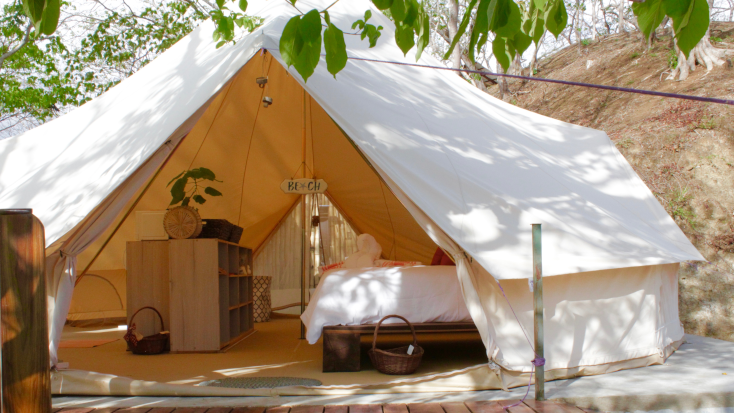 What advice would you give to anyone looking to start or improve their own glamping business?
Follow your heart! People will feel your energy in your glamping site, and if you only move from your wallet they will know. Have fun, build something you love, do not hesitate to take that "last crazy step" that excites you. Find what it is that will make your place totally different and go for it because that is exactly what your guests will love.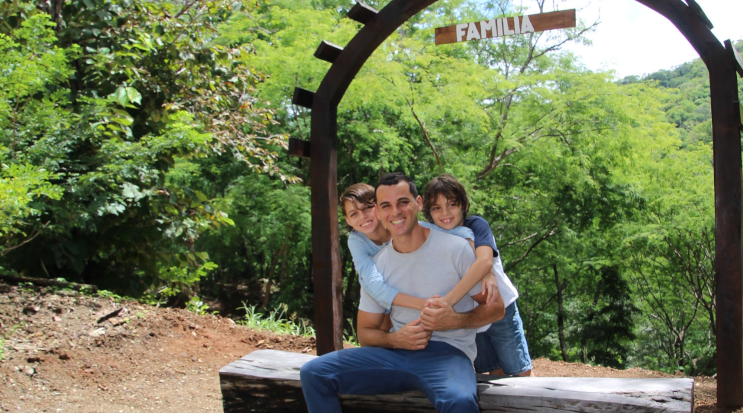 Our community of hosts means everything to us here at Glamping Hub, which is why we love to share their stories in our Host of the Month feature. If you're looking for a gorgeous Costa Rica glamping experience, check out Gaby's incredible bell tents, or a unique safari tent for an exciting weekend getaway near Playa Tamarindo. Book one of Gaby's great accommodations, and enjoy one of the best places to visit in Costa Rica.
Have you stayed with one of our incredible hosts recently and would like to nominate them for Glamping Hub's Host of the Month? Send us a message via Facebook or Instagram explaining who you've chosen and why! Or contact us to nominate yourself or a wonderful host you've stayed with!