Editor's note: Each month, we like to introduce one of our wonderful Glamping Hub hosts and ask what inspired them to create a glamping site. This month, we're showcasing Glamping Hub's Host of the Month for April 2022, Sally, and Rex. This hosting couple transformed a beautiful garden into a romantic glamping resort in Tasmania, Australia.
Their host story focuses on the welcoming and relaxing experience they provide for each guest, and shares how going the extra mile is the key to creating an unforgettable glamping experience. Sally and Rex have two properties in Tasmania, a luxury glamping dome with an outdoor bath and sauna in Sheffield, Tasmania, and a family-friendly holiday cottage rental in Tasmania near Cradle Mountain.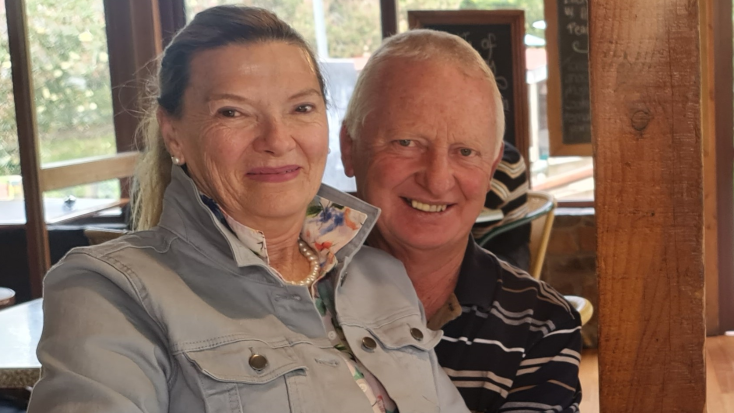 Tell us a bit about yourself…
We are a couple originally from inland New South Wales, both born into farming. Sally lived in Sydney for many years and had a varied career ranging from advertising, real estate sales, building design, and automotive sales. Sally moved back to the country to take up a position managing a Retirement village in Tamworth. Rex on the other hand spent most of his time on the land farming. Earlier in his career, he managed a QA Laboratory and then managed a motorcycle shop, but his heart was in farming.
After the passing of his wife, Rex needed to find a place for his mother-in-law and visited the retirement village I Managed. Often when asked how we met we would say "We met in an old people's home". Some reactions have been priceless. Heading into a drought we decided to sell up and make a new start in Tasmania and try our hand at running a vacation rental business, this proved to be quite successful.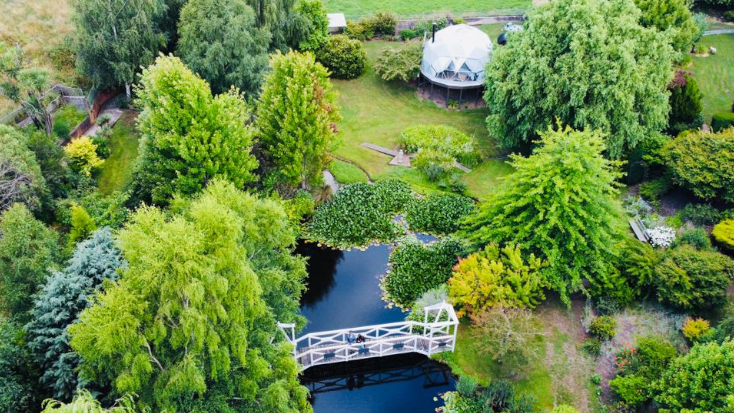 Every glamping site has a special story, could you tell us about yours?
Our garden has an unusual story. It began life as the original local swimming pool constructed in the 1950s for local families. The pool was upgraded in the 1960s to an Olympic size pool and became the first pool of this size on the North West Coast of Tasmania. In the mid-1980's due to the high costs of maintaining it, the pool was closed. In 2004 a local family bought the property and being avid gardeners they turned the run-down area into a beautiful garden. Then they filled in part of the pool turning it into a stunning lake filled with water lilies surrounded by an array of amazing plants.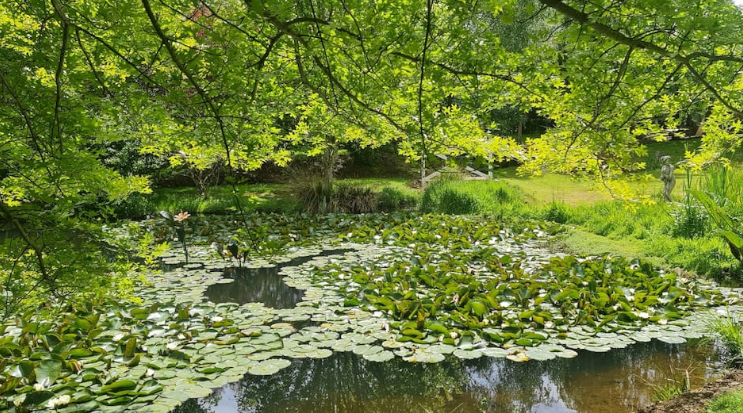 Can you tell us about your most memorable guest experience to date?
Easily the most memorable moment was when we were approached to be part of a surprise wedding proposal. The couple had been together for 3 years. Michael wanted to make a special moment for Emma so he had organized a film crew to do a short film around the garden as they were both professional actors. In the last scene was when Michael had Emma looking to the distance, he then got down on one knee and when she turned around he asked her to marry him.
The look on her face was priceless. At the same time, our two lambs that were looking on went "Baaaaaa" which made us all burst into laughter.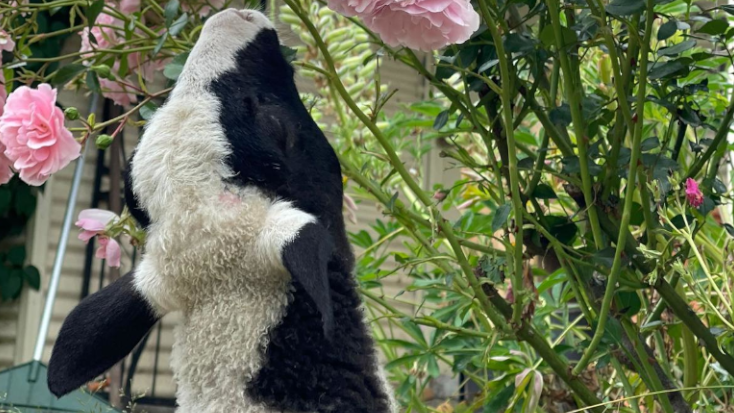 If you could have anyone stay at your accommodation, who would it be and why?
Having a range of guests from accountants, plumbers, fashion designers, engineers, and others from around the world each having their own story to tell. We love listening to their experiences so we are more than happy to have anyone to stay.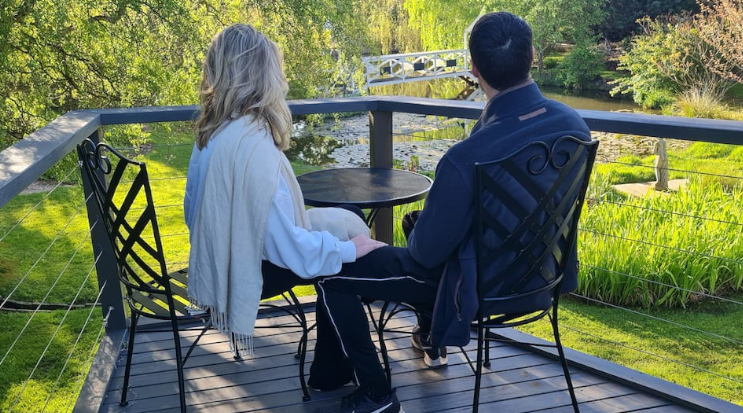 What are some of the challenges you face and what have you learned since opening?
It has been a pretty smooth ride so far. Our greatest challenge has been finding time for ourselves and keeping up with the demand. Of course, Covid restrictions have been some concern, but nothing we can't manage.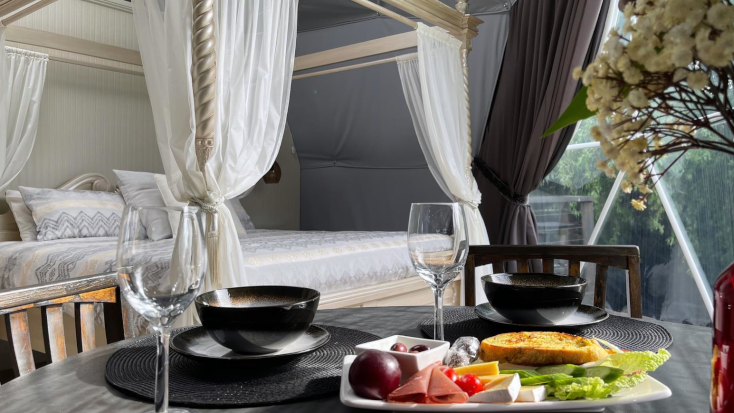 How was your first time hosting?
We were naturally nervous before the first guests arrived but it has been an exciting experience, meeting new people and sharing our space.
What do you love the most about running a glamping site?
Reading the reviews left and knowing we have given someone an amazing experience with what we have created.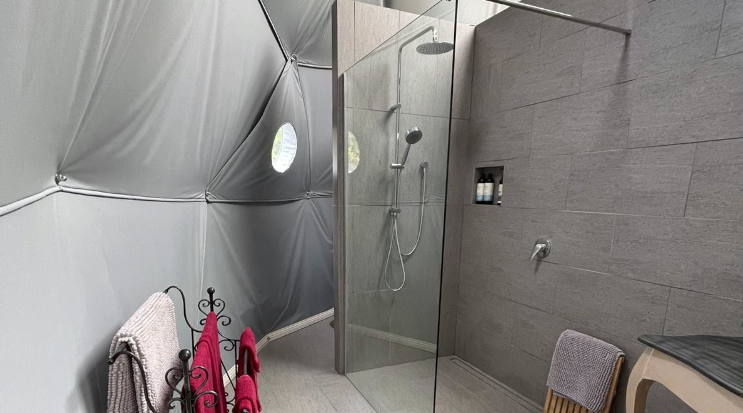 Where is your ideal holiday destination? Other than your glamping property of course!
Hopefully, with Covid starting to be monitored, in 2024 we are looking at taking a motorcycle tour through South America and spending about four months traveling around.
We are also looking to go to Mongolia and spend some time with the Tsartaan Tribe who are Nomadic reindeer herders in North West Mongolia. Sally knows someone who is married to one of the herdsmen!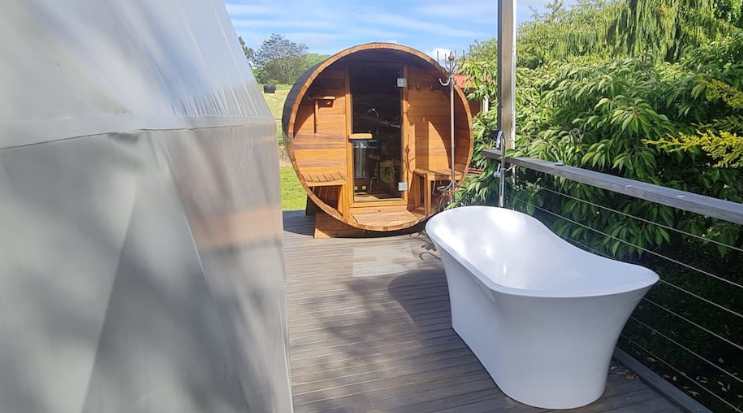 What advice would you give to anyone looking to start or improve their own glamping business?
Greet each guest with a smile and make them feel at ease. Go that extra mile with extra little touches, such as when fruit is in season leave some in the fridge, have yogurt and assorted milk, coffee, and other little touches. We have chosen to leave a small platter of goodies, which has been appreciated by all.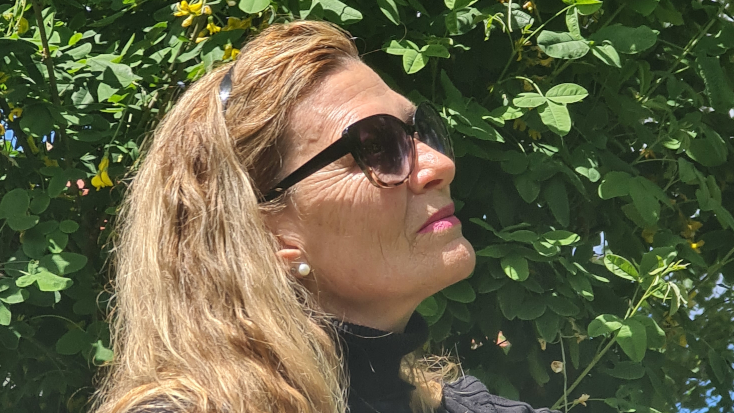 Our community of hosts means everything to us here at Glamping Hub, which is why we love to share their stories in our Host of the Month feature. If you're looking to explore Australia, visit Tasmania and stay in one of Sally and Rex's romantic glamping domes, near Sheffield, or their family-friendly holiday cottage rental in Tasmania: Cradle Mountain for an exciting weekend getaway near St Clair National Park. Book one of Sally and Rex's great accommodations, and enjoy unique Tasmania holidays.
Have you stayed with one of our incredible hosts recently and would like to nominate them for Glamping Hub's Host of the Month? Send us a message via Facebook or Instagram explaining who you've chosen and why! Or contact us to nominate yourself or a wonderful host you've stayed with!