Thanksgiving is a special time of year. In Canada, Thanksgiving 2022 is around the corner. It is celebrated on the second Monday of October in honor of fall harvest festival traditions. Fall has arrived, our cozy jumpers are out in full force and we're slowly getting ready for the festive season. It's a perfect time to spend with family and loved ones. Celebrate over a large, delicious meal and give thanks. Treat yourself to a unique getaway for two or simply disconnect and spend some time in nature. Looking for fun ways to celebrate Thanksgiving 2022? We've found some cozy getaways for your next glamping getaway adventure in Canada! Go glamping this Thanksgiving!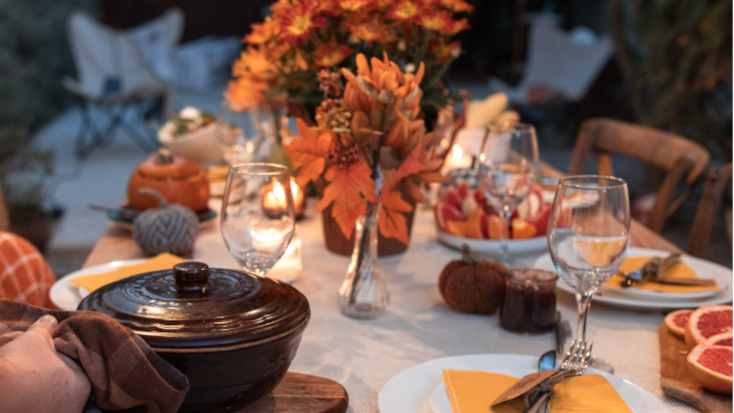 Glamping Quebec
A cozy cabin is ideal for a luxury family glamping getaway this Thanksgiving. Head to La Conception, Quebec, and surround yourself with nature. Nestled between the forests of Mont D'Argent and Lake Xavier, this cabin is the ultimate nature getaway for your glamping Quebec weekend. The large windows and private deck allow you to soak up nature and do some wildlife watching from a cozy spot or, for a more adventurous day out, there is rock climbing, hiking, and plenty of watersports to enjoy nearby. Mont-Tremblant is just 10 minutes away for all your restaurant and shopping needs.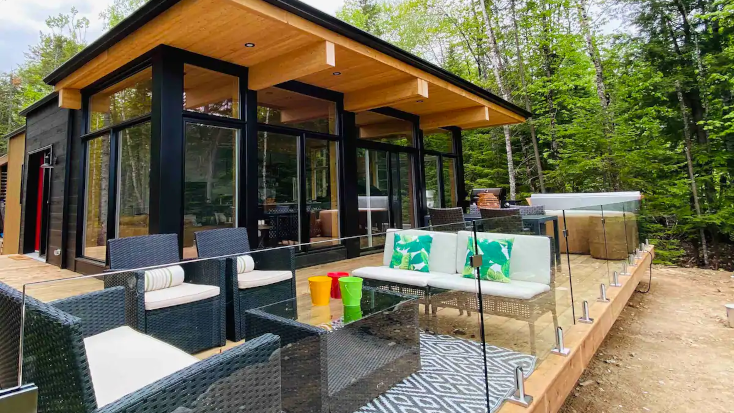 Thanksgiving 2022, Ontario
Looking for unique things to do for Thanksgiving? Spend this Thanksgiving getting off the beaten track. Try this cozy tiny house for two, 45-minutes from Toronto Ontario, and really disconnect. This luxury tiny house in Acton has everything you need for a fun thanksgiving weekend. Surrounded by an abundance of towering trees and the sound of the flowing creek nearby, you and your loved one can spend a private weekend away celebrating Thanksgiving 2022 in off-grid style. Spend the day walking at The Limehouse Conservation Area, where great walking trails exist. Stargaze at night through the large windows set at the perfect angle to contemplate the night sky and enjoy a truly unique glamping Ontario getaway.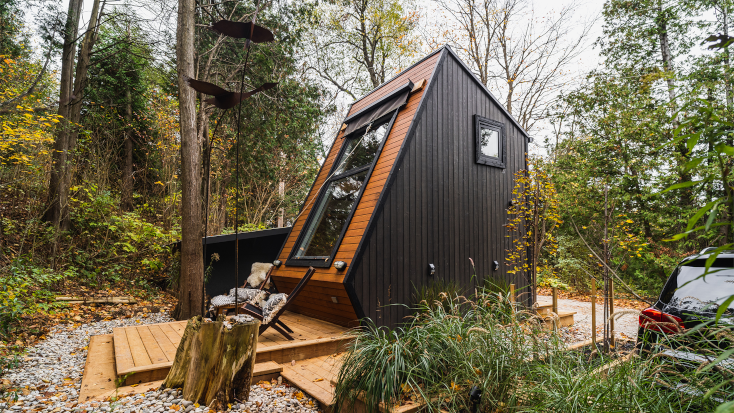 Glamping getaway, Alberta
The stunning geodesic dome in Cherhill, Alberta is perfect for couples looking for a quiet glamping Alberta getaway this Thanksgiving in Canada. There is plenty of wildlife to watch so don't forget binoculars, and a lovely private lake on the property for you to explore as you spend the weekend disconnecting and reconnecting with nature. The stand-alone sauna pod is an absolute treat if you are looking for a thanksgiving weekend away with a luxurious twist. Of course your glamping Alberta Thanksgiving day won't be complete without a warm cup of hot chocolate by the fireplace and a night under the stars.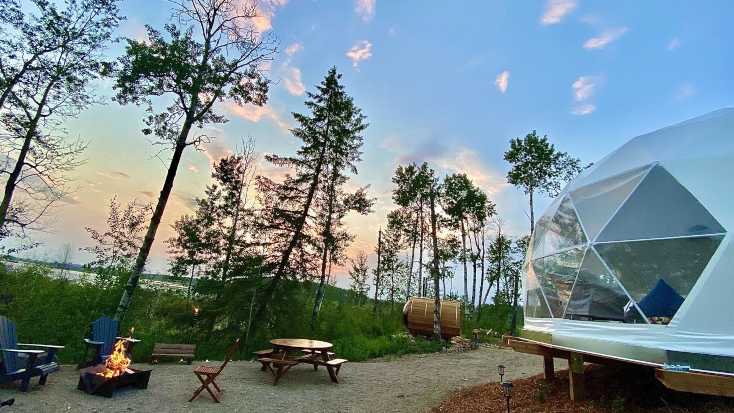 Fun things to do for Thanksgiving 2022, in Saskatchewan
Create a fun Thanksgiving tradition and go glamping this Canadian Thanksgiving. This cozy yurt is ideal for a young family wanting to plan a fun getaway near Emma Lake, Saskatchewan. This large yurt is luxurious and comfortable for a glamping Saskatchewan Thanksgiving with a difference. Enjoy hiking on the nature trails around the property. Head a short 15-minute drive north to Candle Lake Provincial Park. If your love water sports there is plenty of canoeing on Tuddle's Lake, Christopher Lake, and Oscar Lake. Disconnect on the private deck or relax in the hammock nearby. Share your Thanksgiving stories around the communal fire pit and make some new friends and lovely memories.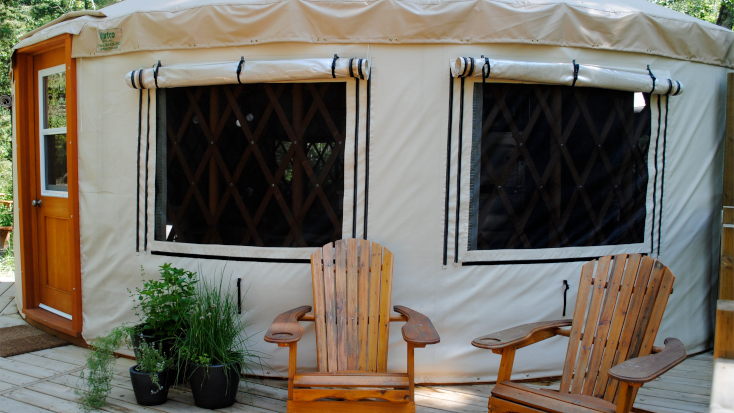 Go glamping in British Columbia
Nothing beats getting away for the Thanksgiving weekend with family and pets to this magnificent tree house in Sooke, British Columbia. Celebrate Thanksgiving 2022 and nature in style this year as you and your loved ones enjoy a festive weekend away, nestled among the forests of East Sooke Park. Enjoy a festive meal together, board games in front of the stone fireplace, or relax on the private deck. Get out and about and enjoy the fresh sea and woodland air with a day of hiking and watersports. There is wildlife watching and horseback riding to enjoy or a day of wine tasting at the local vineyards. Experience glamping, British Columbia style this Thanksgiving!
Here at Glamping Hub, we are thankful to all our glampers and hosts for making 2022 such a special year and we wish you a very Happy Thanksgiving and a Joyeuse Action de grâce!
Going glamping this fall? Looking for spectacular glamping spots in Canada? Check out our great glamping destinations to catch some spectacular fall foliage in New England. If you're on the hunt for a cozy cabin, these will fulfill all your fall needs, or if it just isn't glamping without your pet, check out these pet-friendly glamping destinations in Canada!
Send us a message via Facebook or Instagram and tell us about your favorite glamping spots in Canada!