Editor's note: Each month, we like to introduce one of our wonderful Glamping Hub hosts and ask what inspired them to create a glamping site. This month, we're showcasing Glamping Hub's Host of the Month for December 2022; Nancy and Bert from Connecticut. This hosting couple started with the idea of creating a secluded nature retreat, where guests can come and completely disconnect from the hustle and bustle of everyday life. Surrounded by 100 acres of unspoiled forest, guests can soak up nature and leave feeling rejuvenated.
Tell us a bit about yourself…
Nancy has been a potter and harpist for over 30 years, educated at Rhode Island College in Art Studio. In 2018 she started a new career in the holiday rental business by renting our completely private 144 sq ft octagonal tiny home next to a brook on 100 acres of forest with a pond, waterfall, marsh, and hiking trails. She later added a treehouse and another tiny house. Nancy continues to sell pottery from her studio and also makes Shagbark syrup from the Shagbark trees in the woods and unique jewelry from wood and semi-precious stones.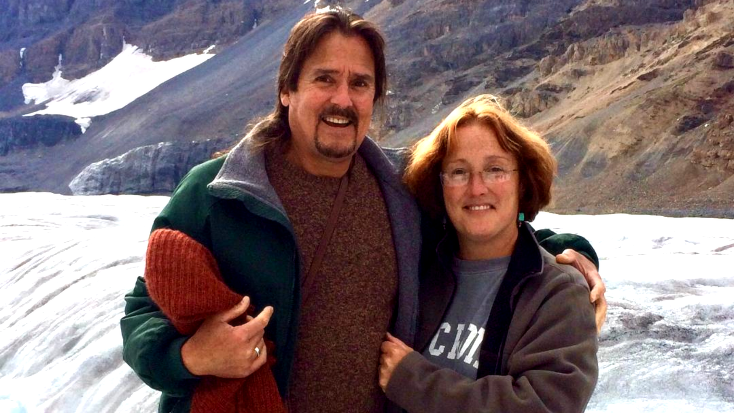 What attracted you to owning a glamping property?
Sharing our peaceful and very relaxing 100-acre forested property and brook with others so they can benefit from this beautiful space. So many people in the world today need a safe place where they can go to relax, unwind and get back in touch with nature. Our forest with its babbling Goldmine brook is a great place to do this.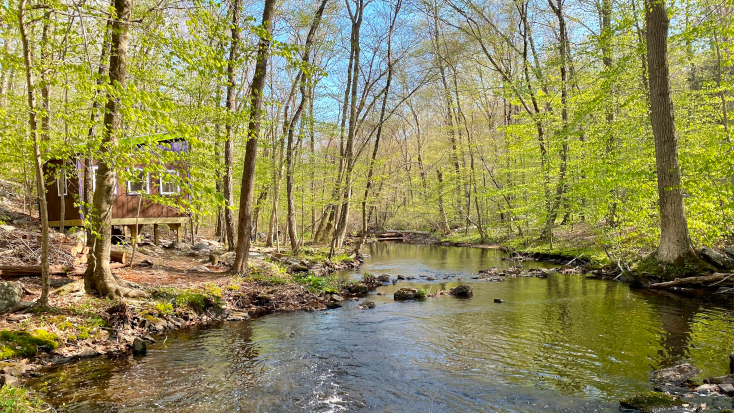 Every glamping site has a special story, could you tell us about yours?
My grandfather bought this land in the 1950s with plans to make some of it into a residential area. He and my father, Buck, were housebuilders. They did everything from foundation to cabinetry. They built on 50 acres and left the remaining 50 acres of brook and forest natural and untouched. In 2007 my father gave us six acres and my husband and I built a home here. In 2016 we bought 50 acres from him and decided to build some small-footprint tiny homes. Our glamping retreat has a total of three tiny homes on 100 acres of forest. We didn't want to overbuild as we wanted to leave the land as pristine as possible and give guests plenty of privacy. It is a great place to relax and take in nature, hike, mushroom hunt, write, read, fish, bird and animal watch, meditate, create art or music, photograph, snowshoe, cross country ski, and star gaze as there is little light pollution, in this completely private woodland setting.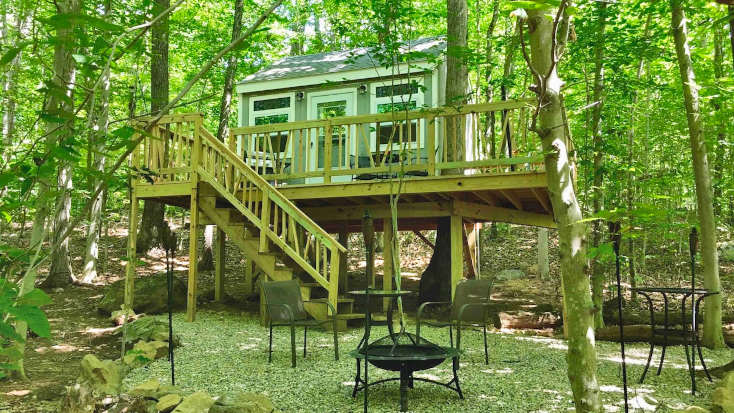 What are some of the challenges you face and what have you learned since opening?
Running electricity to each of the tiny homes through some challenging rocky terrain and maintaining the trails during all seasons as we are open year-round. It makes for good exercise!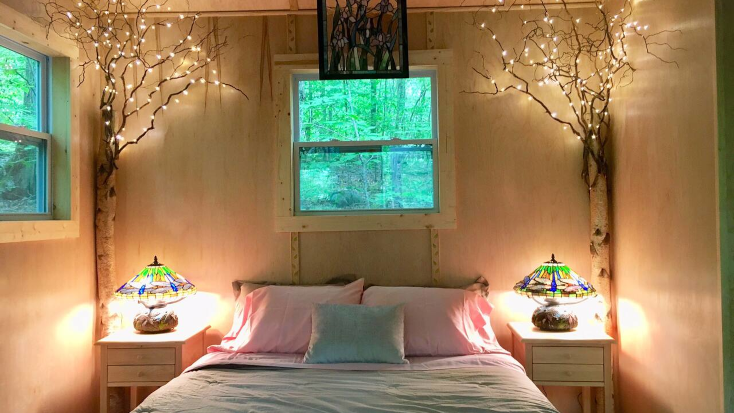 How was your first time hosting?
We rented out the octagonal tiny house in August 2018. I remember being a bit nervous and hoped I had thought of everything a guest might need. Back then we were using car batteries with an inverter for electricity! Luckily the guests were happy and everything went smoothly. After doing that for about 9 months and receiving very positive feedback, we decided to build a tree house. This time we ran electricity to it and also put electricity in the octagon. After having more good feedback with the tree house we decided to build our last place, a secluded tiny home, which like the octagon is right next to the brook. Our guests have played a big role too with thoughtful suggestions.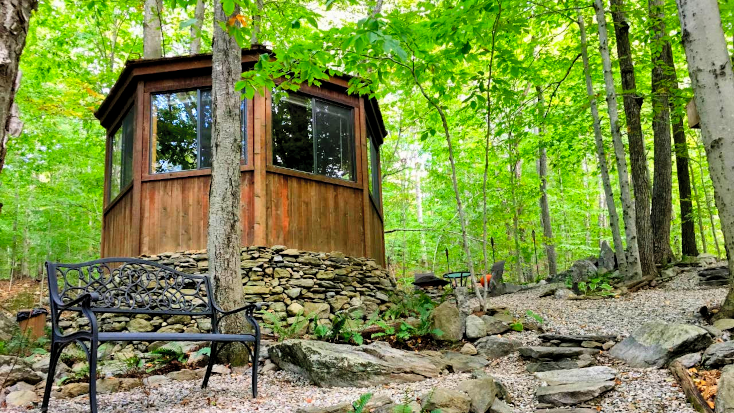 Can you tell us about your most memorable guest experience to date?
All of our guests are very special to us and it would be impossible to single one out. We have had over 2000 guests stay in just over three years and over sixty are repeat customers. The people who come here are usually nature oriented. We get a lot of people from the big cities too who want to experience what we have to offer.
If you could have anybody stay at your accommodation, who would it be and why?
Again, it would be hard to single anyone out. Any and all types of people are welcome here. We really enjoy it and find it so rewarding when people come here for nature and leave feeling rejuvenated.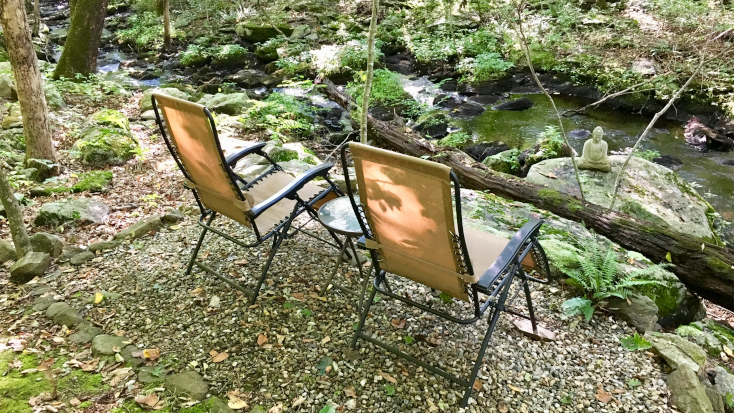 Where is your ideal holiday destination? Other than your glamping property of course!
Glacier National Park. We also plan to visit Iceland and have traveled extensively around the world.
What do you love the most about running a glamping site?
The opportunity to meet wonderful and interesting people who appreciate and love to be in nature.
What advice would you give to anyone looking to start or improve their own glamping business?
Make sure you are a customer service-oriented person. Listen to your customers. They often give wonderful advice. Always be willing and able to meet a customer's needs and requests. Basically, you need to like people. For me that is easy. Since I never had children, I find myself doting on my customers. So many of them feel like family!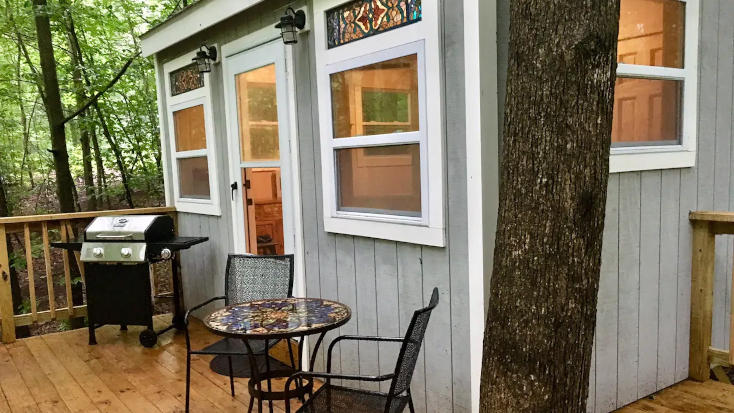 Our community of hosts means everything to us here at Glamping Hub, which is why we love to share their stories in our Host of the Month feature. If you need to disconnect and want to be surrounded by nature don't miss a stay at this fantastic tree house in Connecticut. Feel like one of the family, when you stay in this cozy tiny home. Or book this unique octagonal tiny home with the sounds of the brook lulling you to sleep.
Have you stayed with one of our incredible hosts recently and would like to nominate them for Glamping Hub's Host of the Month? Send us a message via Facebook or Instagram explaining who you've chosen and why!