Are you still looking for things to do on New Year's Eve? Keep reading for some ideas for New Year's Eve 2021 from around the world!
New Year's Eve; it's the last big party of the Christmas period, and as such, a lot of us want to celebrate in a big way. Whether you want to enjoy a New Year's getaway, or you're starting to think about kickstarting the new year with some wholesome resolutions, such as planning a wellness getaway, it's still fun to round off Christmas with a bang, as well as saying "Farewell" to the previous year and "Welcome!" to the new year. The new year is celebrated in a variety of ways across the world, so keep reading, and see if there's something that tickles your fancy for things to do on New Year's Eve, 2021! Start some new New Year's Eve traditions this year! Be aware that due to COVID-19 some events are being canceled as part of new Covid rules to help slow the spread of Omicron.
Plan your New Year's Eve getaways in one of the best travel destinations!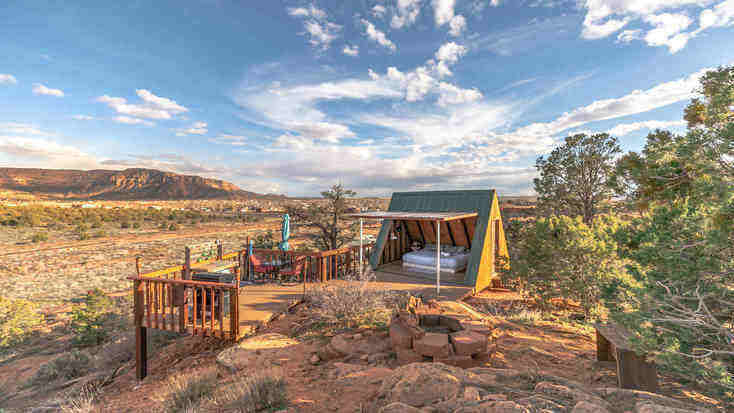 Enjoy the Fireworks in Sydney! New Year's Eve Down Under!
Australia is already an amazing place to travel. With so many places to explore the great outdoors, enjoy the sea with surfing and whale watching, and of course, some incredible cities to visit. In Sydney, New Year is a spectacle to behold. The harbor is the place to be on New Year's Eve. Starting at 9:00 pm, this is a six-hour party to celebrate New Year's Eve. The Sydney Opera House is lit up by thousands of fireworks—On New Year's Eve 2018, 8.5 tonnes including 100,000 individual pyrotechnic effects and 35,000 shooting comets were used—creating an incredible spectacle that is sure to live long in the memory. If Sydney catches your attention for a getaway over New Year, there are plenty of great vacation rentals for 2022 so you can explore to extend your trip!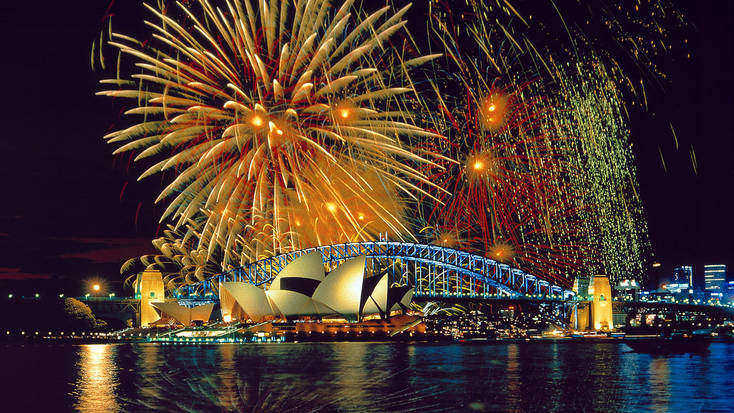 Hogmanay! New Years Eve Scotland style
If you want to see a big celebration for New Year's Eve, Scotland is an absolute must. Hogmanay—as New Year's Eve is widely known in Scotland—is never anything less than an event. Head into the cities, and there will be all kinds of parties and celebrations going on, and if you head into some of the smaller towns, you'll find a lot of local traditions. One town in particular called Stonehaven has an incredible procession through the town. This dramatic event sees up to 12,000 spectators and 45 locals march through the coastal town whirling large balls of flames to bring in the New Year. The event starts at around 11 pm and begins with pipers and drummers, and then just before midnight, a lone piper leads the fireball bearers through the town. After raging well into the wee hours, relax and recuperate in an incredible riverside cottage rental in the stunning Scottish countryside. Be aware that due to COVID-19 Edinburgh's Hogmanay events have been canceled this year as part of tough new Covid rules in Scotland. All outdoor events will be limited to just 500 people to help slow the spread of Omicron.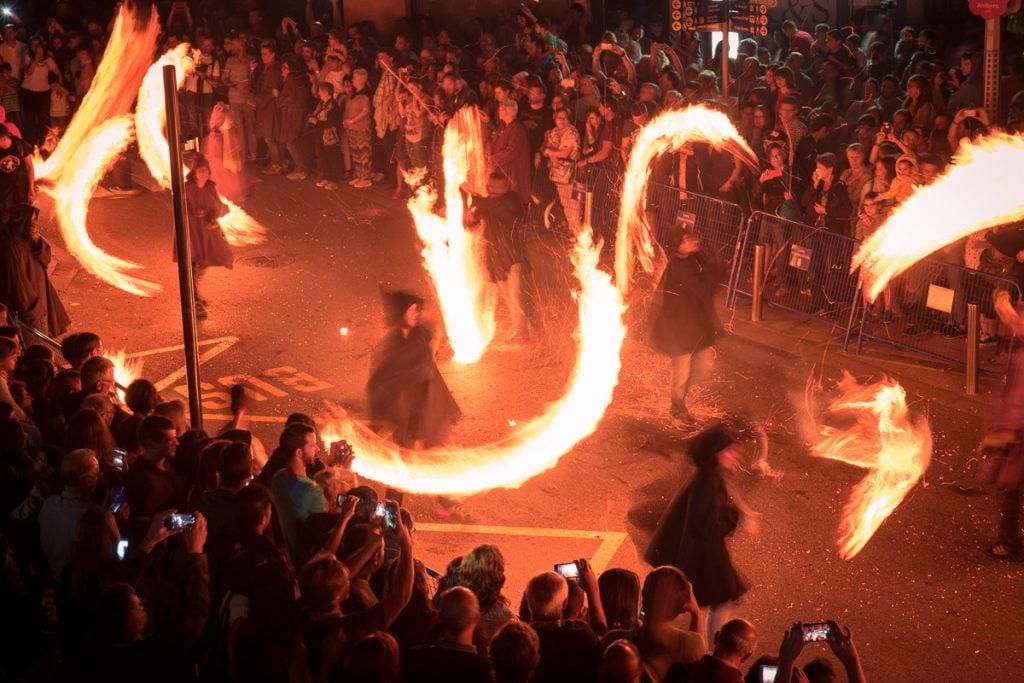 Eating 12 grapes: Spain at New Year 2021
If you spend New Year's Eve 2021 in Spain, you'll find that it's one of those fortunate places where New Year's Eve is more of an interlude than the final act of the show. Christmas for the Spanish keeps going until January 6th with the celebration of Epiphany. However, that doesn't mean that New Year isn't a big deal. Before heading out to celebrate the new year, the tradition in Spain is to eat 12 grapes at midnight, one for each stroke of the bell. This can obviously lead to a mouthful of grapes if you don't keep up, but with it being both a tradition and a superstition in Spain, rare is the Spaniard who'd risk not eating their 12 grapes. Spain has celebrated this tradition for over 100 years, possibly since the late 19th century, and if you see off all 12 grapes—any left in your mouth do not count!— then you'll have good luck for the rest of the year.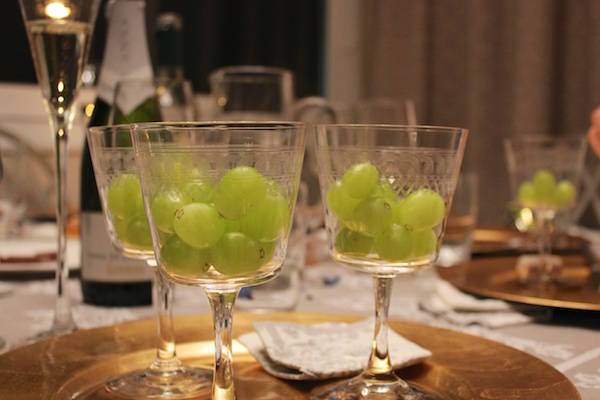 Colombian traditions and travel goals: bring out your suitcase!
Colombia boasts a somewhat unusual custom for New Year's Eve. There are several Colombian traditions for New Year's Eve, but one of the more unusual ones is to walk around the block with an empty suitcase. The end goal for this is to ensure all the travel you want to achieve the following year becomes a reality. If you have travel goals for 2022, perhaps you should grab your favorite luggage and take it for a leisurely stroll around the block, and you can also start planning an epic glamping adventure in Colombia to explore the jungle, mountains, unique cities or even rent your own private island to really get away from it all!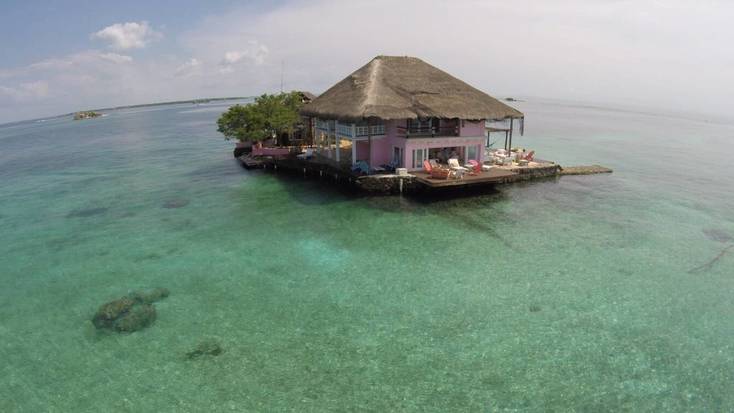 Strange traditions around the world: New Year in Peru and the Takanakuy Festival
Of the strange traditions around the world for New Year, in Peru, you are sure to find the most bizarre in a small village in the Chumbivilcas Province near Cusco. If you're one to hold a grudge, then maybe the Takanakuy Festival, held at the end of December each year would be one of the top things to do on New Year's Eve. To start the New Year with a clean slate, the villagers engage in a fistfight with anyone they have a grievance with, and then it is considered done and dusted with the start of January. We have to stress the point, however, that we would not recommend this as a way to settle your differences with family, friends or tricky colleagues; maybe stick to a quiet drink and a civil conversation, and leave this tradition in Peru.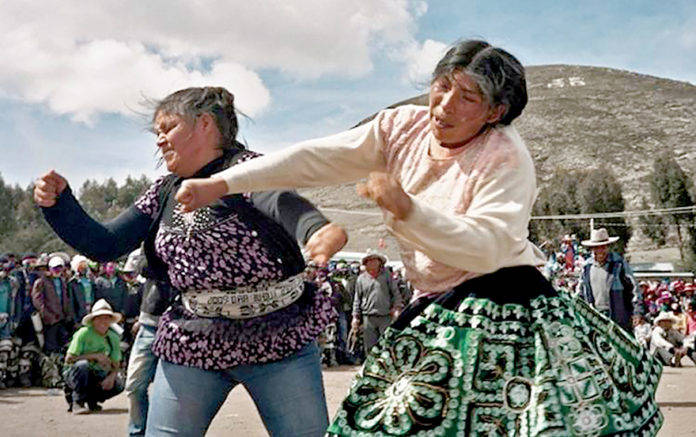 Have a smashing time with Danish traditions for New Year's Eve, 2021
If you're really eager to relieve some stress, but like us, you think going to the extremes of the Takanakuy Festival is a step too far, maybe you should plan a getaway to Denmark, one of many great places to go for new years eve with family. Danish traditions like this particular New Year's Eve tradition are also a great way to get rid of any crockery and glassware you may wish to clear your house of. On New Year's Eve, the Danes go to the houses of their friends and family to smash old plates and glasses that have been stockpiled in the days leading up to New Year's Eve on their front doors. While this sounds like an unfriendly approach to celebrating the New Year, the bigger the pile of smashed plates outside your door, the more luck you'll have in the coming year!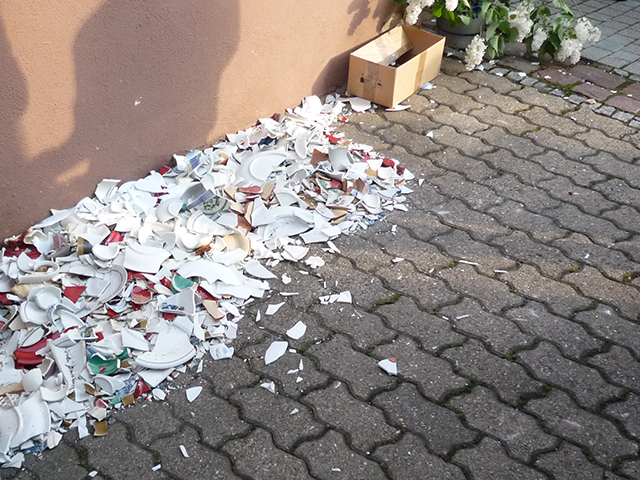 Farmers in Belgium: New Year's Eve in Belgium
For a calmer start to the year, head to Belgium for a relaxing vacation. New Year's Eve itself is sure to have some amazing parties and events for you to enjoy, but if you head into the countryside first thing on New Year's Day, of all the Belgium traditions you may see, this is probably one of the most heartwarming. Farmers head out to the fields to say a heart-felt Happy New Year to their cows. This tradition is said to bring good luck for the coming year, and regardless of the reward for the farmers, it's just a lovely gesture to kickstart the New Year. Unfortunately in Romania, if you wish your cow a Happy New Year and they respond in any way, then you'll face a year of bad luck. Who knew cows could be so influential?