Yes, it's December, and for a lot of us, that means cold, rain, and sometimes snow. Planning a beach vacation could be the best way to cure those winter blues, either to escape for some winter sun or perhaps just to have that ray of light to look forward to, to help get you through to the summer. Start planning the best beach vacation today, and look forward to a warm-weather vacation and the beach at sunset somewhere tropical! There are plenty of choices, so read on to find out the best beaches to visit during your next summer getaway!
Take a look at our list of the best beaches to visit in 2022, and start searching for the best beach in the world
It's practically impossible to state which is the best beach in the world, and while some of the best beaches in the world are already well known and boast a large number of visitors each year, every now and again, we come across a beautiful beach, largely untouched and perfect for a quiet getaway. We've picked out nine of our favorite beaches that you should definitely put on your travel bucket list for 2022
Freedom Beach, Phuket, Thailand. Discover a secluded beach for the best beach vacations!
While Phuket is without a doubt one of the more popular destinations for the best beach vacations with luxury rentals and resorts by the sea, you can avoid the really popular, and inevitably more crowded spots. Freedom Beach gives you the opportunity to take adventure travel to the next level. To get to the beach itself, you have two options. There are long-tail boats that depart from Patong Beach and go directly to the 300-meter-long stretch of secluded beach. However, you can also make the journey even more rewarding by hiking to the beach. While the route is quite strenuous, you'll be rewarded with a stunning, white sand beach that has far fewer visitors compared to Phuket's other coastal offerings and will make it to your list of the top beach vacation and beach destinations.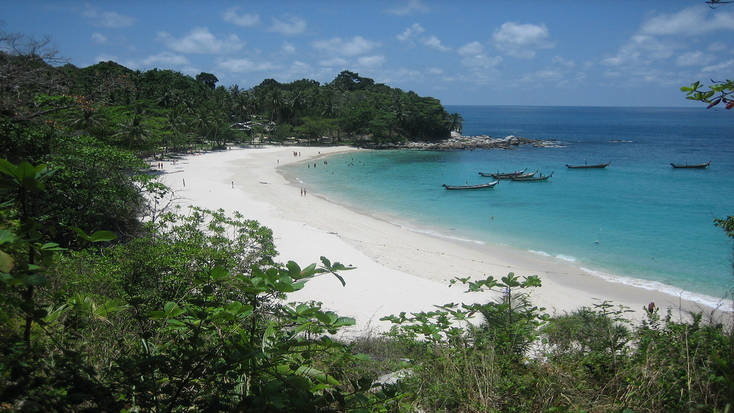 Placencia; one of the best beaches in Belize
With rainforest, stunning coastline, and Mayan Ruins, Belize is an incredible vacation spot. Add to that the world's second-largest coral reef, and this is a dream vacation for the hardened traveler right down to the relaxed sunbather. Placencia, Belize, is referred to as "barefoot perfect" by locals and has 16 miles of white sand beaches and a quiet coastline. A three-hour drive from the city, this is the perfect opportunity to unwind from the day-to-day and indulge in some unique maritime experiences. A visit to Placencia will give you the chance to try snorkeling, diving with whale sharks, sailing, and lots of inland excursions are also an option. The best thing to do when staying in Placencia is the one-day tour to explore the Belize Barrier Reef. With plenty of accommodation in the area, you can be sure of an unforgettable adventure at the best beach vacation spots!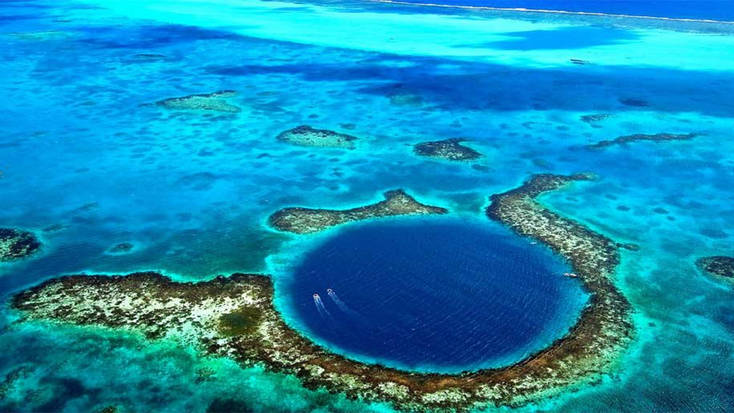 Siesta Key Beach. Explore Florida beaches
Florida beaches are undeniably beautiful, and with beaches such as Siesta Beach representing the state, it's hardly surprising that this is a popular place for families to head off on vacation. A large, white sandy beach, Siesta Key Beach gives you everything you could you want from a beach vacation. Close to the amenities of Sarasota, you can look forward to a vibrant nightlife, with a wide range of bars and restaurants, while also simply relaxing on the bright, white sand. If you're thinking of heading to Siesta Key Beach for your next beach vacation, why not enjoy a stay in this impressive tiny house?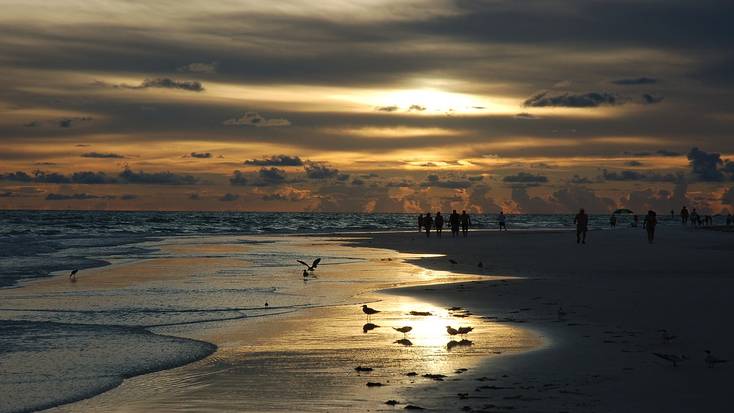 With incredible views over the glittering Pacific Ocean, surrounded by towering cliffs that provide complete seclusion, Treasure Island Beach is truly a hidden gem. With a secret cove to add to the mystery of this idyllic beach, it is perfect for a romantic getaway. Just under three miles from Laguna Beach, Treasure Island Beach is one of California's most relaxing beaches, and it boasts picturesque walks along the cliff tops to an idyllic spot to watch the sunset over the ocean.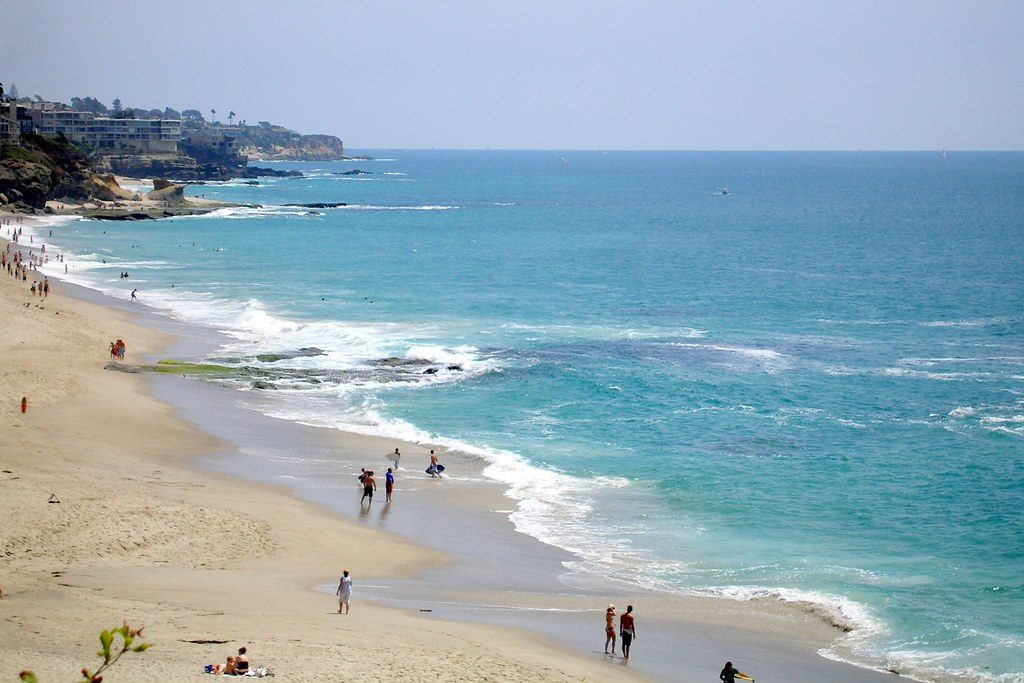 Costa Verde; tour the best beaches in Brazil; vacation ideas in South America
For the ultimate spring getaway in Brazil, why not head down to Rio de Janeiro for the biggest party of the year, once you've worn yourself out with all the Mardi Gras shenanigans, start a wholesome trip along the Costa Verde. With green-covered mountains on one side and glorious beaches on the other, this is a beach experience like no other. Three hours bus ride from Rio, you'll find yourself in Angra dos Reis, and from there you can hop on a ferry to the gorgeous Ilha Grande, a picturesque island with young families, a good nightlife, and surfing. The possibilities for an unforgettable Brazil vacation are numerous, and you'll have more than one Costa Verde beach to explore on your journey.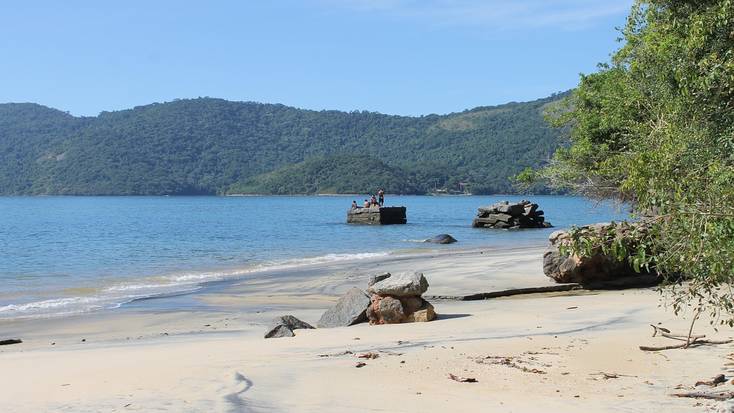 Punta del Diablo. Explore Uruguay beaches in 2022
When traveling to Uruguay, beaches are not hard to come by. The coastline of this beautiful country is laden with sandy beaches, perfect for a relaxing vacation in the sun. Starting life as a sleepy fishing village, Punta del Diablo has become one of the more popular destinations for visitors to Uruguay. The town itself is fairly spread out and there is plenty to do and see. The town has a promenade running behind the main junction called the Paseo de los Artesanos, with shops, bars, and restaurants. As well as boasting both the Playa de la Viuda and the Playa de los Pescadores beaches, you can also enjoy some culture and history with a visit to the medieval fortress, Fortaleza de Santa Teresa.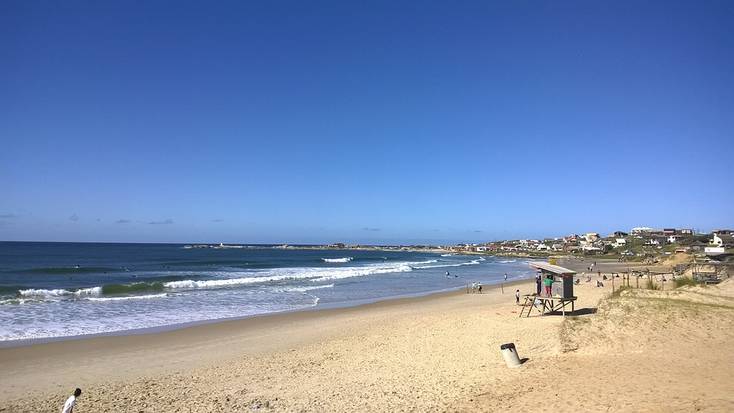 Grace Bay Beach, Turks, and Caicos; vacation in the Bahamas!
Grace Bay Beach should be the first spot on your list of places to visit if you're planning a Turks and Caicos vacation. Set on the island of Providenciales, this 11-kilometer-long beach already has an impressive reputation. It's held the title of best beach two years in a row with TripAdvisor reviewers, and it boasts almost 1 million visitors per year. In fact, the beach has become such a desired location, that Bruce Willis and Keith Richards have both been spotted there in recent years. With accommodations such as this stunning villa, you can enjoy your own celebrity-esque vacation in this tropical paradise.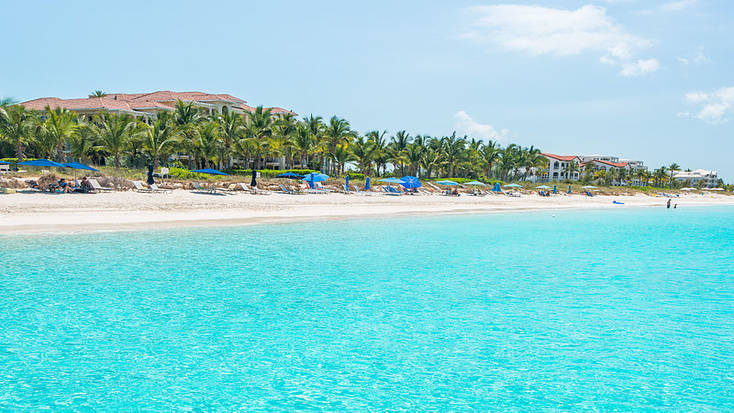 Enjoy an Algarve vacation and explore Praia da Marinha, Portugal, one of the best beaches in the world
No best beaches list would be complete without one of the stunning offerings along the Algarve coastline with a trip to of the best beaches in the world. Portugal has so much to offer tourists from the picturesque, historic cities to the incredible countryside. But where Portugal really shines is with its beaches. Portugal beaches, especially along the Algarve are perfect whether you want to relax on the sand or take to the ocean for a variety of water sports, and Praia da Marinha is no exception. This exceptional beach is overlooked by stunning rock formations, and you can take a kayaking trip or boat tour to explore various caves and coves up close. Set near the towns of Lagos and Portimão, there are lots of fantastic places to stay, and both towns also boast a wide range of bars and restaurants, as well as vibrant nightlife.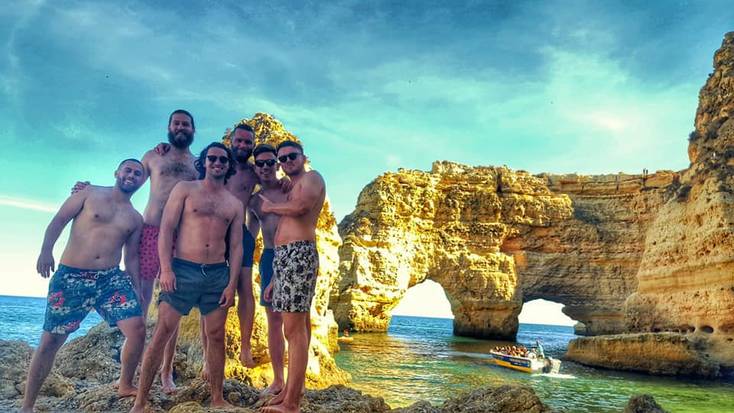 Elafonisi Beach, Crete, one of the best Mediterranean beaches
The island of Crete is steeped in ancient history and iconic mythology, and the evidence of the civilizations that lived on the island is still there in the form of ruins. However, now that the minotaurs have gone, the island is world-renowned as a holiday destination. With numerous amazing beaches to choose from, it's hard to pick just one, but once you see Elafonisi Beach, you'll understand why we've chosen it for this list. Technically an island connected to mainland Crete by a sandbar in a warm lagoon, once you wade out to the island, you'll be able to find quiet coves, even during high season. While this beach has grown in popularity compared to other Crete beaches, there is a ban on beach chairs and umbrellas as it is an internationally classified nature reserve, so it's rarely overcrowded. Any budding photographers can look forward to snapping some wildlife pics of around 100 rare flowers, and possibly of the rare loggerhead sea turtles that nest here.