There's something so romantic about the thought of heading out into the wilderness for an off-the-grid getaway with your significant other. These cabins offer the ideal chance to disconnect from the hectic happenings of everyday life and finally spend time just the two of you. The fact that the cabins we have picked out for you all boast truly luxurious features—ranging from furnished decks to comfy king-size beds with high-quality linens—ensures glampers will be able to relax together in true style.
Here at Glamping Hub, we believe that a hot tub is the ultimate addition to a rental. Perfect for afternoons in the sun or with a glass of wine under the stars, there really is no better place to unwind. What's more—since these are glamping cabins, you can obviously expect the views to be incredible. We're talking nothing but thousands of miles of gorgeous greenery and mountains in every direction.
Sound inviting? Check out the following rentals located all over the U.S. and get ready to enjoy the ultimate couples' retreat.
To kick things off, where better to start than California? Home to countless wineries and plenty of secluded spots, this is the ideal destination for a romantic retreat.
This cabin is one of our favorites for glamping. It is super spacious and nestled in a private natural spot in Idyllwild. The hot tub is located on the deck, and the views are sure to take your breath away.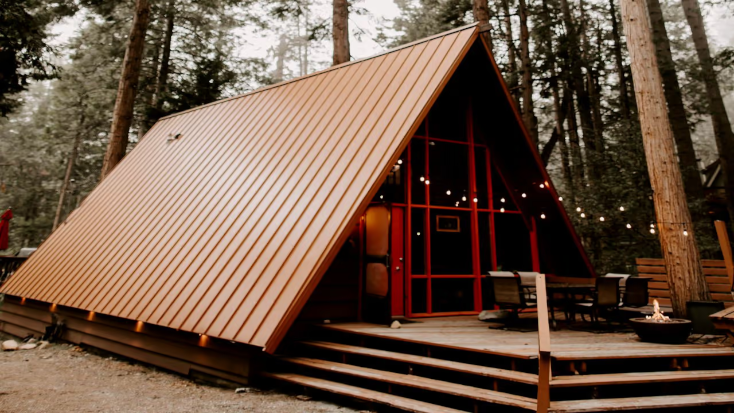 For guests looking to head somewhere a little more modest and cozy, we love this charming cabin. With both a patio and a deck, it is the perfect place to come and enjoy the outdoors (especially from the luxurious hot tub).
Located in Julian, this luxury cabin can sleep large groups but is also ideal for couples looking for some peace and quiet. It features a gourmet kitchen, a wood-burning fireplace, and an incredible outdoor Caldera spa. What's not to love?
The rugged terrain of Joshua Tree is home to some of our most romantic and secluded properties. Take this one, for example. The desert cabin has trails that lead directly into the national park, but it's best feature is without a doubt the wood-fired hot tub in the garden that overlooks the mountains. No judgment from us if you decide not to leave the property at all!
This adorable cabin can be found in the woods in Gasquet. It boasts river views and a hot spring hot tub—need we say more?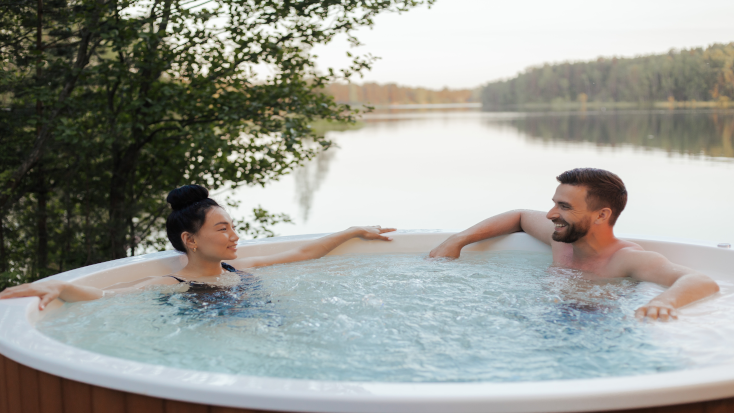 Relax in a cedar hot tub; Oregon cabin rentals
Ready to relax in a cedar hot tub? Oregon awaits! This incredible upcycled greenhouse is ideal for couples looking for an unforgettable vacation. It is so bright and open and features a beautiful natural cedar hot tub. After a relaxing soak, glampers can head out to the back porch to enjoy the views from their own private haven.
There are plenty more cabins in Oregon with serious glamping game. Have a look at this rental. A hot tub in the woods? It's a definite yes from us.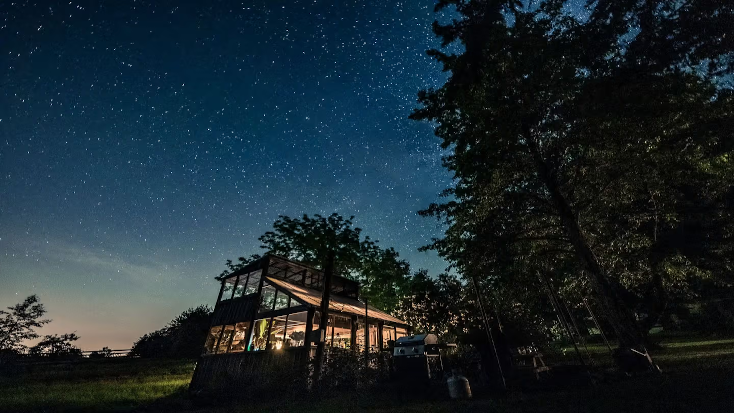 ---
We hope this roundup of just a few of the romantic cabins that you can discover with Glamping Hub has left you filled with wanderlust. For the ultimate luxury getaway, make sure that your next rental features a hot tub. Check out your options here and here, and let us know which one you decide to book!