Planning a trip into the great American outdoors? The USA has plenty of National Parks for you to enjoy. Today, there are 63 National Parks across the United States. Every year, they attract millions of adventurers who want to experience the beauty of the wilderness. Take advantage of National Park Week, starting April 22nd, and enjoy free entrance to your favorite park! Keep reading to find out some interesting facts about national parks in the USA.
The Ulysses S. Grant. Yellowstone National Park Protection Act was introduced on March 1, 1872. It ensured that Yellowstone was "reserved and withdrawn from settlement, occupancy, or sale" and kept "for the benefit and the enjoyment of the people." And so created the concept of a National Park.
Yellowstone National Park Facts 2023
Stretching across three states, Montana, Wyoming, and Idaho; Yellowstone was the first National Park in the USA. It is renowned for its wildlife and geological features including the famous Old Faithful. A spectacular cone geyser, that erupts relatively predictably, which led to its name.
Fact #1: Beneath the surface of Yellowstone is an active supervolcano that contains enough magma to fill the Grand Canyon; 11 times over.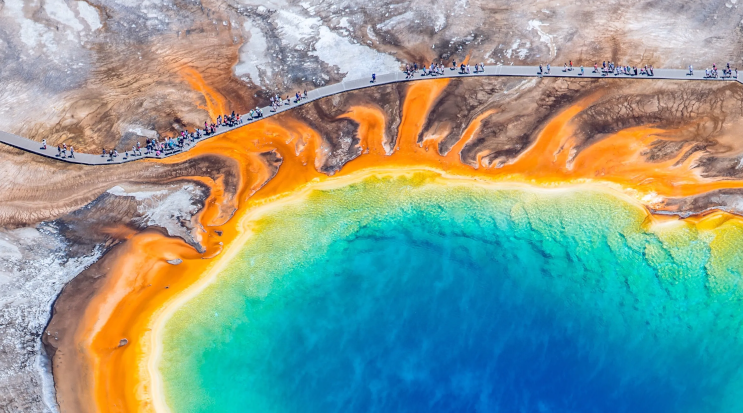 Sequoia tree facts! Visit California 2023 armed with knowledge
Sequoia National Park lies in the Sierra Nevada mountain range of California. It is world-famous for its astonishing sequoia trees in the Giant Forest and its breathtaking hiking trails. Hike along Moro Rock Trail, to enjoy sensational mountain views.
Fact #2: The General Sherman sequoia tree towers above any visitor at 83.8 meters tall! Named after an American Civil War general, it is the largest, living single-stem tree on the planet.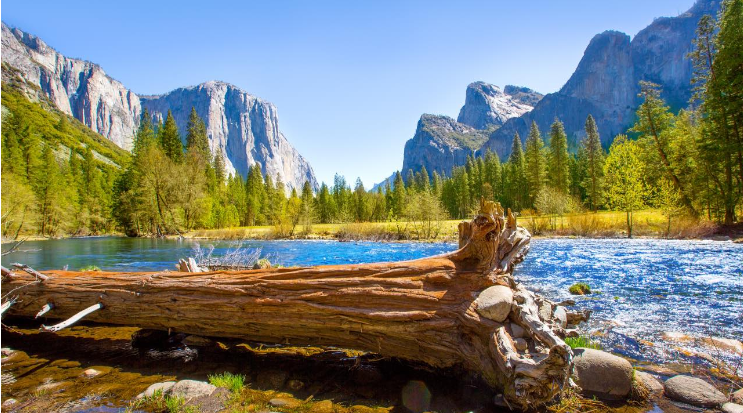 Discover amazing things to do in Yosemite National Park: National Park Trivia
The natural beauty of Yosemite was well-documented, thanks to the efforts of Scottish activist John Muir, who grew up in Wisconsin. He was able to raise awareness about the potential threat of destruction to its landscape in national newspapers, magazines, and journals.
Fact #3: Yosemite's Half Dome granite rock formation is the inspiration for the logo of outdoor specialists: North Face.
Discover the best time to visit the Smokies 2023
More facts about national parks await! Spanning across North Carolina and Tennessee, the legendary Great Smoky National Park. Famous for its bright fall colors, snowcapped peaks in the winter, and its rich Southern Appalachian history. This park is free of charge to enter the park and is the most-visited national park in the U.S.
There are over 800 miles of hiking trails, including the Appalachian Trail. With picturesque rivers and waterfalls, ancient woodlands, and 300-million-year-old mountains, this is a park to visit!
Fact #4: The park gets its name from the Cherokee word shaconage, which means "place of blue smoke." Thereby describing the eerie fog that gathers above the forested mountains' "smoky" effect.
Interesting facts about Olympic National Park: glamping in Washington
The Olympic National Park is one of the most unspoiled parks in the country, giving visitors an insight into its ancient formation from glacial ice to the authentic wilderness. Its mountains were formed deep beneath the ocean's surface. After which glaciers, one mile-thick, carved out its rugged terrain. Nowadays, it is home to an array of diverse ecosystems, teeming with wildlife, and boasts 73 miles of mountainous coastline. Just some of the interesting facts about Olympic National Park.
#Fact 5: Did you know these Olympic National Park interesting facts? Due to its Ice Age isolation, 15 animals and eight species of plant evolved here and nowhere else on the planet. The Olympic marmot, Olympic mud minnow, and crescent trout.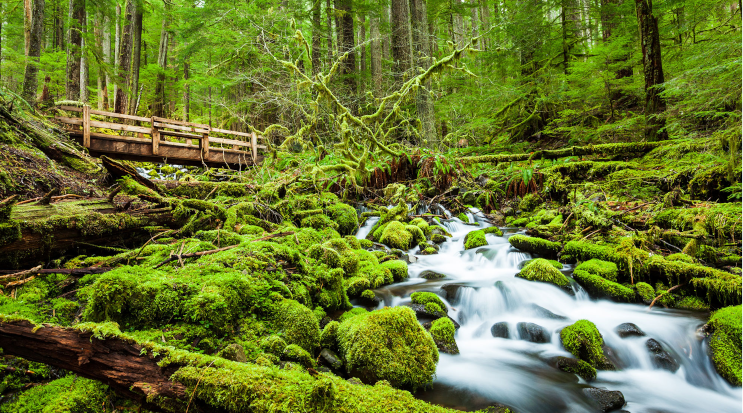 ---
Keep these national park facts in your back pocket and impress your companions during your adventures! Check out our collection of accommodations near National Parks and enjoy an unforgettable experience in the sublime beauty of nature!