Editor's note: Each month, we like to introduce one of our wonderful Glamping Hub hosts and ask what inspired them to create a glamping site. This month, we're showcasing Glamping Hub's Host of the Month for December 2021, Tom and Janice.
This hosting couple swapped their corporate city life, for a beautiful farm in the North Carolina mountains and started their glamping host journey. After Janice was diagnosed with cancer they uncovered a new way to live and they made it their priority to create a place where guests can disappear, focus on their mental and physical health, as well as their personal relationships. Now, guests can explore the Uwharrie River near Asheboro, visit North Carolina, and stay at a cozy cabin overlooking the North Carolina mountains.
Tell us a bit about yourself…
Tom and I were big-city corporate job people that moved to rural North Carolina and bought a 110-acre farm. Tom is a part-time attorney that specializes in golf and resort issues, as well as a part-time farmer and healthy food systems advocate. He has been involved with food systems at policy level issues for over 13 years. I sold technology to fortune 500 tax departments, but about 17 years ago I was diagnosed with cancer. It sent me on a journey of discovery of what restores and maintains health.
Our hopes and dreams for your guests and ourselves: we dream of one day having access to a healthy food supply system and living environments that support abundant health for all. That we experience the joys of everyday living and the creations of the day, moment by moment. That we have peace and vibrant health in body, mind, and spirit and can energetically offer what we have to the world.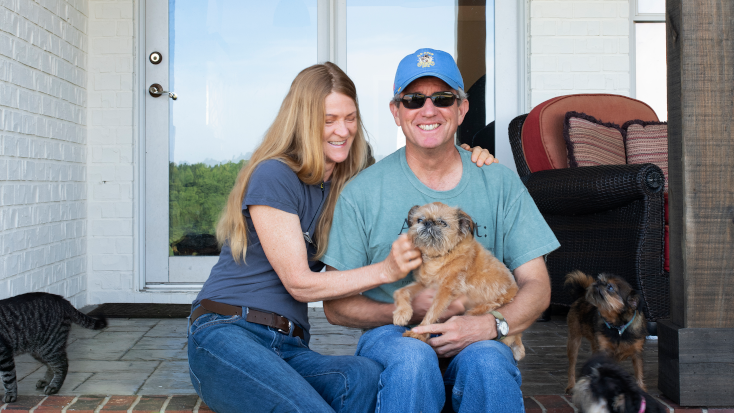 What attracted you to owning a glamping property?
We have an amazing beautiful cabin on a river and we liked the idea of sharing it. Our vision was to provide a place where people could relax and rejuvenate. We felt like people could visit and get back to whatever they needed; peace, relaxation, and re-connection. Our real mission is to reconnect people with the earth and soul, and our property just happens to be an ideal offering of this. Without overtly stating this to our guests most of our feedback includes something along these lines.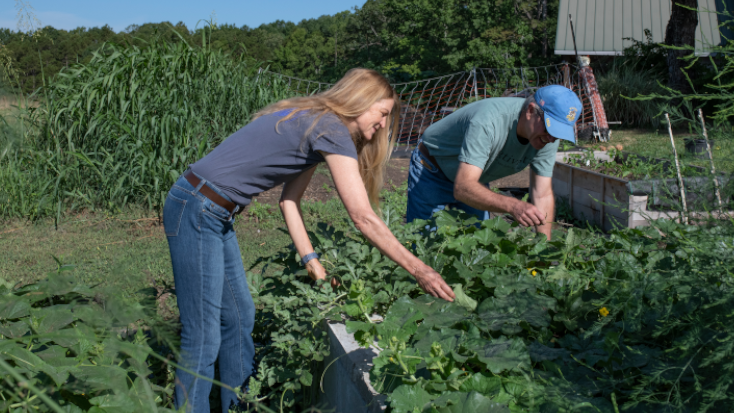 Every glamping site has a special story, could you tell us about yours?
The farm came to be through the serendipitous union of a search for how to feel physically great and how to impact the earth in a positive direction. In 2013, we left the big city of Dallas and started the farm with a vision of regenerating the health of the land through animal impact and creating a place where people can come to rest, heal, or just get away from the hustle and bustle of everyday life.
We purchased this property in the beautiful Piedmont area of North Carolina which happened to have a gorgeous cabin on the river. It is hard to describe, you really have to experience it, but the cabin has sort of a magical quality that draws really interesting people and opportunities. So we just decided to see what would happen if we short term rented it out. We couldn't be happier that we did! We have met the most amazing and interesting people and have had great experiences because of it.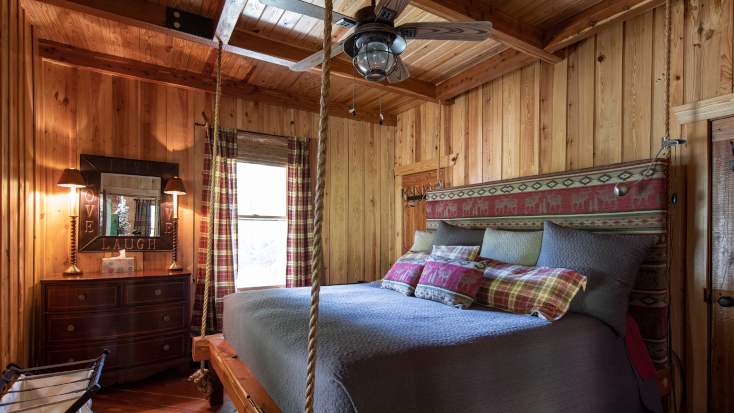 Can you tell us about your most memorable guest experience to date?
Gosh, there are so many it is hard to narrow it down so I'll just narrow it down to two that come to mind. Sorry…you can pick one of them if you like.
One February we had three girls and two guys stay at the cabin. The girls ran in the 40 miles annual Uwharrie Mountain Run. The two guys were their sherpa. They wrote in our guest book that the thought of going back to the cabin was what got them through the first 26 miles. Who knows what got them through the rest! I will always remember that.
The other was a family that had suffered several traumatic life changes like a death in the family, a heart attack, and life-threatening illnesses. After their stay, the daughter mailed me a heartwarming letter that said their cabin stay helped the family to heal and have optimism about moving forward in life. They have been our most regular guests ever since. I really could not ask for more.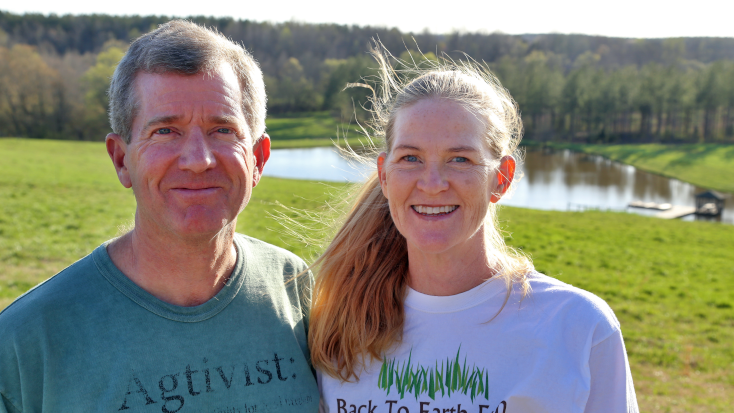 If you could have anybody stay at your accommodation, who would it be and why?
Anyone interested in regenerative farming or healing land, and anyone who just needs to get away, rest, relax, and rejuvenate. or reconnect with family and friends. I think this is what the cabin, and our property offer.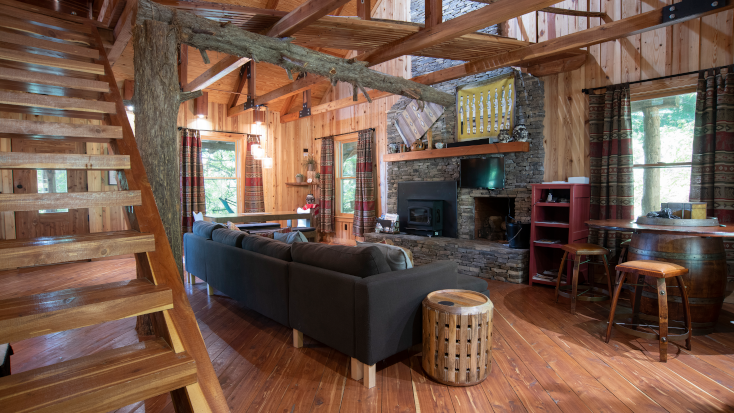 What are some of the challenges you face and what have you learned since opening?
It was a bit challenging getting a check-in and check-out procedure in place that made it easy for the guests and also ourselves, but I think we have a pretty good one developed. I wasn't sure about pricing and minimum stays and whatnot. Probably still not sure but just do the best I can. I cleaned the cabin myself until recently. It is life-changing to have a cleaning crew do the work. It frees me up to move forward on the unlimited farm projects I have.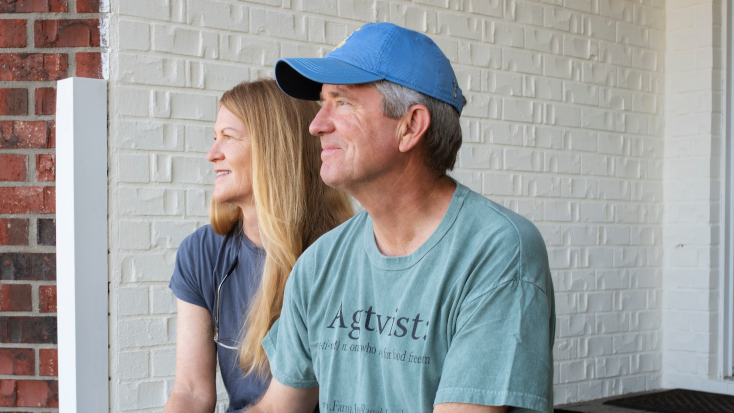 How was your first time hosting?
I barely got the cabin ready in time for our first visitors. I was redoing the counters in the kitchen and adding some cabinetry. I barely got everything in and cleaned before they arrived. I was really nervous about the feedback but they loved it and seemed completely unaware of my personal chaos before they arrived. It got easier once I got everything in place and a routine going.
What do you love the most about running a glamping site?
What I definitely love most about running a glamping site is meeting all the varied fantastic people that rent from us. Also, all the different reasons they visit are fascinating. During the pandemic, it is very satisfying to offer a safe space where people can just get away, feel safe, and enjoy themselves.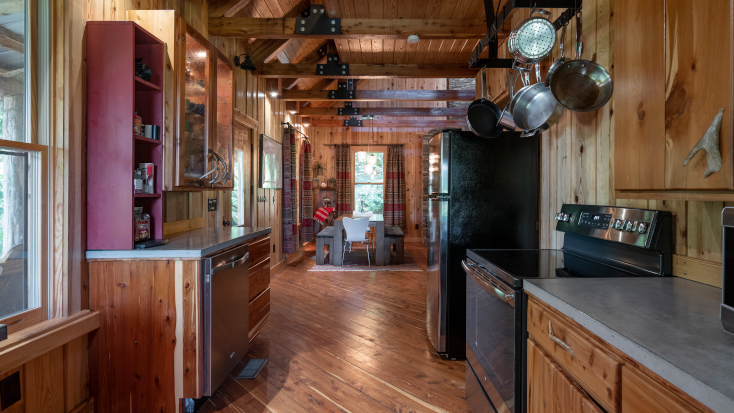 Where is your ideal holiday destination? Other than your glamping property of course!
Maui, Hawaii is my ideal holiday destination or anytime destination for that matter. Just put me near the beach, let me hang out with laid-back locals and I am in heaven.
What advice would you give to anyone looking to start or improve their own glamping business?
I think my best advice would be that it takes a bit of time to build momentum. It may start out kind of slow but if you keep consistently offering a unique comfortable space, the momentum will build year after year until you are turning people away and keeping a waitlist.
Also, I had no idea if or who would come to our out-of-the-way spot, but don't worry about that. People just need to get away from their stuff. So as long as you have a unique offering, you honestly describe, and set the right expectation, they will come. I like to exceed their expectations so my most common feedback is that the cabin is even nicer than the photos.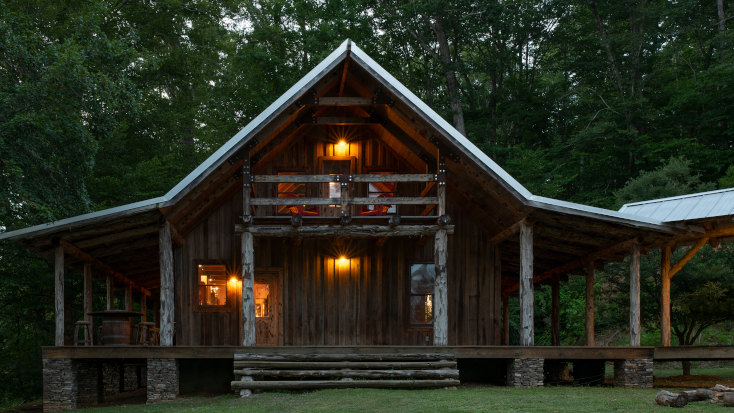 Our community of hosts means everything to us here at Glamping Hub, which is why we love to share their stories in our Host of the Month feature. If you're looking for a North Carolina vacation where you can escape the real world, book Tom and Janice's peaceful cabin for an unforgettable Asheboro getaway.
Have you stayed with one of our incredible hosts recently and would like to nominate them for Glamping Hub's Host of the Month? Send us a message via Facebook or Instagram explaining who you've chosen and why!