What can we say about this state that hasn't already been said? It's a smorgasbord of many different natural delights, with the Sierra Nevada mountains to the east, with Lake Tahoe sitting in its foothills, in addition to the forests that populate the area and sweep up through to the cooler climates of the north. Beyond all of these things, however, are some truly incredible vacations by the sea. The best beaches in California are world-renowned and truly varied in many different and distinct ways to make it one of the spots for enjoying the best West Coast vacations. We've got a list of some of our top picks for amazing beaches to visit during your time here in this great state!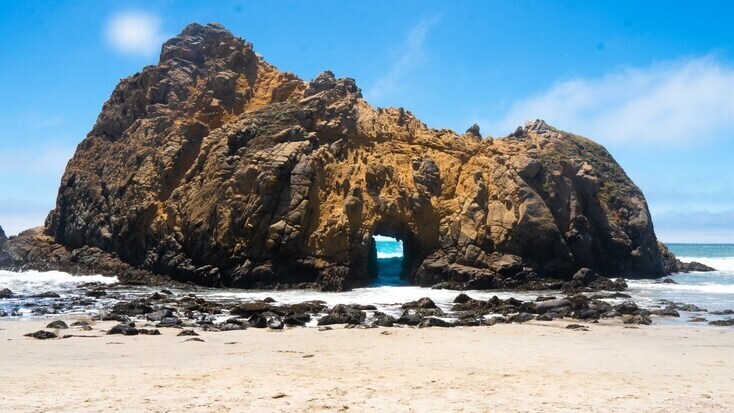 Pfeiffer Beach and one of the best California attractions on the West Coast for CA glamping
Pfeiffer Beach is our first pick, with a large rock formation sitting out amongst the waves with a small door in the center that reveals that sea that sits beyond. It's fantastic for a walk alongside the coast to see the many different rocky coastal features up and down the area, which make it quite dangerous to come along and swim in, so be careful and check for information and advice prior to your journey to make sure that you enjoy your time here at one of the best California attractions on the West Coast. It's also slightly less accessible than many other beaches in the state, but this does come with the converse effect of being less busy in addition to being one of the best places to visit in Big Sur and one of the best beaches in California. Getaways here are bound to be memorable.
Now for something many people probably expected from a list like this –Venice Beach is probably one of the most famous California seaside spots because of its association with many famous movies and iconic boardwalks. Of course, it's not all just for show, there's a reason it has become so popular and that is for the large amount of space for visitors to enjoy. Many sports are played here also, from handball to skateboard and another fantastic feature is the canals that run through the surrounding area, so check it all out and make your mind up on whether it's worth the hype to make the visit to one of the most popular places to vacation in Southern California.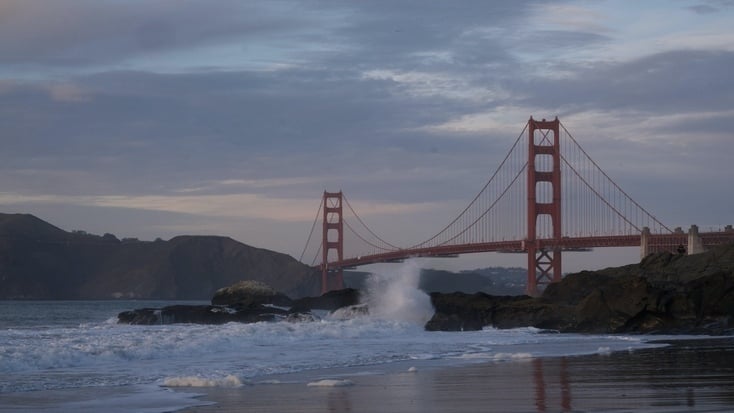 CA beach camping is right here at Baker Beach and with other places to visit in Northern California
As we move through the many considerations available, we arrive at one of the most stunning places to visit in Northern California at Baker Beach. With views of the Golden Gate Bridge here near San Francisco, it's a truly iconic site to visit if you want to enjoy CA beach camping with a truly incredible sight in the distance. This is, however, one of the most understandably popular areas, so make sure that you plan ahead and avoid the busy periods. Another consideration is also that the northern part of the beach is clothing optional, so be sure to steer clear if that's not your thing or if you have kids. So make a visit to the Bay Area next time you're wondering what the best California coastal getaways are.
Carmel Beach is another one of the best NorCal destinations worth consideration when you're thinking about which particular coastal getaway to choose. There are many miles of white sand to enjoy during your journey here, meaning those of you who are averse to busy beaches will rejoice. Accessible from the town of Carmel-by-the-Sea, it's a great place to start your journey and you can choose to make your way to whichever parts of the beach you'd prefer from here. The views of the surrounding coves, lined with deep green trees and overlooked by the distant mountains are something quite spectacular and a true contender for one of the best beaches in California.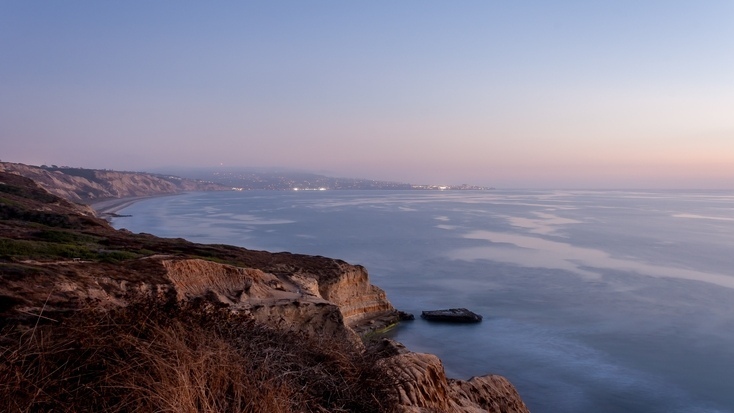 More California seaside getaways close to the best things to do near San Diego at Torrey Pines State Beach
For our final recommendation, we would like to point you to Torrey Pines State Beach, it's a great place to enjoy the best things to do near San Diego· Here you can enjoy some of the best surfing in California when you make the journey here, so grab your surfboard and come on down. Due to the wetlands here, it's also a great candidate for birdwatching as you can see the aerial predators hunting around for their next meal amongst the boggy sand. The surrounding area is also very pleasant to the eye, with golden cliffs sitting at the base of one of the best beaches in California. So take your pick of the best options and enjoy your time here during your next getaway!
Choose your own CA beaches to visit from this helpful website here if you're curious to find out more!