Somerset, England, is famous for its rolling hills, sleepy towns and villages, and some great cider. But every June, thousands of people make their way to the quiet county for a wholly different reason. Since 1970, Glastonbury Music Festival has been a mecca for music and contemporary art fans across the world. With rock acts, such as T-Rex and Rage Against the Machine, Britpop favorites like Blur and Oasis, hip hop represented by the likes of Jay-Z, Divas in the form of Beyoncé, and country legends like Johnny Cash all gracing the world-renowned Pyramid Stage, the race is on to reserve a place at this iconic annual event the moment tickets are released.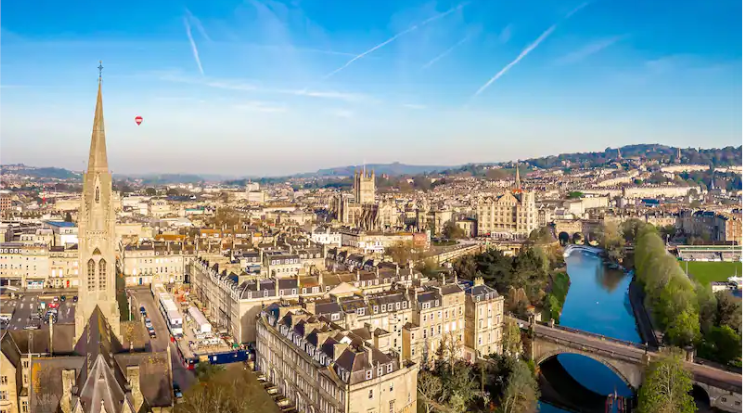 The 2019 festival is no exception to previous years, with a plethora of new and established artists getting ready to play in front of thousands of fans, hoping to make their way into the annals of Glastonbury folklore like so many before them. Bands, such as The Killers, The Cure, Liam Gallagher, Janet Jackson, and Wu-Tang Clan are just some of the many artists that fans can look forward to seeing this year.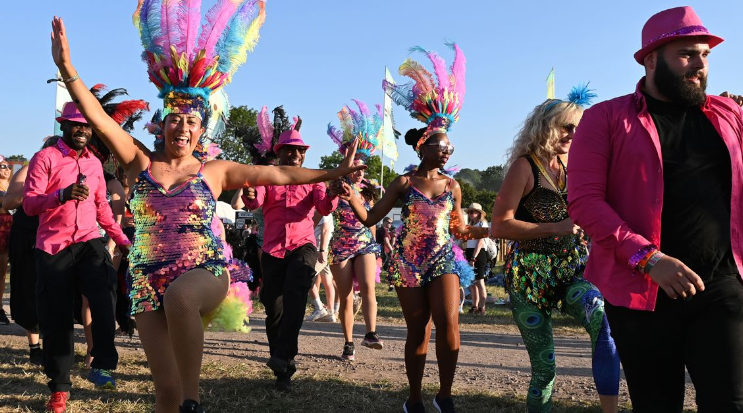 To make your festival going experience as fun and hassle-free as possible, we've created the ultimate glampers' guide for the Glastonbury Music Festival.
Location, location, location
Despite being named after the historic town of Glastonbury, the festival itself is not actually in the town. The festival is held on Michael Eavis' family-owned Worthy Farm, which lies on the edge of the idyllic village of Pilton. You might be thinking that the last thing a small village in the West Country would want is over 100,000 people descending upon them for the biggest party of the summer. However, the villagers are allotted a certain amount of free tickets each year, which I'm sure we all can agree is both right and proper!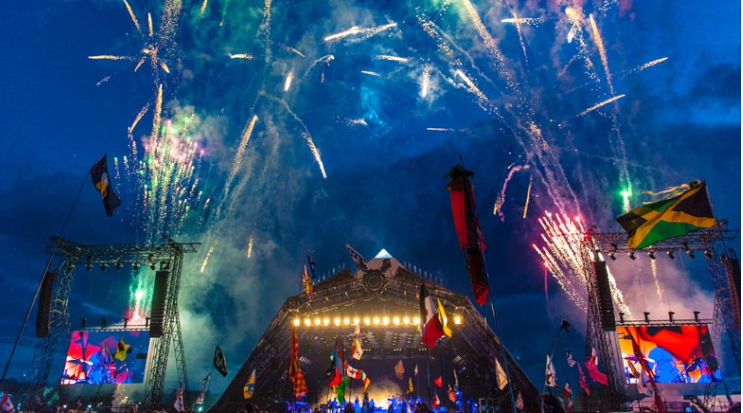 How to get there
With at least 135,000 people expected to make their way to Worthy Farm this summer, it is hardly surprising that getting there will prove to be an event in and of itself. The A303, the road connecting the West Country to the rest of Southern England, gets busy around Glastonbury and Pilton in the days leading up to the festival, so your best bet is to take the train to Castle Cary, the nearest station to both Pilton and the festival site. In fact, Castle Cary has become so synonymous with the festival that the station received an official dedication as "Castle Cary, Station of the Glastonbury Festival" in April of this year.
National Rail Enquiries has regular updates on departures and arrivals at all of the U.K.'s train stations, and for ease, there is a free app for your phone. Once you arrive at the station, there are shuttle buses to take festivalgoers to the site, which is about six miles from Castle Cary.
Food and drink
We're sure if you've ever been to a festival, you've had your fair share of overpriced, yet underwhelming, food. The last thing you want when you're in need of energy is bland and boring food, and thankfully, the stalls at Glastonbury this year promise to be anything but. Here are a few examples of food stalls that are sure to get your taste buds zinging before you head to the main stage and your ears start ringing.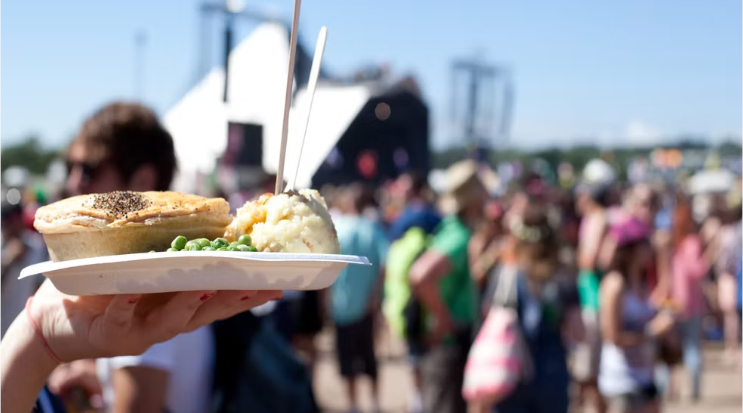 1. Paellaria
Founded by four friends over 10 years ago, Paellaria cooks up various types of paella with some delicious, bold flavors, bright colors, and pretty generous portions. This is sure to fill you up before you head out on your next festival adventure.
2. Anna Mae's
Based in London, the Anna Mae's stall serves up mac 'n' cheese, the perfect comfort food after a day on your feet. Expect a load of cheese and a range of tasty sauces.
3. Biff's Jack Shack
Biff's Jack Shack is the perfect place to indulge in some junk food with a twist. With an entirely vegan menu, everyone can enjoy their stunning burgers and range of vegan fried chicken dishes. Biff's Jack Shack is gaining popularity as they hone their craft, so don't be surprised to see them at several other festivals this year, too.
4. "Food For A Fiver"
There's no getting away from the fact that at festivals, we often pay a premium for food and drink. The organizers at Glastonbury have teamed up with various vendors to provide affordable food for festivalgoers on a budget. Participating stalls all carry the "Food For A Fiver" sticker, and you can look forward to drink deals, meal deals, and even smoothies, milkshakes, coffees, and cakes.
What to bring
There are certain items that we always need to pack when getting ready for a festival. Beyond the obvious items, such as a tent and a roll mat, thanks to British summers being somewhat unpredictable, there are obviously a few essentials that you'll need to remember so you're ready for all eventualities.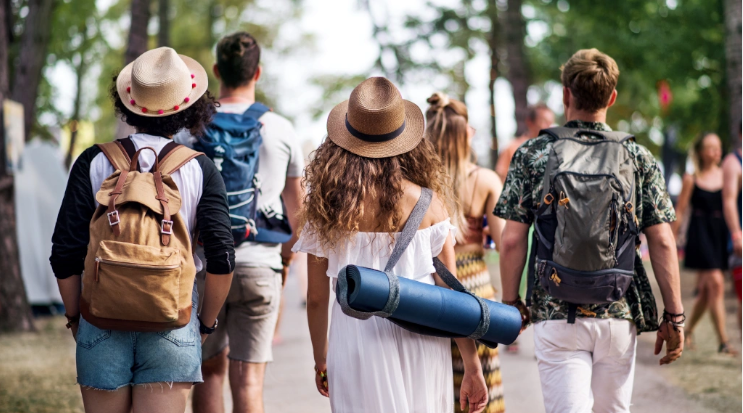 1. Wellies
All it takes is a couple of hours of rain, and the whole site can end up covered in wet mud. Wellies are a real must to keep your feet dry and your mood bright through any rainy weather. There's nothing worse than going for a three-day camping trip and having to endure soggy socks and damp trainers.
2. Portable phone charger
It happens to all of us. It's the final night of the festival, and half of the group want to see The Killers, but the rest of the group want to head to the other side of the site to watch The Chemical Brothers. Once the sets are done, you need to find the rest of the group so you can enjoy the rest of the festival together, but after a whole day, your phone will inevitably be running low. Thankfully, there are numerous portable phone chargers of varying sizes and prices to choose from, so you can rest assured that you'll be able to find the rest of your group when the time comes.
3. Reusable water bottle
After the festival has come to an end, and everyone has made their way home to hot showers and comfy beds, the work for the organizers is not yet over. The end of the festival means the start of the clean-up, and over the years, there has been an enormous amount of rubbish to be disposed of. After 1.3 million bottles of water were bought at the festival in 2017, the organizers decided to ban plastic water bottles, so you will need to bring your own. There are free water stations throughout the site, so you can fill them up while going from stage to stage.
---
If you enjoy festivals but want to avoid muddy campsites, check out some of our great festival glamping sites!