Most of us have heard of this new travel trend but, what is glamping? It is the ultimate outdoor experience, a happy marriage between luxury and nature, and the evolution of camping to a much more comfortable and glamorous version. That means that instead of a night on the ground in a sleeping bag, you can opt for unique accommodation, such as a yurt, a tree house, or a luxury tent.
Glamping is the combination of the words glamorous and camping, and although the term has only been around since 2007, it dates back to more than a thousand years.
Prehistory
The first piece of evidence that points to human activity in America is stone tools from 11,500 RCBP, which pertain to the Clovis culture of the Paleo-Indians. Later, around roughly 10,000 BCE, the first evidence of tipi dwellings, alternatively spelled as teepee, were discovered.
"Archaeologists have found indications that dwellings made from a series of wooden poles existed that long ago by carbon dating soil samples taken from what appears to be the remains of ancient campsites or villages," according to Teepee Joy. There is additional archaeological evidence from 7,500 BCE in the form of stone rings, as stones were used to hold down the exterior of the tipi.
While often attributed to all Native Americans in the U.S., tipis are, in fact, unique specifically to the indigenous people of the Great Plains and Canadian Prairies in North America, as stated in the National Museum of the American Indian's book, "Do All Indians Live in Tipis?". The structure of a tipi was convenient for ease of disassembly, particularly when tracking game, and highly compatible with a nomadic lifestyle.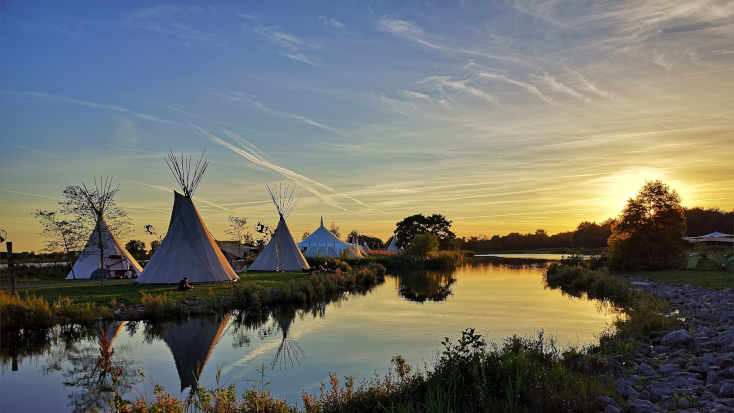 6th century
The yurt—which nowadays is a popular and well-known type of glamping—was also favored by nomadic cultures, because yurts are notoriously easy to take apart in one place and put back together in another, as well as they can easily withstand inclement weather.
It is said that the first yurts were created by the Buryat Mongolian community of Siberia, dating back to roughly 600 BCE—thanks to the discovery of a bronze bowl from the period that was discovered in Iran. There are two main types of yurts—the ger and the bentwood—the former of which was the style developed and used by Mongolian tribes.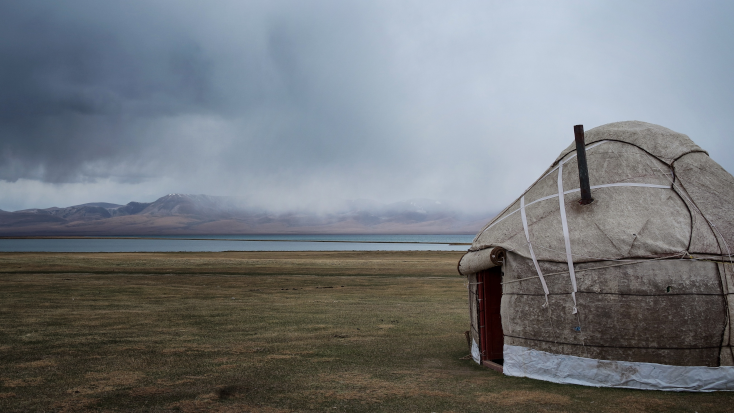 13th century
Genghis Khan, the founder of the Mongol Empire, ruled from a sizable ger, but since the empire was so geographically extensive, it's said that his ger was never fully broken down, but instead simply put on a wheeled cart and towed by oxen from one location to the next.
The spread of the Mongol Empire lead the popularity of the yurt to spread with it, and thus, people in Eastern Europe, in countries like Turkey, Hungary, and Romania, started to use yurts, too. According to National Geographic, "Yurts remained very common in Turkey until the 1960s and 1970s, and they are still found in rural areas of Hungary."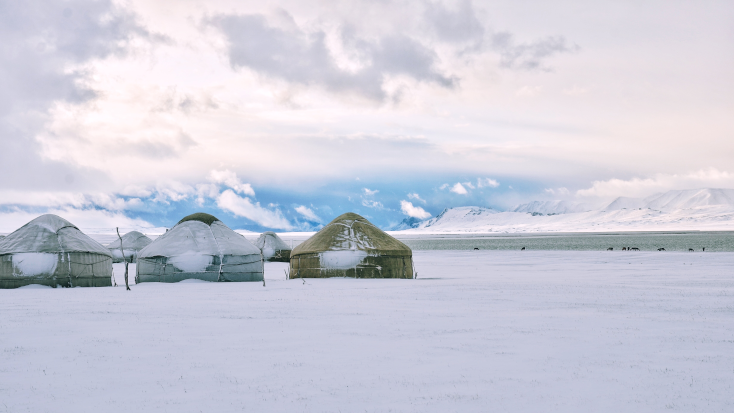 16th and 17th century
Scotland
In Scotland, John Stewart, 3rd Earl of Atholl, put together what could be called the first luxury camping site in the U.K. for King James V and his mother in the Scottish Highlands—filling the tents' interiors with luxurious furnishings and adornments from his own palace.

France
From June 7 to 24, 1520, a diplomatic summit called the Field of the Cloth of Gold was held in Balinghem, France—a tournament to help forge a friendship between King Henry VIII of England and King Francis I of France after the Anglo-French treaty of 1514. Here, roughly 2,800 tents and marquees were set-up, surrounded by fountains from which red wine flowed.
Turkey
The Turkish Ottomans were also known for setting up lavish tents for a number of different types of events, including "military campaigns, ceremonies and celebrations, and country excursions by the sultans and their subjects," according to TurkishCulture.org.
When on campaign, the imperial tents for the sultan were particularly lavish and essentially mobile palaces. There were two of them so that while the sultan was in one, they could pitch the other in his next destination to have it ready for the sultan's arrival. French archaeologist, Antoine Galland, even wrote in the late 17th century that the sultan's tents were so large that they were carried on six hundred camels.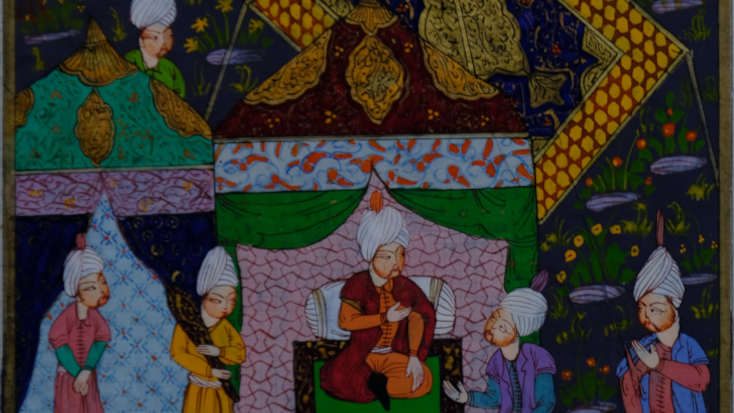 Professor Nurhan Atasoy describes the Ottoman tents in the following manner:
"The exquisite ornamentation both inside and out of the tents used by the Ottoman sultans made them imposing dwellings fit for a ruler. On ceremonial occasions, tents served to create a splendid theatrical setting, as we see vividly portrayed in miniature paintings depicting banquets, audiences, and celebrations, which took place in the imperial tent complex over the centuries. The imperial tents were richly decorated as if they were pavilions and often had designs resembling tiled panels, usually in floral patterns, either in appliés work, using cloth of different colours, or embroidered in various stitches using silk and metal thread."
20th century
Fast forward to the early 20th century when going on an African safari became the popular adventure of choice for wealthy American and British travelers. Often, these trips were made for society's upper crust to try their hand at shooting game, largely the "Big 5," i.e., lions, leopards, rhinoceroses, elephants, and Cape buffaloes.
Despite their desire to get down and dirty and go hunting, these travelers were not willing to sacrifice the comforts of home for the thrill of the hunt—which meant the safari tents they stayed in were well-equipped with the luxuries they were accustomed to, including everything "from electric generators, to folding baths, and cases of champagne," according to "Safari: A Chronicle of Adventure" by Bartle Bull.

21st century
The U.K. Glamping Association attributes the rise of glamping in the late 1990s all the way back to the international financial crisis that hindered foreign travel and caused the staycation trend to start. Add to that when, in 1997, the right to tow a caravan was removed from the U.K. driving license, and people had to start looking for a new, yet affordable, type of way to go on holiday. With little camping experience and lots of hotel experience, people incidentally invented a new way of traveling—glamping.
Flash forward to 2007, when, according to Google Trends, people began searching for the word "glamping," with most of these searches coming from Ireland and the U.K. By 2010, glamping began to take off; by 2013, it had seen a major rise in popularity in the U.K.; by 2014, it started to make a name for itself in the U.S.; and by 2016, "glamping" was officially added to the dictionary.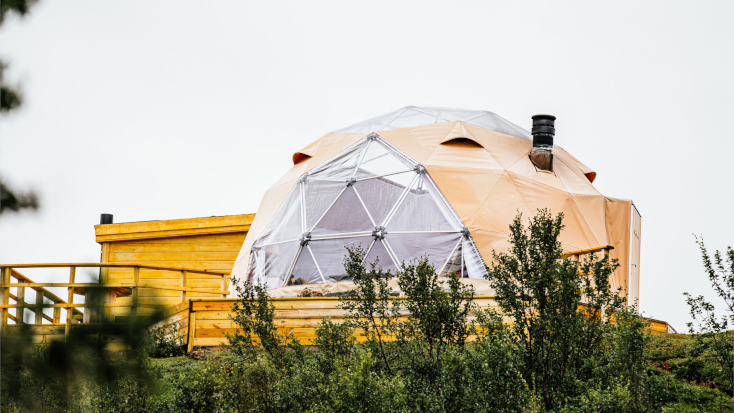 Today, glamping is more popular than ever and on a global scale. Glamping Hub alone has grown from having 5,000 accommodations on the website in 2016 to over 34,000 glamping rentals at present in 2019—ranging from tree houses, tipis, and yurts to domes, cabins, cottages, and more.
There are now major glamping markets across the world, including in the U.S. (with the largest in California, Texas, New York, Colorado, and Washington), Canada, Australia, and New Zealand, in addition to the aforementioned U.K. While there is still plenty of room to grow across the board, the presence of glamping sites is recognized, albeit not yet on the same level, in Europe, Asia, other parts of North America (Mexico), Central America, and South America.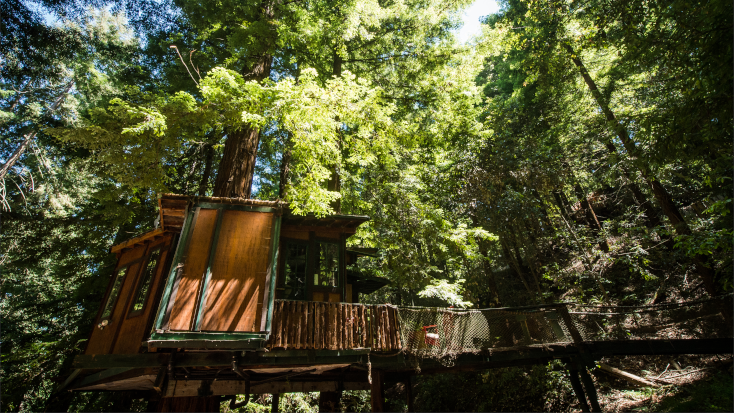 And who's typically going glamping? Ruben Martinez, Co-Founder of Glamping Hub, said, "Baby boomers and millennials are looking for a change in the way they typically travel, and glamping fits well for both—baby boomers, because they have a disposable income, are looking for comfort, and they've already done it all; millennials because they're always looking for unique experiences." Martinez went on to tell Forbes:
"We find a good number of people who are going glamping live in cities. They're looking to disconnect from day-to-day life but don't necessarily want to travel across the country or go to Europe. They want to be able to take weekend trips within driving distance. They want to be outdoors, but they don't want to rough it. Many Americans are very comfortable with the idea of camping, and glamping offers you everything you love about camping without everything you hate about it."
Further reinforcing the spike in popularity in the U.S. specifically is the start of the American Glamping Association in April 2018 and the Global Glamping Summit event series, the second of which just happened in November 2018 in California.
---
Want to see what types of glamping are available for you to plan the trip of a lifetime this year? Click here to explore your options!