Just as we all look forward to flowers blooming in spring, barbecues in summer, and a white Christmas in winter (at least in the Northern Hemisphere!), there are certain things about autumn that we wouldn't swap for all the beach vacations in California. It's the time of the year when we can break out our cozy sweaters, sip on hot, pumpkin spice coffee, warm up to the crackle of a roaring fire, and, of course, admire the breathtaking sights of fall foliage blanketing the landscape in the best fall glamping destinations in the U.S… 
Despite the seasonal highlights, why not make it different this year? Experience autumn in all its glory with a trip to our top five fall glamping destinations in 2022!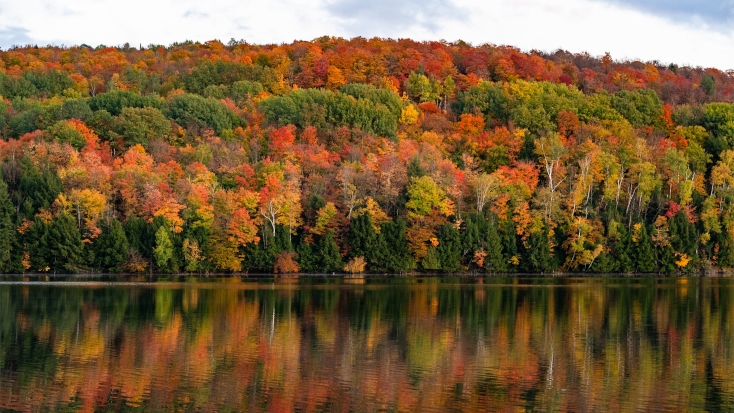 Visit Georgia in 2022 and experience one of the very best fall glamping destinations in the U.S. with friends and family in tow 
With an array of stunning state and National Parks throughout, fall vacation rentals in Georgia have to be one of the finest ways in the world to enjoy leaf-peeping.
Head to Amicalola Falls State Park and marvel at the sublime views from the top of the southeast's tallest cascading waterfall or hike along the rim to several outlooks at Tallulah Gorge State Park for epic canyon vistas.
For a taste of Southern living, sip on a Georgia sweet tea from the deck of a luxury cabin and unwind in style in one of the best and traditionally epic fall glamping destinations in the U.S. Mix things up with a stay in an unusual lakeside treehouse in Jackson.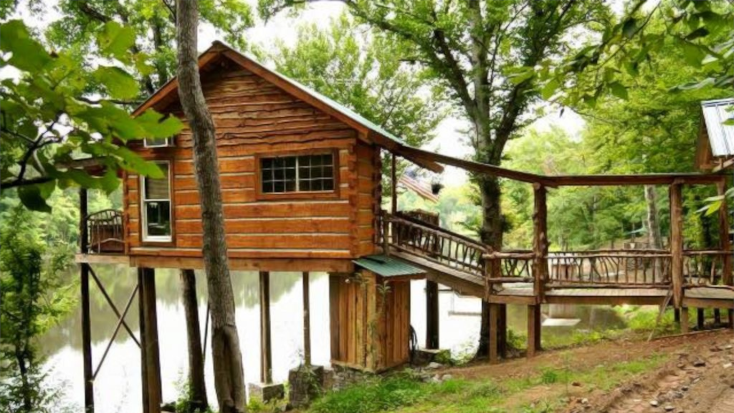 Prepare for Upstate New York getaways and foliage views and stunning scenery in 2022
Although hiking throughout the Adirondacks glamping or the Catskills is the obvious choice for admiring the fall foliage, those yearning for an adventure can explore the landscape by kayaking along the Hudson River or on Lake Champlain during your next Upstate New York getaways and witness the oil painting-like reflections colorfully shimmering on the water. Glamping Upstate New York is an idyllic plan for a fall vacation. 
A zip-line tour on Hunter Mountain in the Catskills makes for an exhilarating experience through its fiery hue canopies. Keep your vacation unique with these exceptional Adirondacks lakeside rentals, cabins in the woods, and accommodations in Upstate New York. You can also enjoy glamping, at Lake George if you are more into water activities.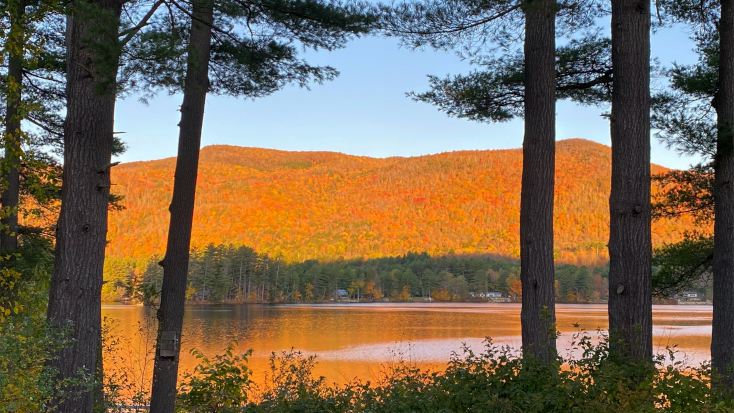 Find romantic glamping retreats in Virginia: fall vacations for the best possible couples' getaways in 2022
For the ultimate sense of escape, hit the open road in crisp morning air with the rumble and smell of American muscle and take in the extraordinary foliage views from the spectacular Blue Ridge Parkway during your next Virginia fall getaways.
This All-American Road links Shenandoah National Park to Great Smoky Mountains National Park, with plenty of opportunities to stop and visit old Appalachian farm buildings, a plethora of scenic hiking trails, and perfect spots to relax with a picnic. 
It's also one of our picks for the best destinations for couples' getaways in 2022 and exactly where you should be looking for fall vacations that will stay with you forever! Try this show-stopping cozy yurt close to Shenandoah National Park for your next romantic fall escape!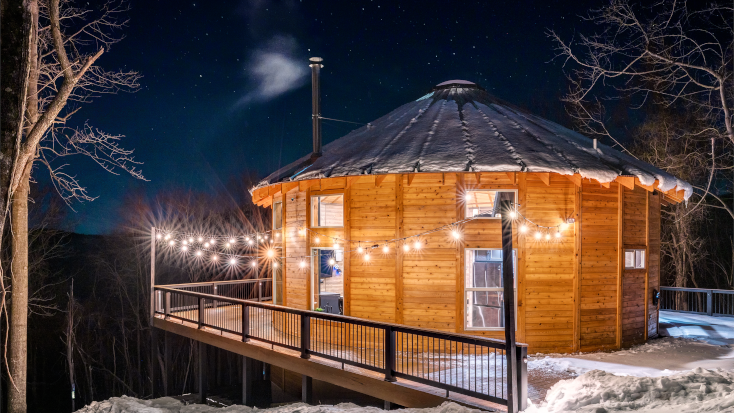 Go glamping in Montana in 2022 and enjoy one of the best places to go camping in autumn 
The American west is encapsulated in Montana, with its vast wilderness, rustic ranch life, and rich Native American history.
What better way to explore Montana in the fall than with unique glamping getaways near Big Sky? Discover the unrivaled beauty of Glacier National Park on horseback before riding through the Rocky Mountains on your chrome horse along the outrageous Going-to-the-Sun Road.
End the day in true cowboy style with a stay in a traditional cabin in Montana with superb mountain views like the one below! This really is one of the best places to go camping in autumn 2022 and with views like that, it's easy to see why!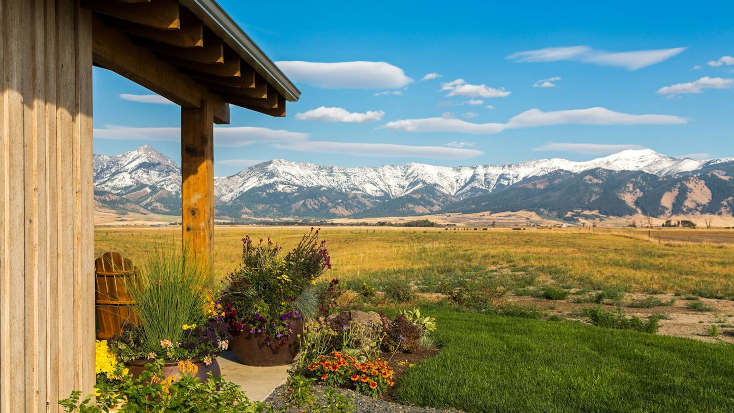 Massachusetts rounds up our list with a reputation as one of the most romantic places for camping this fall in 2022
Massachusetts is, without a doubt, one of the most iconic places in North America for fall foliage, making it a dreamy destination and one of the most romantic places for camping this fall of 2022.
Replace the bustle of the city with the rustle of fallen leaves in The Berkshires, or disconnect with Martha's Vineyard vacations and explore the trails of Manuel F. Correllus State Forest before enjoying an exquisite seafood dinner.
For a slice of Americana, savor a piece of Boston cream pie and a hot cup of Joe while relaxing at a lakefront cottage in Cape Cod.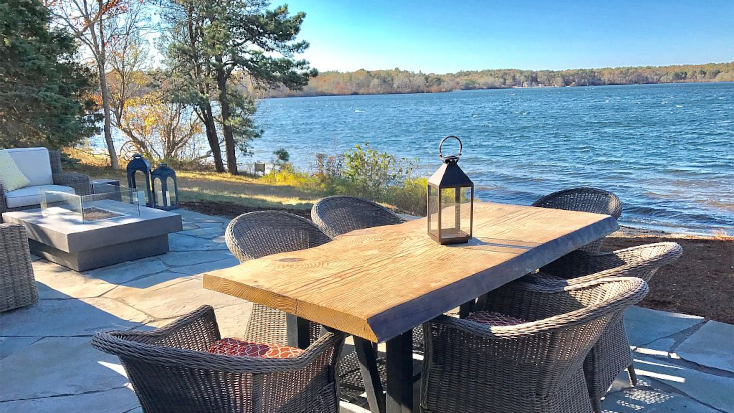 ---
Go glamping this fall! Check out more incredible fall getaways, and our top accommodations in Vermont and North Carolina! Want to see spectacular fall foliage in New England?
If you're on the hunt for a cozy cabin, these will fulfill all your fall needs. Heading to Canada? Try these great pet-friendly glamping destinations! 
Tell us about your favorite glamping spots in Canada! Send us a message via Facebook or Instagram explaining who you've chosen and why!