Editor's note: Each month, we like to introduce one of our wonderful Glamping Hub hosts and ask what inspired them to create a glamping site. It's the start of a new year and we have a fresh new host story for you! For our first Host of the Month for January 2022, we're showcasing Graham and Karen with their incredible eco-friendly glamping farm stay in Red Rock, Texas.
Graham and Karen believe in putting back more into the natural world than we take from it. Their unique glamping site and farm incorporate their community, a respect for its wildlife, and their passion for creating safe spaces for their guests to reconnect with the beautiful world around them.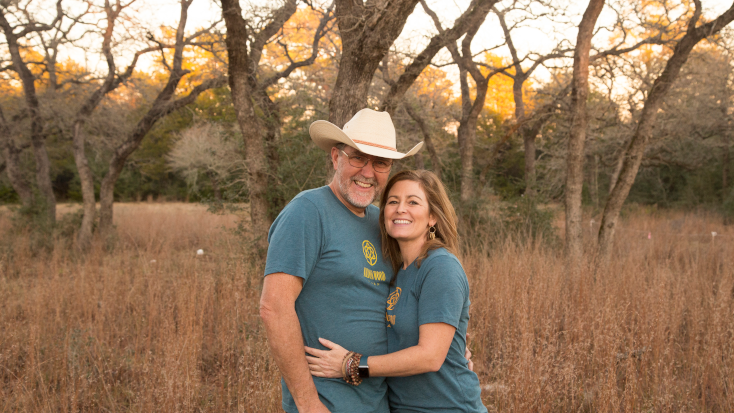 Tell us a bit about yourself…
We're Graham and Karen. We have a deep belief in putting back more than we take, ensuring the survival of all species, including caring for our farm's livestock, natural fauna and flora, and of course, our guests.
Graham is a PHI Air medical worker and a first-generation Irish American with huge admiration for the natural world. He holds the highest safety record of any air medical rescue operator and focuses on delivering the best medical care possible. Outside of his work, he is an avid beekeeper, a hunter, a fisherman, and a woodworker (really, all things construction crafty).
He spent decades in volunteer service leading the non-profit, Medical Relief Foundation, with projects administered across the globe from Vladivostok to Nicaragua. Ten years on the Foundation for African Medicine and Education board, and a founding member in Karatu, Tanzania.
Karen is Michigan-born and now happily living in Texas with her three daughters. She has always had a huge interest in nature, is an ambassador for the Living Building Challenge, and is currently pursuing an EXA master's degree in Coaching and Consulting.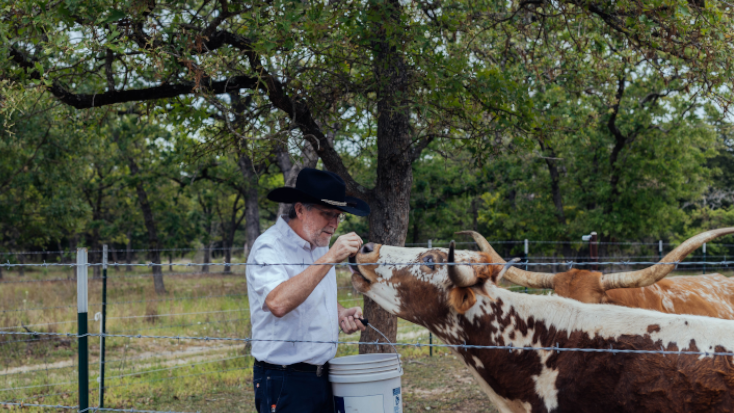 What attracted you to owning a glamping property?
We truly believe in the responsibility to take care of one small, beautiful patch of the world, to the best of our ability. It's our pleasure to have revitalizing conversations with our guests and create opportunities that grow a world that works for all. It's all about taking the time to disconnect so that we can reconnect!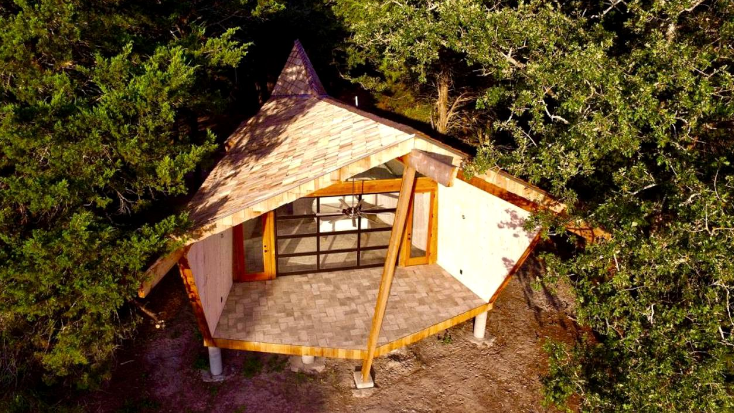 Every glamping site has a special story, could you tell us about yours?
The only thing we love more than the land itself is sharing the land with others. Since purchasing the farm in 2015 we have been working to create an oasis for wildlife while raising our beautiful Nigerian Dwarf dairy goats and working in partnership with the National Resource Conservation Service (NRCS). We are helping to transform and protect the land to encourage natural and healthy ecosystems.
As soon as you arrive at our farm, you'll know you're in a place where you can re-connect with nature, friends, family, and the best of yourself.
Can you tell us about your most memorable guest experience to date?
Recently for a short spring getaway, a mother came alone with her two young children; the dad was left home working. It was wonderful to watch this little boy enjoying his time at our site, we called him "the chicken whisperer" because he could simply pick up any chicken as he wished, which completely astounded us! The brother-sister duo was so passionate about the farm, their mother agreed to go home with two of our spring "kids" (Nigerian Dwarf dairy goats)!
The entire family has recently been back for a visit, along with their two new goats, and the children are now working on convincing their mom and dad to get on our breeding list for mille fleur d'uccle fancy chickens! It's always a joy to spend time with families and witness their engagement with the wonders of nature.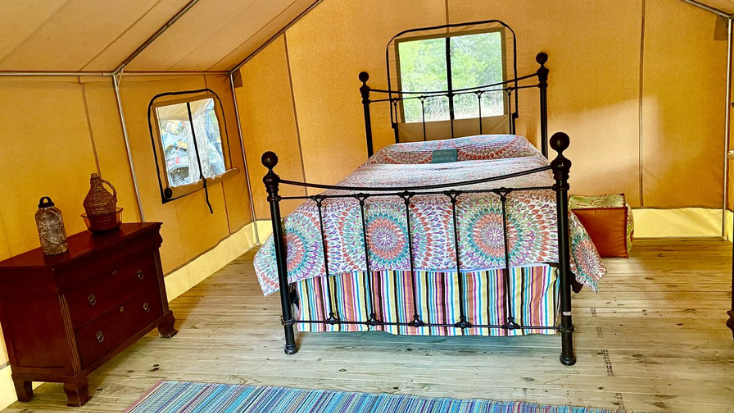 If you could have anybody stay at your accommodation, who would it be and why?
Clint Eastwood. Because he's definitely got to be one of the coolest men on the planet.
What are some of the challenges you face and what have you learned since opening?
People not reading and following farm guidelines. We've learned by adding lots of signs to prevent livestock release and to prevent guests from building fires in the wrong places.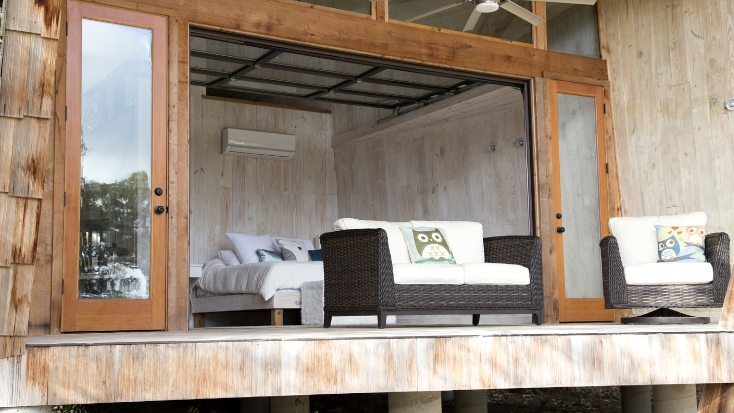 How was your first time hosting?
Fabulous! Quite a surprise it was so easy to navigate.
What do you love the most about running a glamping site?
Sharing our farm with those that don't have the privilege of owning land themselves. Seeing the expression of sheer wonder on the faces of children when they interact with the land and the animals.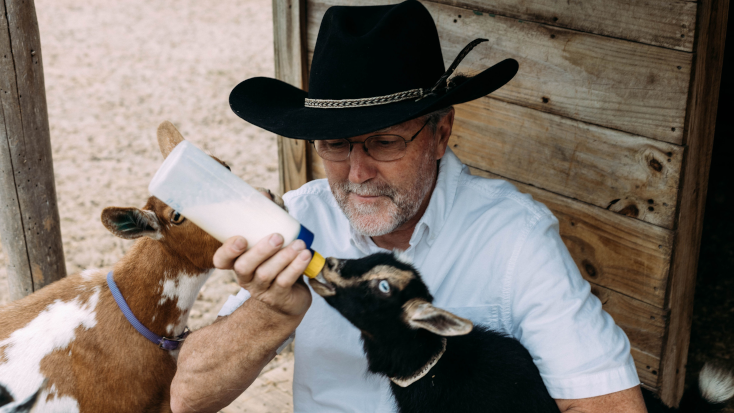 Where is your ideal holiday destination? Other than your glamping property of course!
Somewhere deep in the wilderness with no cell service, incredible scenery, and good fishing.
What advice would you give to anyone looking to start or improve their own glamping business?
Start small. Don't put too many sites to begin and have excellent signage.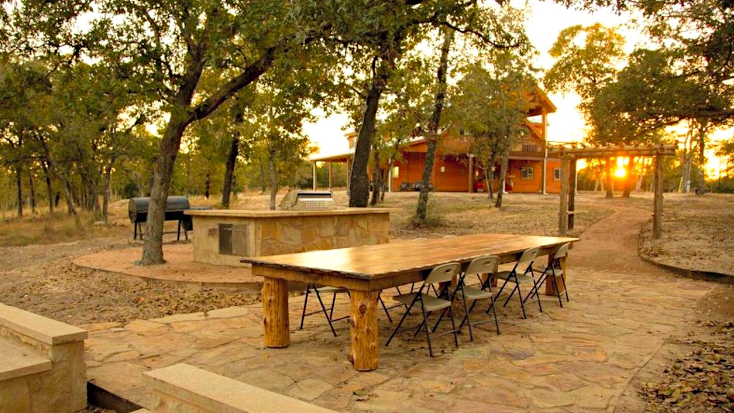 Our community of hosts means everything to us here at Glamping Hub, which is why we love to share their stories in our Host of the Month feature. If you're looking for a fantastic cottage or safari tent in Texas for an exciting weekend getaway from Austin. Stay in Red Rock, book one of Graham and Karen's great accommodations, and enjoy one of the best places to visit in Texas!
Have you stayed with one of our incredible hosts recently and would like to nominate them for Glamping Hub's Host of the Month? Send us a message via Facebook or Instagram explaining who you've chosen and why!