Editor's note: Each month, we like to introduce one of our wonderful Glamping Hub hosts and ask what inspired them to create a glamping site. This month, we're showcasing Glamping Hub's Host of the Month for September 2021, Sherry, and Houston. This hosting couple, who started with the idea of creating a unique outdoor wedding venue is now expanding their vision. They recently added two new beautiful safari tents near Dallas, perfect for glamping in Texas.
Tell us a bit about yourself…
During our 36 years of marriage, Houston fell in love with the creative community and developed a passion for sharing the artists' gifts with others. At the same time, I (Sherry) found my calling in hosting and fostering community around the table. The result is a joint desire to provide experiences that nourish the creativity of artists and enrich the lives of all who enter the gates at Purdon Groves. We do this through our farm, table, venue, and retreat.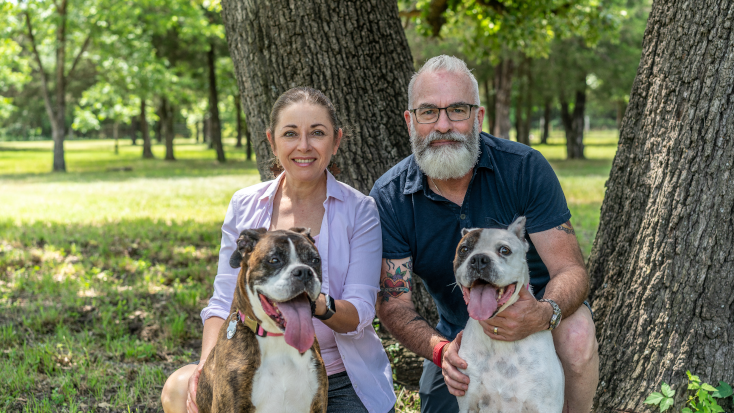 What attracted you to the idea of owning a glamping property?
Initially, we viewed this as a supplemental revenue opportunity while we developed our outdoor wedding venue. Now we feel like this is a component of our property and vision. Once we're hosting weddings, having the option for glamping will just add to the experience!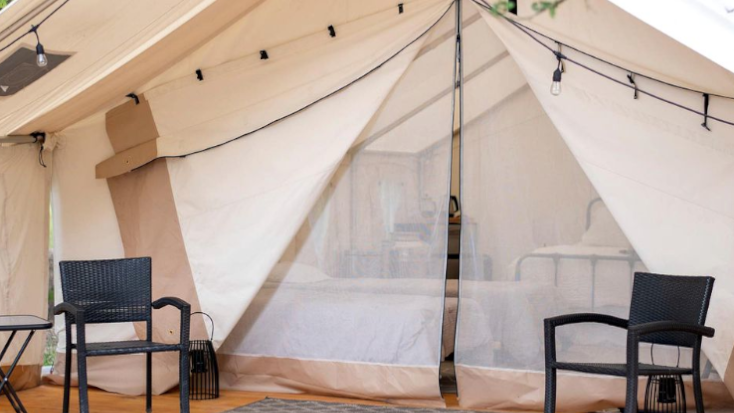 Every glamping site has a special story, could you tell us about yours?
It was Easter Sunday. Our realtor sent us specs on a piece of property, saying we could view it on our own if we wanted. We were both under the weather and almost didn't come. We figured that as difficult as it was to get out the door, maybe this acreage was something special. Little did we know. As we drove by cows grazing in fields of bluebonnets, and then under a canopy of trees the last couple of miles, we knew we had made the right decision.
Then we walked onto the property with Mr. Eads, who had spent 18 years of his retirement hand clearing the property, thoughtfully creating groves of manicured trees and spacious, open pastures. Our jaws literally dropped at the beauty. It had everything we were looking for. We put in an offer the next day! Four years later and we're continuing that labor of love at Purdon Groves by handcrafting experiences where guests are inspired to connect, retreat, celebrate and create.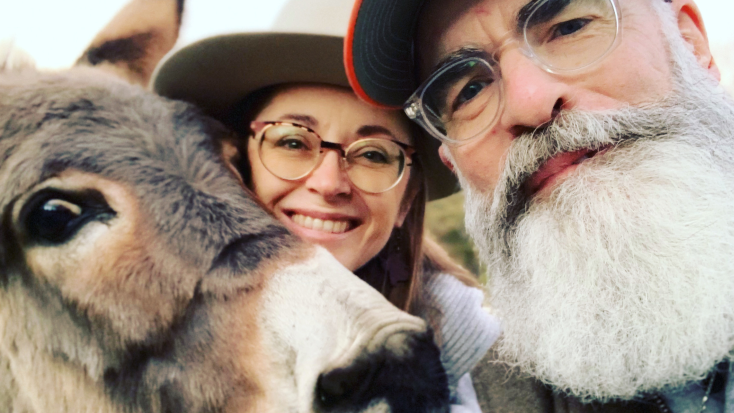 What do you love the most about running a glamping site?
The unique and inspiring people we get to meet.
We started with one bell tent. We outfitted it based on images of glamping tents online. Later we had some trusted friends come to stay and let us know what we could do to improve the experience.
One of them is a professional photographer, who supplied us with beautiful images of the tent and the Chef's Table Experience (an optional outdoor, catered meal) we included in their night's stay. Then we began advertising through social media and launched our website.
The Dallas Farmers Market coordinated a giveaway and others who were social media influencers told their followers about us. Partnering with these folks got us the exposure we needed. Through a couple of articles about our property (in local publications and in Texas Highways Magazine), the reviews of guests, and consistent marketing on social media and word of mouth, we've been able to have bookings most weekends and many weekdays.
We try to make sure every Retreat Experience (our unique version of Glamping) is something guests will always remember. We do this by greeting in person when possible, but always by communicating well throughout the process – before, during, and after. We also host Private Farm Tours which allow individuals, couples, friends, and families to have a true farm stay.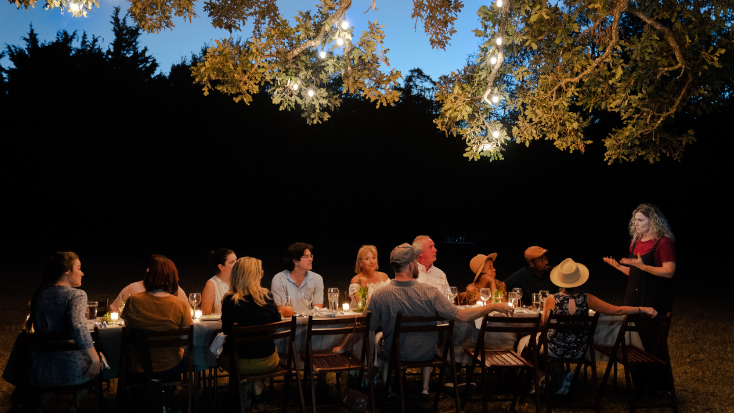 Can you tell us about your most memorable guest experience to date?
We love giving Private Farm Tours. Our favorite was when a group of moms brought their children on a glamping trip. The moms had come on a girls' weekend a few months earlier and wanted their kids to experience the farm. It was a joy to watch those seven kids carrying around chickens, petting piglets, and helping to plant our new fig trees.
What are the two biggest challenges you faced and how did you overcome them?
While our property was truly beautiful when we purchased it, we had to invest a substantial amount of money to access water and power and to construct a road. We had no idea how expensive it would be to do this. We can't say that we've completely overcome this challenge. We continue to have to pace ourselves financially as our business grows. In the past couple of years, though, we've discovered add ons that enhance the glamping experience for our guests and bring in additional income needed for farm projects and animal feed.
Another challenge for us has been having enough help to do routine chores and maintenance, as well as necessary projects. We have an artist's work exchange program, where artists may stay for free (when working on their craft), in exchange for working three hours per day on the farm.
We've also been fortunate to have athletes volunteer from the local junior college a few hours each week during the school year. This summer a couple of interns helped us with several projects and, more importantly, did the morning chores so we could sleep in! And whenever friends come to stay they insist on helping around the farm.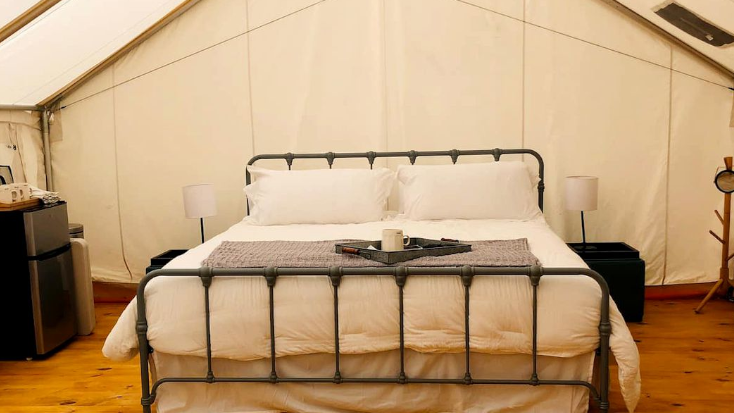 What is the most exciting part of growing your glamping business?
It's exciting when guests connect with our vision for the property and share it with their friends. We have gotten a lot of business through referrals.
If you could have anybody stay at your accommodation, who would it be and why?
Our entire family. With four children, their spouses, and two grandchildren, it's very difficult to get everyone together at the same time. Just having that family time on our property – a place we love – would be such a treat.
What does your dream glamping site look like?
We hope one day to have a treehouse (not attached to a tree, but on stilts, set up among tree branches). This was a dream the former owner had for the property, one we immediately connected with.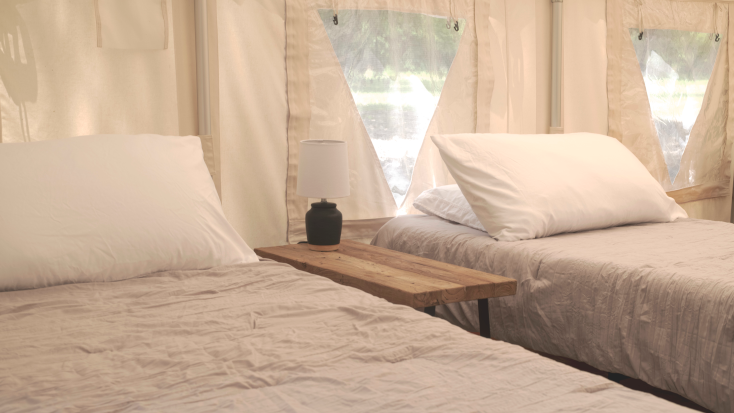 Can you describe what GH Structures has helped you achieve?
GH Structures has given us the opportunity to have additional tents, allowing our guests to bring family/friends on their glamping adventure. 
What advice would you give to anyone looking to start or improve their own glamping business?
Recognize that you can't do everything at once. Ask guests to give you constructive feedback – letting them know you always want to improve the experience for others.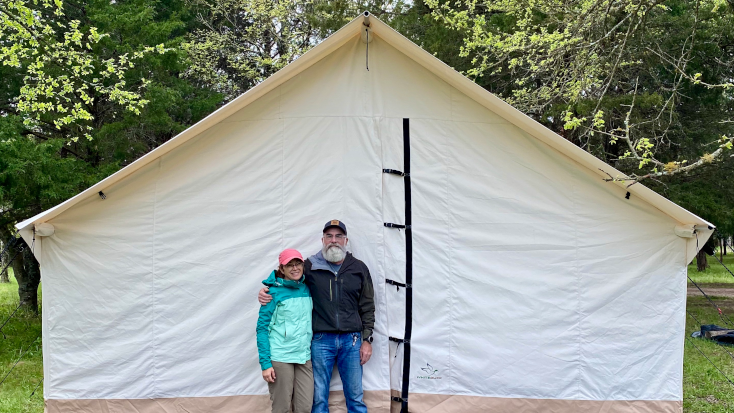 Our community of hosts means everything to us here at Glamping Hub, which is why we love to share their stories in our Host of the Month feature. If you're looking for an unforgettable farm stay in Texas, book one of these beautiful glamping tents near Dallas.
Have you stayed with one of our incredible hosts recently and would like to nominate them for Glamping Hub's Host of the Month? Send us a message via Facebook or Instagram explaining who you've chosen and why!