It's that time of year again when we're all completely stuffed from the holidays and looking forward to ringing in a healthier and more exciting New Year without a piece of pie in sight. We're all too familiar with the standard New Year's celebrations, so maybe it's time to spice it up a little. We're not talking mellow jalapeño here—oh no, we're thinking more habanero hot sauce smothered all over that NYE celebration platter. (Figuratively, of course.)
Keep reading to plan the best New Year's Eve 2022! Ideas for trips and vacations
These stunning glamping rentals in the U.S. bring the NYE pizzazz that you have been pining for and provide the perfect place to count down, clink glasses, and celebrate with your nearest and dearest. Keep on reading to discover our original New Year's Eve 2022 ideas for a getaway!
Head to spectacular Utah for New Year's 2022
Mountain Cabin with Modern Amenities in Sundance, Utah
First and foremost, New Year's Eve should be an exciting time, reminiscing on the year gone by and toasting the one that's peeking its head around the corner. This contemporary mountain cabin in Utah is one very special place to gather the family this year. With it accommodating up to 12 people, all those closest to you will be able to celebrate under the same roof.
With its cozy interior and sociable layout, this magic mountain property is perfect for a magic mountain on New Year's Eve! It perfectly symbolizes all that the new year should be about: family and fond memories. The property comes completely ready to move in, and all you need to do is make sure everyone has packed their swimwear for the private, seven-person hot tub.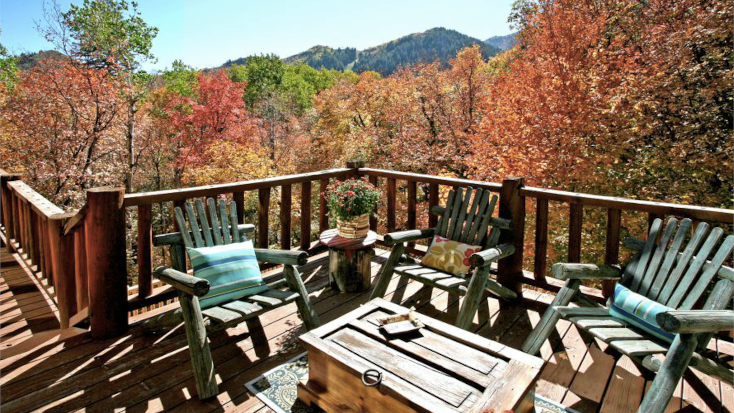 Ring in the New Year in tropical paradise!
Peaceful, Solar-Powered House with all the Amenities Overlooking a Rainforest in Pahoa, Hawaii
"My family and I spent New Year's Eve in a rainforest cottage in Hawaii", said no one ever. Be the first one to say it, that is if you fancy escaping to the southeastern edge of Hawaii this December. This cottage can accommodate up to six guests and comes complete with everything your heart could desire: a fully-equipped kitchen, a large dining area, Wi-Fi, satellite TV, and a hammock. (Who doesn't want a hammock on New Year's Day?)
With hot springs, lava formations, and beaches surrounding this charming property, you will be spoiled for choice with what to do first. One thing's for certain, however; the family will love this Hawaiian surprise to be their first memory of 2022.
Iconic New Year's in New York, anyone?
Unique Lighthouse Rental on Lake Ontario near Rochester in Upstate New York
Now let's get back to somewhere a little chillier, Upstate New York to be exact. What better way to break that traditional NYE mold than glamping in a historic lighthouse? Why didn't I think of that, we hear you say. Our expertise is to wow people with our innovative ideas, and we guarantee that this property certainly brings the wow factor to any New Year's party.
There are three suites to rent in this grand glamping rental, and each suite comes with impressive views and high-quality furnishings. If that's not enough, you will also receive a delicious New Year's Day breakfast. The comfort, fun, and original boxes are all ticked with this lakeside palace, so shine light into your New Year, and choose to celebrate like never before.
California knows how to party!
Lavish Villa Overlooking Zuma Beach in Malibu, California
A classy and sophisticated start to 2022 comes in the shape of this luxury beach villa in Malibu, and it ensures a completely bespoke beginning to your New Year. With five bedrooms and five bathrooms, this decadent property is a real treat for eight family members to relax, unwind, and toast to new beginnings.
There are first-class restaurants, beaches, and shopping facilities in the area surrounding this Malibu masterpiece, and it's only a short distance from Los Angeles. With an antique piano and a wood-burning fireplace, it makes for a wonderful place for a cozy, family sing-along on the lead-up to the twelfth clock chime.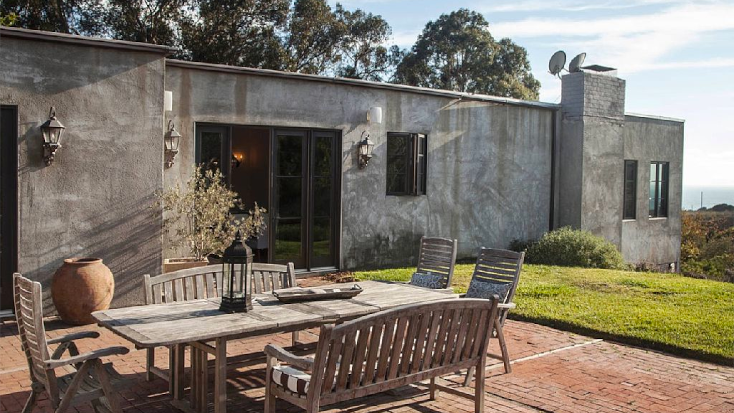 Safari-style New Year in Florida!
Luxury Camping on Florida Dude Ranch with Private Bathroom and Concierge
Start the year as you mean to go on with a New Year's stay in this sumptuous safari tent in Florida. A safari in the South East is a surefire way to revamp those tired New Year's traditions and let your wild side roam free.
These fully-furnished canvas tents are wreathed by scenic woodland and come complete with plush mattresses, wooden furniture, and a private bathroom with a shower. Each tent can sleep up to a maximum of four guests, but there are many tents available, so if all the family feel fierce enough to face January 1 safari-style, then this Florida ranch should be first on your NYE list.
Tradition can sometimes leave us with a little tunnel vision but with this quintet of original NYE Getaways, that light at the end of the tunnel is coming ever closer.