When your everyday routines start to get you down, whisk off your significant other and take them on a romantic getaway near Asheville to really get the sparks flying. This up-and-coming city has so much to offer with its bustling downtown area and rich cultural scene, and on the outskirts, there are extraordinary wilderness areas that provide the perfect setting for an unforgettable couples retreat. The perfect getaways near Asheville are no doubt a fantastic option for a staycation or vacation.
There's no need to travel far to go on the romantic getaway of your dreams. These luxury accommodations near Asheville have the character, the atmosphere, and the amenities that will make your outdoor getaway magical and oh-so-special. Don't bring your phones—this getaway in North Carolina will be just about the two of you. Keep reading to find the best Asheville romantic getaways; discover the best vacation ideas 2021 has to offer right here and start dreaming!
Check out this romantic cabin near Black Mountain, NC: getaways near Asheville 2021
So, of all the top cabins for rent in the area, which ones are the best? Let's start with this romantic cabin for two located in the natural scenery of Black Mountain for the perfect Asheville romantic getaway. You'll feel connected to nature by its rich wildlife surroundings, and there is a fantastic porch for the two of you to curl up on and enjoy the ridge views.
There's nothing to say you can't bring friends or family there too, just to liven the atmosphere up! This log cabin rental has plenty of space, which means that everyone will have more than enough room to relax and unwind. With views like this, it'll be impossible not to feel the love.
If you want to explore historical sites like Black Mountain on your trip, why not read through this blog about the best historical sites in North Carolina? You might get some handy ideas.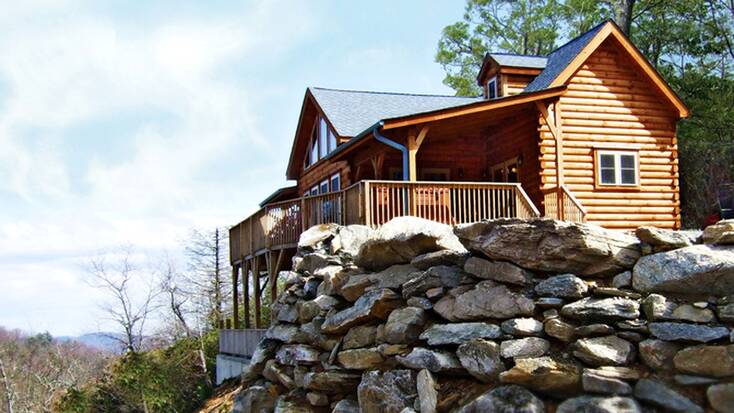 Take a look at this luxury tent rental in the mountains near Asheville: getaways for a moment to relax
It couldn't be a blog about camping without mention of a trusty tent rental. If you're looking to stay somewhere that's a little bit different, how about renting a canvas canopy under the stars? This luxury tent is tucked away in the mountains outside of Asheville, and it provides a unique experience where you will wake up to the sounds of birds and passing deer.
Whether it's a winter getaway or sunny, summer vacations that you're in search of, this North Carolina vacation rental's charms can be enjoyed whatever the weather. There are plenty of North Carolina getaways to be enjoyed, but this five star tent rental is certain not to disappoint.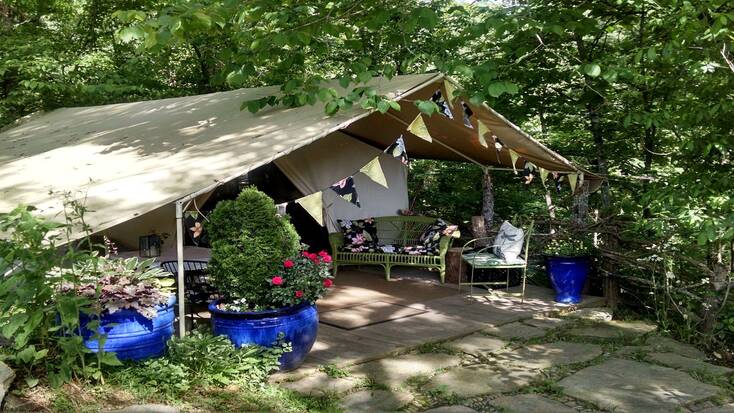 Discover this gorgeous tree house cabin in the woods of North Carolina
There are few things quite as charming as a tree house rental. This enchanting tree house cabin has been lovingly designed inside and out to create an utterly romantic setting for guests. It is nestled in the trees of a private, 20-acre piece of land, giving you all the privacy you need.
If you want to really impress your loved one with your adventurous side, there's an outdoor shower that can be enjoyed outside this gorgeous, treehouse rental. An onsite bakery also means that long days of hiking can be book ended by some easy dinner. You can afford some luxuries on your camping trip to North Carolina, after all…
Check out this luxury cabin in Black Mountain! Camping with treetop views
Looking for the perfect vacation rental? With 260-degree treetop and mountain views, this luxury cabin rental in Black Mountain is sure to reignite your passions. Its balconies and porches will allow the both of you to soak in all the sunsets, sunrises, and fresh air that you desire.
This one is probably the grandest of them all, and should only be enjoyed if you're really looking to impress your partner. Can't you imagine yourself there right now? If you're in search of places to visit, then this guide to luxury camping in NC is an authentic account of what you can expect to enjoy. Getaways near Asheville await!
In need of more places to visit? Check out the best places to visit in North Carolina and decide for yourself.