Take your special someone on a romantic getaway near Asheville to explore and enjoy nature. The city has so much to offer with its bustling downtown area and rich cultural scene, and extraordinary wilderness areas for an unforgettable couples retreat. The perfect getaways near Asheville are no doubt a fantastic option for a couple's retreat!
There's no need to travel far to go on the romantic getaway of your dreams. These luxury accommodations near Asheville have the amenities that will make your outdoor getaway magical. Find the best getaways in North Carolina and Asheville romantic getaways. Start planning your dream getaway!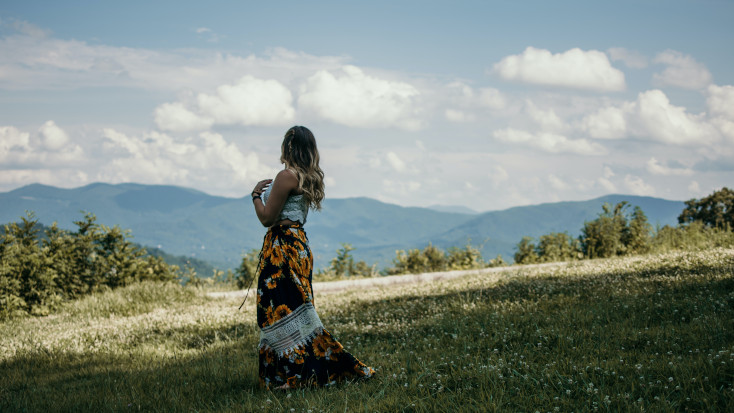 1. Romantic cabin getaways near Black Mountain, NC
This romantic cabin for two is located in the natural scenery of Black Mountain for the perfect Asheville romantic getaway. There is a fantastic porch for the two; to curl up on and enjoy the ridge views. With views like this, it'll be impossible not to feel love. This log cabin rental has plenty of space, so family or friends will have more than enough room to relax and unwind. If you want to explore historical sites like Black Mountain on your trip, why not read through this blog about the best historical sites in North Carolina? You might get some handy ideas.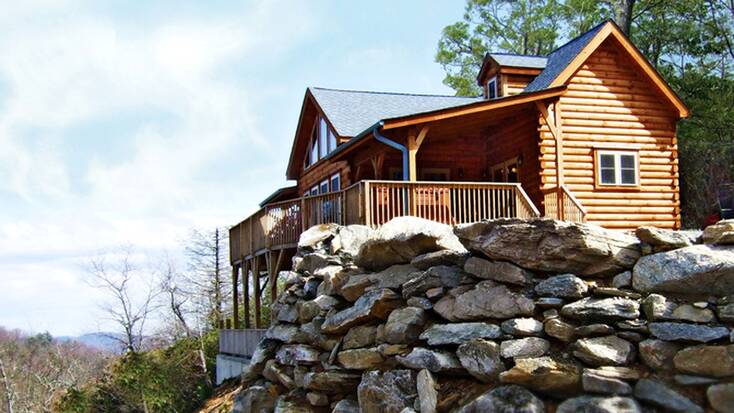 2. Luxury tent rental in the mountains near Asheville for a relaxing getaway
If you're looking to stay somewhere that's a little bit different, how about renting a canvas canopy under the stars? This luxury tent, in the mountains outside of Asheville, provides a unique experience – waking up to birdsong and passing deer. This North Carolina vacation rental's charms can be enjoyed year-round; whatever the weather. There are plenty of North Carolina getaways to enjoy, but this five-star tent rental is certain to be a favorite. With hiking and nearby hot springs to enjoy, this is the perfect romantic getaway near Asheville.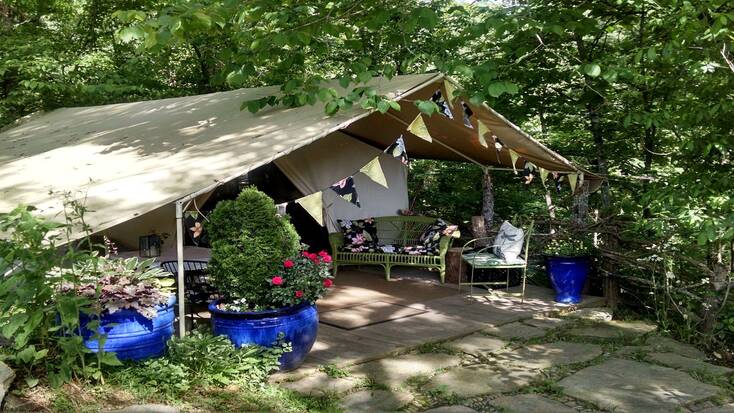 3. Discover this gorgeous tree house cabin in the woods of North Carolina
There are few things quite as charming as a tree house rental. This enchanting tree house cabin has been lovingly designed to create a romantic setting for guests. It is nestled in the trees on 20 acres of private land, giving you all the privacy you need. Impress your loved one with your adventurous side. Enjoy the outdoor shower after a day of ziplining m whitewater rafting or climbing. An onsite bakery also means that long days of hiking can be bookended with breakfast and an easy dinner. You can afford some luxuries on your camping trip to North Carolina, after all.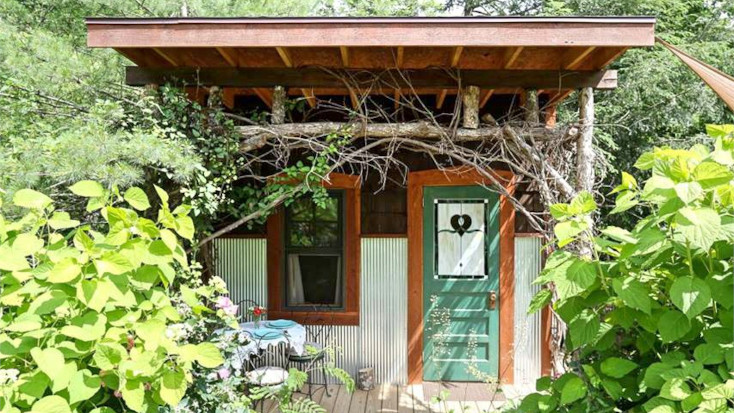 4. Check out this pet-friendly A-frame in Burnsville for a nature getaway
Looking for the perfect vacation rental? With treetops and a waterfall, this luxury cabin rental in the Blue Ridge Mountains is sure to be a hit. The private, surrounded by treetops is ideal for breakfast or dinner al fresco. Soak in all the sunsets, sunrises, and fresh air that you desire. Perfectly located to enjoy hiking, biking, and climbing this cabin is ideal for outdoor lovers. Enjoy the waterfall near the cabin, take a dip in the cool water, and spend a relaxing day wildlife and bird watching. Plan your romantic getaway near Asheville today!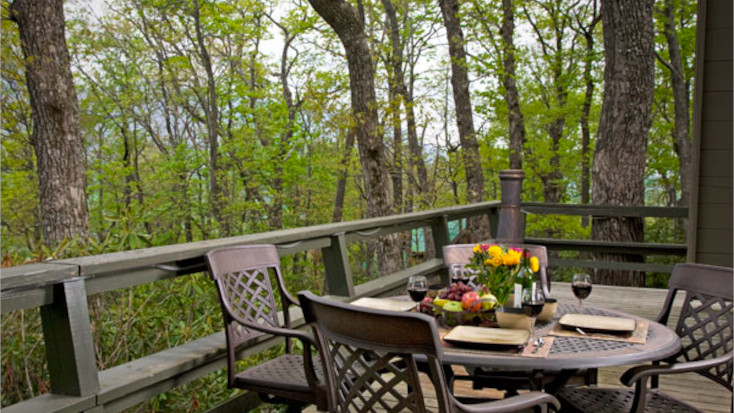 5. Try this converted bus for a unique getaway near Asheville
If you love a truly unique travel experience this converted bus in Weaverville is sure to delight you. Wake up surrounded by a beautiful pine grove in absolute privacy. Enjoy the private eco-friendly bathroom facility with hot water after a fun day out. Explore Pisgah National Forest and Cherokee National Forest or the beautiful Blue Ridge Parkway, only twenty minutes away. Head to French broad River for tubing and paddleboarding or simply relax with an easy bike ride and birdwatching around the organic farm and homestead near your bus rental! Book your fun adventure getaway near Asheville for you and your special someone!
If you're in search of more places to visit, then this guide to luxury camping in NC is an authentic account of what you can expect to enjoy. Alternatively, check out these fun things to do with kids in North Carolina or plan your perfect Blue Ridge Mountain vacation.