March 29th, 2021, is Niagara Falls Runs Dry Day. Dating back to 1848, the day is something of local folklore. On March 29th, 1848, there were a number of ice blockages along the Niagara River, blocking off the flow of water to Lake Erie. Consequently, this led to water ceasing to flow over Niagara Falls, which ordinarily has a staggering 3,160 tons of water per second cascading into the waters below. Normally, we'd be saying, the best time to visit Niagara Falls, one of North America's natural wonders, is between June and August with moderate temperatures and ferries operating along at the base of Niagara Falls. Tourists, however, have more recently opted for secluded getaways since the COVID-19 pandemic. So why not celebrate Niagara Falls Runs Dry Day, 2021, and enjoy all the things to do in Niagara Falls in March?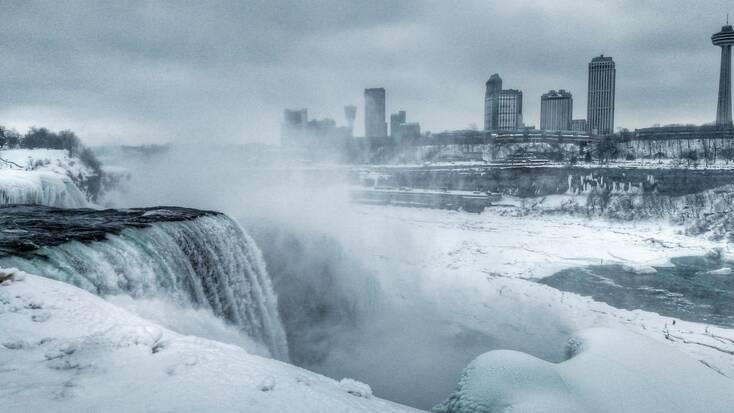 Why visit Niagara Falls in March?
Fair question. The Niagara Falls weather is still cold, it could be rainy, there could possibly still be some snow, and many Niagara Falls attractions, such as Hornblower Niagara Cruise and Whitewater Walk are still closed in March. Well, there are still plenty of things to do in Niagara Falls in March. From seeing the snow-covered waterfalls to some great indoor activities for when the weather outside is just that bit too frightful, it's a great way to enjoy a secluded getaway before the summer season hits Niagara Falls. Tourists tend to flock to the falls for the summer months, so a vacation in March is the perfect time to visit Niagara Falls and to still enjoy a secluded getaway. Add the fact that when you visit Niagara Falls, places to stay give you the best of both the great outdoors, and all the fun things to do in nearby towns and cities.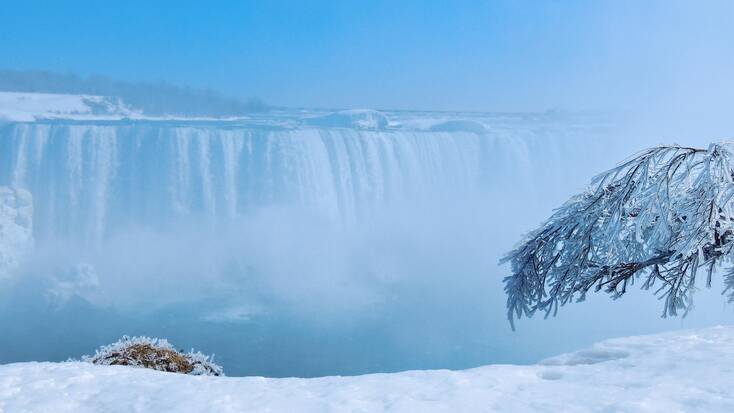 Head to Horseshoe Falls in March, 2021
When you go glamping in Niagara Falls, a visit to Horseshoe Falls is a must. During the colder months, you can look forward to a unique view of Horseshoe Falls. An elevator will take you into tunnels behind the falls, and you'll get incredible views of Horseshoe Falls through a portal carved into the bedrock. From here, you'll follow the tunnel out to a viewing deck at the base of the falls. While the more common way to views may be from a ferry, a la Jim and Pam from The Office, this is a truly unique way to experience this incredible attraction in colder months of the year.
Escape the cold Niagara Falls temperature in the Skylon Tower restaurant
Cold weather isn't for everybody, and there are plenty of things to do in Niagara Falls to get out of the cold, with a plethora of great indoor activities to enjoy when you visit Niagara Falls. Activities away from the cold Niagara Falls temperature in March include heading to the top of Skylon Tower. Restaurant options don't come more unique than a revolving restaurant with vistas over the falls, perfect for a memorable lunch or perhaps a romantic dinner. The Skylon Tower menu will probably seem less important to you than the wonderful views of a starlit dinner in the sky, the perfect way to round off a day during your Niagara Falls stay.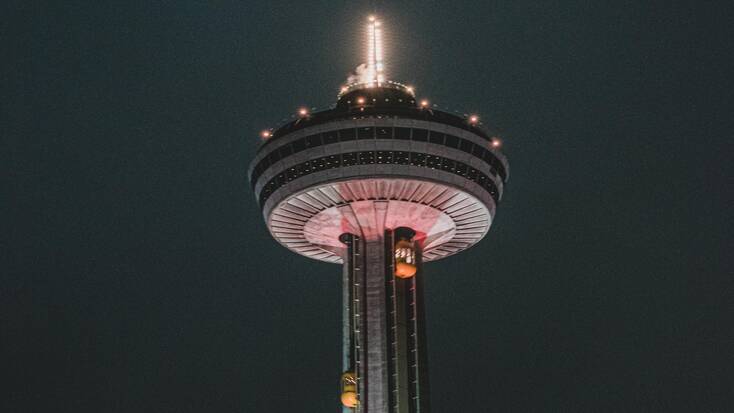 Other indoor activities to avoid the cold weather in March 2021
There are plenty of other things to do in Niagara Falls to avoid being stuck in the cold weather. So whether you're heading to the Niagara Falls, USA, or Niagara Falls, Canada, you, the family, or your group of friends will have lots to keep you busy, no matter the weather. There are two casinos for anyone heading on a group weekend with friends, perhaps on a bachelor or bachelorette party. There are also indoor activities that are perfect for family vacations. Take the kids on a memorable afternoon the afternoon marveling at Ripley's Believe It or Not!, or enjoy a visit to attractions like Floral Showhouse, Bird Kingdom, and the Butterfly Conservatory. With indoor climate-controlled attractions like these, you're guaranteed a cozy, secluded getaway in March 2021.