Jordan River, BC is located on the southern reaches of Vancouver Island. This is a great vacation destination for families to explore nature. Romantic getaways with sunsets over the river and starry night skies. or friends looking for an adventure weekend getaway in British Columbia, Canada. Only a short drive from Victoria, Jordan River is one of the best places to visit in British Columbia. Discover the top places to visit in BC. As well as some of the best romantic places to stay on Vancouver Island: Jordan River, BC.
1. Try this luxury cabin, with views of the Olympic Mountains, BC
Choosing your Jordan River accommodation is an easy task with these fun Vancouver Island rentals. On the southern tip of the island is Jordan River, BC.  The town is well-known for its surf breaks and miles of wild coastline. Connected by the Juan de Fuca trail, a 29-mile trek along beaches and through the forest.
Just outside of Jordan River, Vancouver Island, is this stunning, secluded cabin. This pet-friendly rental can sleep 6 guests. The cabin rental comes with access to French Beach Provincial Park and its own private beach. You will love the incredible views of the Strait of Juan De Fuca and the Olympic Mountains. The perfect Jordan River, BC vacation rental.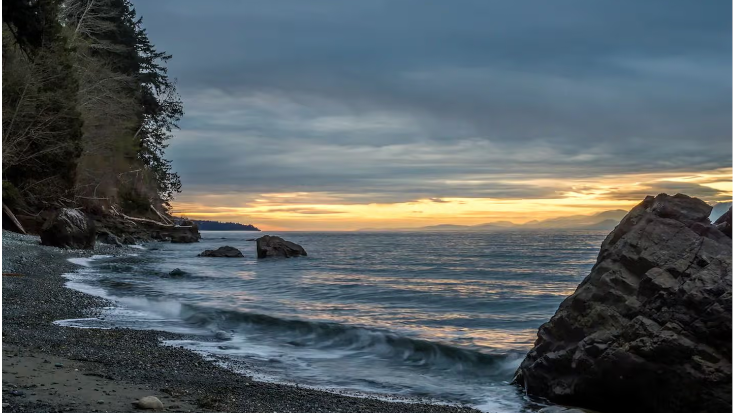 2. Romantic treehouse near Jordan River, BC for the perfect weekend getaway
Try this cozy tree house for two in Sooke, Vancouver Island for your next Jordan River, BC escape. Enjoy having breakfast on the private deck under a canopy of trees. Head out for a day of fun, exploring East Sooke Regional Park. This treehouse near Jordan River, BC is ideal for couples who love the outdoors. There is plenty of hiking, fishing, and whale-watching to enjoy. As well as more extreme sports like zip-lining, surfing, and climbing. You will love the tree views at this cozy treehouse on Vancouver Island, BC
3. Pet-friendly vacation rental in Sooke, near Jordan River, BC
Jordan River accommodation is a great way to explore Vancouver Island. The minimalist interior design and all-around windows, give guests forest views from every corner of this romantic treehouse. Located near Victoria, BC, guests will love being surrounded by the forest and close to the sea. Treehouse rentals and cabins Vancouver Island are ideal to explore the local forest and coastlines for a romantic weekend getaway near Victoria, BC.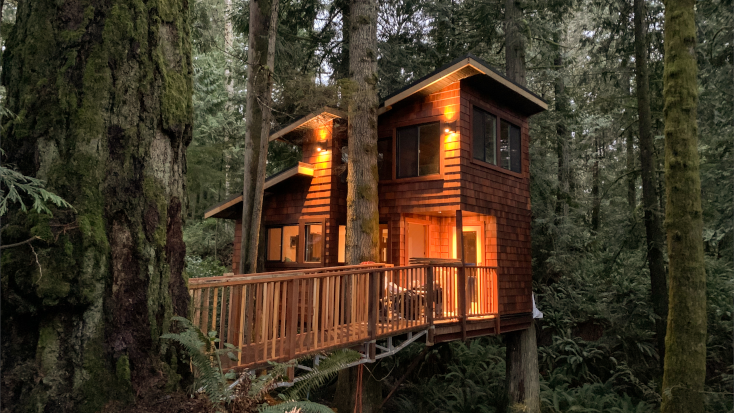 4. Family-friendly cabin rental on Vancouver Island, BC
Nothing beats a family vacation than a pet-friendly oceanfront cottage rental in Port Renfrew. The cottage is spacious enough to sleep 8 guests and comes with a fully equipped kitchen and laundry room, making extended stays a breeze. You will love the large deck with BBQ for a family cookout. Or relax below the deck on the large hammock with an outdoor fireplace for a relaxing evening. The ocean views make this a special spot for your next family vacation near Jordan River, BC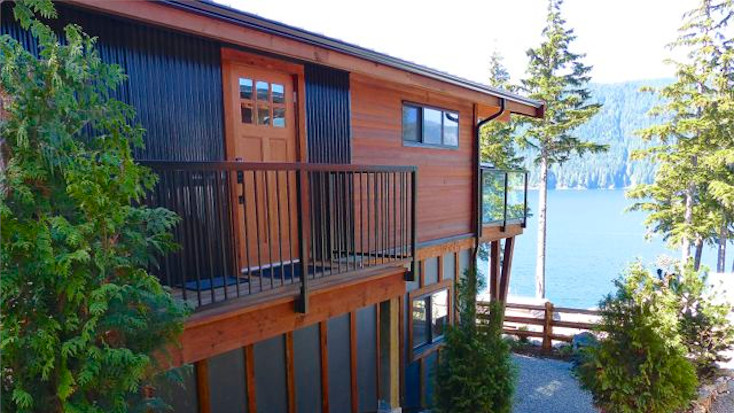 5. Modern, pet-friendly rental in Port Renfrew, Vancouver Island.
This luxury waterfront rental overlooking Port San Juan near Botanical Beach Provincial Park is ideal for 6 guests and the family pet! You will love the views of the bay from the private balcony with a gas grill for a family cookout. This rental prides itself on being eco-friendly and even comes with an electric vehicle charge station! Spend a fun day out exploring the giant trees preserved by the Ancient Forest Alliance. Relax on the private balcony while you watch the sunset over the water.