You never need an excuse to plan a getaway with your significant other, be it near or far. If you're looking to go big this time around, however, there's nothing more secluded and romantic than a tropical tree house for two. From Hawaii to India and everywhere in between, there are romantic tree house rentals for every type of traveling couple.
Find the perfect couples retreat right here and start planning a romantic vacation unlike any other. With unique accommodations available in all the most exotic destinations, your 2021 vacations are certain to deliver.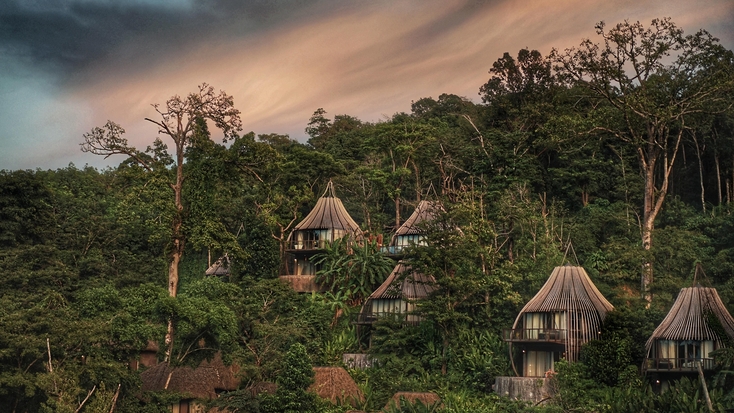 Look out for Costa Rica tree house rental: couples retreat ideas don't get better than this!
Cozy up in Costa Rica, and soak in it's exotic wildlife, stroll along its white sand beaches, and most importantly, take time to relax together with cocktails at sunset, couples massages, and dinners for two by starlight.
This sovereign state is famous for its jaw-dropping national parks. You'll be able to enjoy river rafting, cave tubing, canyoning & more in this cool vacation destination. Staying at a Costa Rica tree house is the perfect way to enjoy the natural side of this beautiful area of the world.
There are plenty of areas to start looking in. Book a stay near Playa Negra if you're on the lookout for Costa Rica beach vacations. Or discover the beautiful Gandoca-Manzanillo Rain Forest for a wilder touch to your vacation surroundings.
For a taste of how quirky the Costa Rica tree houses can get, check out this intriguing accommodation. Constructed with a unique, refurbished Vintage 1965 Boeing 727 Airframe, this tree house is a top choice for anyone in search of a unique, glamping getaway.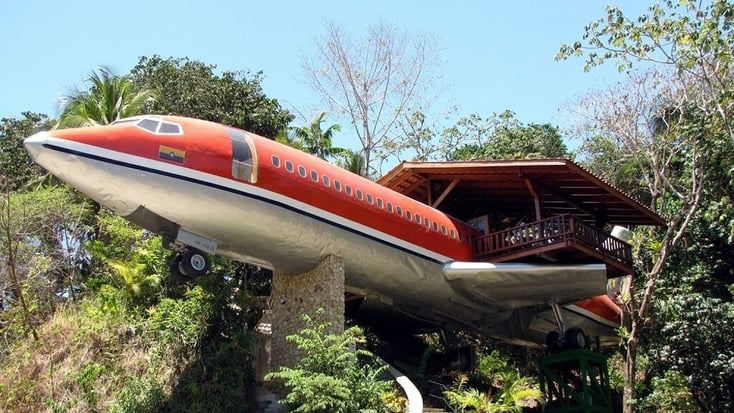 Enjoy Hawaii vacations in unique accommodations: romantic getaways 2021
Hold each other tight in Hawaii while exploring the islands' volcanoes, viewing the sea animals while snorkeling hand-in-hand, and canoodling behind a waterfall or two. Take in a hula show with an authentic Mai Tai and a plate full of pig roast, knowing that you have the coziest of glamping tree houses to curl up in together post-feast.
Hawaii is famed for being one of the most exotic locations in the world. With plenty of national parks being on offer, including Haleakala National Park and Hawaii Volcanoes National Park, you can enjoy stunning hiking trails and discover the incredible sights of this beautiful island.
Stay at a Hawaii tree house on various locations throughout the islands. A stay at Haleiwa, Hawaii will keep you close to Turtle Bay Resort and was originally developed to support the north shore's sugar plantation industry. Or you could check out Hawaii Volcanoes National Park rentals to discover the wonders of Kilauea volcano and Mauna Loa.
For those eco-camping enthusiasts, an eco-friendly tree house in the Hawaiian rain forest is a great idea. Go glamping: Hawaii awaits!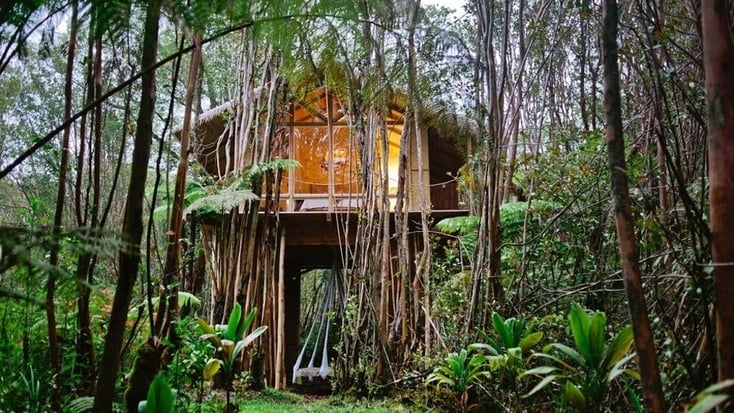 Discover the best India vacations! Romantic rentals available in secluded tree houses
Get swept up and away into the treetops of India, where you and your significant other will kick back and sip on cups of tea in between exploring the country's otherwordly and varied landscapes, Couples will enjoy planning spa treatments and romantic meals for two and taking a cooking class to learn how to cook typical Indian cuisine, too.
Book yourself a stay in a luxury tree house rental across this historic country and discover all of its charms. You could stay at unique tree houses overlooking Bandhavgarh National Park and enjoy the incredible wildlife safari on offer. Or book yourself into a glamping rental on a Southeast India farm. Kerala is another fantastic region to discover, with plenty of accommodations ready to be enjoyed.
Stay at a Goa tree house for the perfect, romantic vacation with the one you love. With all of the traditional charms of the country, relaxing on a hammock in the arms of someone you love is a vacation idea not to be missed out on. Enjoy the best Indian Summer vacation ideas and go glamping.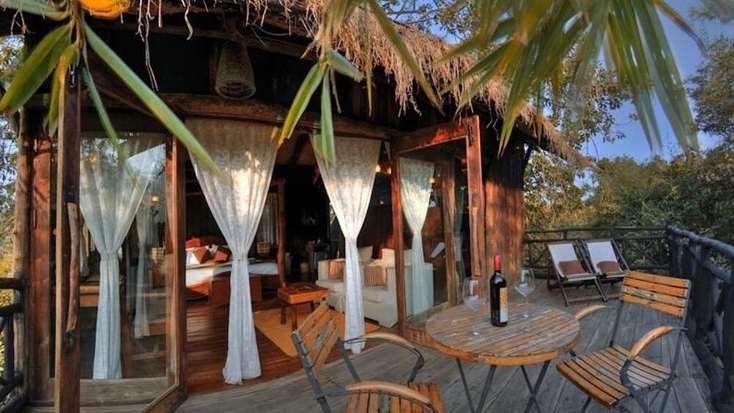 Book tropical tree house rentals in South Africa: vacations 2021
Our final pick of destination for a tropical tree house rental is South Africa. Mosey down to South Africa with your partner for a passionate escape with a Saharan backdrop that is sure to leave a lasting impression. Go on a safari tour to take photos of the exotic wildlife who call South Africa home, sharing your best shots with one another over a candlelit dinner that night. In between casual glasses of wine on the balcony, deck, or patio of your luxury tree house, you'll be able to leisurely plan your days, making sure you also squeeze in plenty of time for historical and cultural tours and visits.
Take a trip to the North West Province and discover Sun City and Pilanesberg National Park, where you can explore an extinct volcano and catch sight of over 7,000 animals that include lions and elephants. Or you can check out Western Cape and enjoy trips through the famous Table Mountain and discover the various wineries that call the area home.
Enjoy a stay at a KwaZulu-Natala tree house to enjoy an idyllic morning surrounded by trees in the great outdoors. This is the perfect option for anyone looking for a couples retreat idea that will blow them away. Book yourself a vacation today and stop searching elsewhere! The perfect tree house getaways are just a click away!