You're going to fall head over heels in love with Albuquerque's endless sunshine and abundance of fun activities. From the ABQ BioPark Zoo to the Petroglyph National Monument, there's a little bit of something for everybody to explore in Albuquerque. You'll enjoy the unique terrain and stunning views of the area from the comfort of these top Albuquerque vacation ideas that will ensure you have a getaway that you'll remember for ages. Get ready for us to show you all the best of Albuquerque!
1960's Vintage Airstream Nestled in the Desert of New Mexico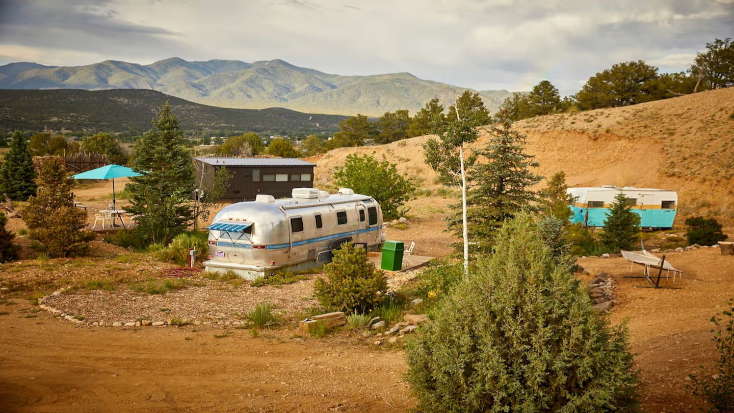 What could be cuter than this 1960's vintage Airstream nestled in the New Mexican desert? Cute, quaint, and quirky, this Airstream is perfect for couples or friends who want to glamp in Albuquerque and escape from the hustle and bustle of everyday life to an amazing desert fairytale.
Take in the 360-degree views of the Chama River and Pedernal Mountain from the patio, later on peeking your head out again to gaze at the thousands of stars that will dot the clear New Mexico sky. For a unique activity that will perfectly complement your stay in this Airstream, rent a brilliantly colored hot air balloon to serenely glide over the endless views that Albuquerque has to offer.
Luxury yurt near Tijeras, New Mexico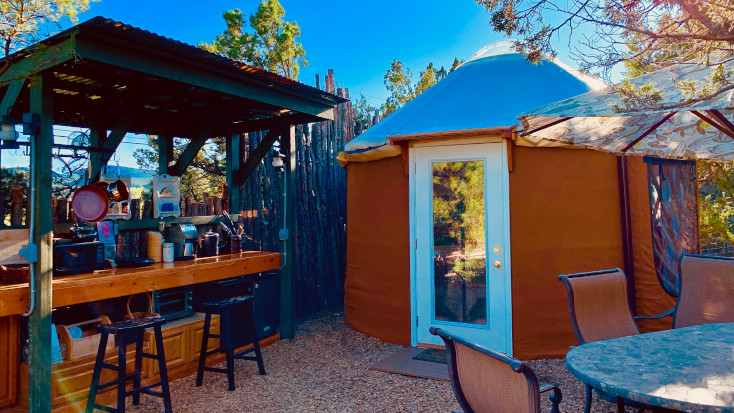 These unique yurt the bee's knees! Here, you'll truly get the best of both worlds: the ability to get up close and personal with New Mexico's amazing wilderness while vacationing in style with the amenities of a luxury hotel. Set in the heart of Cibola National Forest this is definitely a nature escape with a difference!
This luxury glamping Albequerque offers a host of fun activities, depending on the time of the year. To continue the theme of thrilling outdoor activities, take a hike through Albuquerque's Elena Gallegos Park, famous for its beautiful vistas and abundant trails.
Remote Cabin Without Distractions in Chama Wilderness, New Mexico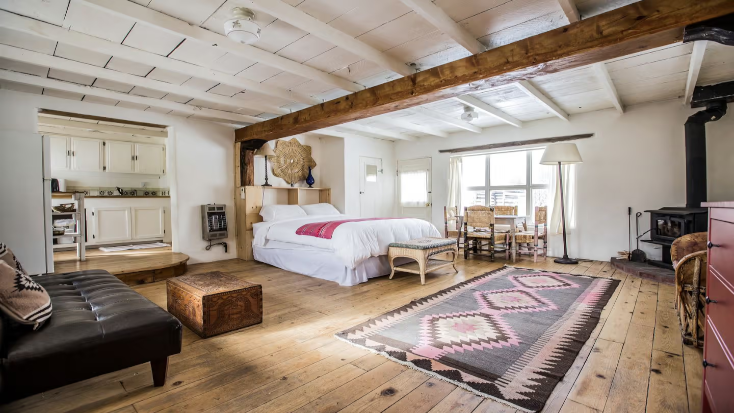 If you're looking for an Albuquerque vacation rental that will offer you complete serenity and the opportunity to relax and unwind, this remote cabin without distractions in Chama Wilderness, New Mexico, will get the job done. Complete with amenities such as a French press, a large outside deck, and solar-powered energy, this isn't your typical camping experience.
Writers, artists, and musicians will find their muse in the breathtaking views that surround this perfect little hideaway, complemented by the sounds of babbling streams and chattering wildlife. With nothing but nature outside the front door, hiking enthusiasts will find their own little slice of heaven in this remote cabin.
Charming Secluded Cabin in Abiquiu, New Mexico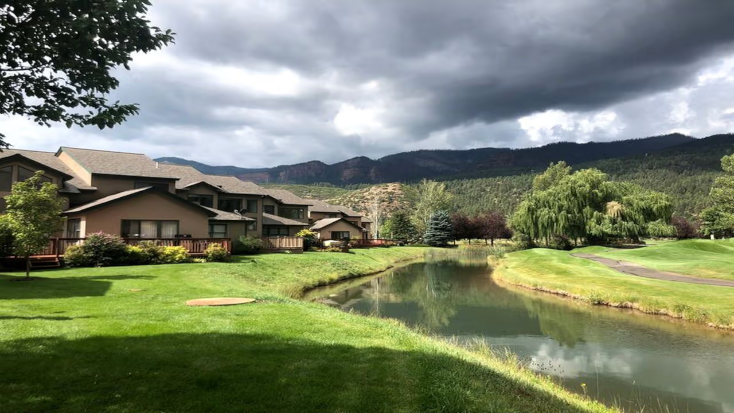 This charming cabin in Abiquiu, New Mexico, is the perfect summer escape for couples, friends, and families alike. You'll have a blast at the nearby soaking pond, decked out with inflatable kayaks, a water trampoline, and an inflatable snake known as Slither the Loch Gallina Monster. It's going to be hard to believe the view from the sleeping deck, perfect for afternoon naps or galaxy searching through the provided telescope.
For something that the whole gang will love, take a trip up the Sandia Peak Tramway for a thrilling way to catch some views that you'll never forget. There are a lot of things to do near Albequerque—later on, head over to Old Town Albuquerque for some shopping, local food stands, and historic buildings. You're sure to fall in love with everything Albuquerque has to offer while staying in this charming cabin.